When you are setting out on your feeding journey, finding the best breast pump is crucial. Even if you plan to exclusively breastfeed, more than likely, there will come a time when you will need to use a pump. We have all heard the phrase, 'Breast is best', but it isn't always that simple. If you are a working mum, a mum of multiples or want the option of a helping hand, you may need to use one of these best breast pumps.
There are lots of reasons why a mum might choose to express breastmilk and, thankfully, plenty of different types of pumps. Perhaps you're returning to work and want to be able to use a hands-free breast pump, then our top pick, The Lola&Lykee Smart Electric Breast Pump, maybe the one for you. Or, if you want to go on that girl's night out, finding the best electric breast pump will allow you to enjoy your evening and not become uncomfortable. It really depends on how often you pump breast milk or see yourself needing to express milk.
A breast pump is an electric or manual device that extracts milk from a lactating mother. The extracted milk can be stored in the fridge or freezer to be fed to your child via a bottle at a later time (all breast milk can be refrigerated for a maximum of two days. Please make sure you follow the NHS advice on storing your breast milk). There are several different options available – single, double, manual and electric. Some breast pumps are hands-free, and others can be made hands-free by using a wearable breast pump bra.
Black Friday deals on breast pumps
Although Black Friday 2023 is now over there's still a whole host of Black Friday baby deals on breast pumps to shop! So if you want to grab a bargain, here are the retailers that have the best breast pump deals right now or keep scrolling to continue reading our buyer's guide.
Shop Black Friday breast pump deals on: Amazon | John Lewis | Boots
20% off: Elvie Stride
37% off: Elvie Pump
25% off: Momcozy M5 Hands Free Breast Pump
25% off: Momcozy Wearable Breast Pump S12 Pro
Even if you're not planning to give feeding duty to anyone else, a breast pump is still worth having. It's worth knowing how to use a breast pump and finding the best position for breast pumping for you. Did you know expressing even small quantities of milk can bring pain relief if your breasts are engorged or swollen? Lots of mums also use manual breast pumps to express between feeds to boost their milk supply.
Finding the best breast pump for you can be difficult; unlike most baby products, you cannot go and try one out for hygiene reasons. So, our mum testers have tried all of the pumps in this article. We have also included the best pumps, as voted by real-life mums.
What are the different types of breast pump?
Manual breast pumps - Manual breast pumps are great for mums who are primarily breastfeeding. When using a manual pump, you place the breast cup over your breast and squeeze the handle to extract the milk, which collects in a storage container or bottle. Most mums who use a manual breast pump feel they have more control. Manual breast pumps tend to cheaper and be easier to use.
Electric pumps - Electric breast pumps are one of the most popular as you can adjust both speed and suction. Electric pumps come in both single and double pumps, allowing you to express milk from one or two breasts at the same time. You find them in plugs or batteries. Generally quicker and more efficient at expressing milk than manual pumps. We recommend an electric breast pump to mums of multiples or for mums who want to maintain their milk supply whilst at work.
Hands-free breast pumps - As the name suggests, hands-free breast pumps allow you to collect milk whilst you do other things. Hands-free pumps are a fantastic option for mums who have older children and mums who are constantly on the go.
You can hire breastfeeding pumps from hospitals and maternity units, too. These are electric pumps that are super-efficient at expressing a high volume of milk in a short period of time.
What is the difference between an open and closed system pump?
There's one main difference between open and closed system pumps and that is that one has a barrier and the other doesn't.
Closed system pump - Closed system breast pumps have a barrier which stops milk from leaking into the mechanism and prevents any cross-contamination from bacteria or viruses.
Open system pump - Open system pumps do not have a barrier, but it's important to not that the risk of contamination is very small. There's no right or wrong pump to use and it's still important to sterilise whichever breast pump you're using regularly.
How we tested and chose these breast pumps
Our Mother&Baby awards are renowned in the industry for being one of the most highly respected product awards for baby and parenting products, and every year, we arrange for thousands of independent mum reviewers to test the latest products on the market.
We've tested over 60 of the best models available in the UK, with around 10 reviewers per product to ensure that we get a range of views on the product.
Our independent mums review products based on their usability, design, quality, and value for money. Reviewers give us qualitative feedback on their experience with the product, which our team of journalists review to decide our recommended products.
From all this work, the best breast pumps are chosen and listed below, along with the review comments that we thought would be most useful to those looking themselves for the best breast pump.
Our editorial team is also constantly updating our best of articles and looking for new breast pumps to test so that we can help you find the best – be that a cheaper product that we want to test for value for money or the latest breast pump innovation.
Things to keep in mind when choosing a breast pump
Like our mum testers, you will have your own individual needs when choosing a breast pump. However, there are some things you may want to consider when making your choice:
Portability: Where are you planning on taking your pump? If you are taking your pump to the office, you may want to opt for a lighter and quieter model.
Noise level: Electric breast pumps tend to be pretty noisy, which can be impractical if you're expressing while your baby is asleep nearby, when you're at work or if you just want to hear what's on the telly. Whereas manual pumps are much quieter, and some make no noise at all.
Comfortable fit: The breast cup fits over your breast inside the pump funnel. It must fit well for optimal milk drainage as well as comfort. Some pumps come with more than one cup, so you can try different sizes to find the perfect fit.
Ease of use: You can control all the variables – such as the suction level and the speed at which the pump extracts milk from your breast – via the control panel.
Easy to clean: Choose a pump that's quick and easy to assemble once you've taken it apart for cleaning and sterilising. Hunt-the-tiny-missing-part-of-the-breast-pump is not a game you want to play, especially if you'll be using it frequently.
Size: Expressing is easier and more efficient if you feel relaxed, so choose a pump that's appealing to look at and comfortable to hold. Anything too clinical or cumbersome is likely to be a hindrance.
Power source: Where are you planning to express? If you like the thought of not being confined to one spot when you're expressing, choose a pump that can run on batteries. If you're the type of person who always forgets to charge your phone, a mains-operated pump might suit you better.
Storage: Are you pumping your milk and planning to freeze or store it for later use? If so, choose a pump with storage containers or factor in the cost of buying these. If you intend to feed your baby within days, go for a pump that lets you express milk directly into a clean, sterilised bottle until you're ready to use it.
The best breast pumps 2023
Editor's choice:
•Best breast pump overall: Lola&Lykee Smart Electric Breast Pump - Buy now on Lola&Lykke 
•Best hands-free breast pump: Elvie Stride - Buy now on Amazon
•Best manual breast pump: Lansinoh Silicone Manual Breast Pump - Buy now from Amazon
•Best breast pump for support: Medela Swing Flex - Buy now from Amazon
Best overall breast pump
Description
**The Lola and Lykee Smart Electric Breast Pump was awarded Gold for Best Breast Pump at the
Pros
Quiet operation
Excellent quality and very effective
Super portable
Easy to use and clean
Great, comfortable design
Cons
Doesn't come with a carrying case
Description
**The Pippeta Compact LED was awarded Silver for Best Breast Pump at the Mother&Baby Awards
Pros
Easy to clean and assemble
Quiet pumping sound
Can get different sizes of flanges for a comfortable fit (at extra cost)
Pump comes with additional spare parts
Good battery charge - USB charge
4 different suction modes and can alter the strength to 12 levels
Compact and lightweight design - fits comfortably in nursing bra
Cons
Although compact, the pump still sticks out quite a bit so would only use in and around the house
No timer to show how long you have pumped
No battery level sign
Best hands-free breast pump
Description
**The Elvie Stride was awarded Bronze for Best Breast Pump at the Mother&Baby Awards 2023 and
Pros
Hospital-grade
Hands-free
Lightweight
Smart-app connectivity
Ultra-quiet and discreet
Cons
Some mums suggest it doesn't produce as much milk as other options
Best manual breast pump
Description
Award: Bronze winner at the 2023 Mother&Baby Awards for Best breast pumps
This light,
Pros
Light and portable
Simple to use
Affordable
BPA / BPS free
Best breast pump for support
Description
Awards: The Medela Swing Flex pump was shortlisted for Best Breast Pump at the 2021
Pros
Provides fantastic support with maximum comfort
Portable and lightweight for a double pump
Has a range of different vacuum levels and settings to suit your needs and comfort
Cons
No screen or digital display
Best double breast pump
Description
Awards: This pump was shortlisted for Best Breast Pump at the 2021 Mother&Baby Awards. It also
Pros
Very effective pump and is great value for money
Excellent quality
Mains operated and battery
Best quiet breast pump
Description
Awards: This pump also won a 2020 Mother&Baby Gold Award.
The Elvie Single Electric Breast
Pros
Truly silent - the only breast pump that can claim as much
Easy to clean and assemble
Wearable
Wireless
Hands-free
Best breast pump with natural suction
Description
This Medela Harmony Flex Manual breast pump is highly efficient when it comes to expressing a lot
Pros
Highly efficient
One of the most compact breast pumps
Comfortable to use
Two speeds
Cons
The shield could be softer
Best breast pump for comfort
Description
Awards: This pump was shortlisted for a Mother&Baby Award in 2019.
This Nuby Natural Touch
Pros
Simple to use
Five different settings for suction and speed
Adjusts the pump to your flow
Compact and easy to store
Cons
Suction could be improved
Best compact breast pump
Description
Awards: This pump was shortlisted for a Mother&Baby Award in 2018
This lightweight Lansinoh
Pros
It's in a compact, lightweight package
Six different adjustable settings in each of the two phases
The breast shields have a soft silicone ring to maximise comfort
The digital display is a super handy feature as it keeps track of how long you've been expressing
Best easy to use breast pump
Description
Awards: This pump was shortlisted for a Mother&Baby Award in 2021
It's never been easier
Pros
Easy to use, quick to set up
Powerful suction
Comfortable design
Quiet, so could be used anywhere
Cons
It can be quite fiddly when trying to clean
Best budget breast pump
Description
For a manual breast pump, the MAM Manual Breast Pump is impressively versatile. You can adjust the
Pros
Highly adjustable
Relatively easy to clean
Good value for money
Cons
Tricky to operate at first
Best lightweight breast pump
Description
The cups of this compact hands-free breast pump from Medela weigh just 76g each and are designed
Pros
Lightweight
Easy to use
Easy to clean
Description
The Momcozy S12 Pro is a small, discreet unit that sits entirely inside your bra. It is
Description
The Momcozy M5 breast pump has a new concept "Baby Mouth" which is structured like a baby sucking
Breast Pumps – What you need to know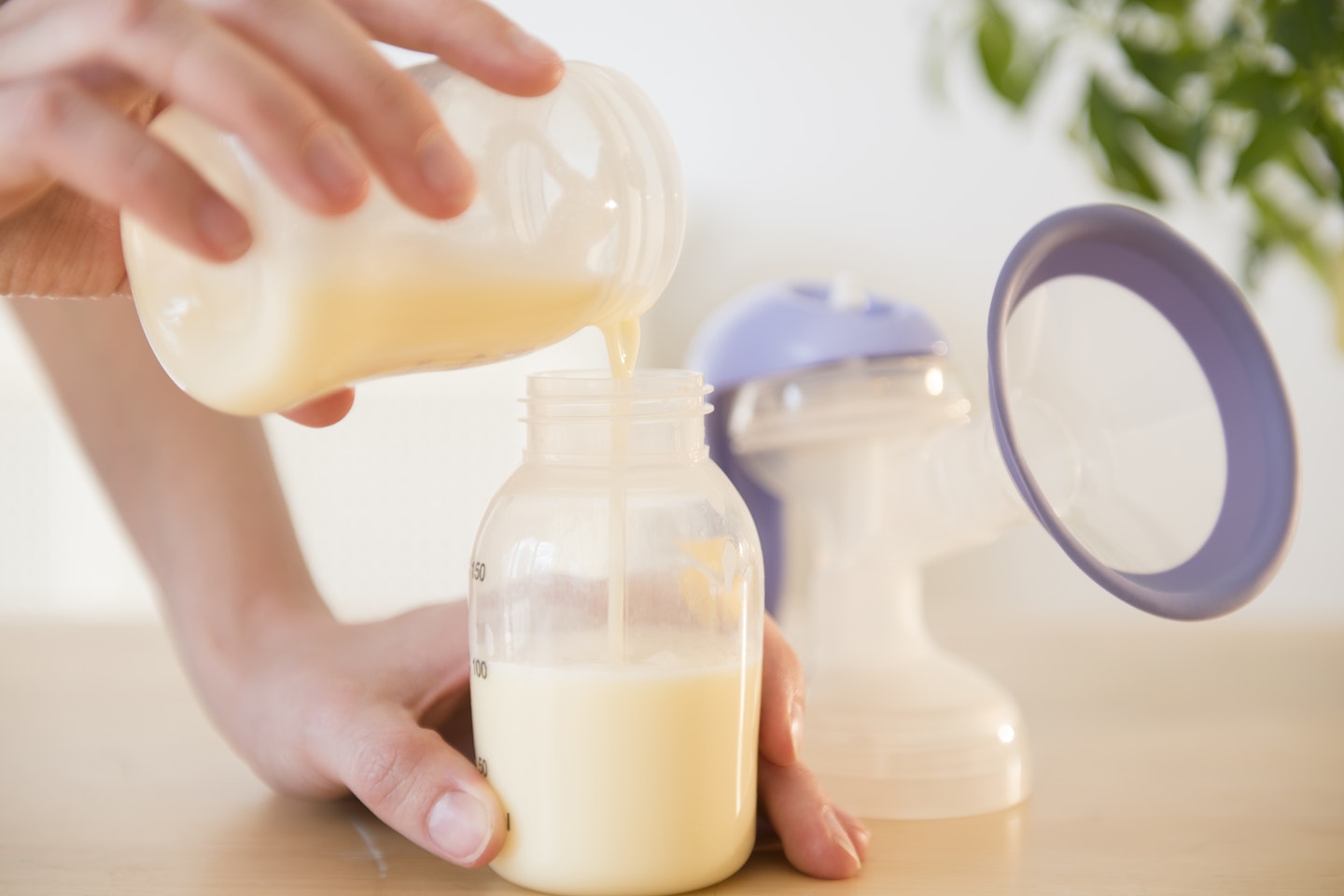 Choosing the right breast pump for you
FAQs:
Do you need a breast pump?
This is a personal choice, but if you plan to breastfeed, you will inevitably need a pump at some point. If you're only planning on expressing occasionally, a manual pump is often a much cheaper investment. They are also far more discreet than an electric breast pump, so if you're expressing in a cubicle at work, this is probably the preferred option. That said, manual breast pumps are much more labour-intensive. If you want to express milk quickly and efficiently, an electric breast pump might be worth investing in.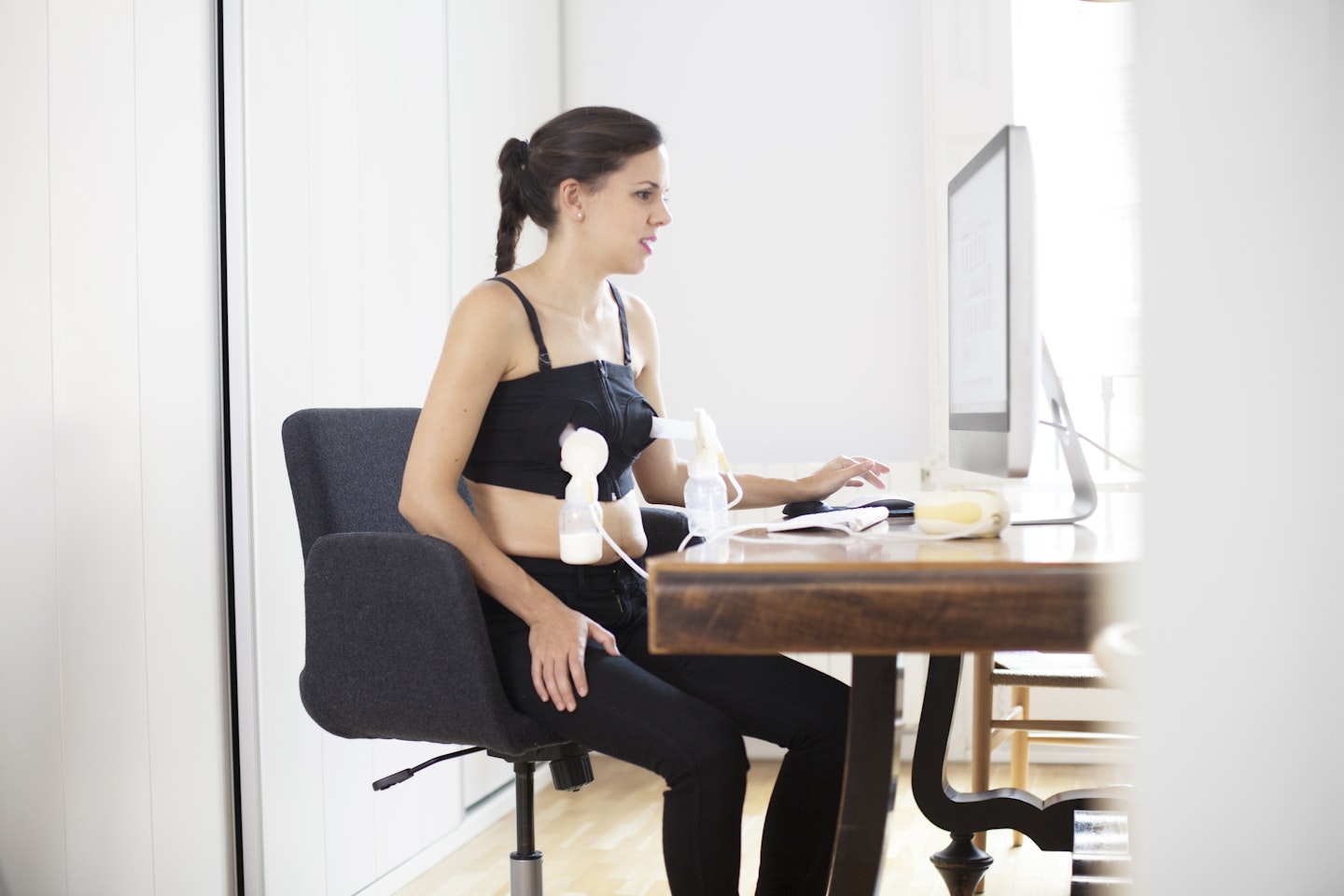 Do you need a single or double pump?
A double pump allows you to express milk from both breasts at the same time. This is indispensable if you need to express lots of milk very frequently, feeding twins or a premature baby, or you're juggling breastfeeding and working full-time. However, most mums find that a single electric breast pump is all they need.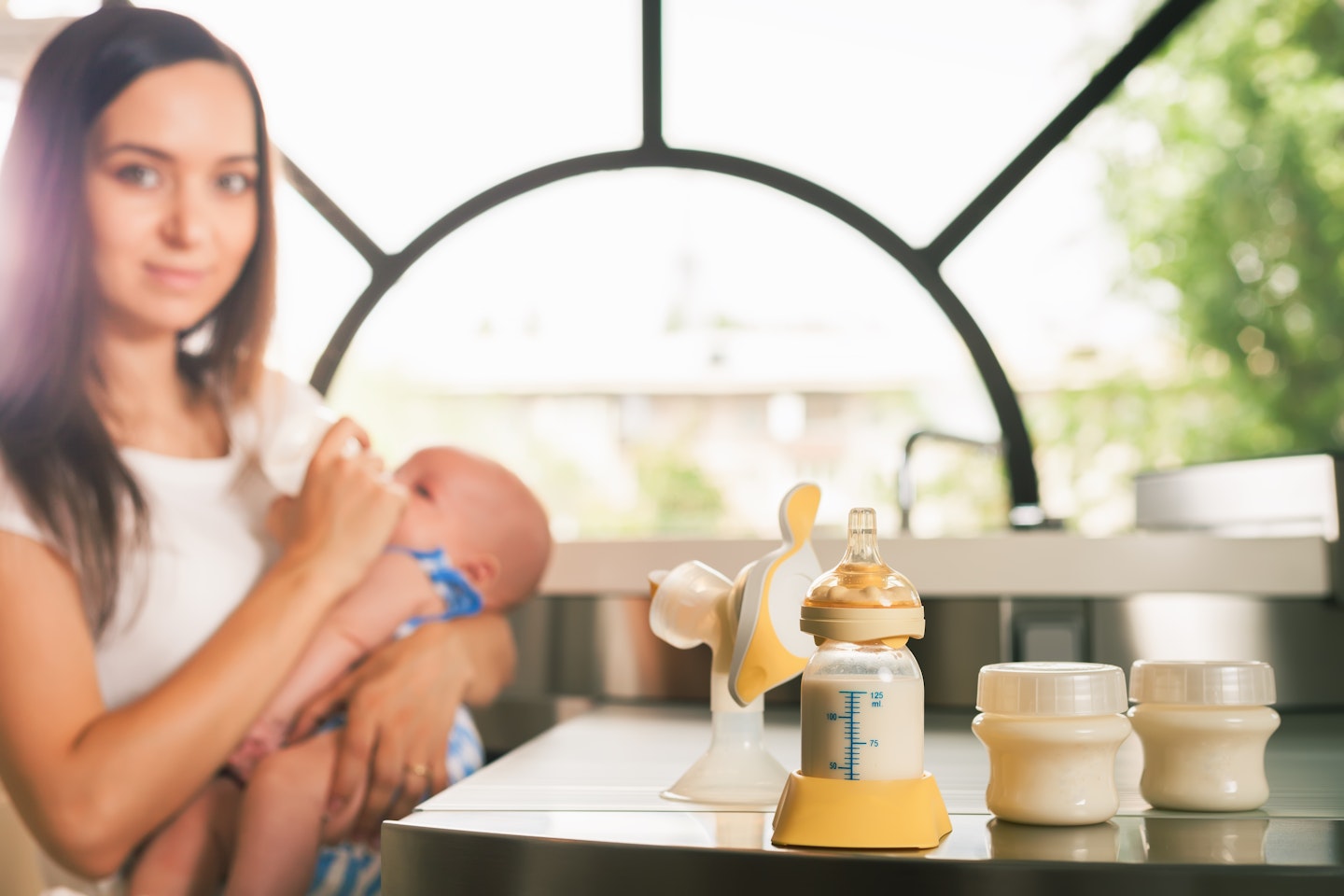 How do you clean a breast pump?
A breast pump must be thoroughly cleaned and sterilised after every use. Sterilising your breast pump can be an easy job or a serious chore, depending on how many parts there are to clean.
As you are dealing with your baby food, you need to make this process as clean as possible.
You need to make sure that the material that is in contact with your milk is safe for food contact (BPA-free and 100 per cent Food Grade Silicone).
Also, you need to be able to sterilise most parts of the breast pump.
Avoid sharing your breast pump with anyone, as they have been designed for single users.
Does breast pumping have any side effects?
There are lots of benefits to pumping, most of which we have previously covered throughout this article. However, there are also a few side effects which some mums experience. One of the most common side effects is causing pain in your breasts or nipples. If you are using the wrong setting, you are in danger of damaging your breasts. Always ensure you are starting at the lowest setting and slowly working your way up.
Is it OK to just pump and not breastfeed?
Of course! Breast milk offers so many benefits to your infant, but exclusively breastfeeding isn't always a viable option for everyone. Whether it's due to a baby who cannot latch, returning to the workplace or feeling like you just no longer want to breastfeed. Exclusively pumping is a fantastic way for your baby to get the benefits of breastmilk without breastfeeding.
How long should you pump for?
Try to get comfortable and express for as long as comfortable, and your milk is flowing. For each woman, this time could be different which is the same for the best time to pump. Try not to focus on the ticking clock - We know it is easier said than done when you are feeling a little bit like a daisy cow. For most women, they will spend, on average, 20 minutes pumping. Some mums like to express whilst feeding, whilst others opt for expressing between feeds.
It's not important to have a breast pump. If you're not finding it comfortable or you're having any issues, you can talk to your midwife, health visitor, GP or other healthcare worker who will advise you on the other options and routes you and your baby could use.
Whether you're pregnant or have already welcomed your new baby into the world, you know you need a lot of stuff. The Amazon Baby Wishlist is the best way to keep track of everything you need for your baby - and it's easy to set up.
HannahJames is a Parenting and Lifestyle Writer working across Mother&Baby, Yours and Grazia. As a mother of three, Hannah lives, breathes and consumes all things family orientated. When she's not tapping away at a desk, Hannah is diving for dummies, fixing toy fire trucks or attempting to make a healthy family dinner. Hannah is always on the hunt for must-have products and loves to share her finds with Mother&Baby, Grazia and Yours.