Expressing milk can be as frustrating as it is beneficial, so it's important to find the best breast pump for you. However setting aside time to express yourself can be overwhelming and sometimes, it can be enough to put you off. An alternative way is by investing in a hands-free breast pump, the popularity of which has continued to rise over the last few years. These don't require you to be sat still, holding the suction cup onto yourself, as the pulsing machine compresses air. Instead, you can wear these in your maternity bra or breast pump bra, enabling them to be as discreet as possible. Scroll down to find out how our tester got on with the Medela Freestyle Hands-free double electric wearable breast pump.
Pros
Easy-to-read display
Easy to use
Powerful
Cons
Not as discreet or easy to wear if you're a bigger bust
Key Features
Comfortable and lightweight
The last thing you want when trying to get jobs done around the house or even strutting through town is to have your breast pump on show. Medela has worked tirelessly to make these as discrete as possible. Each cup only weighs 76g when empty, and the whole unit weighs 450g.
Easy assembly
With only three parts to the breast pump, assembly is easy. Even cleaning the collection cups out is easy because of this. Even better is they can be washed in the dishwasher. The last thing you want is for the heat from the dishwasher won't melt the cups.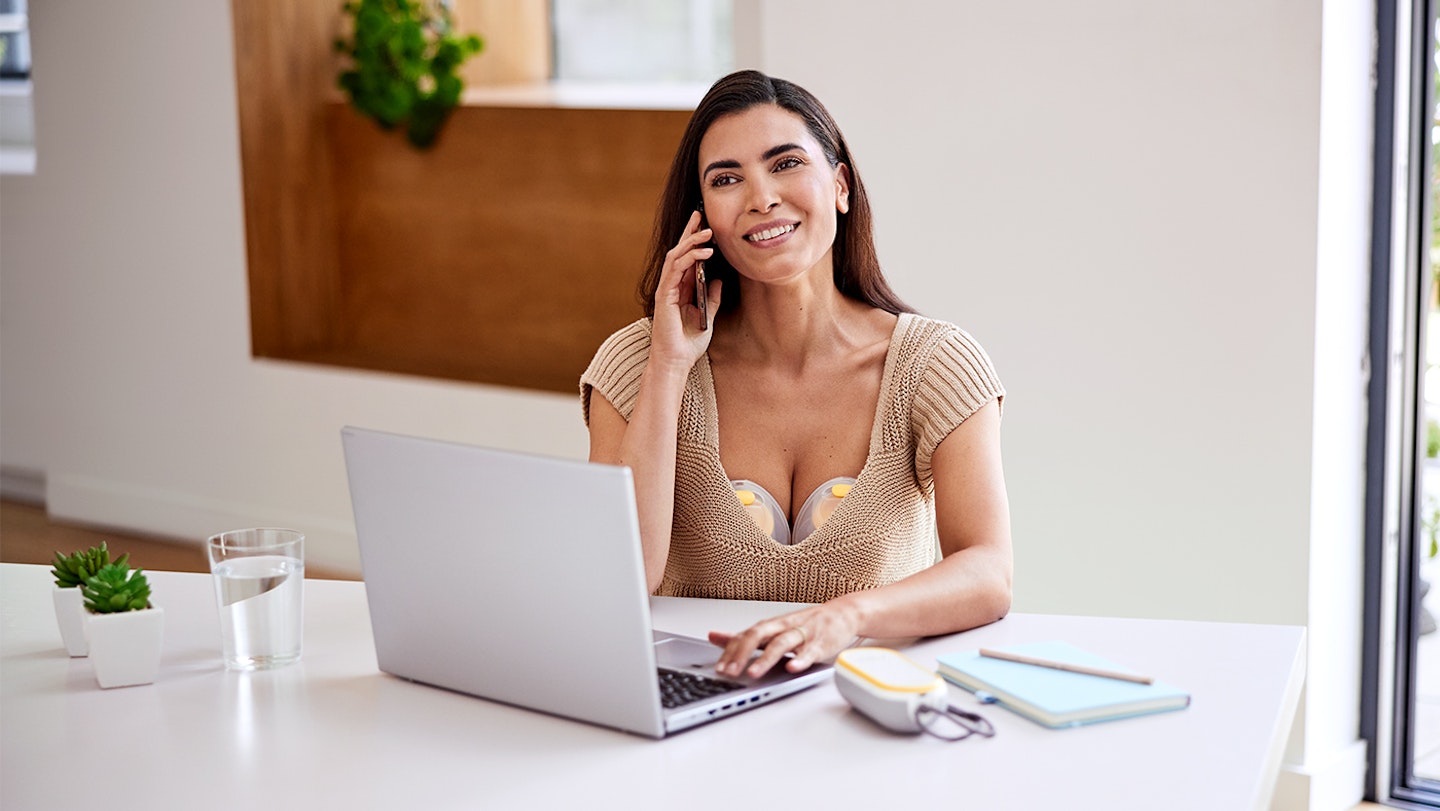 Transparent for visible milk collection
Sometimes, you can get carried away doing jobs and perhaps forget that you're pumping milk. Having transparent collection cups means you can, at a glance, see how you're getting on.
Breastfeeding support
In the app, you can monitor how much you're expressing, your battery life and how much milk you have in the freezer, which is handy when things get hectic. You can also ask Medela's chatbot questions about breastfeeding and expressing yourself. It's been created by certified lactation experts, not ChatGPT.
Testing the Medela Freestyle
This product was tested by the wife of freelance journalist Myles Warwood and written up by Myles, using his wife's words and experiences. It was tested for battery life, usability and what it was like to live with while using it.
Getting it out of the box
Out of the box, it was easy to put together and start using, there was already charge on the battery, but it's always best to give these things a full charge before you start using them. It was easy to assemble, the pipes connected, and they didn't want to twist or tangle if you wore them under your clothes. The suction cups are in three parts, and it's pretty apparent which one goes where when putting it together, and the instructions were easy to follow.
I was surprised by how little there was to it and quickly you could use it. The USB-C charger topped the battery up quickly, and it was all good to go in no time.
Pumping
Finding time to pump and express can be difficult for me, with two older boys and twins demanding milk round the clock. Expressing was something I wanted to do, but I would need help to sit down and find the time to do it. Having a hands-free pump changed that as it meant I could express when I was ready, not when the twins were prepared for me.
The cups attached easily and fit around your anatomy and shape well, expressing milk quickly and relatively quietly, considering it was a hands-free pump. It never felt underpowered, and the battery life was good, meaning you could express it a few times without recharging.
The only downside is that the main unit could do with a belt clip rather than the tie string. This would enable you to holster it to your jeans or leggings easily and not have it swinging around off your wrist or belt loops.
Holding milk
You can pump up to 5oz of milk, which can stay in the collection cups for as long as needed. They stand by themselves and never seem to leak from any point. To get the milk out, you pour it out through a hole in the top of the container, which the first few times can be a bit tricky.
There never seemed to be an issue in using where I felt as if I was going to spill my milk, and it all end in tears.
Discreetness
It can be. It's not something I would attach to myself down the shops or around town but around the house, I could use it, but if you've got a bigger bust, it can be uncomfortable beneath your bra or clothing.
It's not that noisy, so you might get away with using it on a Teams call if you had to, but again, not something I wanted to do.
Final verdict
I really rate the Medela Freestyle Hands-Free pump. Aside from a couple of niggles with no belt clip and mild discomfort, it's a product which slotted into my life exactly how it was meant to. It made expressing easier and less stressful to find time to do and was very handy around the home, meaning I could express myself anywhere I wanted without finding a power source.
If you have multiples or kids who are close together in age, it can be an absolute game changer for you around the house.
Frequently asked questions
How long can breast milk be stored?
A quick way of remembering this is 4, 4, 4. 4 hours on the side, 4 days in the fridge and 4 months in the freezer. While it can be frozen for up to 12 months and some guidance also says 6, keeping it to 4, 4, 4 will help you remember.
Does expressing hurt?
Expressing can be painful in the same way breastfeeding your child can be painful for women. Generally, the mechanical suction
How discreet are breast pumps?
Each is different and will say they're more discreet than others. However, there's no escaping the fact that they have to capture and store milk somehow, and they may be noticeable. You're most likely to use these at home, where you can store the milk immediately, so you could be doing housework or working while expressing.