When breastfeeding, it can be extremely helpful having the best breast pump that works for you and a manual breast pump, in particular, is a great way to express milk while keeping you in control of the speed and intensity of suction. If you're wondering if a manual breast pump is right for you or how to use a manual breast pump, keep reading.
There are two types of breast pumps: manual and electric. A manual breast pump works to mimic a baby's suckling and allows you to control the speed and intensity of the suction. It is hand-operated and is often cheaper than electric breast pumps, which may be faster but offer less control. You can also buy a breast pump bra that can help to hold your pump in place. These are particularly handy if you struggle to find the best breast pumping position for you but depending on how often you need to pump breast milk, may not be suited for extensive pumping.
It can be difficult for mums who are returning to work, have multiple children or just want to share a load of breastfeeding by introducing bottles to involve their partner. A manual breast pump is also useful for pumping when out and about, as you don't have to worry about finding somewhere to plug in like some electric pumps require.
The best at a glance:
•Best Manual Breast Pump for comfort: Medela Harmony Manual Breast Pump - Buy on Very
•Best Wearable Manual Breast Pump: Elvie Curve - Buy on Amazon
•Best Silicone Manual Breast Pump: Haakaa Manual Silicone Breast pump - Buy on Amazon
•Best Manual Breast Pump with Accessories: Philips Avent Manual Breast Pump - Buy now on Amazon
If you're looking for a manual breast pump that will work for you and your lifestyle, have a look at our carefully curated list of the best below. We have taken prices, features, and comments from our real mum testers to make all of our selections.
The Best Manual Breast Pumps 2023
The Best Manual Breast Pump overall
Description
This manual pump won Bronze in the Mother&Baby 2023 awards.
We love that this is small
Pros
Easy to use
Small and portable
Comes with a neck strap
Budget-friendly
Cons
Strong suction might be too much for some mums
Best Manual Breast Pump for comfort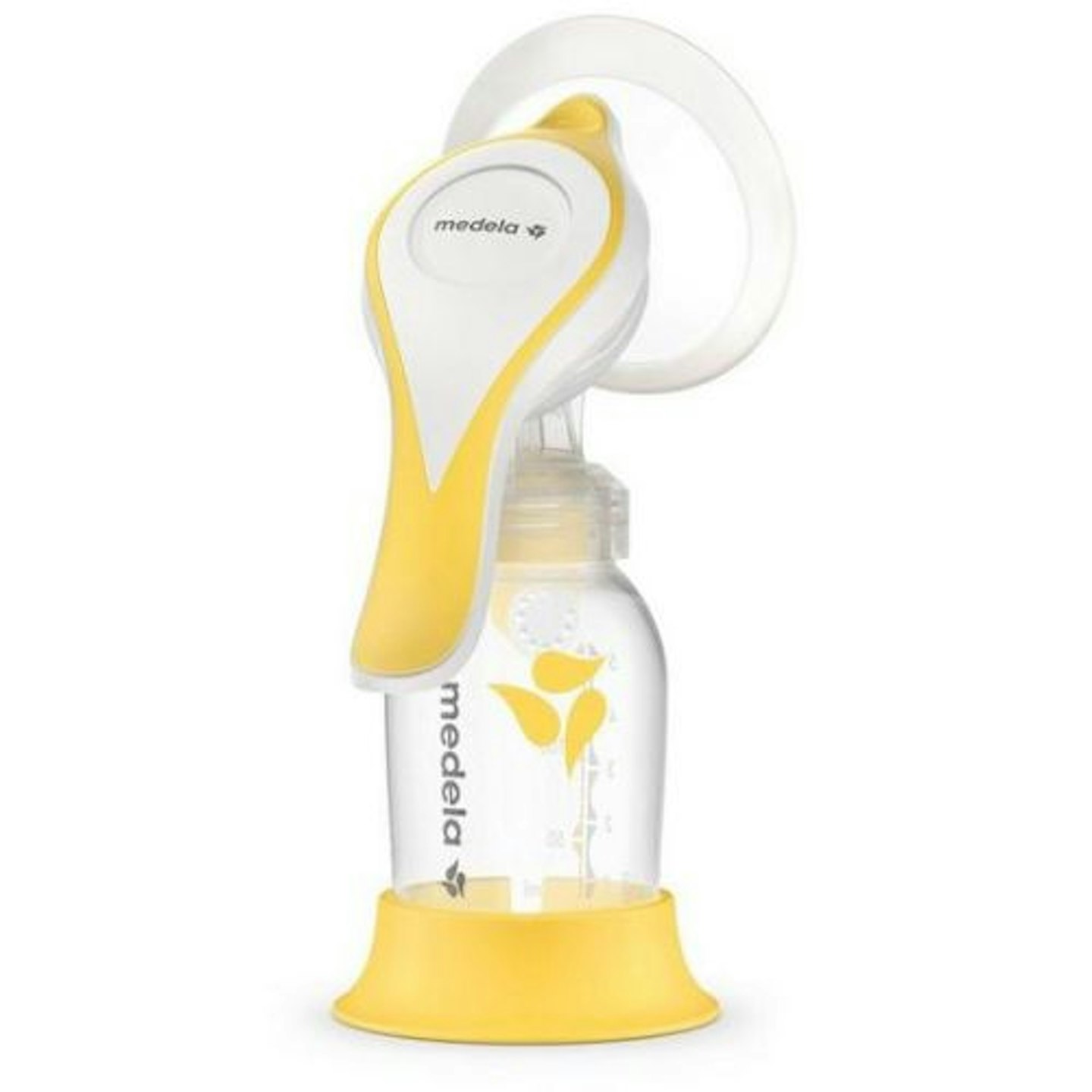 Image: John Lewis
Description
Medela Harmony Manual Breast Pump has a 105-degree opening angle which means it puts less strain
Pros
Two-phase expression
Discreet and quiet
Cons
Sometimes requires repositioning when using
The Best Wearable Manual Breast Pump
Description
We love the Elvie Curve because it makes pumping effortless. It can be used in one of three ways.
Pros
Catches bonus milk
One press expression
Discreet
Cons
Some mums found expressions slow
The Best Silicone Manual Breast Pump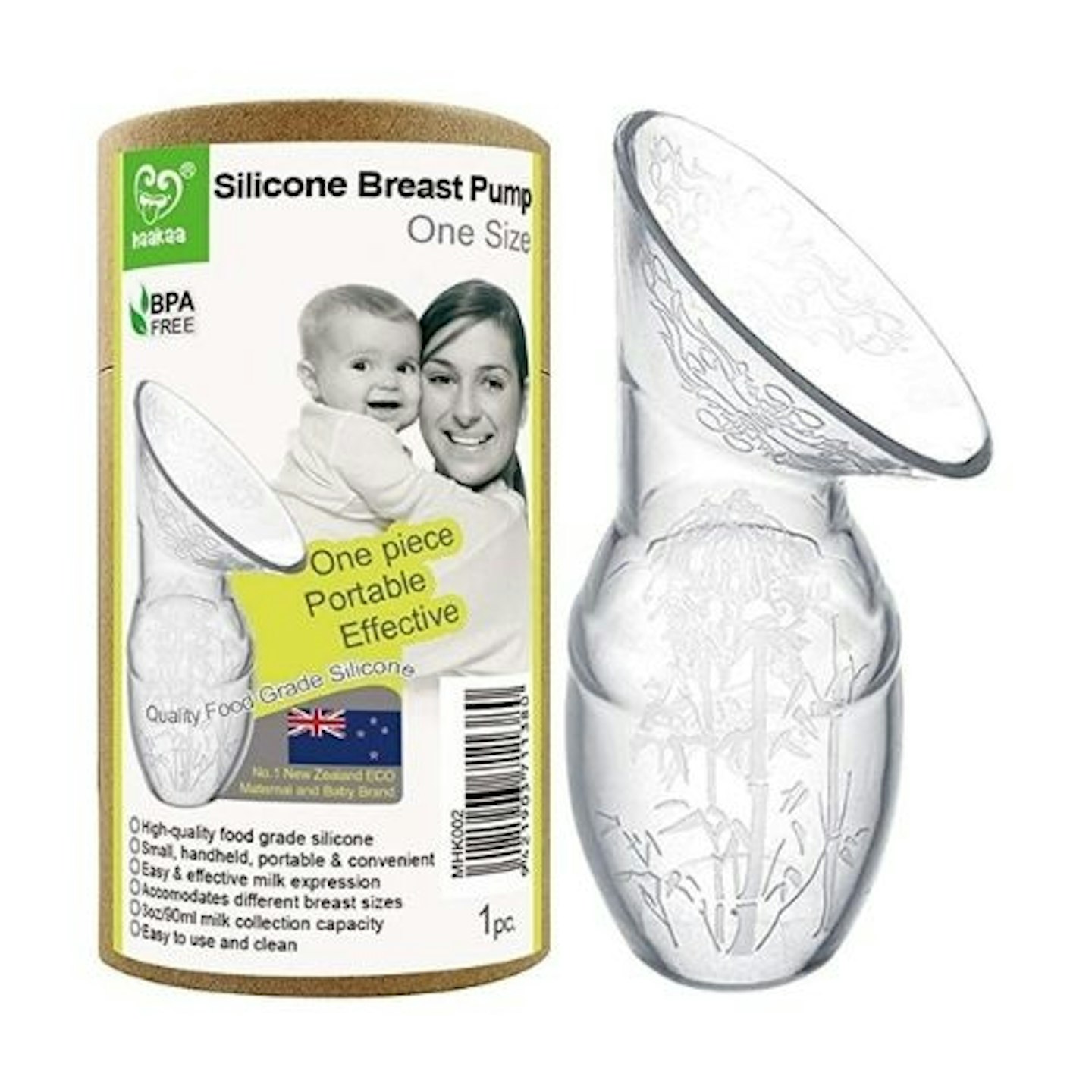 Amazon
Description
Haakaa Manual Breast Pump is the best hassle-free pump. All you have to do is put the suction onto
Pros
Easy to use
One size fits all
No cords or batteries
The Best Manual Breast Pump with Bottle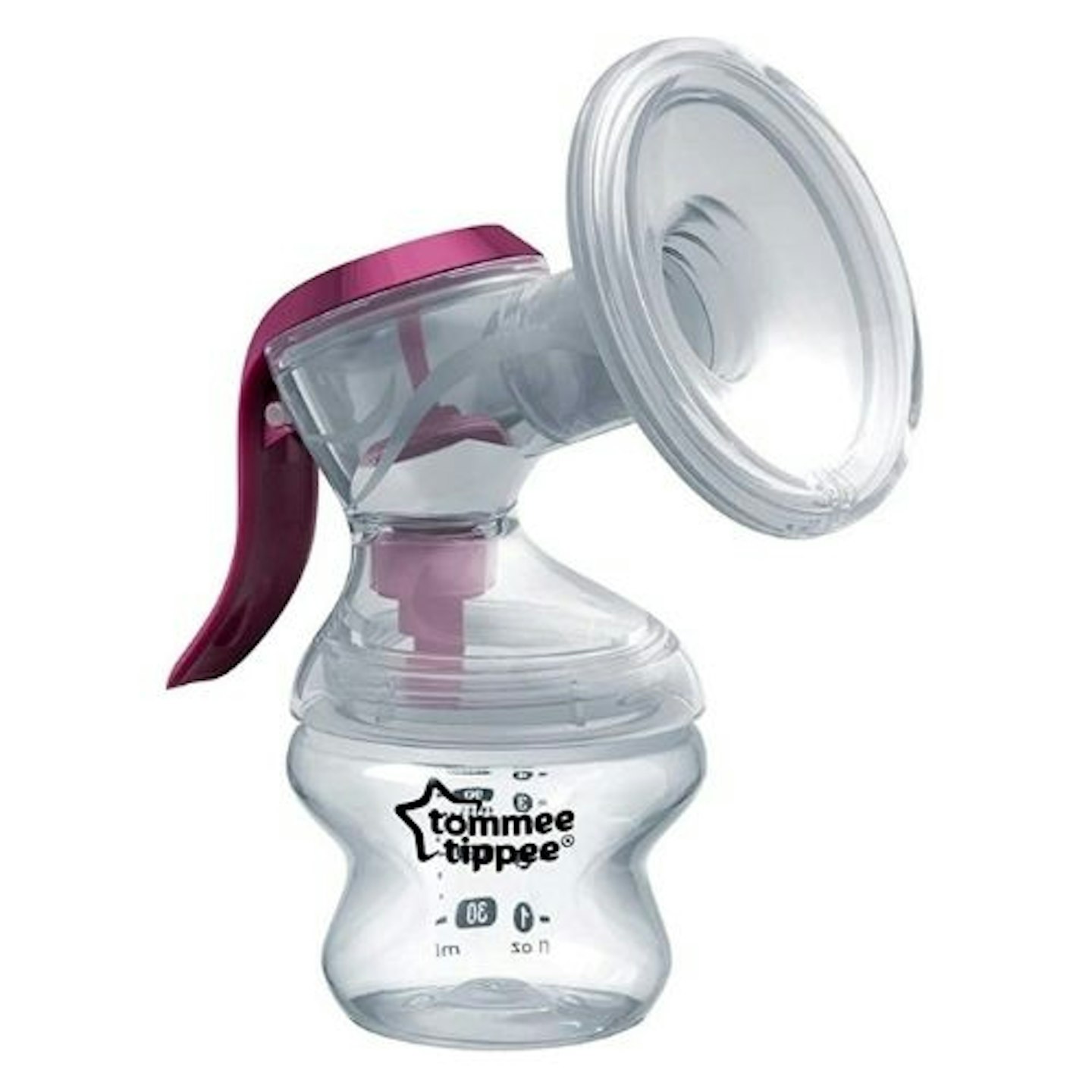 Image: Tommee Tippee
Description
The Tommee Tippee manual breast pump is a soft silicone cup pump. It fits comfortably around your
Pros
Ergonomic design
Easy to assemble
Cons
Difficult to use at the same time as breastfeeding baby
The Best Adjustable Manual Breast Pump
Description
If you are a fan of MAM bottles, this MAM manual breast pump may be perfect for you. Your milk
Pros
Good value for money
Easy to clean and assemble
Cons
Some mums struggled to see the milk coming through clearly
The Best Manual Breast Pump with Accessories
Image: Amazon
Description
The silicone breast shield adapts to fit your nipple to give comfort when feeding. This kit
Cons
Some found the suction not as strong
Everything you need to know about a manual breast pump
A manual breast pump doesn't just refer to a pump that is squeezed by hand. Over the years, different types of manual breast pumps have made their way onto the market, all with the aim of making expressing milk easier for mums.
Breastmilk is often referred to as liquid gold, as it is packed full of vitamins and minerals which will help your baby grow into a healthy child. Breastfeeding is a labour of love and requires consistent feeding, so choosing to use a manual breast pump could help you and your baby.
Hand-held pumps: a hand-held is a classic style that typically has a handle or lever that you squeeze to create suction. This pull uses a vacuum pressure to draw out milk.
Collection shells: with no pumping required for these, they simply sit in your maternity nursing bra like a nursing pad and collect the milk that leaks between breastfeeds or when pumping.
Silicone pump: these are often used to collect milk from the opposite breast to the one you are feeding from. You don't need to continually hand pump and instead rely on vacuum suction which can be established from a squeeze once attached.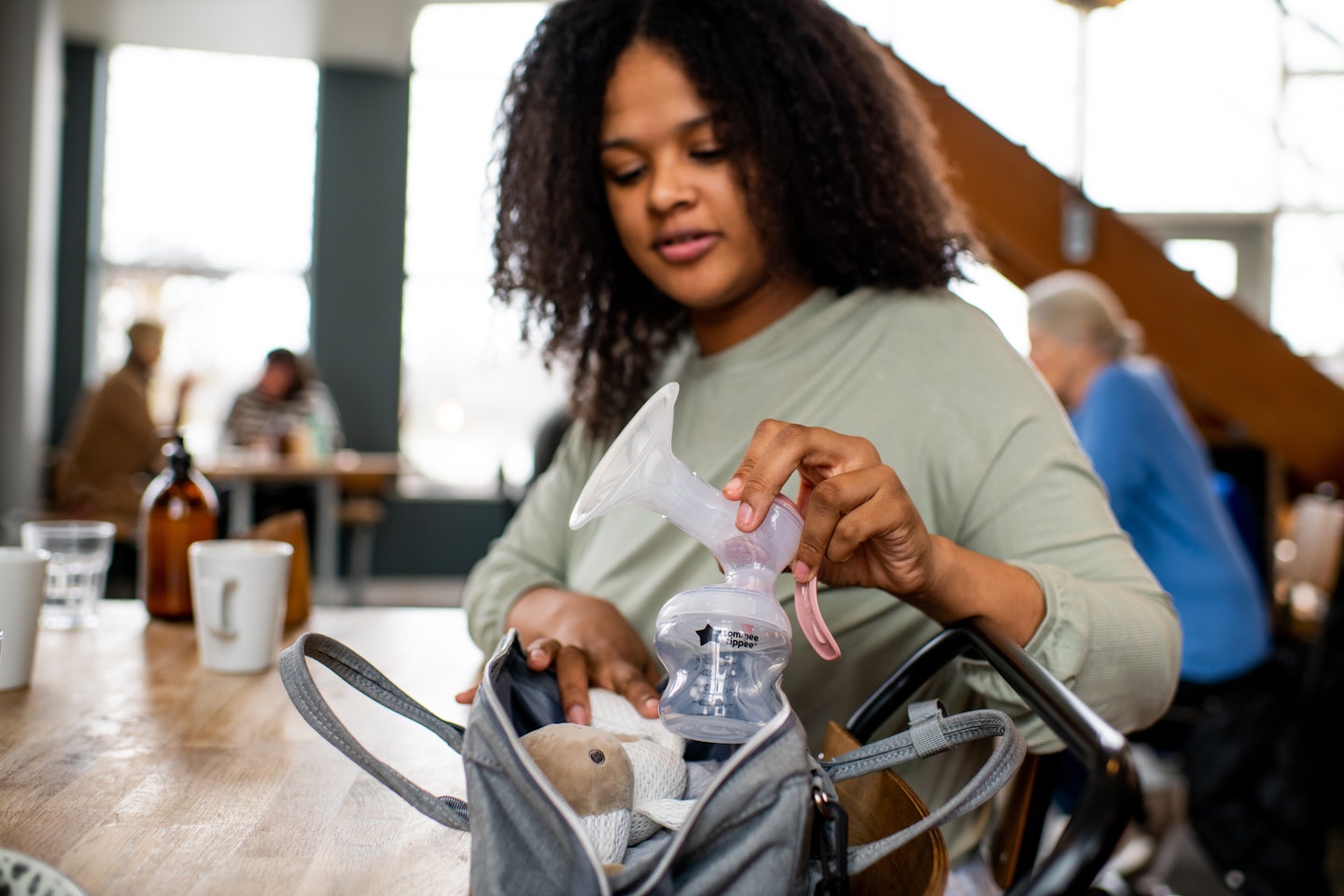 How to choose a manual breast pump
Because a manual breast pump can feel like an intimate and important purchase, there are a few things to consider when picking one in order to make the right decision for you and your body.
Comfort - Take your breast size and what you think will feel comfortable into consideration.
Features - Does that breast pump perform in all the ways you need it to? Will it work with your routine?
Price - It can be easy to feel pressured into buying the most expensive gadgets, but definitely stick to your budget.
We have taken all of these elements into consideration when making our selections above.
How to use a manual breast pump
If you're wondering how to use a breast pump, follow these instructions for how to use the different manual pumps.
It's important to always start by washing your hands. Make sure your pump and bottle are clean and sterile before use. You might want to find a quiet space where you won't be disturbed to pump in peace.
Tip: begin by massaging your breast for a few minutes – this helps with the let-down reflex.
Hand-held pumps: with the bottle attached, place the breast shield over your nipple and make sure it's in the centre of the funnel. Gently press down on the handle to stimulate milk flow and repeat. Once your milk starts to flow, press the handle and hold for a few seconds before releasing.
Collection shells: as this doesn't require hand pumping, simply place in your nursing bra and ensure your nipple is aligned with the opening. The cup will then collect milk that leaks in between feeds or on the opposite breast while feeding.
Silicone pump: gently squeeze the pump to release air inside the pump and whilst still squeezing, attach it to your breast. When attached, release your grip on the pump, which will create a suction that starts to express the milk.
Tip: When your milk starts slowing down, switch breasts. Then swap back again as you may find you have more milk to express.
Once you've finished expressing, remove the breast shield and securely store your fresh breast milk.
After pumping, always clean and sterilise all of your feeding equipment.
Manual vs electric breast pumps:
Everyone is different, so many mums-to-be can easily feel on the fence about picking the right type of breast pump for them - here are some pros & cons to both manual and electric breast pumps, so you can make a more informed decision.
Manual breast pumps
Pros
• You don't need a power source which is more convenient (and can be quieter too)
• They're a great budget option compared to electric versions
• Can relieve pressure from the breast if you have any uncomfortable engorgement
Cons
• Manual breast pumps can be more time-consuming
Electric breast pumps
Pros
• They're more versatile, making it easier to double pump if you need to
• Designed to be a more hands-free option
• Gives you more control over the speed and intensity of pumping
Cons
• They're typically pricier, and not all are wireless
FAQs
Can I pump straight after birth?
Yes. If you are unable to breastfeed, you can pump straight after birth. This will help develop and maintain a good supply of breast milk. NHS recommend mothers wait six weeks to establish a breastfeeding routine. However, each parent's feeding journey will be different, and it is safe to pump straight away if you feel that is what is right for you and your baby.
How to store breast milk
• Breast milk should be stored in a clean sterilised container or milk storage bag.
• Milk can safely stay in the fridge for up to 8 days at 4C or lower
• If you're unsure of the temperature of the fridge or it is above 4C, use it within 3 days
• Breastmilk can be stored for up to 6 months in the freezer
• Milk that's been cooled or defrosted in the fridge can be carried in an ice-cool bag for up to 24 hours.
• It is best to store breast milk in small quantities using special storage bags to help avoid waste. It is important to label and date it.
How do I heat breastmilk?
You can warm breast milk by putting the bottle into hot water and checking the temperature to ensure it is not too hot for your baby. Ideally, it should be no hotter than body temperature. Never microwave milk. It may create hot spots and lead to your infant getting burnt.
What should you do if you are having difficulties feeding?
Visit the NHS website for more information about infant feeding or find your local breastfeeding support services.
Whether you're pregnant or have already welcomed your new baby into the world, you know you need a lot of stuff. The Amazon Baby Wishlist is the best way to keep track of everything you need for your baby - and it's easy to set up.
Samantha Ball is a Product & Lifestyle Writer for Mother&Baby and freelanced for the website for two years before joining the team full time. She's a mum of two and loves browsing for the best products and cute outfits.