The Pippeta Compact LED breast pump is an affordable compact lightweight handsfree breast pump which allows busy mums to express on the go. The LED displays four different types of pump modes; Massage, Lactation, Expression and Auto and each mode has 12 levels of suction power.
With its silicone material, it is easy to clean and assemble. The hands-free breast pump comes with extra parts as standard, including bra adjustment buckles which allow you to adjust the position of the pump for a comfortable fit. It has a good battery life, quiet pumping sound and 150ml capacity, which makes this a highly recommended breast pump.
Scroll down to find out how mum-of-two Raman got on with testing the Pippeta Compact LED hands-free breast pump...
The Pippeta has also won a Silver 2024 Mother&Baby Award for Best Breast Pump.
Pippeta Compact LED overview
Pros
Easy to clean and assemble
Quiet pumping sound
Can get different sizes of flanges for a comfortable fit (at extra cost)
Pump comes with additional spare parts
Good battery charge - USB charge
4 different suction modes and can alter the strength to 12 levels
Compact and lightweight design - fits comfortably in nursing bra
Cons
Although compact, the pump still sticks out quite a bit so would only use in and around the house
No timer to show how long you have pumped
No battery level sign
Testing the Pippeta Compact LED handsfree breast
As a second-time mum to a 3-year-old, currently on maternity leave with a 4-month-old. With my first child, I used a Medela electric pump which meant I had to sit and hold the suction pump in place to express due to the wires and weight of the pump. With a toddler and a baby, I found it impossible to find uninterrupted time out of my day to express. I was looking for a wearable pump that I could slip into my nursing bra so I could share the feeds with my husband and give attention to both my children.
The breast pump is an affordable option (£98.99) for busy mums who need to pump on the go. Its compact lightweight design has a range of suction modes, making it comfortable to pump while carrying on with your everyday tasks.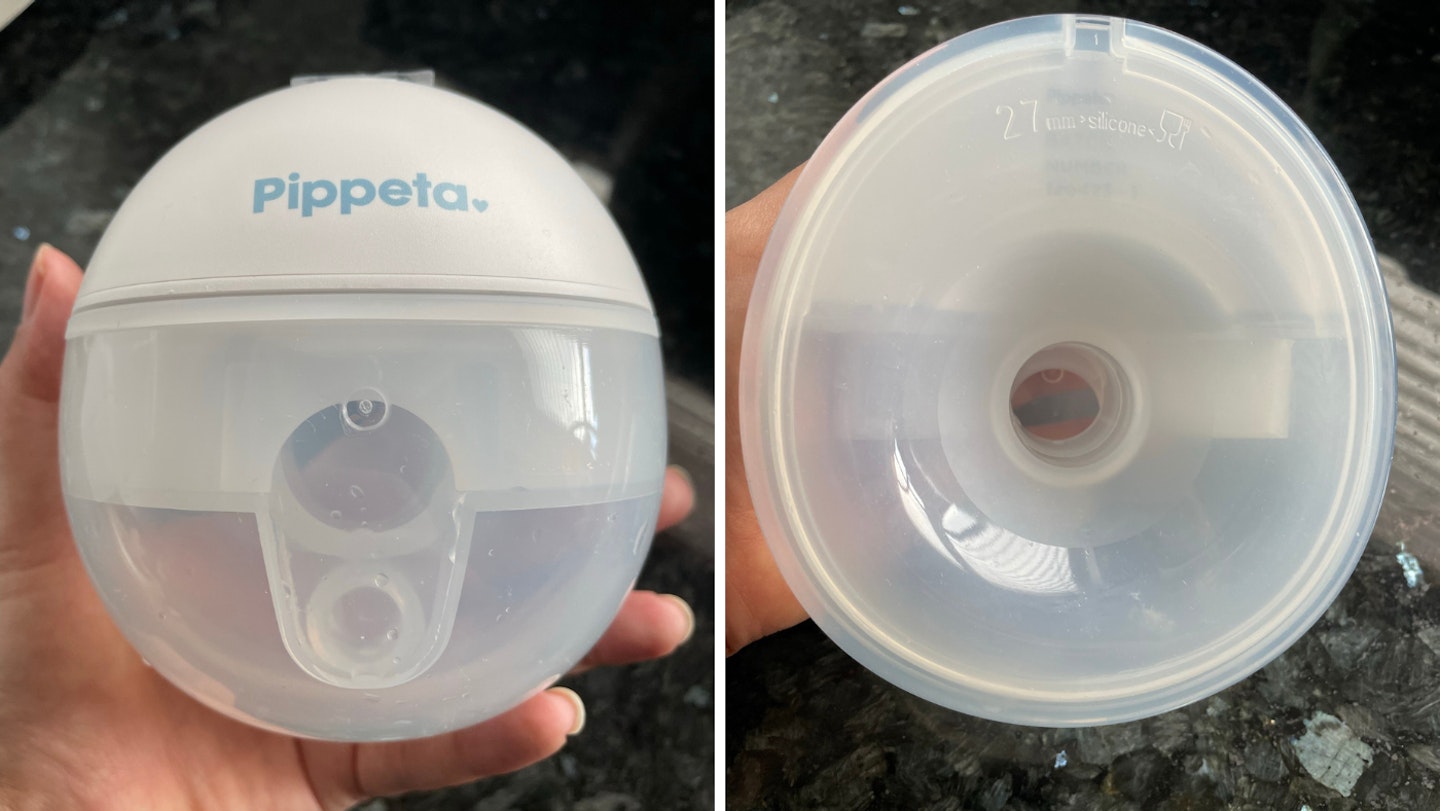 Design and build
The pump is easy to assemble as the parts slip into place effortlessly. It is important to ensure all the parts are assembled properly for the suction of the pump to work. The parts are easy to disassemble and clean and due to the silicone material, can be cleaned using a steam steriliser and in the dishwasher too. One thing to note is that the components are transparent and the smaller parts can be easy to misplace. Luckily there are extras in the box if this does happen.
The size of the pump fits comfortably in your nursing bra so you don't have to adjust it. The suction cup holds the pump in place and once on, doesn't need to be adjusted. The easy pour sprout reduces any spillage which is excellent and satisfactory to watch when pouring.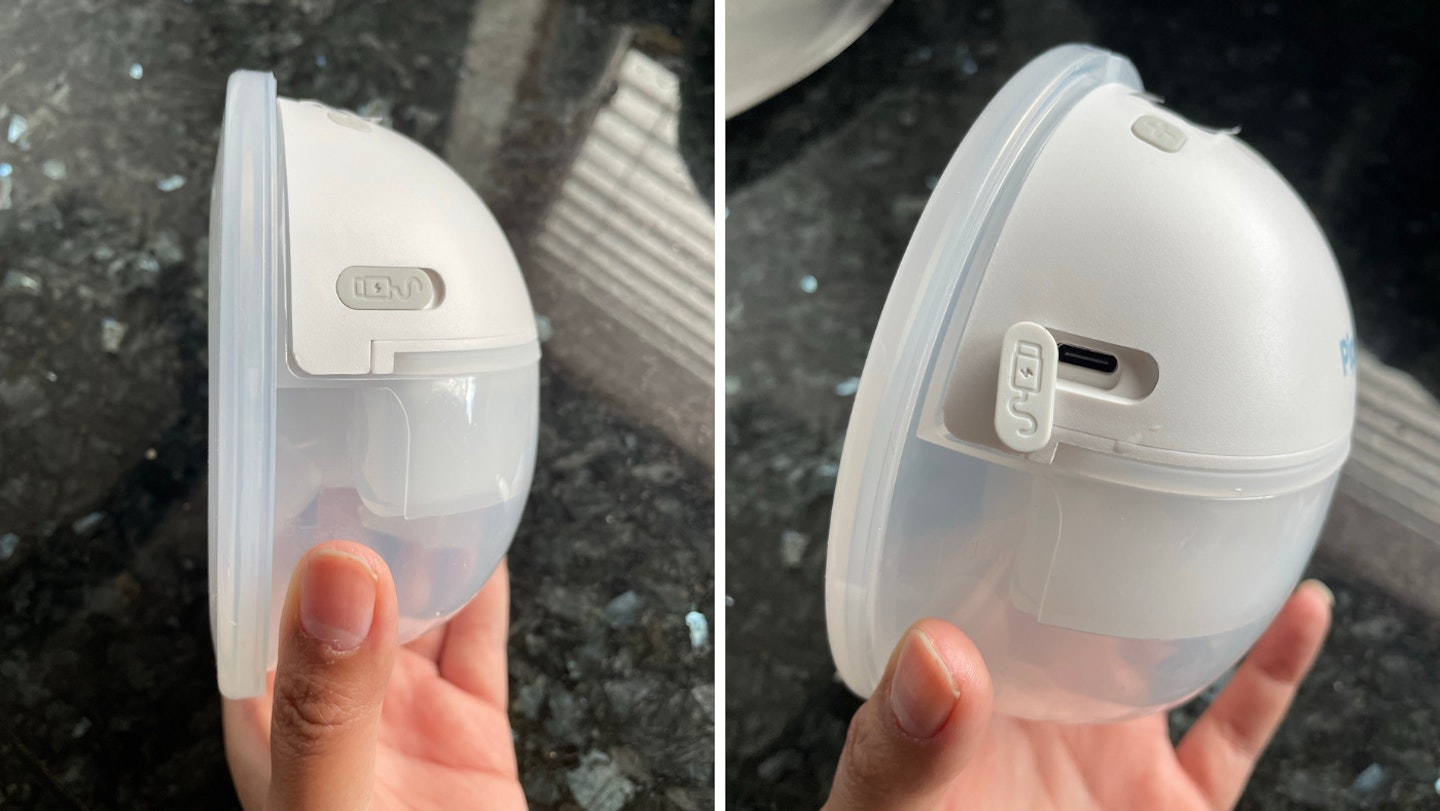 The battery life is good as I use the pump a few times a week at the moment and from one full charge, I was able to able to get 5 - 6 pump sessions.
The LED display shows the pump mode and the suction power level selected. The buttons allow you to switch between modes easily and adjust the suction power for your comfort.
Performance and usability
The key features include its lightweight and compact design to fit into a nursing bra. It really is a hands-free pump as the suction holds the pump in place. The pump also comes with adjustable bra straps, which takes away the need to adjust your bra straps every time you want to pump.
The Pippeta Compact LED comes with a standard 19mm and 21mm flange with a smaller(17mm) and larger size(27mm) to purchase at an additional cost, for comfort. I personally needed a larger flange size and at £5.99, I think it is a reasonable price.
It is hard to explain the different pump modes but I would recommend trying them all, so you can see what feels comfortable. The only thing missing from LED screen is the battery level as one time I was using the pump it cut out mid-pump due to the battery being dead. Another thing that would be useful would be to see how long is you have pumped off in case you have to stop mid-pump and would like to keep track of how long you pumped.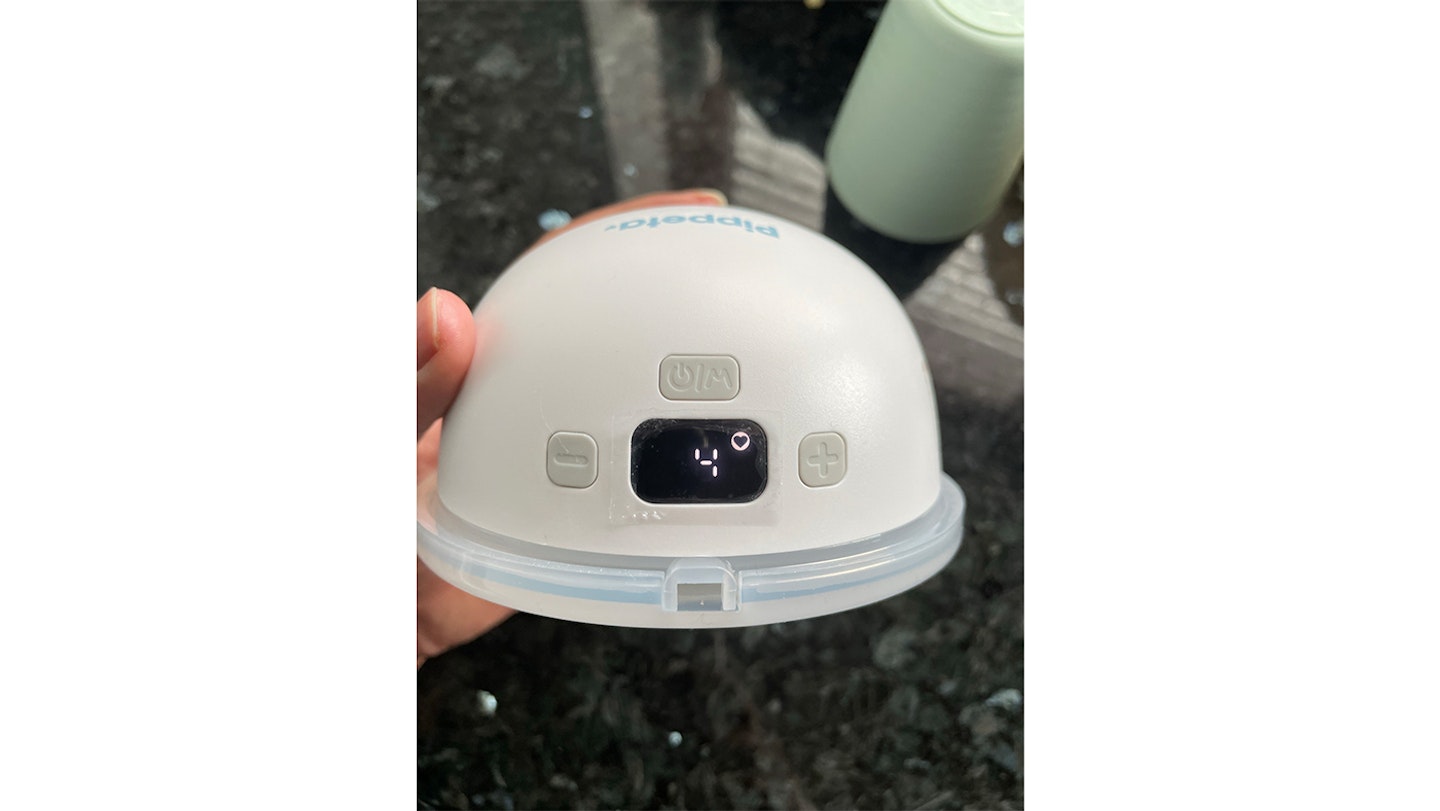 The different suction modes and levels allow you to tailor your expressing experience to fit your needs. I preferred using the massage mode as it allowed me to express the milk I required. The pump comes with an automatic switch-off after 20 minutes.
The pump is relatively quiet and although compact, it does stick out quite a bit under the contour of the clothes. Because of this, I personally only felt comfortable using the pump at home rather than out and about.
The price point of £98.99 makes it affordable yet despite the great price, it holds its own in comparison to more well-known brands such as the Elvie pump.
Final verdict
The pump and the features are simple and easy to use. As mentioned, the only changes I would make is for the LED screen to show the battery level as one time I was using the pump and it cut out mid-pump. It would also be useful to see how long you have pumped just in case you have to stop mid-pump and would like to keep track.
Regardless, I would 100 per cent recommend this to my family and friends due to the ease of use and cleaning, the different modes to tailor the pumping experience and the affordable price tag.
Pippeta Compact LED FAQs
Can I use the Pippeta Compact LED if I have larger boobs?
Absolutely! You may just need to purchase the larger flange size (27mm) which you can purchase directly from Pippeta.
What is the difference between the four pumping modes?
Here's a quick run down...
Massage mode: Use this to start your pumping session with as it will encourage letdown
Expression mode: This is the standard pumping mode and you can move up and down the 12 levels
Lactation mode: This mode will pull your nipple through and hold it for a longer time
Auto mode: A combination of massage and expression modes.
Emily Gilbert is the Features & Reviews Editor for Mother&Baby and has written for the website and previously the magazine for six years. Specialising in product reviews, Emily is the first to know about all the exciting new releases in the parenting industry.