If you're after a breast pump that's both affordable and hands-free, the Momcozy Wearable Breast Pump is certainly one to try. Available in gorgeous grey, pink and green options, it looks much smarter than some of the other alternatives. Plus, it's very quiet too at 50dB - perfect for when the baby is napping.
Unlike electric and manual breast pumps, it's battery-powered and simply slots into your bra, so you can carry on with your day whilst you're pumping milk. If you're suffering from a blockage, the high-frequency micro-shock movements will help you to massage it out.
Pros
Skin-friendly and BPA free
Highly portable
Wire free
Cons
Some say that it can be tricky to clean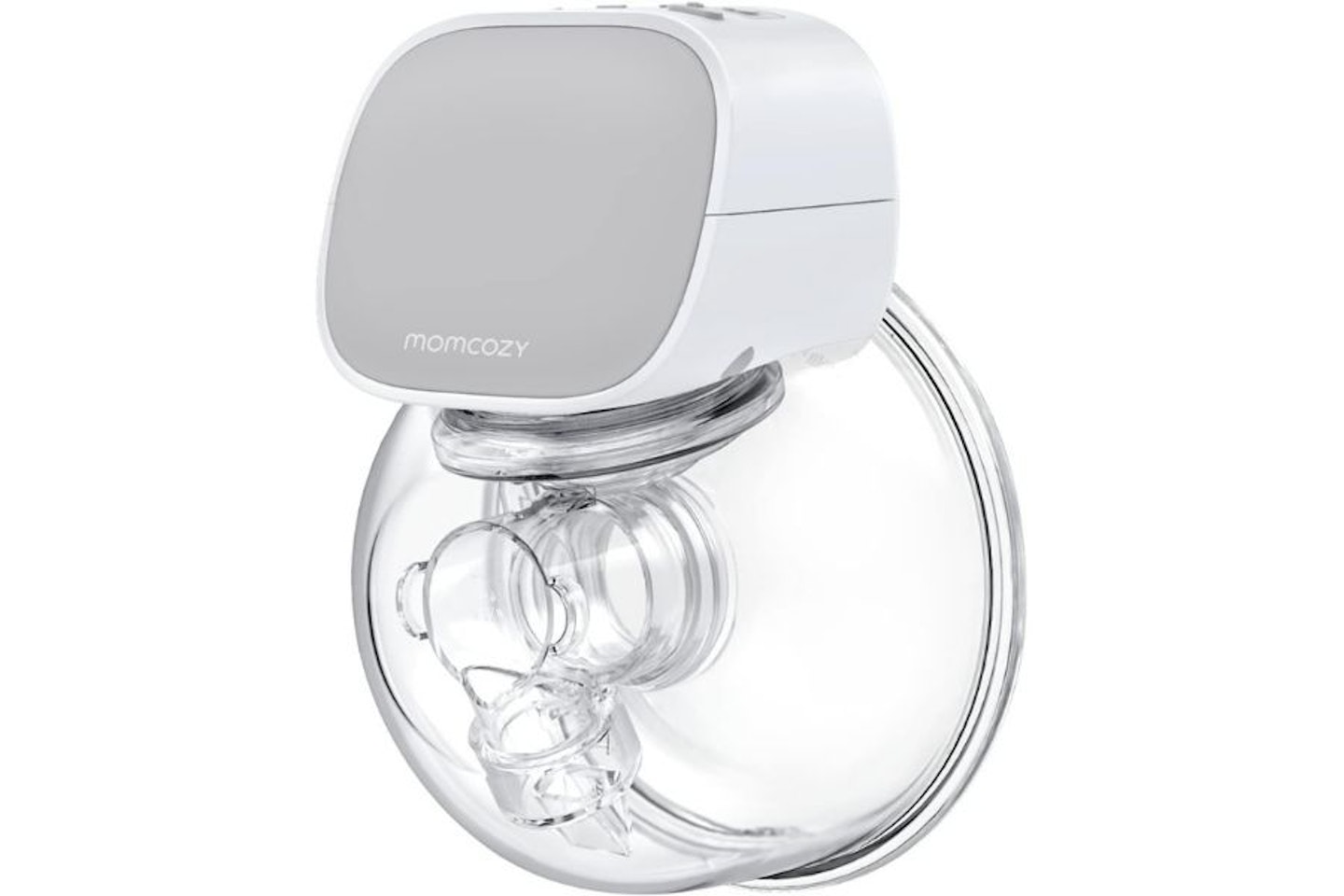 Gethyn Taylor: "So pleased with this product. I had previously seen reviews about the Elvie pump leaking and decided against investing with the crazy price. I saw the Momcozy pump being used and reviewed in multiple TikTok videos and decided to give it a go. With a 4-month-old and a 22-month-old, it's impossible to find the time to sit and pump attached to a machine. However, this gives it a whole new level of ease. Before I would only ever manage to pump once a day if I'm lucky, whereas now I manage to pump 4 or 5 times a day with no problems. I can get on with everyday tasks or sit and relax knowing that I'm pumping without the effort. It's easy to clean and easy to use and I always manage to express a good amount of milk. I would often have difficulty positioning my wired electric pump to be able to get a continuous flow of milk, but the suction on this ensures a strong and regular pump.
The pump comes already put together and it also has spare parts in the box. Definitely wouldn't waste time with another pump again and so pleased I spent the money."
Jess Parkin: "I'm a first-time mum and very new to breastfeeding and pumping. This pump was recommended so I thought I'd give it a go. 90% of the time it's great. Sometimes it does lose suction and I have to hold it again but this is only if I move too much and dislodge it. Overall it's a brilliant pump. Nice and quiet so I've been able to use it at night when my partner's sleeping and it's pretty comfortable. It charges quite quickly and holds its charge for a good amount of time.
With that said, I'm majority breastfeeding and just pumping for extra bottle feeds if needed so if you're exclusively pumping it may need charging a lot more and I would invest in two rather than one. In my opinion, the amount of milk I'm able to express doesn't depend on the pump, so I don't believe it is better or worse at helping me express milk but it's certainly a good little hands-free pump and I would recommend it."
Neisa: "I bought this pump as I see the reviews were good and it was a good price, I wanted one that I could wear around the house with no wires or having to hold a pump for 15 minutes each boob! This arrived the next day I started using it to collect colostrum and put it in a syringe, storing it in the freezer. I'm glad I did as I had to be induced early and baby was taken to neonatal. The pre-pumped colostrum came in very useful, and for the pump, I'd pop it on and off I'd walk to neonatal and nobody could tell I was pumping! I then had warm milk on demand for baba which was easy pour as well! Love love love it!"
Final verdict
Despite it being potentially tricky to clean for some users, the Momcozy Wearable Breast Pump id definitely worth every penny in our eyes. You can easily switch between the massage and suction modes at the touch of a button and the silicone is super soft, so you shouldn't experience any pain whilst using it.
FAQS for the Momcozy Wearable Breast Pump
How long can you pump for with the Momcozy Wearable Breast Pump?
Thanks to the generous 80-minute battery life, you can pump around four to six times a day (once it has been fully charged), which is ideal for those who are exclusively pumping. As long as it's used as recommended, it promises no leakage or backflow.
Can you lie down while using the Momcozy Wearable Breast Pump?
While it is fine to move or walk around whilst wearing the Momcozy breast pump, it's not recommended that you lie down with it on, not because it isn't comfortable but because it can end up losing suction or leaking, which is not ideal.
Arabella Horspool is a Commercial Content Writer for Mother&Baby at Bauer Media. She's a bookworm who enjoys cooking and spending time with her many pets.