If you're expecting or just given birth, an electric breast pump can make things a lot easier for you. Being a new parent is a juggling act, so anything that can make the early stages easier is a no-brainer in our books. That's why finding the best breast pump for you is essential. Depending on how often you are breast pumping, they're ideal for working mums, busy households, premature babies, or little nippers with a big appetite, we've rounded up the best electric breast pumps on the market.
Designed to mimic your baby's sucking action and comfortably express milk for feeding later, our pick of the best electric breast pumps are, on the whole, more accessible and more convenient to use than manual breast pumps, as the motor does the pumping for you, making the process as hands-free as possible. You can adjust the suction and speed settings to find the most comfortable level for you that best mimics your nursing baby.
Most of these best electric breast pumps are designed to be portable or wearable, usually by combining with a breast pump bra, and some are completely hands-free, so you can multitask while pumping. This will also mean you'll find it easier to find the right position for breast pumping - the Lola&Lykke Electric Breast Pump is great for this, which is why it has the top spot in our shortlist. Other electric breast pumps may need to be charged for a certain amount of time before use or plugged into the mains while pumping – which is beneficial if you're likely to forget to charge it up or if you prefer to spend your pumping time having a well-deserved sit down, so it's worth checking the specific product's specifications.
The best at a glance
• Best electric breast pump overall: Lola&Lykke Electric Breast Pump - Buy from Lola&Lykke
• Best quietest breast pump: Elvie Stride Electric Breast Pump - Buy from Amazon
• Best single electric breast pump: Medela Solo Single Electric Breast Pump - Buy from Amazon
• Best mains powered breast pump: Lansinoh 2-in-1 Double Electric Breast Pump - Buy from Amazon
We've tried out each and every one of these best electric breast pumps on our roundup, so you get real reviews from real mums to help you make your decision. Our testers have considered usability, design, battery life and portability, as well as, most importantly, how comfortable the pump is to use. Here are the 10 electric breast pumps that impressed our tester mums the most, from hands-free breast pumps to smart pumps that track how much milk you express.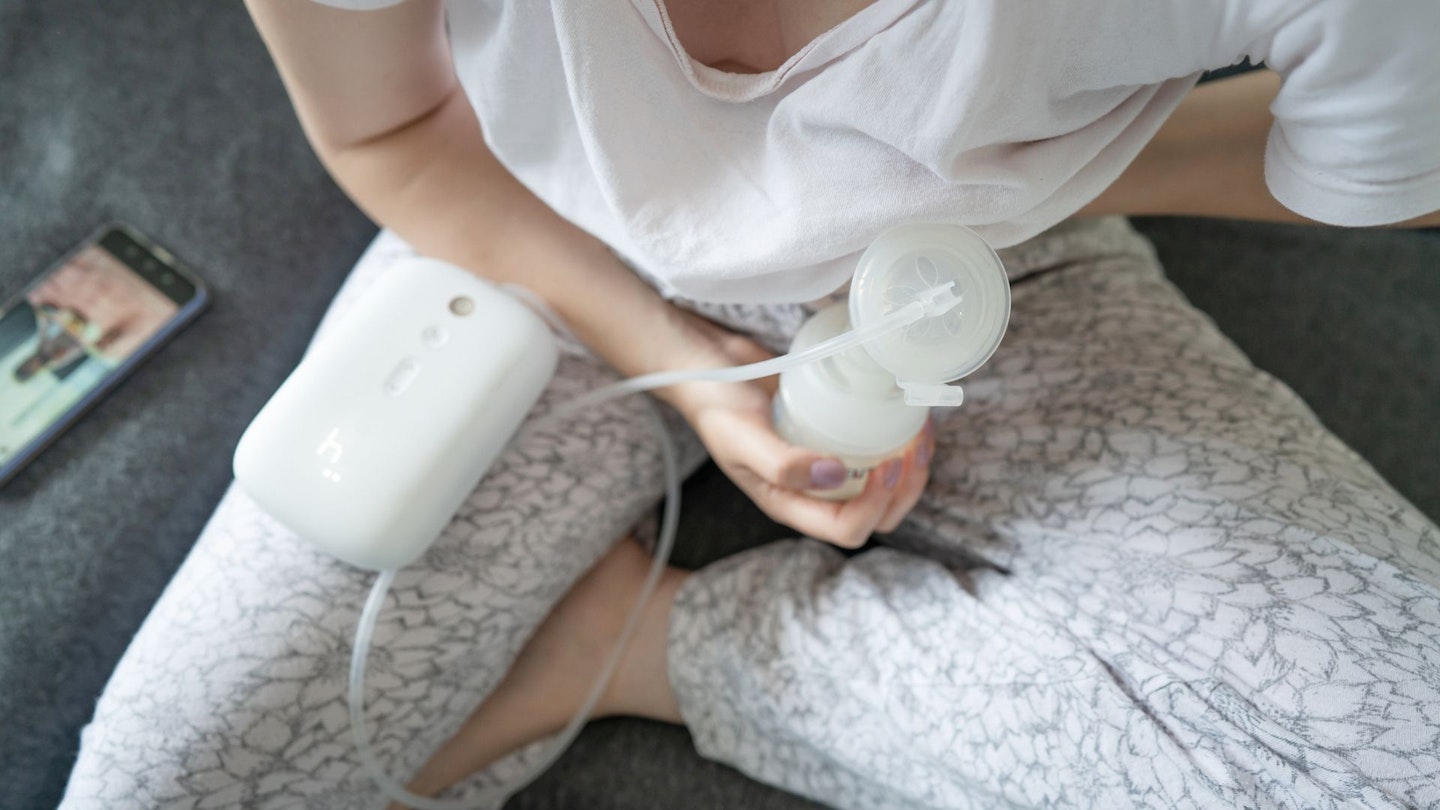 Best electric breast pumps 2023
Best electric breast pump overall
Description
**The Lola and Lykke Smart Electric Breast Pump was awarded Gold for Best Breast Pump at the
Pros
Super portable, quiet and lightweight design
Easy to use and clean
Cons
Would benefit from a carry case to protect it on the go
Best quietest breast pump
Description
The Elvie Strive was the Silver winner for Best Breast Pump in our 2023 Mother&Baby Awards.
Pros
Hands-free
Lightweight
App controlled
Cons
More expensive than alternatives
Best combination pump
Description
This breast pump was awarded Silver for Best Breast Pump at the Mother&Baby Awards 2022. 
Pros
Option to use as a manual or electric breast pump
Compatible with MAM's entire range of Easy Start bottles
Cons
Instructions could be clearer
Best single electric breast pump
Description
This breast pump was awarded Bronze for Best Breast Pump at the Mother&Baby Awards 2022.
Pros
Simple device that's easy to use
Noticeably quiet at just 45dB
Cons
Only provided with one baby bottle
Best mains-powered breast pump
Description
This breast pump was awarded Bronze for Best Breast Pump at the Mother&Baby Awards 2022. 
Pros
Easy to use LED display, allowing you to express in low light conditions
Very comfortable fit
Cons
Noisier than some other breast pumps
Best double electric breast pump
Description
It's never been easier to find the right breast pump, thanks to the Tommee Tippee range. Made for
Pros
Quiet, so could be used anywhere
Easy to use and quick to set up
Cons
It can be quite fiddly when trying to clean
Best for increasing milk supply
Description
The Medela Swing Maxi is quite similar to the Medela Solo, but there's double the pumping with
Pros
Portable and lightweight for a double breast pump
Easy and comfortable to use
Cons
There's no digital display, so you'll have to get old-school if you want to track how long you've been pumping
Best for timing your pump sessions
Description
This Nuby Digital breast pump is designed to mimic your baby's feeding action and produce more
Pros
Super quiet and discreet
Option to convert from a double to single breast pump
Cons
Cleaning can be time-consuming as there are a number of different parts to disassemble
Best for tracking your pump sessions
Description
The Lansinoh SmartPump 2.0 Double Electric Breast Pump is fully customisable with three pumping
Pros
Great for keeping track of your pumping sessions
Designed to customise and simplify your routine
How to choose an electric breast pump
If you've decided an electric breast pump is best for pumping plus your needs and lifestyle, there are a number of things to consider before you buy:
Single or double breast pump
A double breast pump allows you to express milk from both breasts, which is handy if you're feeding twins or a premature baby or are juggling breastfeeding and working full-time. Recent scientific research suggests there are benefits to double pumping, as it stimulates additional milk ejection and has been found to stimulate prolactin levels. It means you pump a higher volume of milk, but the milk pumped has more fat and higher energy content for your little one. That said, most mums find that a single electric breast pump suits their needs just fine, and you can alternative its use on both breasts.
Power supply
You can find electric breast pumps that a battery-powered can be recharged via USB or need to be connected to a power supply during use. You can even find some that are 2-in-1. A battery-powered pump means you can move around while expressing milk, but one connected to a power source won't run the risk of running out of battery or charge. If you're prone to forgetting to charge electricals when they run out of juice, a mains-operated pump might be best.
Portability
Feeding into this, if you're after an electric breast pump you can use on the go, a battery-powered breast pump is a must. You'll also find some electric pumps are heavier than others. Choose a lighter, portable model that's practical for use on the move and compact in size to easily fit in your handbag.
Suction settings
Different pumps will have a range of settings to help you personalise your experience, as well as various control panels. Choose a pump that you feel will satisfy your suction needs - you'll need to experiment with the settings to find the right option for you - and that you think will be easiest to use. Expressing is much easier and far more efficient if you feel relaxed.
Noise
Electric pumps tend to be pretty noisy, which can be impractical if you're expressing while your baby is asleep nearby, feeding on the other breast, or when you're at work. However, this is improving with technology, and newer models are much quieter.
Do electric pumps get more milk?
An electric pump won't get more milk. But it will express your milk quicker compared to a manual breast pump. As a result, you can express and store more in the same amount of time. You may find that you pump more efficiently as it does most of the work.
Should I choose an electric or manual breast pump?
The best choice for you depends on several factors that are worth considering before you splash out on an electric breast pump:
Frequency: If you plan to use a breast pump infrequently, a manual breast pump is best for the price. An electric breast pump is a better investment for busy mums, twins, and premature or frequent feeding.
Portability: If you're looking for the best pump for portability, a manual breast pump is smaller and lighter, which makes it perfect for trips and casually pumping on the go.
Budget: While there is a variety in price for electric breast pumps, none are as affordable as a manual breast pump. Are you working on a tighter budget? A manual will do the trick and save you money. These pumps can cost as little as £15: the cheapest electric pumps on the market are around the £50 mark.
Milk supply: Electric breast pumps are super-efficient at expressing a high volume of milk in a short period of time. If you have a large milk supply and find your breasts become uncomfortable or need to feed twins, an electric breast pump will do the job more efficiently.
Lifestyle: Manual breast pumps are much more labour-intensive, so if you lead a busy lifestyle, an electric breast pump might be worth the investment. However, if you're planning to pump on the go and are looking for a more discreet option, a manual may be best.
How often should you use electric breast pump?
If you're pumping to increase milk production, breastfeed or pump at least 8 to 10 times in a 24-hour period. You can add an extra pump session in the morning or evening while increasing your supply. You can also pump immediately following a nursing session to fully empty your breasts.
When should you start using electric breast pump?
Most health professionals recommend that you focus on establishing your breastfeeding routine for at least 6 weeks before you introduce any kind of breast pump. However, some parents are advised by their midwife or lactation consultant to express in the first few weeks after birth due to breastfeeding difficulties. It's up to you which type of pump you use. Find what is most comfortable for you.
Eleanor Weaver is the Deputy Homes & Garden Product Editor and has been a writer for titles such as Mother&Baby and Yours. In her role, she has researched and recommended the best products for parents, from breast pumps to toys, nursery décor to car seats. She's also kept a keen eye on celeb mums and influencers to share what they've been using to help make parenting that little bit easier.