Breast pumps can feel like a difficult world to navigate but if you're on the lookout for the best breast pump it's worth taking the time to consider what you want. If you're on the hunt for a hands-free breast pump with clever features, the Philips Avent Single Electric breast pump which has a unique design so your milk flows directly from your breast into the bottle, even when you are sitting up straight. This means that you can sit more comfortably when pumping: no need for you to lean forward to make sure all your milk ends up in the bottle.
The Philips Avent Single electric breast pump has a compact and lightweight design and features three pumping settings: a soft massage cushion with a warm feel and a bottle with a teat for a natural latch-on.
Description
**Mother&Baby Awards
**2022 Shortlisted Breast Pumps
2021 Shortlisted Breast Pumps
2019
Pros
Lightweight and travel-friendly
Holds battery well
Sleek and modern
Testing the Philips Avent Single Electric Breast Pump
How did this product make your life easier?
Tanya: This breast pump is a great piece of kit for anyone wanting to pump. It's lightweight and has the option of using without the plug so you can take it out and about if needed. I love the different modes and the fact you don't need to buy any extras, everything required comes in the box. It's also very stylish.
Clare: This product makes your life easier as it is compact and so easy to take with you to work or to travel with. The fact that it is rechargeable also saves you money buying batteries in the long run. The pump is powerful and you can adjust the settings to suit you and your own flow so this makes pumping sessions quicker and more efficient. I like how easy it is to set the pump up and get going along with how easy it is to clean and pack away when you are finished.
Abby: I found that this breast pump was very comfortable to use and the settings fitting with the natural flow of expressing. I would say one of the things that really impressed me was how compactable it is and how it would be perfect for days out and on-the-go trips - as it holds its battery, and it is rechargeable - one thing I have found with other breast pumps is that their battery diminishes quickly and I didn't find this at all with the Avent Breast Pump - making it so convenient and efficient.
Read our 2021 parent reviews below:
Jennie: It is an efficient pump, making expressing quick work. It is very comfortable and I can barely feel it working. It fits well and is easy to hold in place. The teat is easy to assemble and screws tightly and neatly onto the bottle and there is a cap to keep it clean and spillproof. The pump cover keeps it clean between uses, the instructions are clear and easy to follow and come with some useful general advice for expressing. My baby also drank easily from the bottle and teat.
Sarah: This product is neatly compact with everything you need in the box. It was easy to set up and use for the first time. Now breastfeeding my third child I have used an electric pump before as well as a manual one. This electric pump is far better than using a manual in terms of efficiency and comfort. I was able to comfortably express 4oz in less than 10 minutes.
Jessica: This is a great pump. The gentle stimulation mode worked really well to get my milk flowing and I managed to express a good amount quite quickly. The pump is easy to set up and to clean. It is not as noisy as my old pump, so it's less likely to wake a sleeping baby. I like the pump a lot.
Would you recommend the Philips Avent Single Electric Breast Pump to other parents?
Joanne: I would recommend this product for its efficient milk pumping and relatively quiet operation when in use. The unit is easy to clean and assemble, which is important when you are busy and time-poor. The unit itself has a range of speeds/power which is good for finding one that feels comfortable for you. It is great to be able to sit away from a power socket.
Clare: I would absolutely recommend this product to a fellow mum. This breast pump is perfect for mums who are looking to purchase a pump that is easy to travel with as this is compact and rechargeable. I have used battery-operated breast pumps In the past and have had to change the batteries very frequently so I think this breast pump is a much better design of being rechargeable. I like the fact that the silicone cup moulds around your nipple and so would be suitable for a range of nipple sizes. The settings on the pump are great. It starts off gently and then with time increases just as a baby would when feeding.
Abby: The design on this breast pump is truly so pretty, it's a simplistic design but it is so sleek and modern whilst being sophisticated. The comfort is amazing and the breast cushions being one size fits all is easier to not have to alter the design with attachments. As it is rechargeable I would 100% recommend this to the likes of working mums that need to express and on-the-go mums - it holds its battery well and I find that so convenient for trips or days out - not worrying about carrying extra baggage on top of the things we mamas have to carry day today! One thing that really impressed me was how quiet it was when pumping, it is honestly so quiet, which I have rarely found in breast pumps, especially when using higher suction settings - it didn't seem to make any difference at all - which I think would be so perfect for mama's having to express in public, at work or even when baby is sleeping. as it is discreet and I feel a lot of mums would appreciate this.
Read our 2021 parent reviews below:
Jennifer: I would recommend this product. It is comfortable to use and the cushioning is lovely on your breasts. It would be great for mums that are going back to work and need to express as it is compact although it can be a little noisy. I love that you can clean it in the dishwasher. It is a very efficient pump and I even found that I could use it one-handed.
Lorna: Being able to express means you can have a bit more freedom to go out or get more sleep. It's nice to know there is milk in the freezer in case of an emergency. It is easier to use than a manual pump and I'm pleased that it's a closed system so can easily be cleaned and sterilised and passed on for someone else to use when I've finished using it.
Jenny: The design of the pump is very sleek and luxurious. The pump is well-designed with four easy-to-understand buttons that light up. The machine part of the pump is quite bulky but the upside of this is that it is robust and sturdy. I found the pump quite noisy but the rhythmic sound means that my baby could sleep through it. The pump comes with a two-year warranty with a promise to replace or fix a faulty appliance. When spending a large sum of money on an electric breast pump, this warranty is very much appreciated.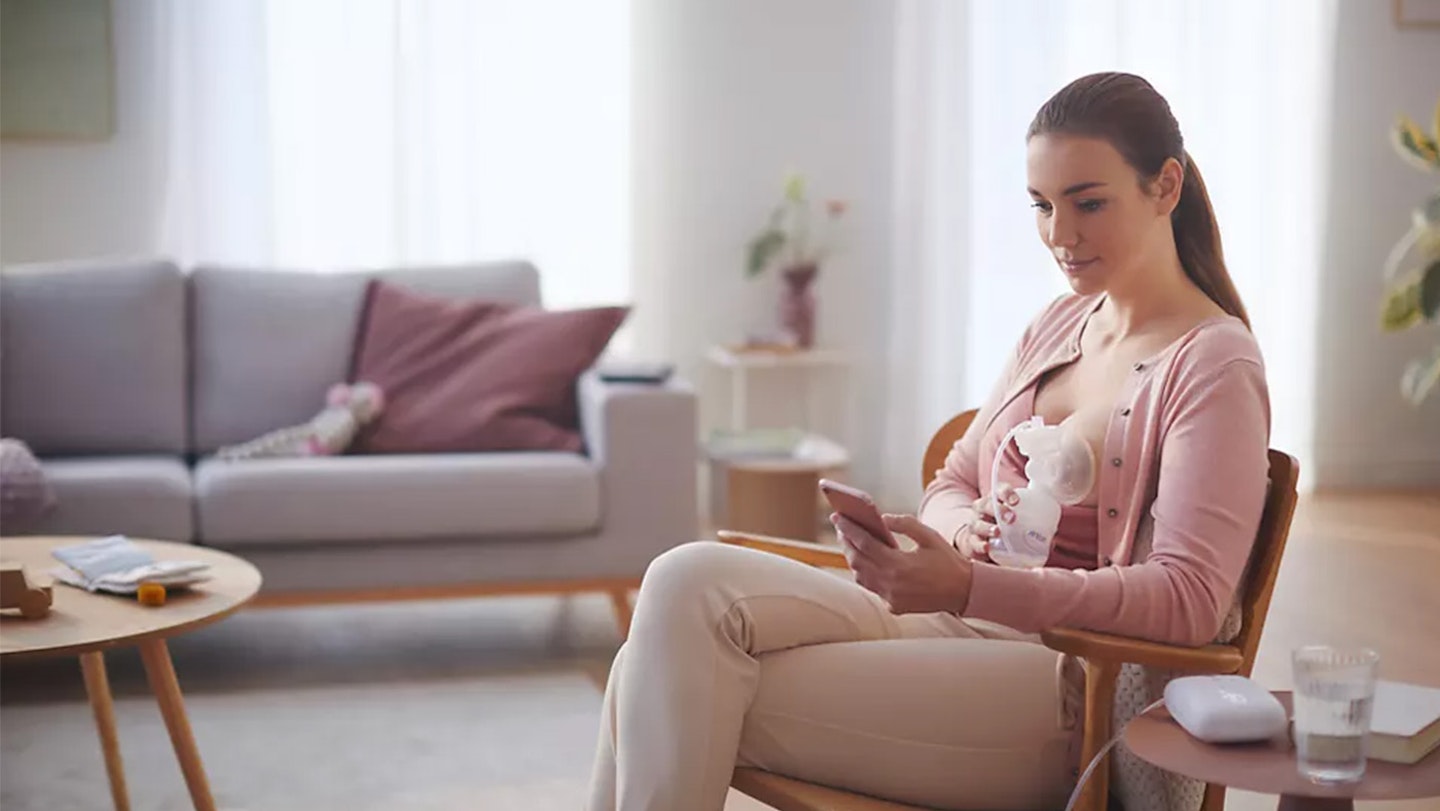 Would you choose the Philips Avent Single Electric Breast Pump above all others on the market?
Clare: I would choose this product to win as it is compact and easy to assemble and use quickly. This is one of the most compact breast pumps I have seen on the market and would be a fantastic pump to invest in if you are looking for a pump for work or to travel with. The power on the pump stays the same whether you are using it plugged in or cordless which is a huge benefit as I have used pumps where the suctions is much less when you use it out and about and not plugged in.
Tanya: I do really like this pump, I think for the price it's definitely one of the best on the market if you are looking for a single non-hands-free pump. I love the silicone flange as this moulds to the breast, thus making it extremely comfortable to use. It is super easy to understand how it works and where all the pieces attach to when it's been dismantled too.
Celia: The Phillips Avent would be my pick on the market as the suction was very good without feeling anything different to baby nursing. Many other pumps are painful and noisy making the experience of pumping awful. The natural feel and good flow rate meant I could be sure of the amount of milk I could get each use, taking the stress out of pumping. Not feeling stressed and being able to relax when pumping really is why this deserves to win. The Timer feature is so helpful to know the time needed to pump each breast, as I could roughly predict the amount I could pump in a given time.
Read our 2021 parent reviews below:
Abi: This pump would definitely be a contender for me! It was easy to put together and simple to use. The cup fit well and I could feel and see the suction working. It was easy to dismantle and clean and there were no tricky little bits to put back on. The buttons would remain lit when on so I could easily see what setting I was on.
Claire: I wouldn't necessarily choose this product above others. Having tested other market-leading breast pumps I would not say that this is a better performer although it is certainly no worse. I don't think anything stands out about this product and other pumps have more attractive and helpful features.
Lorna: I would choose this product or the double breast pump version if buying an electric pump. It is straightforward to use, clean and store. The fact that this is a closed system with the milk unable to get into the suction tubing is a big positive for me, as being able to pass it on to my family who may have children after me makes it much more cost-effective.
What changes would you make to this product?
Abby: I feel maybe different-sized cushion attachments would benefit some mums, although it is super handy to not have to root through size cushions to benefit the breast, it may be handy to others to have options - just in case the "one size fits all" wasn't applicable to them. Other than that maybe the size of the pump could be a little smaller but that being said the size I don't feel is a problem.
Clare: To improve this product it would e useful if it came with a bag that could be used for transporting all of the bits while you travel. I also think if it came with a cool bag that you could store the milk in once you had expressed this would be a great help, particularly for mums that have gone back to work but are still expressing milk.
Tanya: I would like it to be slightly quieter, if it was like the Elvie level of noise I think they would have a perfect flawless product at a great affordable price which will appeal to a wider audience. I genuinely would still recommend this to friends, family and other mums to be an essential piece of equipment!
Read our 2021 parent reviews below:
Jenny: There are no pictures within the initial instructions which again could put off a parent from reading them. My baby was 12 weeks old when I started using the pump, hence my milk flow had regulated so I was easily able to fill the small 4 oz bottle quickly. My baby needs much more than 4oz so I needed to empty the milk in a larger sterilised container to continue. Perhaps a larger bottle or even a discount on a larger bottle included in the pack would have been appreciated.
Jennie: I would like the neck of the pump where it screws onto the bottle to be clear so I can see whether milk is still coming. It is obvious when milk first starts to flow as there is some in the bottle, but after that, it is difficult to see if there is still milk coming into the pump, or dripping into the bottle so I have to keep tilting it to check.
Sarah: In terms of improvements I would like it to be less noisy (if possible). It could also be useful to include a little bag to be able to transport the pump more easily and discretely when taking it to work or elsewhere. More control with regard to suction levels could be helpful too.