If you're in the market for the best breast pump for you and your baby, why not consider the Medela Solo Single Electric Breast Pump?
The Medela Solo Single Electric Breast Pump is a compact, effective and easy-to-use single breast pump with a rechargeable built-in battery, 2-phase expression technology and PersonalFit FlexTM breast shield. Intuitive and hassle-free, the electric breast pump only has a few parts making it easy to clean and assemble. With its four-button interface and nine pre-programmed settings, this single electric breast pump is extremely easy to use.
Pros
Sleek and compact
Easy to clean
Simple to use
Cons
Only comes with one bottle
Testing the Medela Solo Single Electric Breast Pump
How did this product make your life easier?
Rebecca: For myself, I found this product made my life easier due to the fact it is not mains dependent. Due to my newborn having a tongue tie was not able to drain the breasts fully I had been pumping after most feeds to relieve what baby couldn't and the fact I could just pop this in the changing bag and go was such a help plus the fact it could be charged in my car was brilliant!
Danielle: Having a more compact breast bump is a dream. It was sleek and compact enough to be able to fit comfortably into the change bag or into my handbag, I love how once it's charged the battery lasts, and I'm not stuck in one place attached to a plug socket. With fewer parts, it makes it easier to not lose a piece and the pump shield was super comfortable and fit perfectly against the breast without any issues.
Hannah: The Medela solo single electric breast pump has a lot of brilliant qualities to make life easier for any breastfeeding mum who wants to express. I have used it to start expressing for her starting nursery when I obviously won't be able to breastfeed during the day. Finding a pump that's suited to myself being a larger chested woman has always been my biggest issue and Medela was always pointed out to me during my pregnancy as a brand that is suited to this which it has been. I also love the compact small design of this one in particular as it makes pumping on the go a breeze.
Would you recommend this to other parents?
Kirsty: I'm large-chested (40F) and it's been hard to find a pump with a decent size for me to use. I'd definitely recommend this for larger-chested women as I found it worked great for me, the convenience of it being a small pump makes it easy to take with me if I needed to use it other than in my home. The design is lovely and simple it's not too in your face which sounds silly but I have seen some that look ridiculous to be a breast pump so Medela has gotten the design down. I found it so simple and easy to use considering I've never used their brand before now.
April: Good to use, good to set up, easy to clean and hygienic in every way. No leaks at any time of use, extremely easy to use and you can adapt to nipple size. Good for expressing at any time of day, had no issues in any use, easy to transfer milk into storage for bottles or freezer. Cannot complain about how it works.
Krisztina: Finally a product where all the features it promises on the box are true. I have been pumping for 10 months and having tried Medela Swing and other brands I have one piece of advice for new mums: just invest in Medela Solo. Makes your life so much easier! Solo is much quieter than other pumps, it has much fewer parts (in easy clean shapes too) to clean, it has a very comfortable breast shield and is also small enough to just pop it in your handbag if need to. I honestly can't praise it enough.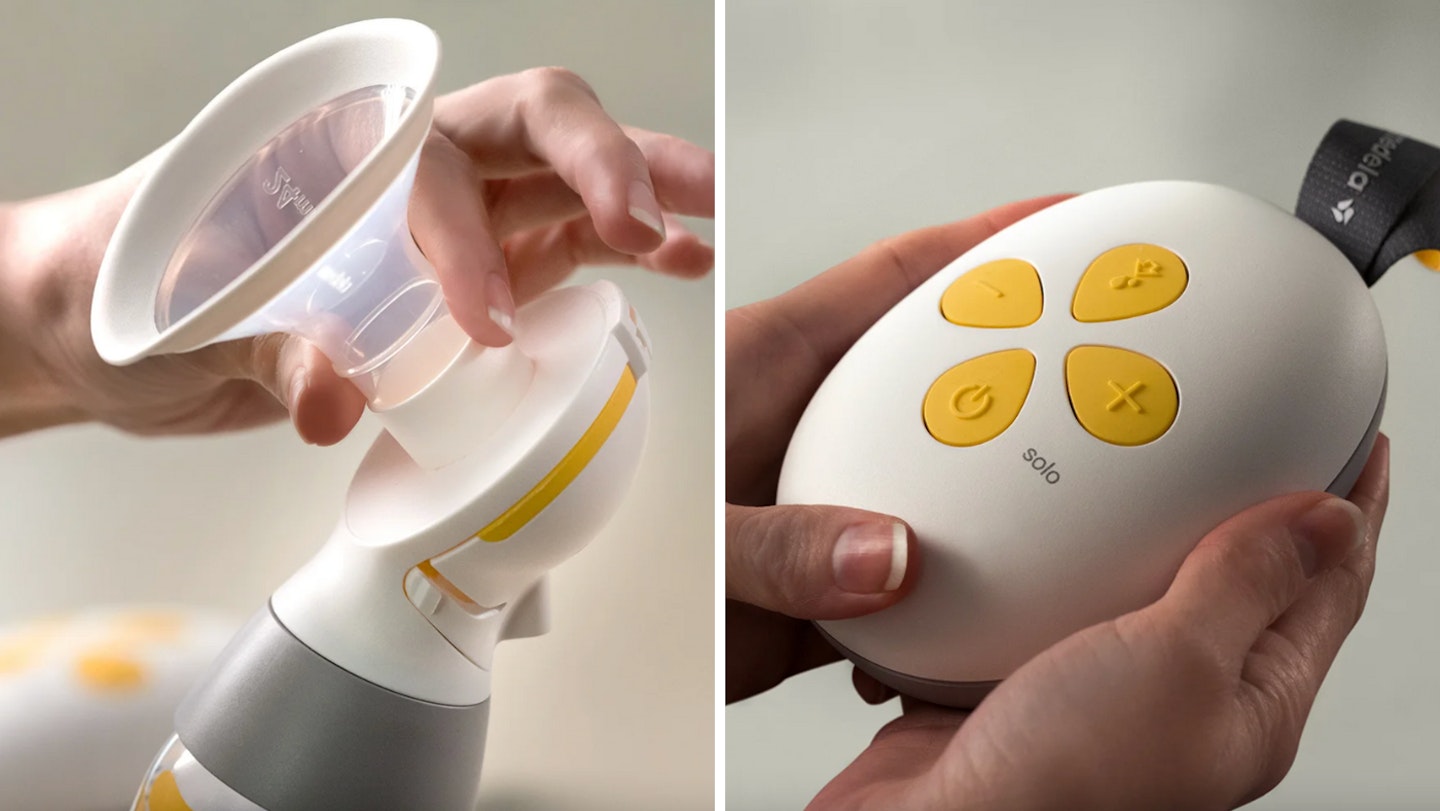 Would you choose this product above all others on the market?
Hannah: I would choose the Medela solo pump over others on the market for a number of reasons. The first being how easy it is to take with me when I'm out or travelling so I can always pump when I need to and it's so compact it doesn't take up much room at all. It's very comfortable when I'm using it which is excellent and a lot of mums do suffer from soreness (luckily I haven't) but this is super convenient for those who do. But the biggest reason is just it's the first brand I've used that suits my size!
Danielle: Yes, no questions asked. The design in itself is just so much more amazing than other pumps out there, it made pumping a relaxing experience rather than constantly checking to see if the shield is in the correct position or stop starting because it doesn't feel comfortable. Again the design is so sleek and the actual device is pocket friendly and is perfect for taking it to work and having a more discreet device.
Kirsty: Going off my current and ongoing experience I definitely would choose Medela again. My favourite part about it is the ease of use and transportability as it's a small pump, Even sticking it back into its box it's a good size to pack in the pram or just loose in the car. My only downside is I do feel it's very highly priced especially for a single breast pump. Its use and ease cannot be rivalled but that is a big downside I feel for a lot of mums who breastfeed but maybe can't afford something this pricey. Overall I definitely think it deserves to win!
What changes would you make to this product?
Harriet: It would be useful if it came with more than one size breast shield, and also with more than one bottle, or some storage pots/bags to transfer the milk into once you had expressed into the bottle. These things wouldn't stop me from buying the product, but I think they would be a welcome additional, at the price.
Amy: If the product could be hands-free like other available breast pumps on the market then that would make it better and easier for mums to use. The only issue is being hooked up to the plug and therefore not being able to move around when pumping and try and multi-task but then it makes you sit down and rest so that may not be a bad thing!
April: I would say perhaps the price point to make it accessible to more people. I appreciate the design and creation cost a lot but I do find it prohibitive to purchase if it then wasn't the right one for you. Other than that an excellent product in all respects after being able to have the chance to use it.