Whether you're off for a walk in the woods or popping into town, the best baby travel system makes getting around with your little one easy peasy. Attach the best car seat to the pushchair frame, and you can move your baby from car to pushchair and back again, without disruption.
In general, a travel system consists of a pushchair that is compatible with a Group 0+ car seat, suitable from birth to the age of 12 months. You can easily attach or detach it from the frame, and it will either clip on top of the pushchair seat component or attach directly to the chassis with the seat component removed.
Black Friday deals on baby travel systems
Black Friday deals are still available and there's a whole host of Black Friday baby deals on travel systems to snap up. So if you want to grab a steal, here are the retailers that have the best travel system deals right now or keep scrolling to continue reading our buyer's guide.
Shop Black Friday baby travel system deals on: Silver Cross | Mamas&Papas | Online4Baby
Save £252: Ocarro Pushchair Bundle
£220 off - limited availability: Pram 2in1 EVERYDAY light grey
£150 off: Venicci Tinum 3in1 Travel System Bundle
Save £111.50: Bugaboo Fox 5
Travel systems for babies often also come with a carrycot attachment, so you can use the pushchair as a lie-flat pram. It's vital when choosing a pushchair for your baby that they can lie flat in it until they're six months old to support the healthy development of their spine and lungs.
To help you out, we've picked out our favourites. Every year we thoroughly test and review the best new products on the market, including the best travel systems for babies. We can then bring you comprehensive reviews from real parents who've tried out the travel systems in real life. Our annual Mother&Baby Awards also help us bring you the best advice about current products on the market.
Best baby travel systems shortlist 2023:
• Best overall baby travel system: Joie Finiti With Calmi
• Runner up: Venicci Tinum SE Stylish Black 3in1
• Best stylish baby travel system: Joie Finiti with Ramble i-Level
• Runner up: Kinder Kraft Everyday Travel System
The best baby travel systems 2023
Best baby travel system for simplicity
Description
Award: Won Silver in the Mother&Baby Awards 2023
With a lightweight frame,
Pros
One-handed folding
Looks stylish
Cons
Some mums struggled at first to attach the car seat to the base
Best baby travel system for easy use
Description
**Award: Won Gold in the Mother&Baby Awards 2022
**
Kinderkraft EVERYDAY is a multifunctional
Pros
Easy to use and adjust
Stylish
Spacious basket
Good suspension for different terrains
Cons
Quite heavy
Doesn't come with anything to hold the stroller in place once folded to keep it compact
Best baby travel system for on the go
Description
If the grandparents-to-be are chipping in, or if you've saved hard for a top-of-the-range travel
Pros
Choice of colours
One-hand fold
Easy to carry when folded
Dual suspension for even terrain
Cons
Basket can be difficult to access with larger item
Best baby travel system for newborns
Description
Suitable from newborns from the off, the Silver Cross Reef has been crafted from materials that
Pros
Feels safe and sturdy
Looks and feels luxurious
Well-designed and user-friendly
Best baby travel system for vibrant design
Description
The Cosatto Giggle 3 Travel System & Accessories Bundle is an absolute dream for your family. With
Pros
Fun design
Three wheels for easy manoeuvrability
Lightweight chassis
UPF100+ protection sunshade hood
Cons
Storage basket could be bigger
Best for a bundle
Description
If you've got a little more to spend on a travel system, you'll want to know you're getting more
Pros
Sturdy
Easy to connect to the car
Trendy
Lightweight
Quite compact once folded
Useful extras included
Cons
Our parent testers found it hard to fold down
Best baby travel system for excellent storage
Description
It's stylish and easy to use, folding simply with just one hand, thanks to the quick release on
Pros
Comfy
Easy to use
Large basket
Sturdy build
Excellent foldability
Carry handle included
Cons
Not as easy to adjust compared to other prams
Quite big in size
Best stream-lined baby travel system
Description
The Maxi-Cosi Zelia Luxe 2 pushchair will give you and your baby the confidence to enjoy
Pros
Good value for money
Comfy and cosy
Stylish
Easy to use
Fairly compact fold
Rain cover included
Best baby travel system for style
Description
Award: Won Bronze in the Mother&Baby Awards 2023
Another award for the Joie Finiti,
Pros
Folds with ease
Good value for money
Cons
Some parents had difficulty attaching each compartment together
Best all-in-one baby travel system
Description
**Award: Won Silver in the Mother&Baby Awards 2022
**
Superior in style and practicality, the
Pros
Easy to clean and use
Simple to fold
Spacious storage basket
Stable
Adjustable
Cons
Quite heavy
Could do with a handlebar brake
Best trending baby travel system
Description
Looking for a really stylish set of wheels but don't want to spend over the odds? Look no further
Pros
Stylish
Easy to use
Sturdy one-hand fold
Generous storage basket
Reasonably lightweight
Best overall baby travel system
Description
Award: Won Gold in the Mother&Baby Awards 2023
Effortlessly adjust to your little
Pros
Lightweight to push
Ample under-seat storage
Durable suspension
One hand fold
Cons
Canopy doesn't completely cover the seat when fully reclined
Best baby travel system for a compact fold
Description
Award: Won Bronze in the Mother&Baby Award2022
Designed with Dani Dyer as part of her
Pros
Compact fold
Easy to use and fold
Larger seat for prolonged use
Stunning style
Cons
Could be sturdier
Some parents didn't even consider it gender-neutral in design
What to look for in the best travel system
Convenience is the main benefit, as you can transfer your baby to and from a pushchair without removing them from their car seat. This is less disruptive for your child and saves time and stress. A travel system is often more expensive and sometimes bulkier than a standard pushchair, so it's only worthwhile if a car is your main form of transport.
It's important to keep in mind that different travel systems are compatible with different car seats, although there is some crossover. The most important thing about buying the best travel system is to make sure it will fit in your car.
Here are some things to look out for when considering your purchase.
Shopping basket
A big basket is essential! It should be large enough to hold everything you need when you're out with your baby, including the rain cover and your baby changing bag. The basket should be accessible, even when the carrycot is attached, or the pushchair seat is fully reclined.
Seat recline
The recommended sleeping position for babies is flat on their back, so a pushchair seat that reclines fully flat is a must for naps in the pushchair. It should be easy (and quiet!) to adjust with your baby in the seat.
Handles
A height-adjustable handlebar ensures the pushchair is comfortable for you, your partner or anyone else who might use it regularly. Check that it's easy to adjust and comfortable to hold.
Car seat
Is the car seat included in the price, or do you have to buy it separately? Factor in the price of the base, too, and don't forget car-seat adaptors to attach it to the chassis.
Carrycot
Babies shouldn't sit in car seats for more than two hours at a time - we've looked at the research into how long a baby should stay in a car seat - including when it's attached to a pushchair chassis. Choose a travel system with a comfy lie-flat carrycot. Your baby will outgrow it by six months old, so check how bulky it is to store – some are cleverly designed to convert to an upright seat.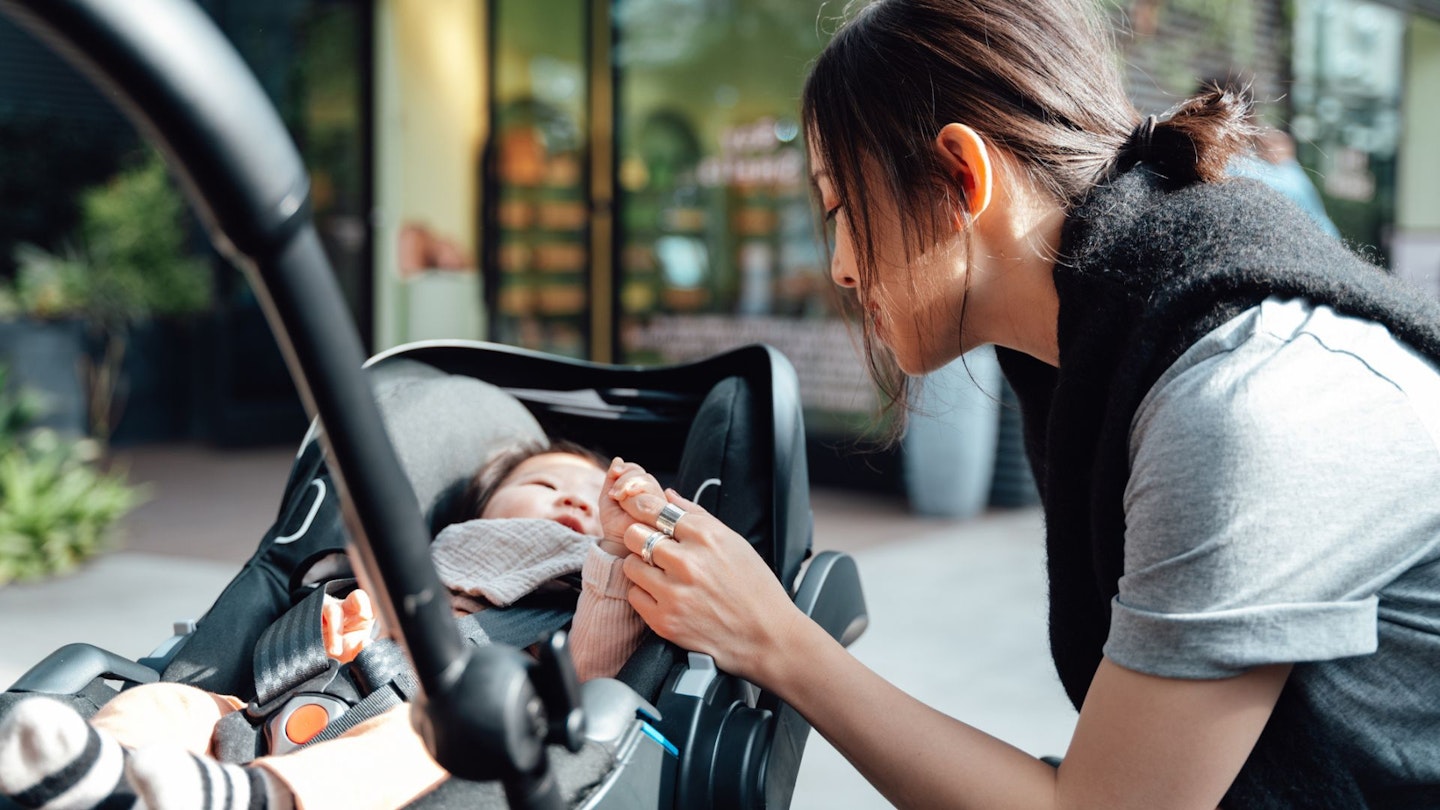 Seat direction
A travel system with a reversible seat unit means you can choose which way your baby faces. A parent-facing seat encourages your baby's communication skills, but an inquisitive toddler might prefer to face where they're going. There are regulations and advice on how to keep your baby rear-facing for longer.
Accessories
Some travel systems come with coordinating accessories such as a footmuff or change bag. Think about which ones you actually need and whether they're included in the price.
Fold mechanism
A travel system will be in and out of your car boot. Choose one that's compact and easy to fold, leaving room for shopping or luggage.
Brake
The brake should be comfortably positioned and easy to operate without the risk of applying it by accident or scuffing your shoes. Check how reliable it feels and whether it's easy to release.
Wheels
All-terrain wheels make for easy manoeuvrability on muddy walks. Smaller, solid wheels make light work of city pavements and shiny shop floors. If you're likely to switch between different types of terrain, go for lockable, swivel wheels.
Do I need a baby travel system?
A baby travel system can be convenient has they come with all the travel essentials you need for your baby. They are often good value, however if you buy an ISOFIX car seat to stay in your car, you wouldn't need a travel system that comes with a car seat.
What other things do I need to consider when buying a baby travel system?
Not all infant car seats can be attached to all pushchairs, and you may need to buy adaptors. If you'd prefer an i-Size car seat, which sits your baby in the safer rear-facing position until they are at least 15 months old, you'll need to choose a pushchair frame that's compatible. If you want to keep your child rear-facing in the car beyond 15 months, you'll need an extended rear-facing car seat. However, these are designed to stay in your car, so a travel system isn't an option.
The car seat will either clip on top of the pushchair's seat component or attach directly to the chassis with the seat component removed. Adapters are sometimes required to fix the car seat onto the pushchair or chassis. Check if these are included. If they aren't, find out what the additional cost will be.
What about the pushchair?
A travel system often has a seat component that enables it to be used as a 'normal' pushchair. Many mums use the car seat clipped into the frame when their baby is very young, using the larger seat component as their little one grows. If you intend to keep your newborn in the pushchair for long periods, you will need a travel system with a fully reclining seat component.
Newborns should only remain in car seats for a few hours at a time, as lying horizontally is better for their breathing and healthy spine development. Some travel systems also offer the option of a pram-style carrycot. While this can add expense, the carrycot can double as a Moses basket and portable travel cot.
Can you use a travel system for toddlers?
Only Group 0+ car seats will fit on the travel system. These will be outgrown at around 12-15 months. Most mums will continue to use the travel system with the seat component fitted after that.
For toddlers, a seat that reclines for naps is useful, but it doesn't have to be fully horizontal. Some pushchair seats are reversible, so your baby can face you, to begin with, but face outwards to get a better view of the world as they get older. For older children, you may want to look into the best car seat for 4-year-olds.
How easy is it to fold?
All travel systems fold up so that they can be stowed in a car boot. Try out the folding mechanism in the shop – your 'tricky' might be another person's 'easy'. Consider that you may sometimes need to hold your baby while you fold and unfold the chassis. You'll also have to lift the folded pushchair chassis in and out of the car boot, so consider its weight – anything over 10kg could be a struggle.
How big is your car boot?
Travel systems are more compact than ever, but some models are still pretty bulky to allow for all the extra functionality they offer. Before you buy one, check it fits in your car boot. You can always remove the carrycot or seat unit from the chassis and store it on your back seat. Although, this will limit space in your car for other passengers.
Can I use a second hand travel system?
While it can be perfectly fine to use a second hand travel system, it is not advised to use a second hand car seat unless you are absolutely sure that it has never been in an accident.
It would be advisable to only use second hand if it's from a very close relative or friend.
What is the difference between a 2in1 and 3in1 travel system?
A 3in1 travel system includes a car seat, carry cot and a pushchair all on the same frame, where as a 2in1 would only include the car seat and pushchair.
The bonus to both is that they are interchangeable with a car seat, which can be handy when you're out of the house and don't want to disturb your baby if they fall asleep.
Emily Gilbert is the Features & Reviews Editor for Mother&Baby and has written for the website and previously the magazine for six years. Specialising in product reviews, Emily is the first to know about all the exciting new releases in the parenting industry.