Whether you're jetting off for some sun or just planning a family staycation this summer, you're probably wondering how to travel with a pushchair for your baby without overloading your car or exceeding your luggage allowance, but this is where the best travel strollers can help. Leave your pushchair at home and invest in the best travel strollers to make your journey a whole lot easier.
Robust enough to cope with cobbled streets and sandy beaches but light enough to carry up a flight of stairs, a lightweight compact stroller is also more compact, so it'll take up minimal space. Some can even fit into the overhead compartment on a plane. They're the ultimate convenient travelling companion.
Best travel strollers at a glance:
• Best compact travel strollers: Graco Myavo Compact Stroller - buy here on Graco Baby.
• Best travel strollers to grow with them: Bugaboo Butterfly - buy here on Bugaboo.
• Best sustainable travel strollers: buy here on Joolz - buy here on Joolz.
While travel system prams can be more suitable to everyday life too, a travel stroller can be a lot more practical than having to take all the sections of a travel pram.
The best travel strollers
Best compact travel stroller
Description
With an automatic, one-handed fold, the Graco Myavo is compact and lightweight, which makes it
Pros
One-handed fold
Lightweight design
Compact
Large storage basket
Cons
One-handed lock feature can be tricky to use at first
Best quality travel stroller
Description
The Zest pushchair from Silver Cross is bursting with features to make everyday strolls a breeze.
Pros
Fun designs
Easy to manoeuvre
Convenient to carry
Cons
Suspension across all terrains could be improved
Best travel stroller for design
Description
This pushchair ticks every box when it comes to the perfect holiday pushchair! Sleek and sporty,
Pros
Lots of fun designs to choose from
Includes cup holder for on the go
Easy one-hand fold
Best for travelling abroad
Description
Super-slim and perfect from birth and for growing toddlers, the Airo pushchair is perfect for
Pros
Cabin-friendly
Decent storage despite its compact size
Easy one-hand fold
Cons
Some found the seat smaller than most
Best travel stroller for customising
Description
Incredibly lightweight, easy to fold (with just one hand) and easy to manoeuvre, the Babyzen Yoyo²
Pros
Easy one-hand fold
Fits most airline cabin baggage restrictions
Four-wheel suspension for all terrains
Best travel stroller for ease
Description
If you're a frequent flyer looking for a practical travel pushchair, the Joie Pact might just be
Pros
Comes with a convenient carry strap
Includes its own storage bag
Compatible with certain models of Joie car seats
Cons
Backrest doesn't fully rise
Best travel stroller for aesthetic
Description
The Metro + will keep your precious cargo comfy, whether you're in Barcelona or Bromley, thanks to
Pros
Sleek, streamlined design
Compact fold can even fit in car footwell
Adjustable handlebar
Cons
Shopping basket could be more secure
Best travel stroller to grow with them
Description
Behold the ultra-compact Bugaboo Butterfly, the one-second fold pushchair for city and travel
Pros
Compatible with certain car seats
Comes with convenient carry strap
Easy and compact fold
Cons
Not suitable for newborns
Best sustainable travel stroller
Description
With a width of just 44cm, the lightweight Joolz Aer can be taken straight onto the plane and
Pros
Narrow design
Fits in the overhead compartment
Made from sustainable materials
Cons
Seat recline could be smoother
Best travel stroller for hands-free folding
Description
Suitable from birth, with a flat reclining seat, this tiny traveller is proof that big things can
Pros
Easy one-hand fold
Comes with convenient carry strap
Includes its own storage bag
Cons
Harness could do with improving
Best lightweight travel stroller
Description
A combination of a continuous handlebar and eight wheels with all-round suspension makes it really
Pros
Easy to manoeuvre
One-hand compact fold fits in boot of car
Extremely lightweight
Best travel stroller for affordability
Description
Hauck's Sport stroller is the ideal travel companion, not only for public transport but for
Pros
Affordable
Easy to fold
Extremely lightweight
What to consider when buying the best travel strollers
Carry strap: Some lightweight pushchairs have shoulder straps or storage bags to make them easy to carry. Think about whether this is a feature you actually need.
Folding mechanism: Folding and unfolding your pushchair should be easy and intuitive, even when you're holding your baby. One that's freestanding when folded will take up less space in your accommodation when it's not in use.
Pocket: Somewhere to stash your valuables is a handy feature in a holiday stroller. Check that it's big enough to hold your purse, phone and keys.
Wheels: Some lightweights have adjustable wheels that can handle different types of terrain. Lockable swivel wheels are ideal for manoeuvring between shiny shop floors or hotel lobbies and rougher ground. If you're heading for the beach, choose all-terrain wheels with good suspension.
Brake: The brake should be easy to apply and release. Check that it's flip-flop-friendly!
Hood: This protects your baby from the wind and sun – a must-have in a holiday pushchair. It should extend far enough to give full coverage of your baby's body, not just her face, even when the seat is fully reclined.
Fabric: Sun lotion, sand and ice cream are a sticky combination, so check that the pushchair fabric is easy to clean. Also, if you're heading somewhere warm, a pushchair with breathable fabric will help keep your baby cool on a very hot day.
Seat recline: For babies under six months, choose a pushchair with a seat that reclines flat. For older babies, check that the seat reclines far enough for comfy naps on the go and that the seat is easy (and quiet!) to adjust when your baby nods off in the pushchair. The upright seat position should be at the right angle for a toddler to see everything around her without straining forwards.
Harness and buckles: Look for a five-point harness that's easy to adjust, fasten and undo, as you're likely to be popping your child in and out of a holiday pushchair more frequently than usual. Check that inquisitive fingers won't be able to undo it!
Shopping basket: The bigger, the better! A large storage basket should hold everything you need for a day out and more. Is there plenty of space for buckets and spades, plus beach towels and sun cream?
How we chose the best travel strollers
With several mums on the team, Mother&Baby is best placed to find the best travel strollers as used and tested in real life by our own babies. Plus, we have a huge panel of real mums who test products every year for the annual Mother&Baby Awards, meaning we get to find out the best award-winning products that have been put through their paces thoroughly and independently by our readers.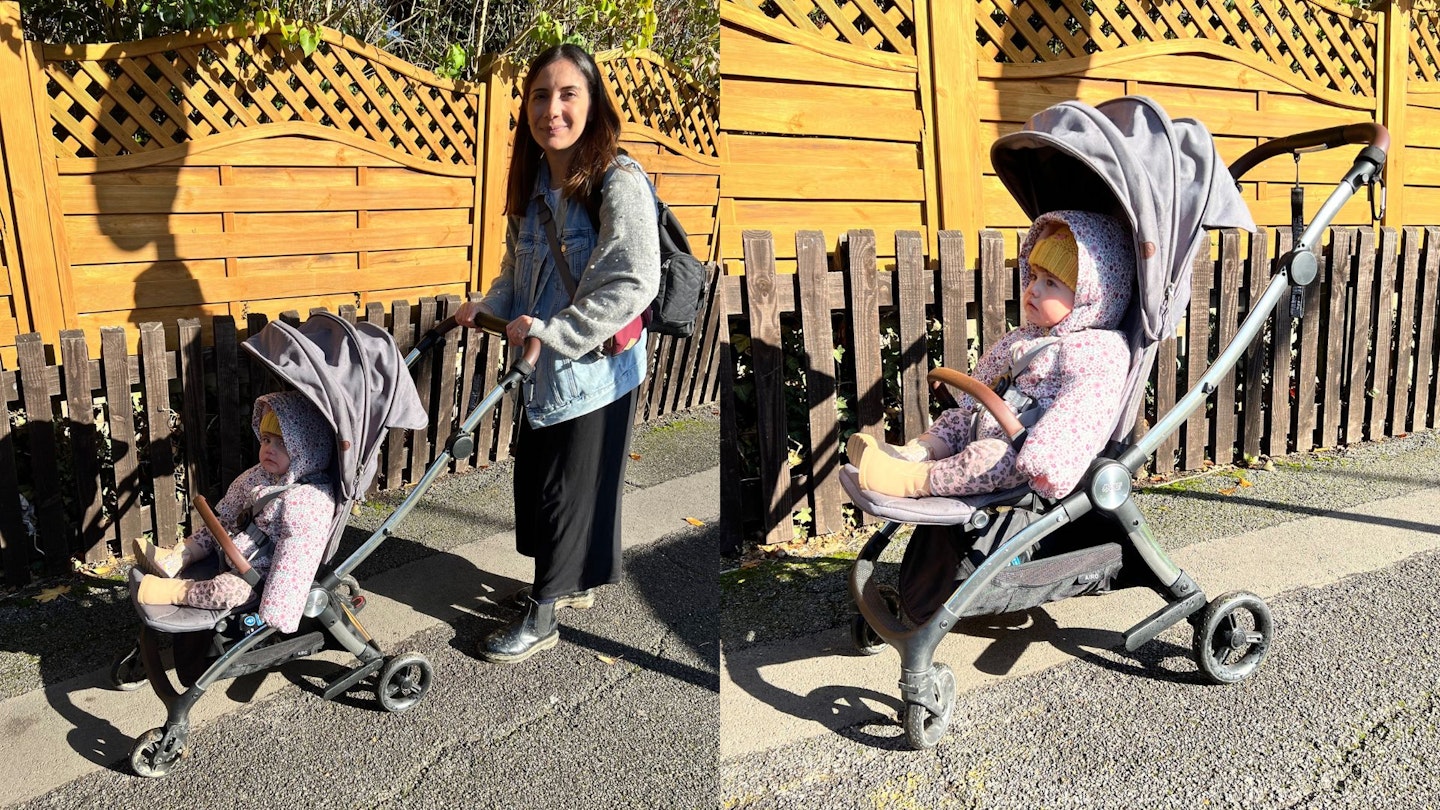 For the essential products, our annual Mother&Baby Awards shortlist the top products tested, and you can find full reviews from our mum testers provided on the product page. Thousands of our mum and dad testers have been putting these carriers and slings through their paces all year round and reporting back to help us coordinate this list of the best carriers out there.
Our shopping experts have also done their research to find the best travel strollers that have the best specifications with excellent reviews. So, which travel strollers came out on top?
Do you need a travel stroller?
Lightweight travel strollers are the perfect holiday pushchair if your existing buggy feels too cumbersome to travel with. But they're not just for holiday use – lots of parents replace their baby's first pushchair with a lightweight stroller once their baby starts walking, especially when a light, manoeuvrable pushchair is a practical choice. There are compromises to be made, though, and not all are suitable from birth.
How light do you need it to be?
A pushchair is considered lightweight if it is 7kg or less, but some weigh nearly half this! A very light pushchair will inevitably be less robust, so think about just how light you need it to be – will you be lifting it on and off trains with your baby strapped in, or carrying it with your baby in your arms when boarding a plane?
How compact do you need it to be?
When folded, most lightweight pushchairs are compact enough to fit into a standard car boot without taking up all the space. Others are designed to fold even more compactly. Check that it's freestanding when folded, too.
Emily Gilbert is the Features & Reviews Editor for Mother&Baby and has written for the website and previously the magazine for six years. Specialising in product reviews, Emily is the first to know about all the exciting new releases in the parenting industry.