It can feel like babies need a lot of things for someone so small, but one of the most important pieces of baby kit that you'll want as a parent is a pushchair or travel system to transport your newborn in on walks or shopping trips.
One of the brand's more recent releases from 2022, the Silver Cross Reef is a multi-terrain travel system that promises to be as refined as it is functional, suitable for little ones from newborn to 22kg.
Here's how dad-of-one Ashley got on when testing the pushchair with his newborn daughter.
Silver Cross Reef pushchair overview
Pros
Feels safe, sturdy and secure
Very well-designed and user-friendly
Looks amazing and feels luxurious
Cons
The weight of the system will be an issue for some
Key features
Sustainable
The outer fabrics are woven with yarn from recycled plastic bottles with 33 bottles used to create the seat unit, making the Reel an eco-friendly option.
Quick fold
Ideal for parents with their hands full, the Reef folds down one-handed in seconds, remaining in a compact free-standard fold on its wheels so the cushioned vegan leatherette handle never touches the floor.
Genius™ harness system
The Genius™ harness system comprises of a five-way magnetic attachment to each of its mouldings, so all sections of the five-point harness (chest, waist and crotch) can be independently connected to one another.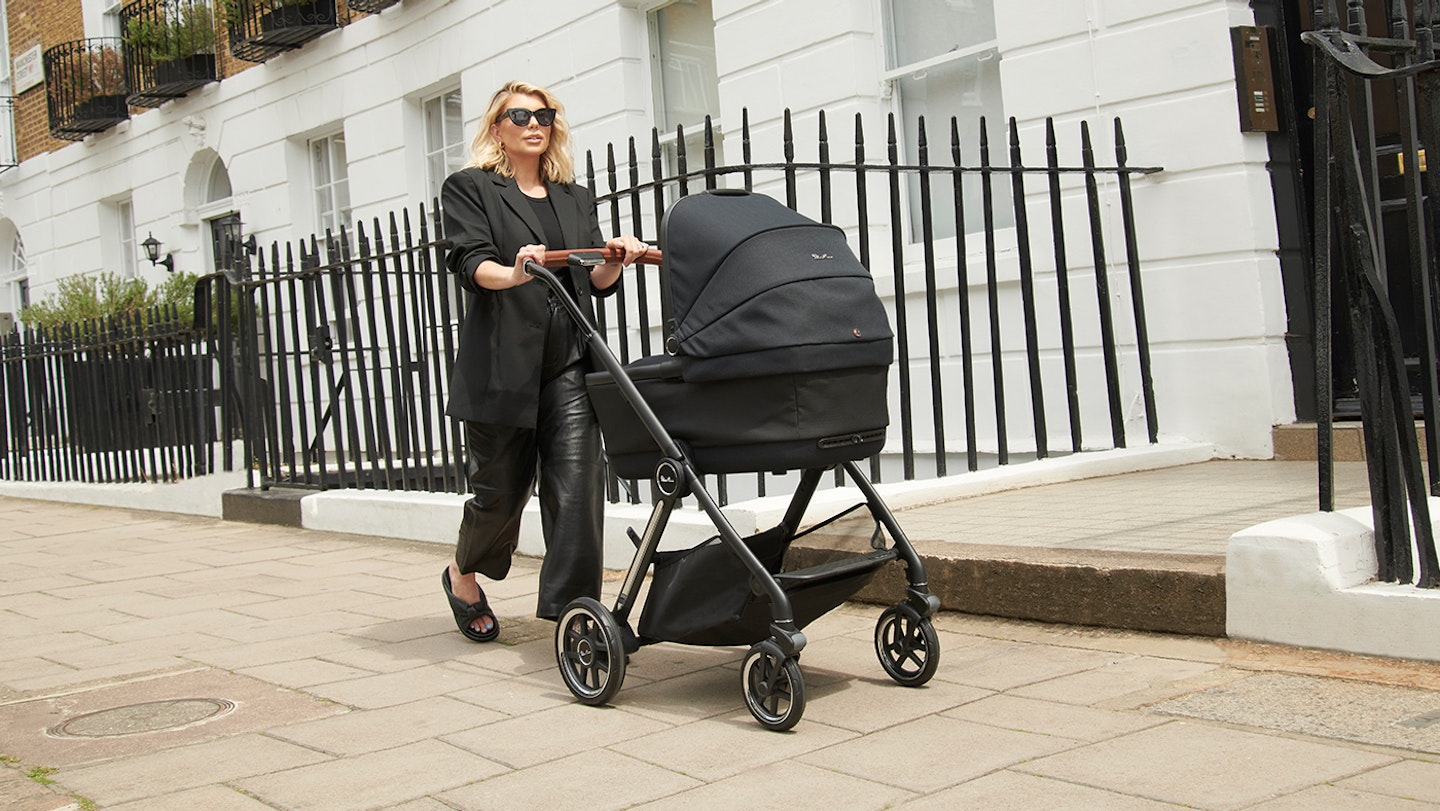 Testing the Silver Cross Reef pushchair
Having fitted a few new prams in the past, the Reef was by far the easiest to put together. Everything was pre-built and just clicks together intuitively. From the get-go, all the parts feel very sturdy, well-made and luxurious. The leather on the handlebar is exquisite and you really do get the sense, straight away, that you have a high-quality product in your hands.
One of the best quality-of-life features is the cot release button at the top of the hood, which means it can be operated with one hand. With a baby, you often find yourself wishing you had an extra pair of hands. It is this sort of user-focused design that you really feel the benefit of every single day you use it.
This feature is matched by the memory buttons to push down the hood. With a lot of other prams you either don't have buttons which means the hood isn't totally secure and can be knocked down or you have to have both hands free to press the buttons in, which you can't always do.
Having a winter baby, one of my main concerns was with insulation and making sure my Princess stays warm in the subzero temperatures. I'm happy to say that the padding of the mattress and the quilting of the wall lining in the cot makes for an extremely cosy interior that stays toasty warm. My newborn found it extremely cosy to the point where I have yet to see her stay awake whilst in it!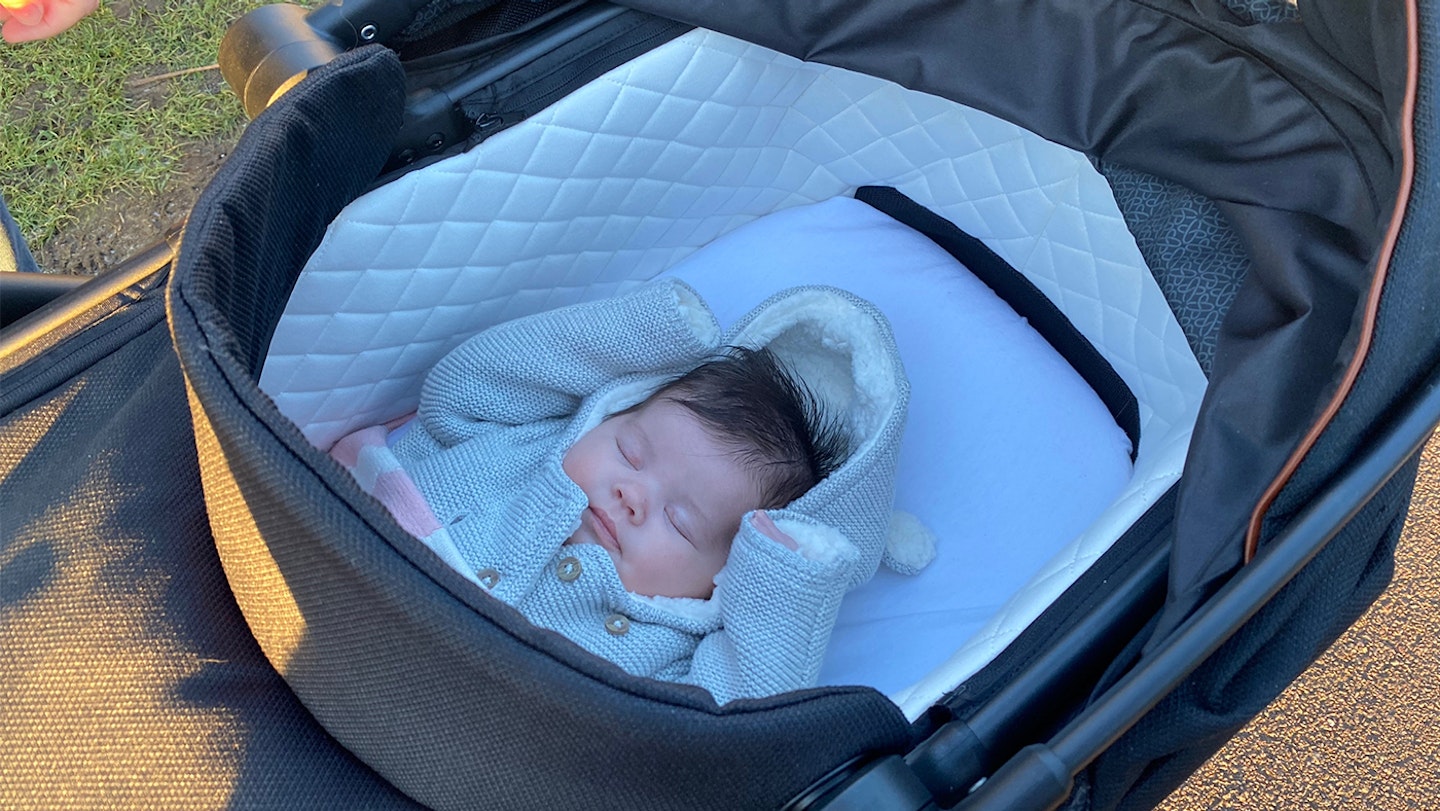 On top of the colder days, the Silver Cross First Bed Folding Carrycot will also cater for the warmest of summer months as well. On the front and back of the cot are little ventilation flaps that can be opened and closed. These give a flow of air through the pram and will keep it cool in the summer. All these features in a cot that is approved for overnight use for a little one as well add to the quality. We have an expensive stand-alone side-sleeper cot for my newborn and when she spent the night in the Silver Cross cot, it was no different at all to the side sleeper we normally use.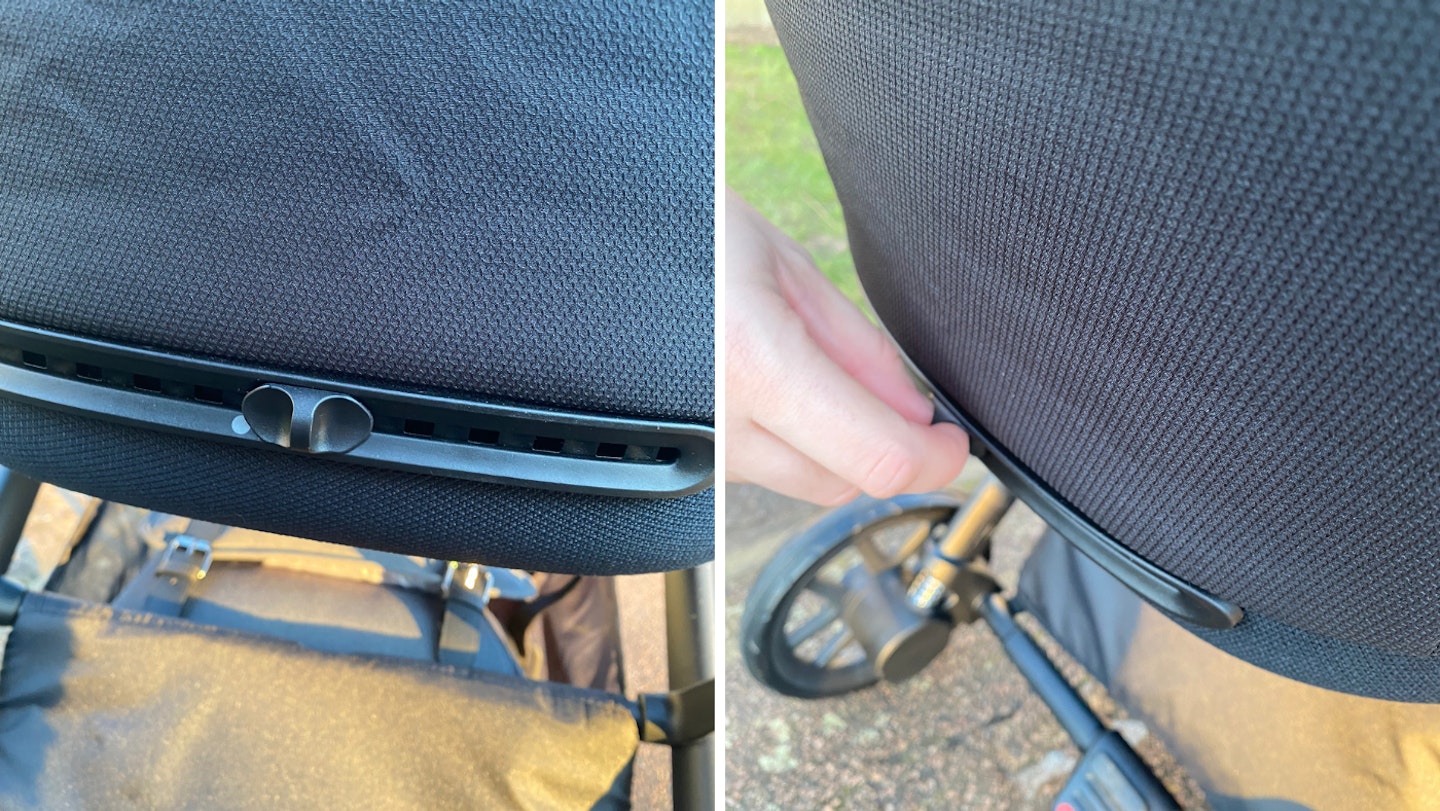 The practicality of the travel system that comes from the intelligent design is another positive that is definitely worth mentioning. The frame folds away by holding a switch and pressing a button. It only takes a few goes to get used to and then it is really simple, folding away cleverly and compactly.
In addition to this, the handlebar has two small rubber nodules on it to make absolutely sure that the leather grip doesn't touch any dirty/muddy floors when the frame is packed away. The brake pedal again showcases the design as unlike others, there is very little resistance to putting the brake on and taking it off and despite this, there is no sacrifice to safety.
Fitting the Isofix base of the Silver Cross Dream i-Size was extremely easy and is standard across all other Isofix bases. The list of cars it fits is impressively long so hardly anyone should have any problem with compatibility. The car seat is made with the same sturdy materials as the pram and frame which again makes you feel the quality and luxury. Fitting the car seat to the Isofix is straightforward and intuitive, with just a couple clicks.
The car seat itself is very comfortable, my newborn has been on multiple mid-range car journeys now and always spends every trip asleep practically the whole journey despite being a very light sleeper out of the car seat. The buckle, although it takes a little time to get used to, feels very secure and the quick release means you are confident in getting your baby out when the inevitable poo or puke emergency happens! This also gives you the confidence that the system would be very suitable should (touch wood) a genuine emergency ever occur.
A key consideration for anyone thinking of buying the Reef, and what I would say is one of l the only negatives in my view: is the weight of it all. The materials used make it sturdy and feel very secure but the trade-off with this is a heavier unit. With the added weight it can be difficult for some people to transfer to and from the car. But it, unfortunately, doesn't stop there, it pervades into some of the positives I have already mentioned.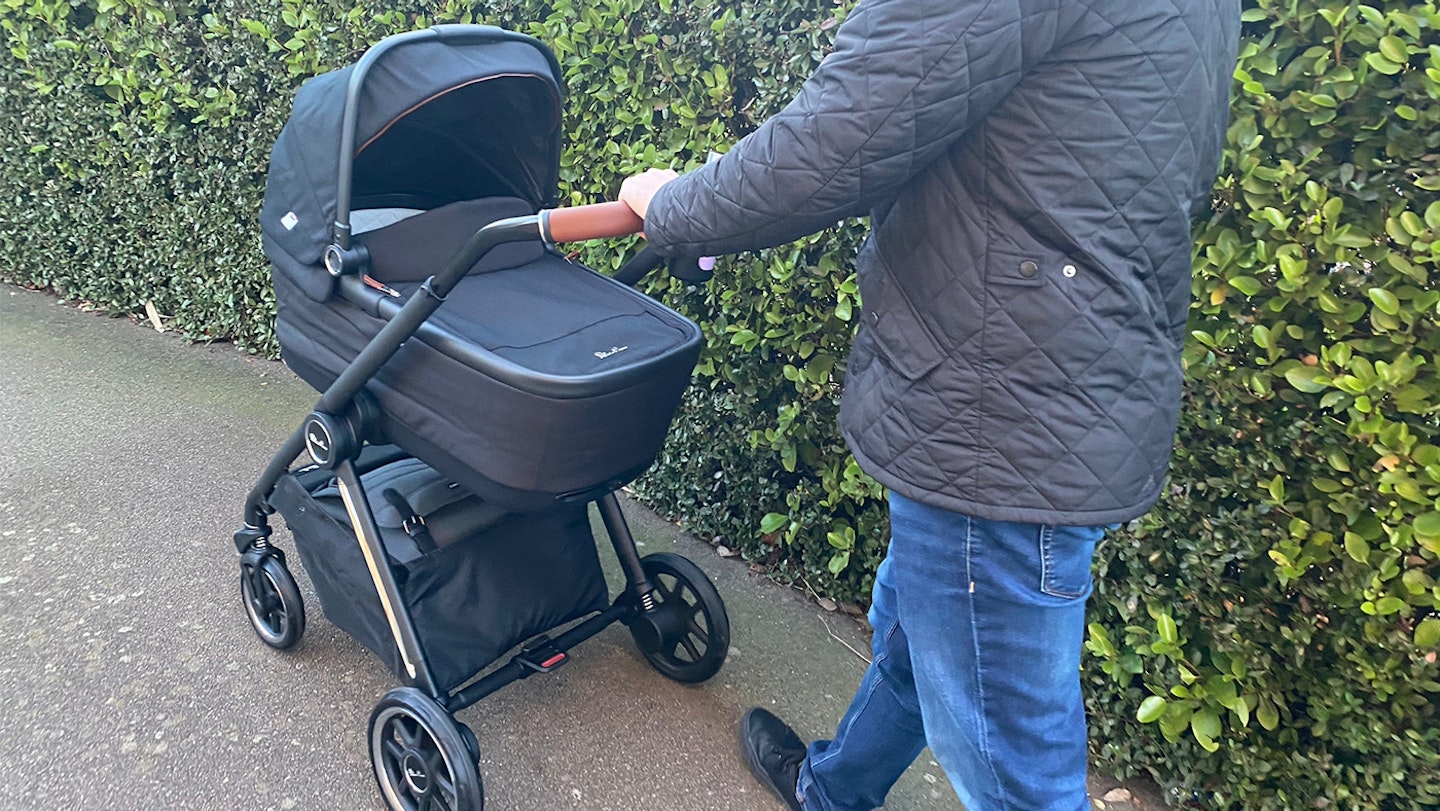 The weight has an added side effect. When pushing the pram, if the surface is uneven or sloped, the stroller will steer itself in that direction meaning you will feel like you're constantly fighting it to keep it straight. So walking over a lot of dropped kerbs or hilly areas wouldn't be as easy as other prams. If you live in a city with nothing but flat paved areas, you're laughing but not everyone does.
If you or your partner are planning a c-section, I would not recommend getting this travel system without trying it first to make 100 per cent sure that you can lift all the individual parts yourself, fold it away yourself and lever the pram up a high kerb yourself. My partner had an emergency c-section and found herself unable to do any of these things on her own for the first few weeks after birth. She had me on hand to help but anyone that unfortunately doesn't have that support would effectively not be able to leave the house on their own.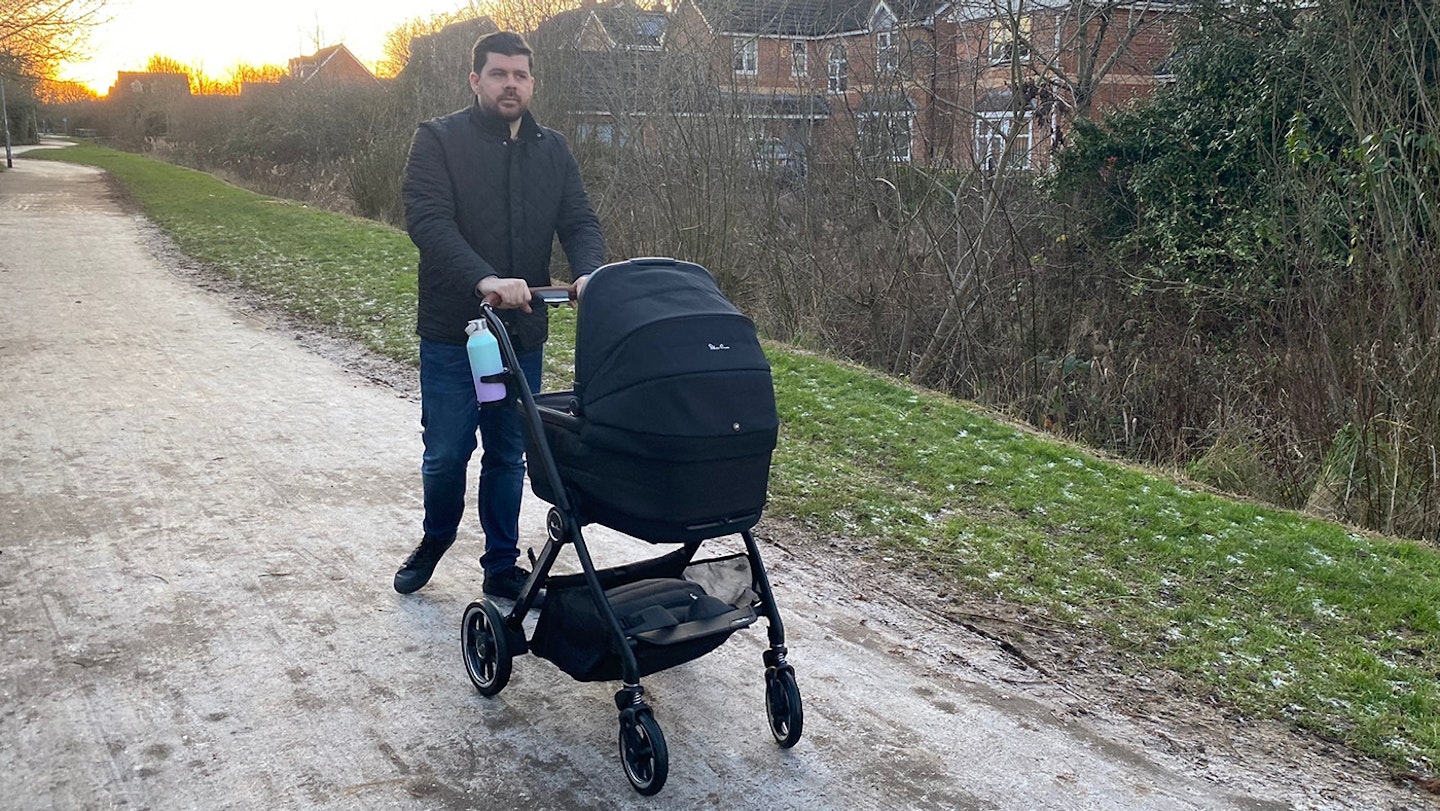 I mention the sturdy materials used a lot and this is what adds to the weight. It is a very stable product but each individual part of it is fairly heavy. For example, lifting the cot off the frame. Although it has a button so you can do it one-handed, those that aren't as confident in their upper body strength will have to do it double-handed anyway, if they can do it at all. Similarly, when out and about and you have to lift the front wheels to go up a kerb, people that aren't as tall or strong will struggle with the weight. My partner struggled with this after the c-section and we found the only way to achieve it was to extend the handlebar all the way to give enough leverage to lift it.
Ultimately the weight is a trade-off. The whole system feels very sturdy and secure. You don't get the feeling that you're going to break it as you do with other travel systems. But the by-product is the increase in weight, which might be a game changer for some.
Final verdict
Overall, Silver Cross has a well-earned reputation for luxury and design and this travel system matches those ideals. The weight of it is a very serious point to consider for anyone thinking of buying it because there is the chance that it may not be suitable. If however, you find that you are comfortable with the weight then you would be hard-pressed to find a better travel system out there. It is very well designed, intuitive to use, safe, sturdy, secure, user-friendly and very good to look at.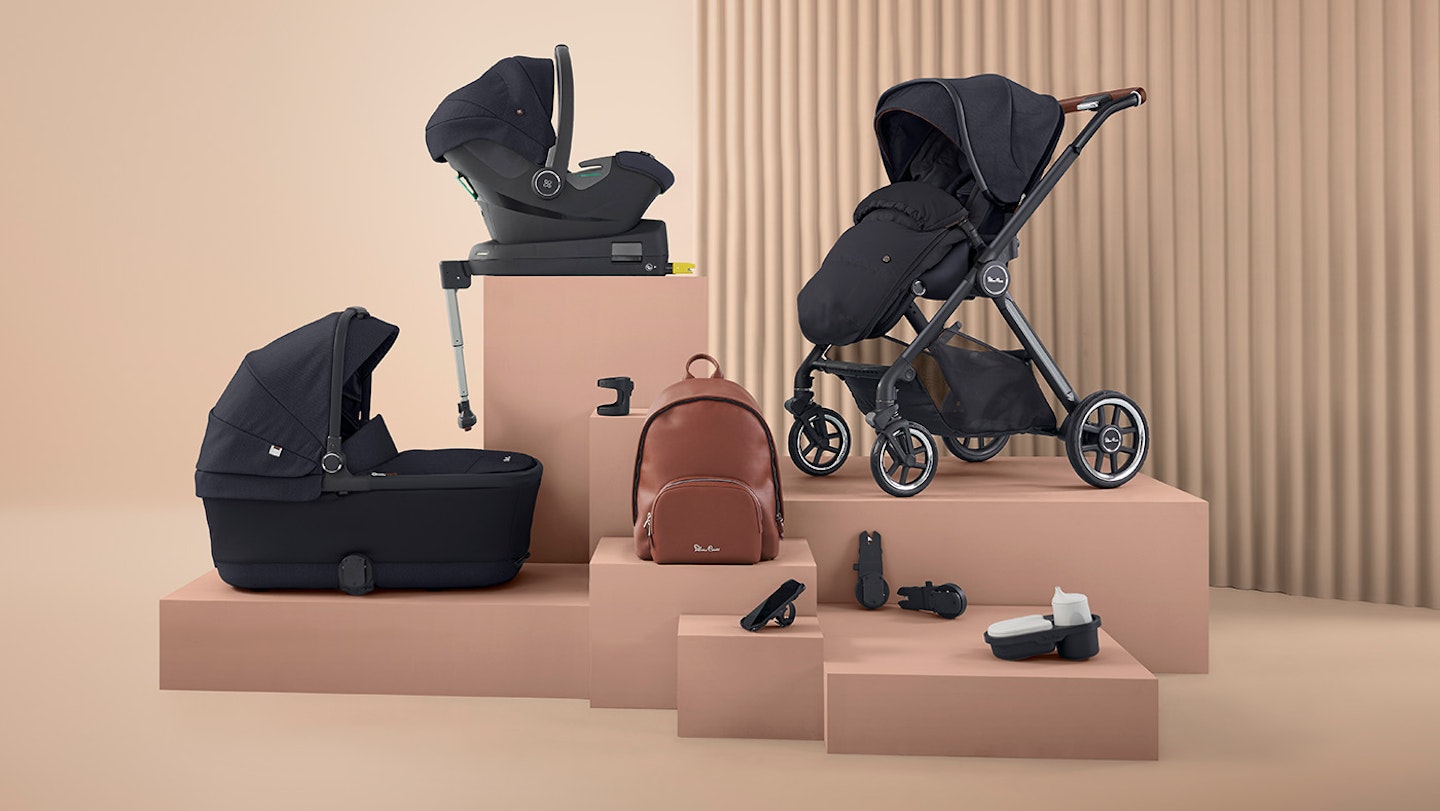 Silver Cross Reef pushchair FAQs
What is a travel system?
A travel system is simply a pushchair frame – officially known as a chassis – to which you can attach a Group 0+ infant car seat. There will be a pushchair seat too and usually the option of a compatible carrycot attachment, which converts the pushchair into a lie-flat pram. This gives you a mix-and-match system that's really versatile, whatever your day out involves.
Do I need a travel system?
Put simply, if you get about on foot or public transport mainly, a travel system is bulky and costly compared to a pushchair, so it's not for you.