When looking for the best pushchair, Nuna TRIV Next has to be high on the list. This compact fold pushchair is cleverly designed with a seat that faces and folds both ways, no matter what direction baby's facing. The all-season seat keeps your precious cargo snug in winter and converts to breathable mesh in summer, while the rain cover provides extra protection no matter the weather.
Described as a natural city dweller that quickly converts to a travel system, packs up easily, and stands on its own when folded  – it's the perfect sidekick to your everyday adventures.
This product has also won a 2024 Mother&Baby Award.
Pros
Lightweight
Easy to use and super straightforward assemble
Great colour scheme
Cons
Suspension isn't great
Travel cot hood cover is hard to get zipped up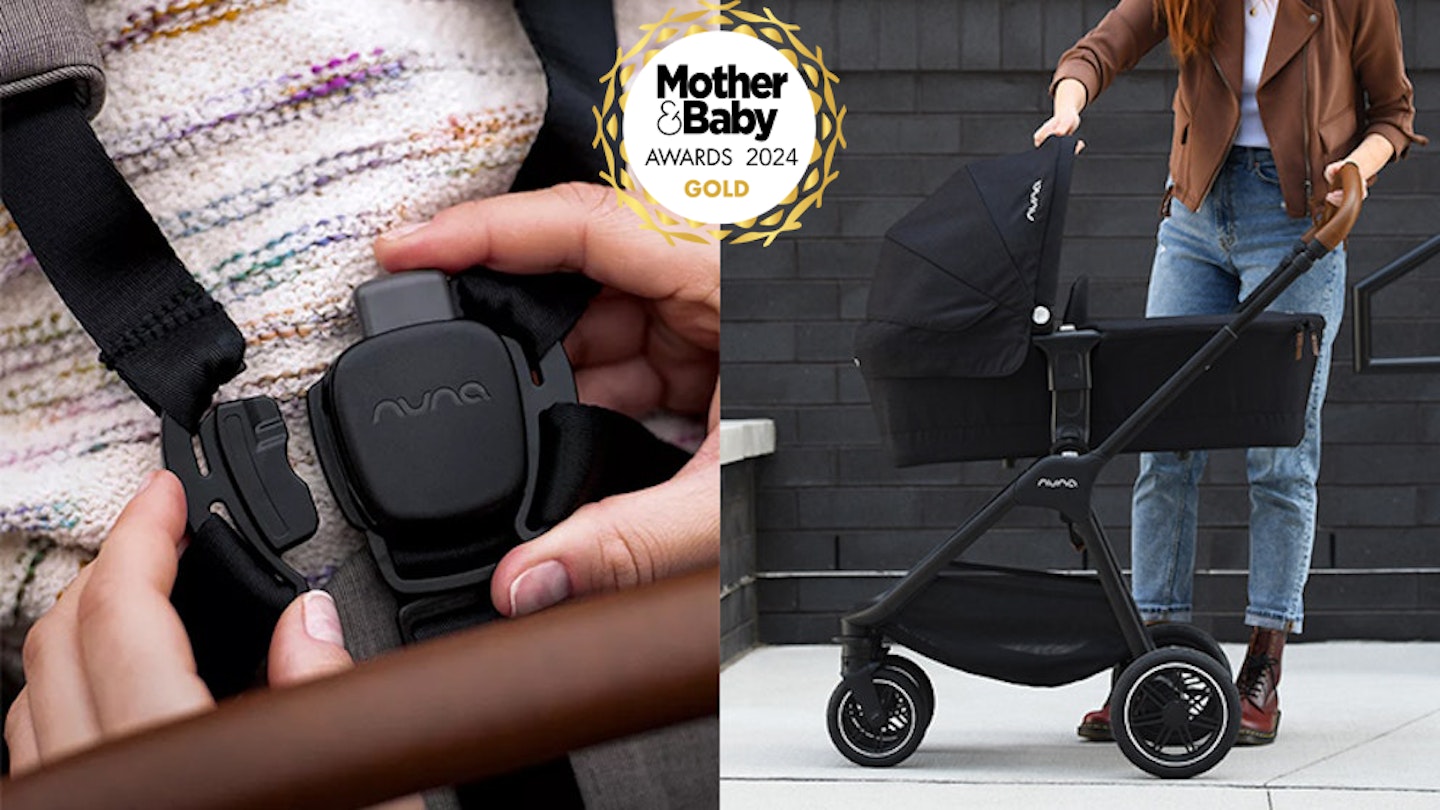 Key features
Compact fold: Folds up quickly with one hand and stands on its own, making it simple to use out-and-about as well as store away.
All-wheel suspension: Spring suspension seat technology, all-wheel suspension and large tough, foam-filled rear wheels mean you're ready for smooth rides.
Travel system compatible: simply attach any infant carrier to the included post adapter and customise the tilt to baby's needs. It also easily converts to a pram with the included post adapter, compatible with the TRIV series carry cot.
Testing the Nuna TRIV Next
Our mum tester, Molly, put the Nuna TRIV Next through its paces. Here's how she got on...
"The assembly process of the pushchair was so easy, I was able to assemble the pushchair alone at 40+2 weeks pregnant. I also tried out a few of the different seat positions, and changing to the collapsable carrycot the first time I set it up and I was really impressed with how simple that was to do. It all felt very good quality, especially the stylish colour scheme of black, really set off by the brown leatherette handle and front bar.
"Because its so lightweight and so easy to fold, this pushchair is great for the recovery process after birth. The one hand fold and unfold has to be my favourite feature as it makes life so much easier when collapsing the pushchair in car parks to put away in the boot, or for storing at home.
"I have two pushchairs and I find I use this one more as my 'grab-and-go' pram as it's much lighter. I also love that the carrycot is collapsible, it makes it great for storing in the house or car.
"Although the carrycot is an additional purchase, I think it's worth it if you have a newborn so they can lie flat. The fact that it's collapsible means it's not that bulky to store too.
"The TRIV Next has a smooth push while walking allowing for easy manoeuvring, and I liked that it can be world facing or parent facing. It's definitely a pushchair that can grow with my little one. Another really useful feature is that the wheels have a one button release, making them easy to remove for cleaning - great if it's been wet or muddy out, to save it going on your carpet or in your car boot."
Final thoughts
I would recommend this pushchair for someone who is living in a city and not in the countryside as the suspension isn't good enough for the country. It's also great for travel as it's so lightweight. I did find the cover of the carrycot hard to get zipped up, it was very stiff and I was concerned that the jolting would wake baby up if they were asleep inside. Hopefully this is something that will loosen up with use. This pram is also perfect for someone with a small car or if storage is an issue at home as it all collapses up so small.
Nuna TRIV vs. Nuna TRIV Next
The new Nuna TRIV Next retains everything parents loved about the Nuna TRIV, while getting upgraded features. TRIV Next is lighter weight yet with larger tyres, and because of the wider wheel base and larger rear tires, the TRIV Next is 2.5" wider than the TRIV. However, once folded the TRIV Next measures a little over 10% smaller than the TRIV, with a slender profile when folded that is easier to stand upright and stow out of the way.
The larger wheel size has improved manoeuvrability and handling on and off pavement. While it doesn't compare to the extra large tires and responsive suspension seen on the MIXX Next and DEMI Grow, the TRIV Next is a serious contender for parents who prefer a lighter weight stroller but need something that can comfortably handle those every day adventures. The price of the TRIV Next remains the same as for the TRIV.
Can the TRIV Next be used from birth?
The TRIV Next can be used from birth to 50 lbs. Nuna recommends that the TRIV series be used with a PIPA series infant car seat, or the TRIV carry cot until the child is about 6 months old, and then they graduate to the stroller seat.
What does the TRIV Next come with?
Along with the stroller it also comes with the folding ring adapter which is needed to connect the PIPA™ infant car seats and a rain cover. A wheeled travel bag is also available but this is sold separately.
How do I clean the TRIV Next?
Do not use any abrasive cleaning products or bleach. The frame and plastic parts can be cleaned with a damp cloth. The wheels can be cleaned with water to remove any dirt. The adapter can be cleaned with a damp cloth and mild detergent. You can machine wash the seat insert pad on a delicate cycle with cold water and mild detergent, air dry. The canopy can be spot cleaned with a damp sponge. Do not store your stroller in a damp place.