Nappies are an essential baby item that you'll go through a lot of, but with the market full of different diaper brands it can be difficult when trying to figure out which are best. Lots of factors need to be considered when choosing the best nappies for your baby, such as their weight, skin sensitivity, affordability, and whether you want them to be reusable or disposable. You'll also want to think about if you want your baby's nappies to have nifty features, such as wetness indicators and moisture-locking abilities, to help you indicate when their nappy needs changing.
If you're looking for nappies for your newborn baby and have no idea where to start, then we definitely recommend checking out our newborn nappy guide. Otherwise, we've rounded up the best nappies below, as recommended by our Mother&Baby writers (who are also mums), as well as the ones which have taken the top spots in our prestigious Mother&Baby Awards.
How we chose the best nappies
To help us choose the best nappies on the market for parents, we spoke to Mother&Baby Editor and mum-of-two, Maria Martin, and Mother&Baby commercial writer and mum-of-two, Samantha Ball, to get their top nappy recommendations. We also studied the parent reviews for each nappy listed, making sure we only selected nappies with more than a 60 per cent five-star rating, to ensure the products selected deliver customer satisfaction. We included the nappies that have been awarded either Gold, Silver, or Bronze in our prestigious Mother&Baby Awards, which are rigorously tested by our parent reviewers.
Baby nappy size guide and must-knows
To find the right size nappy for your baby you'll need to know their weight. While all different brand's nappy sizes will differ slightly (so always check the pack first) here is a rough baby nappy size guide in accordance with your baby's weight.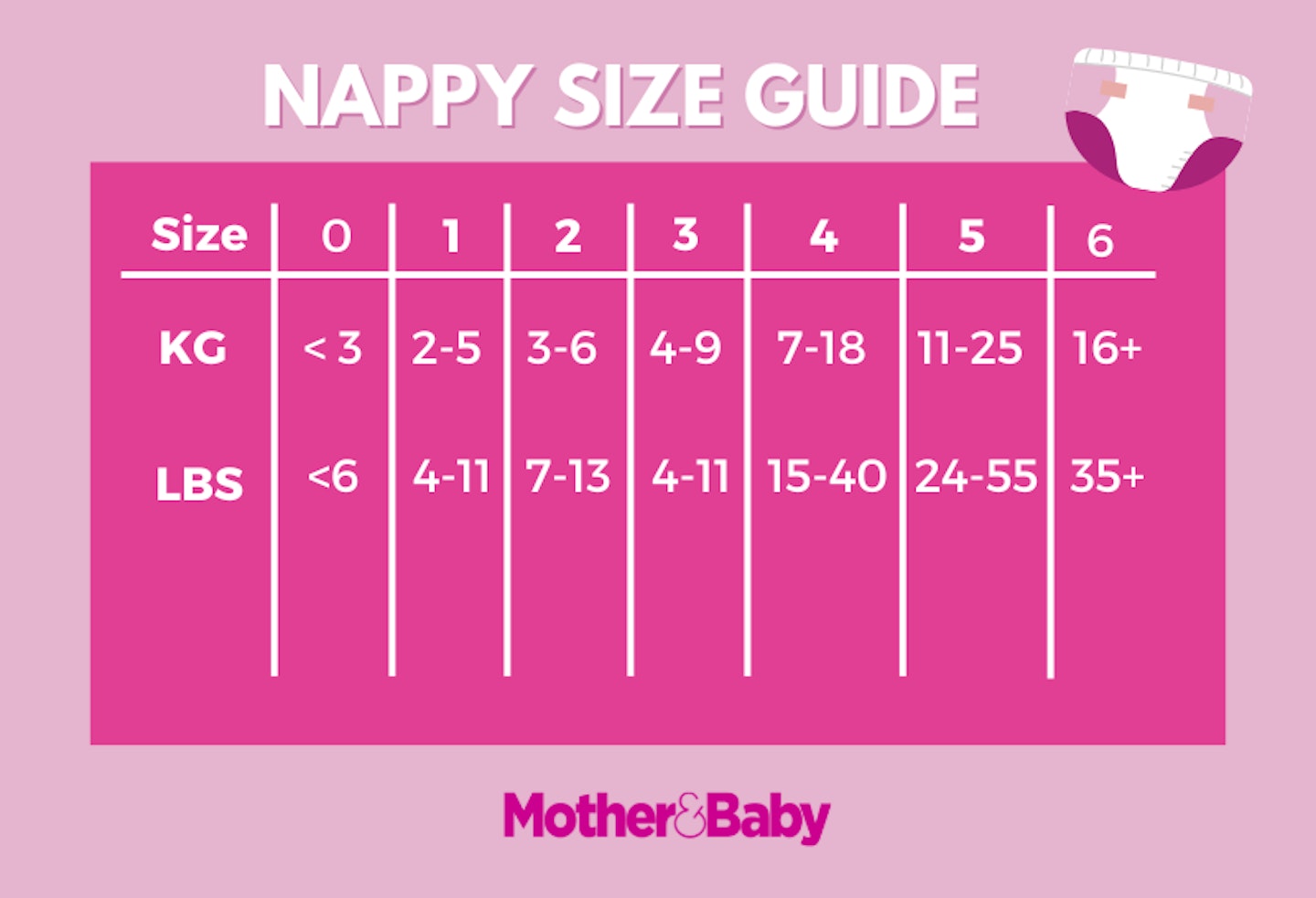 Other key things to remember when looking for the best nappies:
• Nappy fit — your baby will most likely be pretty active once they're in size 3 or 4 nappies, so make sure you look for nappies with elasticated waistbands, secure leg cuffs and strong tabs. These features are important to prevent leaks while your baby is on the move.
• Wetness indicator — this is a line across the front of the nappy that changes colour to indicate when your baby has gone for a wee. Not all nappy brands have these and the larger the nappy size, the less likely you'll find this feature.
• Sustainability — you may want to take environmental impact into consideration when buying nappies. We know that disposable nappies aren't great for the environment, with 3 million disposable nappies going to landfill in the UK each year, however, for some families this is the most affordable option. Reusable nappies are the most environmentally-friendly nappies, but can be pricey, so eco-nappies may be a good middle ground. These contain more eco-friendly materials with fewer or no chemicals than you would find in a traditional disposable nappy.
Best nappies for babies and toddlers
Description
**Aldi Mamia won Gold for their size 1 nappies and Silver for their size 2 nappies in the Best
Description
A well-known and trusted brand in the world of baby care, this pack of Pampers nappies was awarded
Size: 5 (also available in a range of other sizes)
Wetness indicator: Yes
Pack includes: 32 nappies
Our parent reviewer, Haylee, said: "The Pampers Active fit range makes my life easier as a mum because it keeps my little girl dry and comfortable for extended periods of time. She sleeps through the night, 12 hours most nights, so I'm able to put her to bed wearing this nappy and know that she won't be disrupted by leaking through the nappy onto her nightwear and bedding etc."
Editors choice and best nappy subscription
Description
If you're looking for a more sustainable nappy then Kit & Kin's award-winning hypoallergenic
Size: 1 to 6
Wetness indicator: No
Pack includes: One-time purchase pack (£8) gives you 40 nappies
Our Editor says: "We started using Kit & Kin during lockdown, the subscription was, and still is, reliable in arriving on time. They are delivered monthly, so we don't worry about ever running out — with, as you can imagine with two toddlers running around is easy to forget. The nappies have very sweet, simple animals prints on them, they're comfortable on our toddler's bottoms, no complaints of signs of nappy rash and they are very leak proof. It's also a huge breath of fresh air that these are eco-friendly nappies, so is genuinely a weight off our shoulders that we know we're adding to helping sustain our environment in some way."
Description
Aldi is always helping our money go that little bit further and even with nappies too. This
Size: 4 (also available in other sizes here)
Wetness indicator: No
Pack includes: 48 nappies
Our parent reviewer, Tasha, said: "This product exceeded my expectations. I was slightly hesitant at the durability, however they are fantastic! They're easy to swap over and wash beautifully with no stains as long as you soak soiled nappies pretty quickly (top tip). They're soft, and my daughter seems very comfortable in them. A definite money saver."
Size: One size
Wetness indicator: No
Pack includes: One
Our parent reviewer, Tasha, said: "This product exceeded my expectations. I was slightly hesitant at the durability, however they are fantastic! They're easy to swap over and wash beautifully with no stains as long as you soak soiled nappies pretty quickly (top tip). They're soft, and my daughter seems very comfortable in them. A definite money saver."
Size: Size 1 (newborn)
Wetness indicator: Yes
Pack includes: 24 nappies
Mother&Baby Commercial Content Writer, Samantha, said: "Nappies can be expensive, but Aldi has always been good value and super reliable! My son had an undiagnosed milk allergy as a baby and we could go through almost a pack of nappies a day, so it was helpful to have reliable nappies that didn't cost a lot."
Description
The last thing you want to be worrying about in the pool or sea is whether your baby or toddler
Size: Available from newborn up to 12 to 24 months
Wetness indicator: No
Pack includes: One reusable nappy
Our parent reviewer, Alice, said: "This product is reusable which means that I do not have to have disposable swimming nappies at home, one nappy which can be washed and gives you the peace of mind that no nasties are leaking into the swimming pool. The fact that it looks great too means my little one wants to wear them for swimming and we don't have the usual nappy battle."
Best overnight nappies & Editors choice
Description
As a parent with a baby or toddler you'll have enough on your mind already when it comes to
Size: Size 5 and available in sizes 3 to 6+ here
Wetness indicator: Yes
Pack includes: 40 nappies
Our Mother&Baby Editor, Maria, says: "I've used every nappy brand under the sun. Partly because sometimes money may be tighter some months than others, and partly because some nappies just leak too much. I have a 3-year-old and a 1-year-old — my eldest uses nappies for nighttime only and my little one is daily/nightly use. At the moment we are finding ASDA Little Angels Comfort&Protect size 6 works for the little ones. They're at a reasonable price, they're comfortable and soft on my little one's bottom, and after months and months of using them, there has been no surface of any nappy rashes. I will say the wet indicator isn't as clear as I would like it, but a small price to pay for an overall really good nappy brand."
Description
Nappy pants are ideal for when your baby gets a little older and can be pulled up and down, just
Size: Available in sizes 4 to 6 here
Wetness indicator: No
Pack includes: 36 nappies
Our parent reviewer, Claire, said: "I have found these nappies amazing, they have converted me to use ultra dry pants full time. I have a very fidgety toddler that likes to run as soon as she sees a nappy but using these it makes a nappy change so much easier and quicker. They have a neutral design so suitable for boys or girls and not too bold so doesn't show through lighter clothing. The sizing is great and well labeled on the packaging and the price is very affordable."
FAQs
What are the best reusable nappies?
Reusable nappies are usually more gentle on your baby's skin and, most importantly, are better for the environment (despite the cost of electricity and water to wash them, according to sources). You'll also be pleased to hear that reusable nappies have also come a long way since the days of terry nappies and safety pins. Nowadays, they look just like disposable ones, making them easy to use, and come in a range of fun, funky prints. Our reusable nappy guide includes a round-up of the top 10 best reusable nappies, as well as real mum reviews and instructions on how to wash them.
What's the best nappy bin?
Whether you're using disposable nappies or reusable nappies, a nappy bin is a must to stop you from feeling overwhelmed by all your baby's dirty nappies. They're specially designed to trap the smell of soiled nappies (and stop you from having to fill up your regular bin) and also have anti-bacterial properties. Our Editor's top choice is the Angelcare Nappy Disposal System, however, we've also rounded up a selection in our best nappy bin guide.
How do you change a baby's nappy?
Changing your baby's nappy can feel very daunting, especially for new parents, but it's a basic skill every parent needs to learn. It really isn't as complicated as it may seem though and once you've tried a few times you'll have picked it up with no problem. Here's how to change your baby's nappy in eight easy steps.