You may be feeling a little nervous when it comes to taking your baby to experience swimming for the first time, but you'll soon learn that most babies love water play, they just need the best swimming aids and swimwear (including the best baby swim nappies and baby swim pants) to keep them comfortable. It's a wonderful sensory experience for them as they get to splash about in the wetness, all under your watchful eye.
Along with getting the travel bag packed for your trip to the local pool, one thing that is an absolute must when taking your baby swimming is a nappy. It has to be a suitable baby swim nappy that won't get waterlogged and make the whole water experience a total misery for both you and baby.
There are plenty of options to choose from, including disposable swim nappies, as well as multipacks and reusable swim nappies which are washable and come in all sorts of colours and designs which will get your little one excited about wearing them.
The best baby swim nappies and pants at a glance:
•Best reusable swim nappy: Splash About New Happy Nappy - view offer on Amazon UK
•Best adjustable swim nappies: TotsBots Reusable swim nappy - view offer on Amazon UK
•Best for a multipack: Huggies Little Swimmers Nappies - view offer on Tesco
•Best quality swim nappies: Pampers Splashers Swim Nappy - view offer on Amazon UK
To make sure we are providing you with expert advice about what products to buy, many of our recommendations have been tested by an army of mums whose verdicts help decide just who deserves to get the coveted gold, silver and bronze rosettes in our Mother&Baby Awards.
The best baby swim nappies and pants:
Best reusable swim nappy
Description
Pros
Reusable so no need to use disposable nappies underneath
Easy to wash
Best for brightness
Description
Pros
Waist ties are adjustable
Bright colours are easy to spot (safety reasons)
Best adjustable swim nappies
Description
Pros
Made from recycled materials
Holds in poo
Cons
Not the easiest to get onto a wriggly baby
Best for travelling
Description
Pros
Multipack so you'll have a spare
Long sleeves and UPF 40+ sun protection
Bets for a multipack
Description
Pros
12 per pack
Absorbent material
Best quality swim nappies
Description
Pros
Doesn't swell in water
360° stretchy waistband
Best for a budget
Description
Pros
Affordable price
Dermatologically protected
Best for style
Description
This cute swim nappy comes in a gorgeous daisy print and has been designed to keep accidents
Pros
Machine washable
Material is recycled
Cons
Not suitable for dry cleaning
Best for comfort
Description
If you've got yourself a disposable swim nappy, why not pop these pretty swim pants from Bambino
Pros
Soft towelling
Drawstring waistband
Cons
Can be tumble dried but not ironed
Best for durability
Description
Perfect for summer holidays aboard or at the beach with the family, this nappy has SPF50+
Pros
Bright colours shouldn't fade in chlorine
Fully lined
Cons
May shrink slightly (by 5 per cent)
What type of baby swim pants and nappies are there?
Swim nappies can either be disposable or reusable and are available at most supermarkets and pharmacies. Some swimwear also has nappies built into them.
Disposable swim nappies - They look like regular nappies and are thrown away after one use. If you opt for these, you may need to take a few more as back up, especially if you're heading to the seaside or going to the beach. Your baby can't wear them for extended periods of time when they are wet as it can cause nappy rash.
Reusable swim nappies - These tend to look like small pants, shorts or part of a swimsuit that can be washed and worn again. They are designed to dry quickly, so if your child has come out of the water, there isn't a risk of nappy rash.
Swim pants are usually worn on top of disposable swim nappies. They're a lovely way of adding extra protection and making potentially boring disposable nappies cuter.
What features to look for in a swim nappy?
Leakage - Swim nappies are designed to contain most stools until you can remove your child from the water and to the toilet. However, loose stools and urine will not be stopped by swim nappies from leaking into the water. Make sure you take your child to the toilet at regular intervals during the swimming session.

Size - Disposable swim nappies are sized in the same way as standard nappies. Make sure you choose a fit that will be secure and snug. You don't want them to be too big or too small as they may restrict your baby's movement or prevent them from fitting into a swim ring.

Adjustable tabs  -  Parents who tested swim nappies for our Mother&Baby Awards mentioned the swim nappies they preferred had adjustable tabs for babies in between sizes so they could make sure they were more secure.

Cost - If you plan to take your baby swimming regularly, think about the cost of a disposable baby swim nappy compared to a reusable baby swim nappy, as you could spend more over time rather than one investment.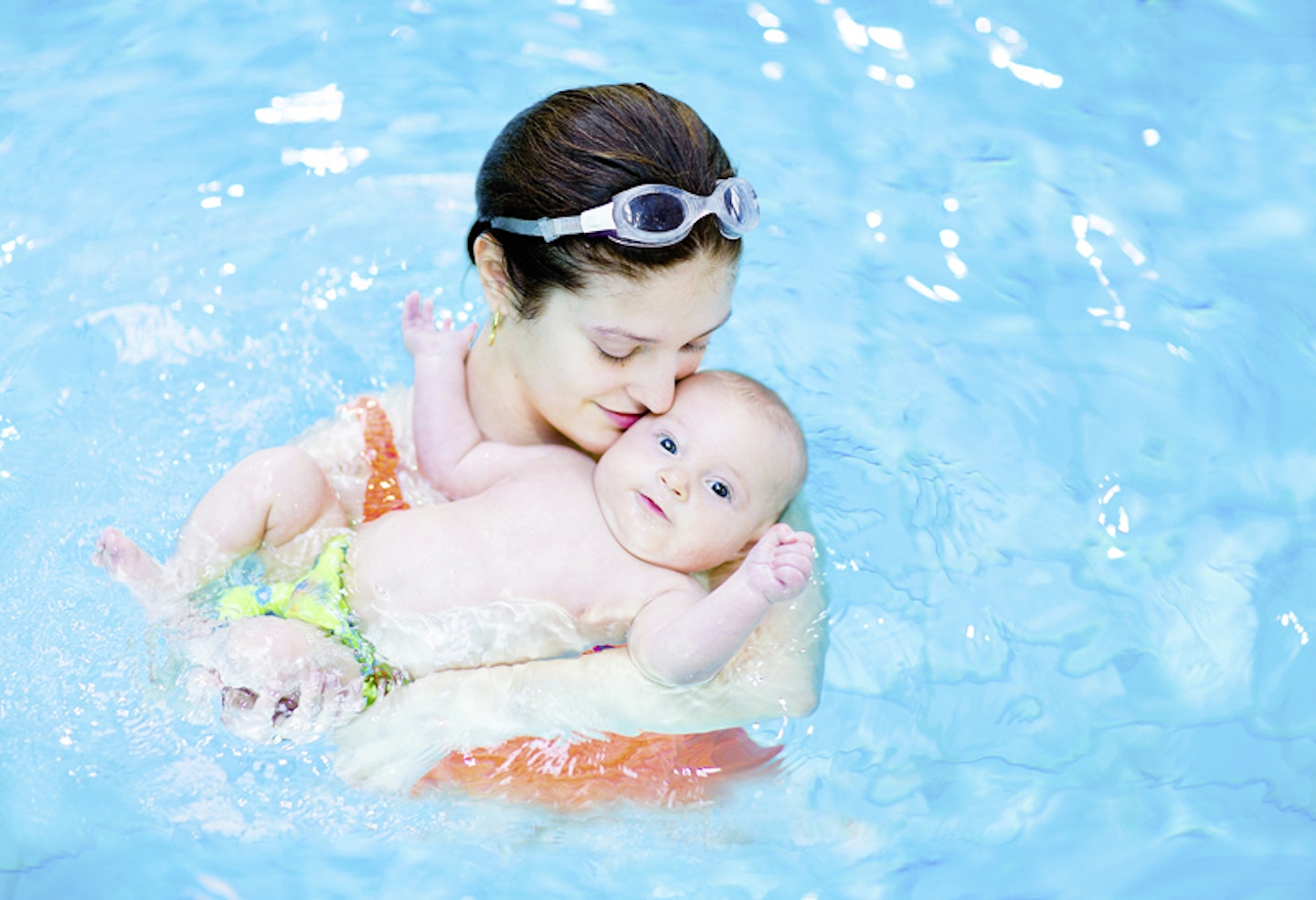 When can babies go swimming?
According to the NHS, 'You can take your baby swimming at any age, both before and after they have been vaccinated. It does not matter if they have not yet completed their course of vaccinations.' So really, the choice is completely yours.
What do I need to take my baby swimming?
Swim nappies

A swimming costume or baby wetsuit

Your baby's favourite bath toy

A soft towel or towelling dressing gown

A snack if your baby is weaning. Swimming is hungry work!

A baby swim vest

A bottle of milk if you're bottle-feeding

A changing mat and your changing bag

Your own swimsuit and a change of underwear!
How do I wash reusable swim nappies?
So that your reusable swim nappy doesn't lose shape, they should be hand washed in cool water. If your baby has soiled their nappy, then wash it on a gentle cycle in the washing machine.
Baby swimming lessons
Indoor pools have opened again across the UK, and swimming lessons have resumed. If you would like some in-person support when taking your baby swimming, why not see if your pool offers swimming lessons or classes? It's a great way to meet other parents and for your youngster to see other babies in the same situation as them.
There are also plenty of swimming programmes in leisure centres or indoor pools available, especially for babies all around the country. Here are a few programmes to look into:
Turtle Tots

Water Babies

Aquatots

Puddle Ducks

Little Dippers
Emily Gilbert is a Digital Writer for Mother&Baby and had written for the website and previously the magazine for six years. Specialising in product reviews, Emily is the first to know about all the exciting new releases in the parenting industry.