Growing a baby can be a gruelling business on your body, but the best pregnancy pillows will help alleviate your aches and pains. Tiredness and insomnia are common when you are expecting, but a pregnancy pillow will have you sleeping like a baby. So, whether you are looking for a pregnancy pillow that can help with those tired night feeds when the baby arrives or a longer pillow that is better for taller mums, we have compiled the very best pillows on the market.
Also known as a maternity pillow or body pillow, this is a large, comfortable sleeping aid that is designed to support your bump, bum, legs, neck and back, particularly during the second and third trimesters. There are many different types to choose from, and some can even be used for a nursing pillow or tummy time when your baby arrives.
Black Friday deals on pregnancy pillows
Black Friday is currently everywhere right now which means there's a whole host of Black Friday pregnancy deals on pregnancy pillows to take advantage of! So if you want to grab a bargain, here are the retailers that have the best deals right now or keep scrolling to continue reading our buyer's guide.
Shop Black Friday pregnancy pillow deals: Amazon | John Lewis | Mamas&Papas
Save £35: SnuzCurve Pregnancy Pillow
Save £30.60: bbhugme Pregnancy Pillow
Save £27: Simba Cooling Body Pillow
Save 40%: Bella Moon Pregnancy & Nursing Pillow
Save 50%: Bella Moon Pregnancy & Nursing Cocoon
Finding how to sleep when you're pregnant can often be a case of trial and error. Whether you're struggling with those hormones, finding a relaxing position, or being woken in the night by leg cramps or restless legs, we've found the best pregnancy pillows to that will (hopefully) help you to rest easy during the night.
You may be wondering how to use a pregnancy pillow, as they are different to standard bed pillows. Although many can be used to support your neck like a traditional pillow, they are much larger and longer to help align your whole body. This is to help make it more comfortable for you to sleep with bump, as most experts agree that once the abdomen starts to expand, it is best to sleep on the left side with your knees bent.
According to The Sleep Foundation, sleeping on your side when pregnant also helps improve blood flow to baby and will help ease any back pain, rather than sleeping on your back, which puts extra pressure on your spine when pregnant.
Editor's choice
• Best overall pregnancy pillow: bbhugme Pregnancy Pillow
• Our pick for left-hand side sleepers: Dreamgenii Pregnancy Support and Feeding Pillow
• Best J-shaped pregnancy pillow: SnüzCurve Pregnancy Support Pillow
• Best U-shaped pregnancy pillow: Pharmedoc The CeeCee Pillow
• Most aesthetically pleasing pregnancy pillow: DockATot Cosset body pillow
• Best C-shaped pregnancy pillow: sleepdove® Maternity Pillow
• Best wedge pregnancy pillow: OCCObaby Pregnancy Wedge Pillow for Sleeping
Types of Pregnancy Pillows
It's important that you choose a pregnancy pillow that's right for you. The pillows can come in different shapes and sizes, and while they are all designed to support you and your bump, they do have slightly different ways that they can support you better.
U-shaped - A U-shaped pillow surrounds your whole body. This means that both your belly and back are supported. It is usually the largest type that you can get.
C-shaped - A C-shaped pregnancy pillow does not offer any support to the back, but it does help to relieve pressure from your growing bump.
J-shaped - J-shaped pillows tend to be longer and provide extra support between your legs, which is perfect for mums who are suffering from pelvic girdle pain.
Wedge - This is the smallest option. As the name implies, it can be used to raise different areas of your body to provide comfort. It does not, however, offer support to the body as a whole.
How we chose the best pregnancy pillows
We spoke with 12 mums who have tried and tested products in our Mother & Baby Awards in the previous years, to find out what pregnancy pillows they used and why they loved them so much.
Best overall pregnancy pillow
Description
This bbhugme Pregnancy Pillow is on the pricier side, but we are obsessed with this stylish
Pros
Adjusts to your shape
Machine washable cover
Recommended by midwives
Best pregnancy pillow for people suffering with hot flushes
Description
This body pillow has been ergonomically designed by osteopaths to support your baby bump during
Pros
Machine washable pillow cover
Hypoallergenic
Firm
Cons
Can lose its shape over time
Best J-shaped pregnancy pillow
Description
Designed by a team of respected health experts, this uniquely J-shaped pillow seamlessly curves
Pros
Easy to wash and dry
Soft fabric
Doesn't take up much room compared to other pillows
Cons
Doesn't stop you from rolling onto your back
Best cooling pillow
Description
The biggest selling point of the Simba Cooling Pillow is its cooling properties, designed to keep
Pros
Remains cool throughout the night
Good quality fill which maintains it's shape
Made from sustainable recycled material
Best U-shaped pregnancy pillow
Description
Are you searching for a pillow that'll alleviate all the aches and pains during pregnancy? We're
Pros
Relieves swollen legs
Machine washable cover
Ideal for c-section recovery
Our pick for left-hand side sleeping
Description
The Dreamgenii pregnancy pillow helps you to lie on your left side - the best position for you and
Pros
Supports your bump, back and legs
Pregnancy and feeding pillow
Cons
More suited for early pregnancy
Best V-shaped pregnancy pillow
Description
If your baby won't settle at night, try using this John Lewis Specialist Synthetic Carefree
Pros
Helps keep your spine aligned
Highly effective in repelling dirt and stains
Cons
Difficult to put the pillowcase on
Best pregnancy pillow for taller mums
Description
Ideal for taller mums, Iyan Linens 12ft Big U Shaped Body Support Pillow is a must-have if you
Pros
Ideal for support between the legs
Suited to those with allergies
Best value pregnancy pillow
Description
When it comes to getting a good night's sleep while pregnant, you'll do almost anything. That's
Pros
Filled with hypoallergenic fibres
Helps neck and back pain
Cons
Some mums found the seems uncomfortable
Best pregnancy pillow for tummy time
Description
This is a multi-purpose pillow, great for use during pregnancy and with your baby right up until
Pros
Hypo-allergenic, pH balanced, and toxin-free
Adjustable waist strap for safety
Multiple uses
Best aesthetically pleasing pregnancy pillow
Description
One solution to your back aches and sleep discomfort is DockATot's Cosset body pillow. It was
Pros
Comfortable, soft
Attractive design
Concealed zipper
Cons
Tassels get in the way when trying to get comfortable for sleep
Best C-shaped pregnancy pillow
Description
Created using in-depth consumer research, the Purflo Breathe Pillow features 3D spacer mesh and
Pros
Breathable fabric
Pregnancy support and breastfeeding pillow
Ergonomic back support
Cons
Some mums found this pillow too firm
Best wedge shaped pregnancy pillow
Description
This wedge pillow is a fantastic option for mums who have limited space. OCCObaby Pregnancy Wedge
Pros
Portable travel bag included
Relieves pregnancy discomfort
Super soft material and washable too
Cons
Some reviews found it too firm
Choosing the right pregnancy pillow for you
There are so many options on the market. Try to assess your individual needs when choosing a pregnancy pillow.
Type of pillow: If you are suffering from aches and pains all over, you may want to opt for a U-shaped pillow that offers full support. Whereas if you are looking to add comfort when you are chilling on the sofa, you could opt for a C-shaped pillow. You may need a V-shaped pillowcasetoo to go with your new pregnancy pillow.
The support: Like regular cushions that you rest your head on, pregnancy pillows come in different support options. Whether you want firm support or something softer to mould to your body, you'll be able to find the right one for you.
The size: It can take up a lot of room, pretty much kicking your other half out of bed. This also means that they can be difficult to store. If this could be a problem for you, consider a more compact pillow.
Price: The larger the pillow, generally the most expensive it will cost. Wedges tend to be the cheapest option and the easiest to store. Remember to make a purchase that is suitable for your budget. Multi-use pillows are a fantastic way to save money in the future.
Whether it's multi-functional: Here at Mother&Baby, we love a product that can be used in multiple ways, taking you throughout pregnancy and right through to the arrival of your baby. Many pillows are great for this and can be used for support during breastfeeding, bottle-feeding, and even tummy time with your tot. This is a great chance to truly get your money's worth.
Material: If you have been suffering from night sweats or hot flushes, you will need to pick a pillow with a breathable material, like cotton.
How easy it is to clean: You're going to be using it a lot_,_ so you'll want to ensure you're going to be able to wash it. The majority of pillows have removable covers that you can wash, while other pillows themselves can be popped in the washing machine too. Be sure to check to save yourself from experiencing a smelly pillow!
Do I need a pregnancy pillow?
Sleeping when pregnant is notoriously difficult. Rest is one of the most important things you can do whilst growing your baby. The NHS guidelines state that pregnant women should sleep on their left-hand side as if you sleep on your back after 28 weeks of pregnancy it doubles the risk of stillbirth. It's thought this may be to do with the flow of blood and oxygen to the baby.
However, if you're not a side-sleeper pre-pregnancy, that may feel unnatural. Paired with all the emotions that come with pregnancy, sleep can suffer. And whilst a pregnancy pillow won't ward off the 3 am thoughts, it is a practical tool that will help you to feel more relaxed and comfortable. You could use a traditional cushion however, pregnancy pillows have been specifically designed to support you as your body grows.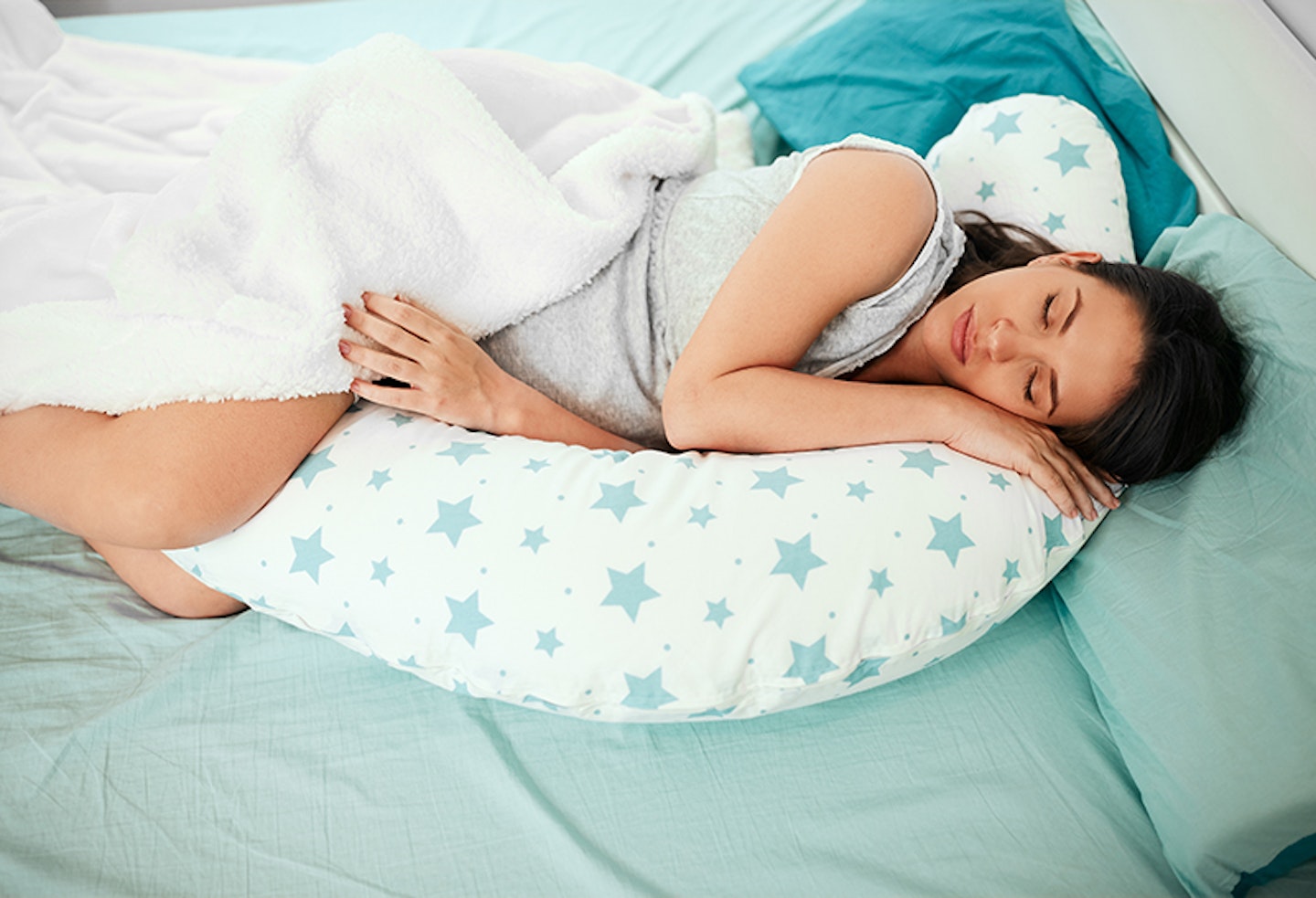 How to use a pregnancy pillow?
Full-length pregnancy pillows are one of the most popular styles of pillows. You can get comfortable by hugging the pillow, resting your bump against it so that it supports the weight and propping the pillow between your legs.
When should you start using a pregnancy pillow?
Each woman is different. As soon as you start to feel your sleep is suffering, it is a good idea to purchase one. For a lot of women, this happens when their bump begins to grow at around 20 weeks.
Is it ok to sleep without a pregnancy pillow?
You might be tempted to think that a pregnancy pillow is a luxury item that you can go without. However, sleep is an essential part of prenatal care. Global research has shown that lack of sleep can lead to serious complications like longer labour, higher cesarean births and emotional stress.
What position should you sleep with a pregnancy pillow?
When expecting, the safest way to sleep is on your left side. Use the pillow to get as comfortable as possible. If you roll in your sleep, it is a good idea to get a U-Shaped pillow which will keep you in the correct position. After your third trimester going to sleep on your back increases your risk of stillbirth. And whilst we don't want this to become yet another worry, sleeping safely will lower your risk.
Hannah James is a Parenting and Lifestyle Writer working across Mother&Baby, Yours and Grazia. As a mother of three, Hannah lives, breathes and consumes all things family orientated. When she's not tapping away at a desk, Hannah is diving for dummies, fixing toy fire trucks or attempting to make a healthy family dinner.