The best pregnancy pillows can help keep you comfortable during those months when aches and pains are aplenty. Not only is a body pillow essential when you're pregnant, but a good pregnancy pillow will be there for you well into postpartum life and beyond. One solution to your back aches and sleep discomfort is DockATot's Cosset body pillow. It was created with parents in mind, to help during pregnancy and beyond.
Beautifully created, as are most DockATot products, the Cosset body pillow is also functional. Constructed by using Suprelle Duo Fibres, this pillow offers a comfortable and supportive sleep throughout your pregnancy journey and well into becoming a parent.
We just love that this is a pregnancy pillow in disguise and one we can keep around the house without looking clunky and out of place. This luxurious body pillow is aesthetically eye-pleasing and is made up of hypoallergenic, anti-bacterial and breathable fabrics - it also includes some DockATot signature details such as boucle, jacquard, yarn-dye stripes and decorative tassels.
DockATot Cosset body pillow summary
Pros
Comfortable
Soft
Attractive design
Machine washable
Concealed zipper
Can be used as a decorative pillow on the bed
Malleable
Cons
The tassels, although attractive, get in the way whilst trying to get comfortable for sleep
Very large label attached, which needs removing otherwise it gets in the way of sleep
The fabric feels cold to touch
Not as supportive as U-shaped pillows, which support back as well as front
Key features of the DockATot Cosset body pillow
Easy travel
The design makes it a decorative staple in any household - includes a decorative carry handle, making it easier to lift and carry.
Thoughtful design
Filled with Suprelle Duo Fibres, the Cosset is hypoallergenic, anti-bacterial and breathable and has an oversized, supple and malleable shape so you can make it work for your changing body.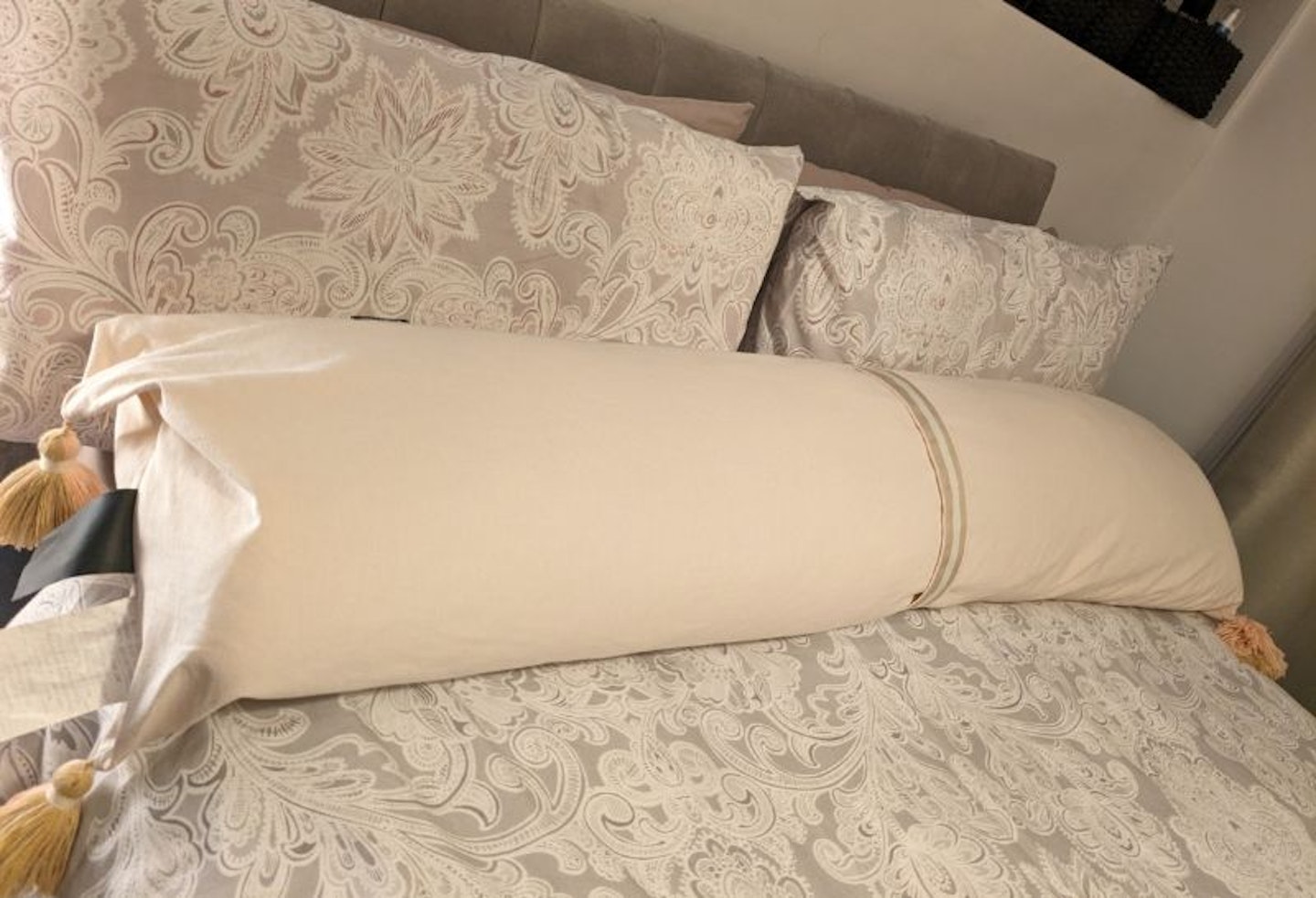 Testing the DockATot Cosset body pillow
The DockATot Cosset body pillow was used by mum-of-one, and pregnant with baby number two, Sifa Modina. "I have used this pillow to aid a more comfortable sleep position in the later stages of my pregnancy," explains Sifa.
"I used it every night for one month since receiving the item at bedtime. I placed the body pillow vertically next to me so I can lay on my left side and hug the pillow - I keep a section between my thighs or rest my top thigh on the pillow.
"The Cosset helps me sleep more comfortably, especially as I've been using it in my second and third trimester. At these stages sleeping positions become difficult, so it made it easier to get comfortable.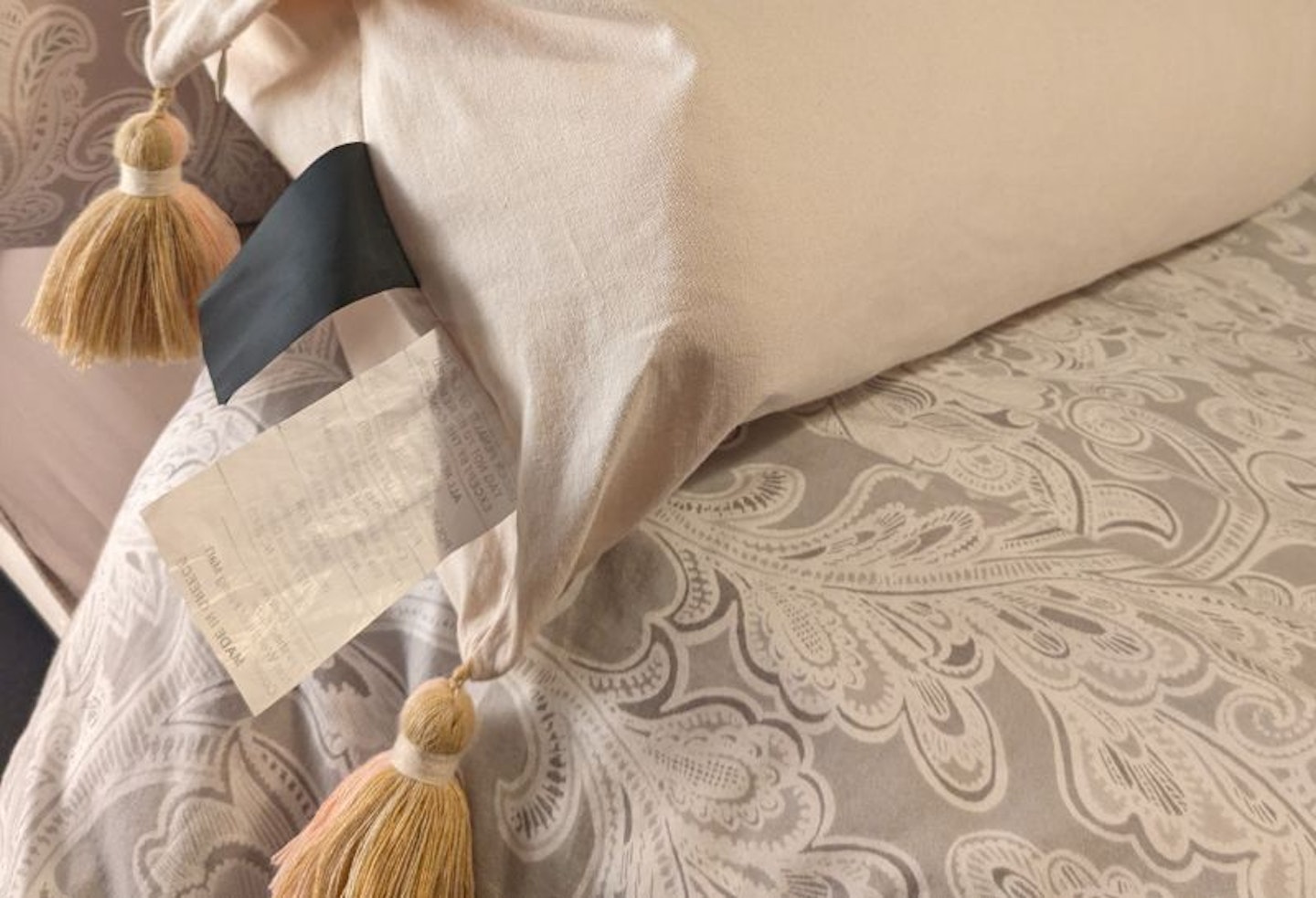 "The body pillow can be used solely placed between your thighs whilst laying on the side. However, my most comfortable position at bedtime was when I hugged the pillow, with a left hand under, a right hand over and resting my top thigh on the pillow itself.
"Another useful position when you're not sleeping but looking to get comfortable is that the DockATot Cosset can be used to support the lower back whilst seated and under the belly for bump support."
DockATot Cosset body pillow final verdict
"I thought the design was definitely very attractive despite the tassels, which get in the way when I'm trying to get prepared and comfortable for sleep. It certainly looks nice when my bed is made up and doesn't look like a bulky pregnancy pillow. I like that it can just be kept on the bed post-pregnancy, sitting looking pretty, and I know will aid lumbar support during night feeds when my baby is here.
"Personally I prefer the softer and warmer velvet material as the cotton used here feels rough and cold to touch. I could do without the tassels for usage, but I like the aesthetic of them, so I'm slightly torn on this part. My experience has been positive with the Cosset body pillow and I have continued using it throughout the last few months of my pregnancy. I definitely recommend it during pregnancy and postpartum.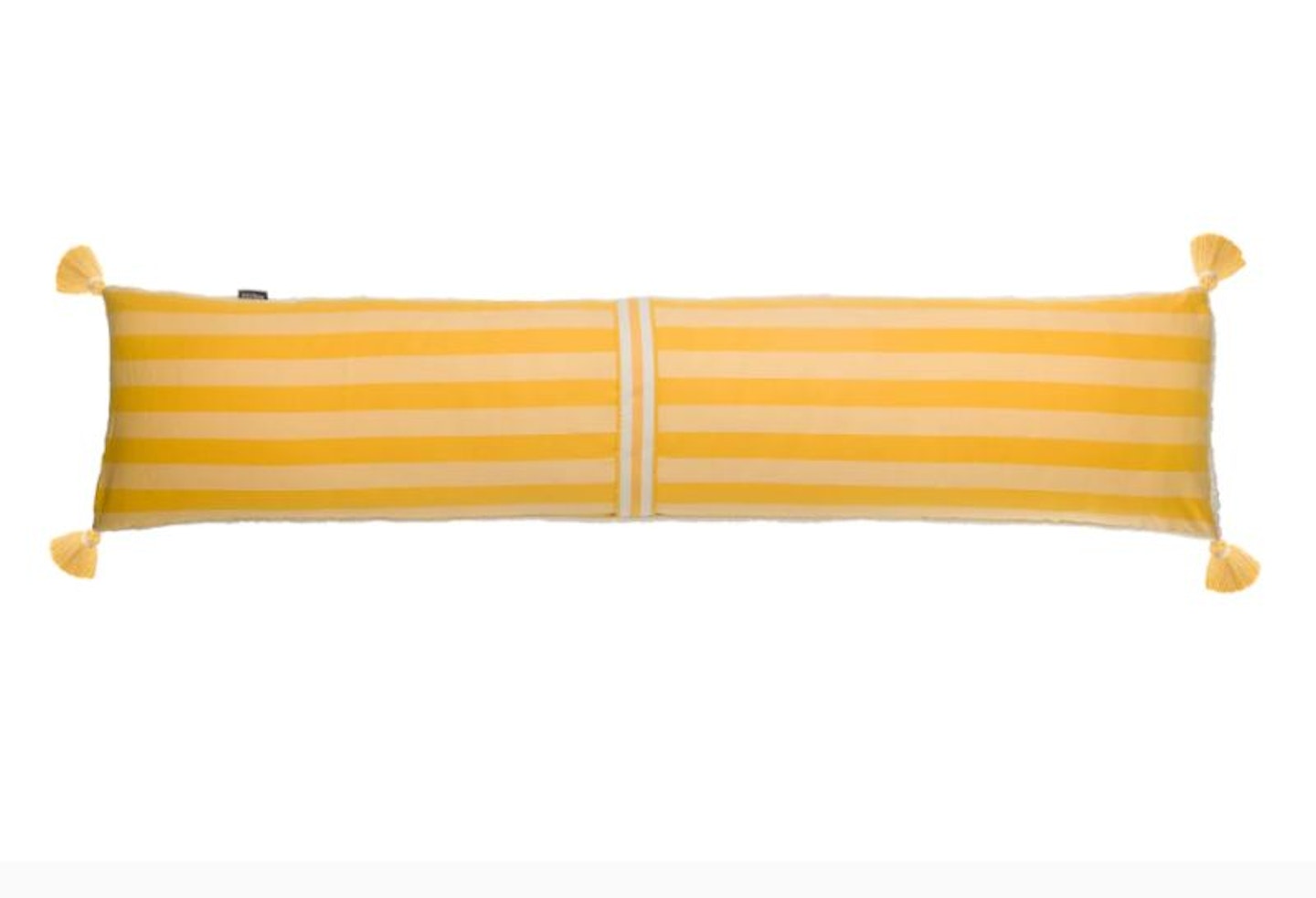 DockATot Cosset body pillow specifications
Dimensions: 36cm x 150cm
Fabrics: Filled with Suprelle Duo Fibres
Other details: Integrated, decorative handle and concealed zipper
Care instructions: Easy to wash both cover and pillow; Wash separately in cold water. Machine dry. Do not use bleach.
FAQs
Is a body pillow necessary during pregnancy?
A body pillow will support pretty much everything. These large pillow designs are suitable for all heights and are most ideal from the second trimester of pregnancy onwards. They will support your back and aim to reduce any back or hip pain.
How to choose a body pillow in pregnancy?
Look out for the size and shape of the body pillow. Pregnancy pillows can range from straight, U-shaped and wedge shaped. Some pillows curve so you can tuck your head underneath them, as well as simultaneously running down your body and between your knees.