Simba are well known for their cutting edge technology when it comes to sleep and their mattress ranges, so I was very excited to try their new Simba Cooling Body Pillow, designed as a pregnancy pillow for mums-to-be. Sleeping whilst pregnant is no easy task and this stylish aid is designed to make it all that much more comfortable for expecting mums and side sleepers who are in need of extra support.
Its biggest selling point is the body pillows cooling properties, designed to keep pregnant mamas who are trying to sleep in those hot summer months, cooler throughout the night, thanks to its Stratos® cool-touch tech. This material keeps the pillow cool to the touch and thanks to its breathable nature, quickly wicks away any sweat to keep your skin cool and dry throughout the night.
With a much higher price point compared to other pregnancy pillows on the market, there are some more affordable competitors such as the Kally Sleep Body Support Pillow which is around half the price of the Simba, promising similar selling points such as the shape and cooling nature of the fabric, minus the smart tech the Simba has to offer.
Here's how our mum tester Lucy got on using the Simba Cooling Body Pillow during her third trimester throughout the very hot month of August while pregnant with her first baby.
Pros
Remains cool throughout the night
Good quality fill which maintains it's shape
Very comfortable
Made from sustainable recycled material
Cons
Large and thick so struggled to support underneath my bump
No back support
Testing the Simba Cooling Body Pillow
Prior to becoming pregnant, I have always been a deep and easy sleeper. However I wasn't aware of the fact that I was a 'back sleeper'. This only became apparent when I was pregnant with my first child and advised to sleep on my side - specifically my left side. This changed my whole sleep experience and made it more difficult for me to stay comfortable throughout the night, especially with my growing bump.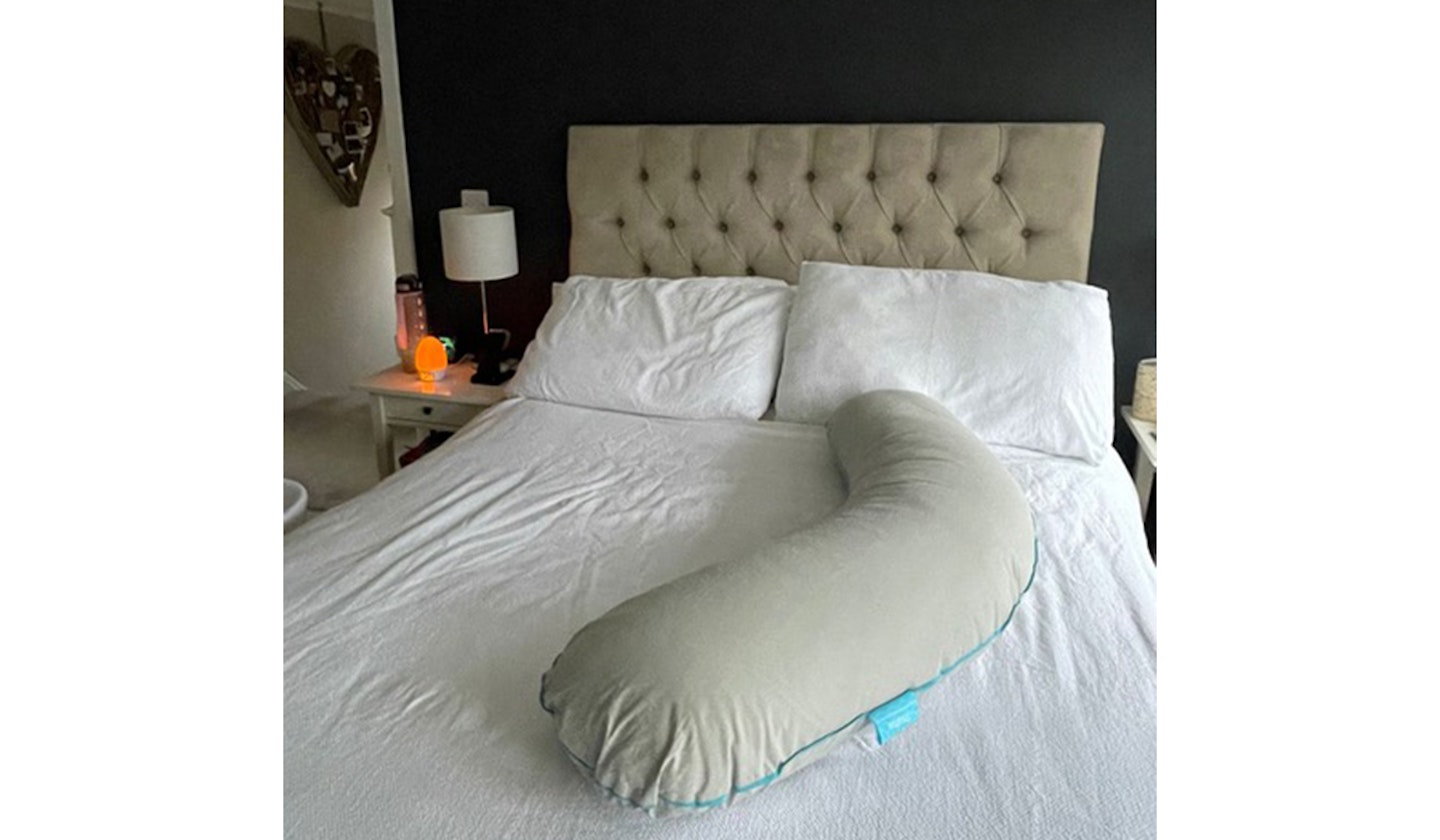 I had tried other pregnancy pillows designed to aid with left side sleeping but had been disappointed with the value for money and quality of those products. I was pleasantly surprised with how padded the Simba body pillow was, which was obvious as soon as it arrived. It immediately seemed very good quality. The pillow was very comfortable and 'squishy' and this was maintained throughout the night, even if I was in the same position for a long time.
As it is recommended to sleep on your side during pregnancy, the considered design of the pillow's shape allows for your hips and bump to be supported whilst creating a comfortable and endurable position throughout the night, and this gently curved shape was good and encouraged me to stay asleep on my left side – something that previous products I had tried had not done successfully.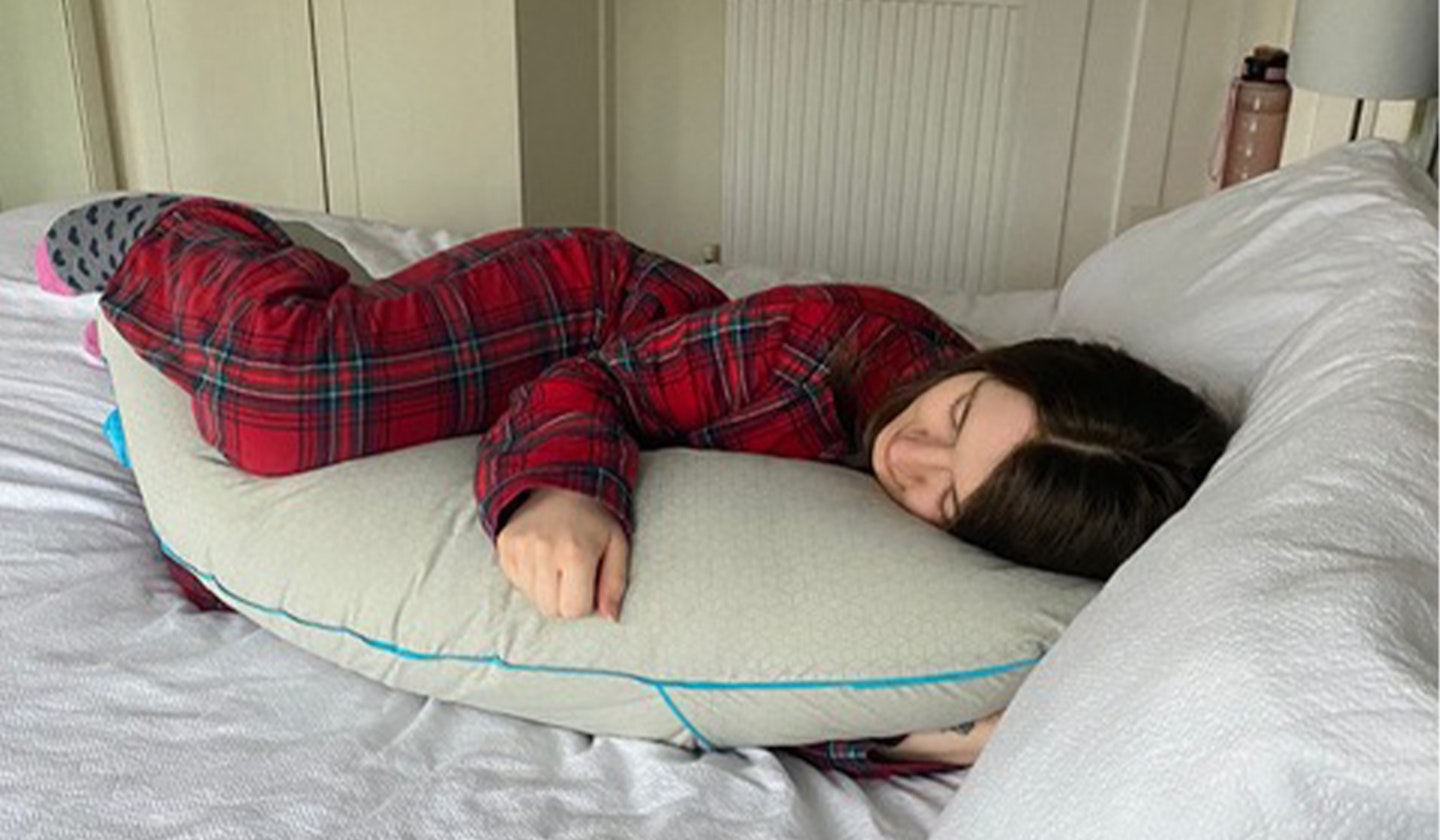 I liked that the fill of this pillow is made from recycled PET bottle fibres making it sustainable as well as comfortable. The fill feels down-like and provides optimum comfort when resting on it. However, using this pregnancy pillow was difficult at times. As I am quite petite, I found the depth of the pillow uncomfortable at times. As the product was so padded and deeper than other products I had previously tried, the pillow didn't fit under my bump and therefore I lacked some support when sleeping on my side. This potentially wouldn't be a problem for other customers.
As my pregnancy progressed, I was getting hotter and hotter during the night and this only increased as we approached the summer months (the end of my third trimester). The Stratos® cool-touch tech ensures the cover of the pillow is always cool to touch and soothes users during sleep. It is designed to deplete any heat and this worked a dream on hot nights and I was so pleased to discover that it remained cool to touch throughout the night. This was a huge positive to the use of the product and hugely contributed to a more enjoyable sleep.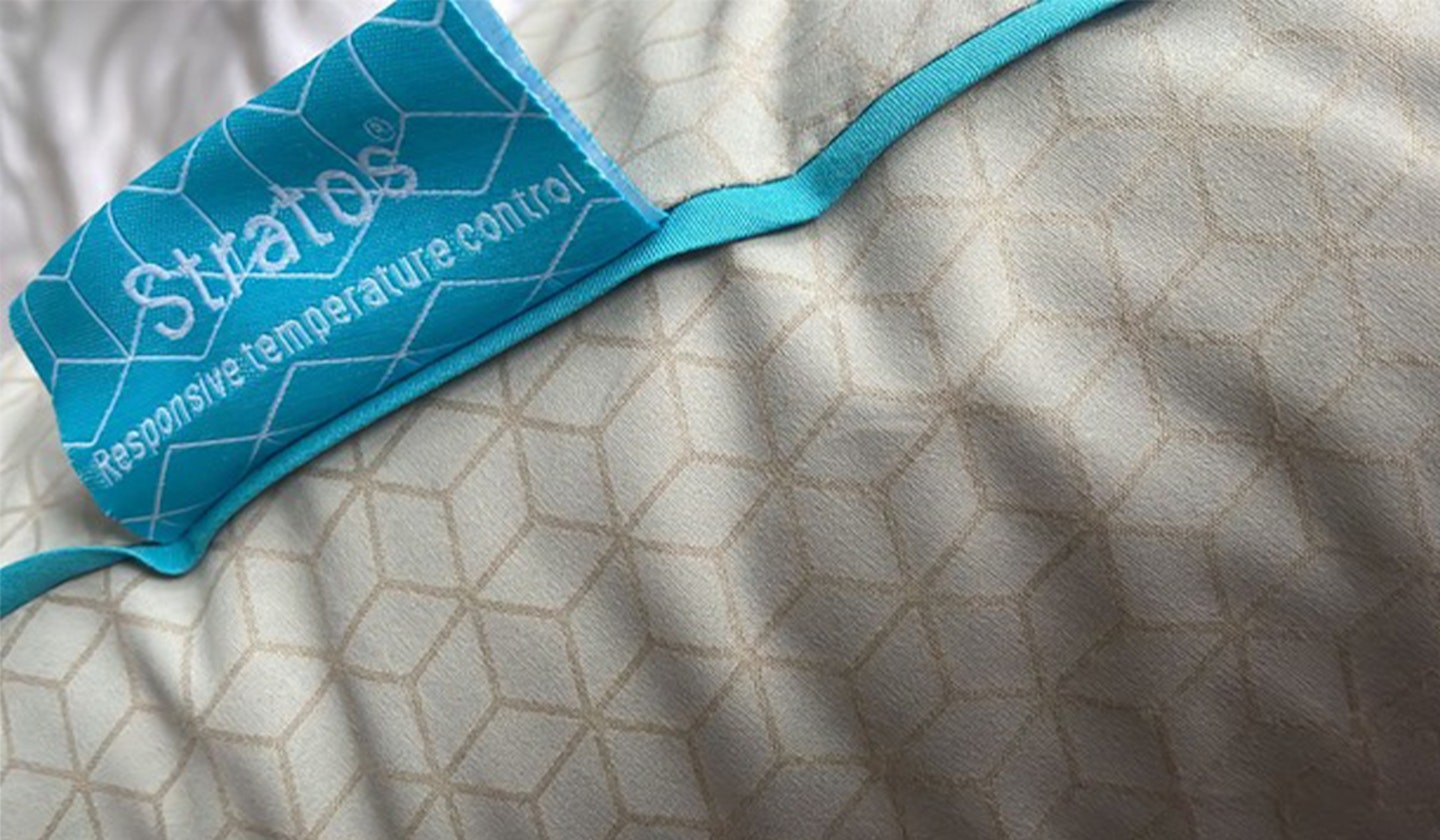 The size of the pillow is great for comfort but is on the larger side and is the reason I haven't continued using it postpartum when nursing my daughter. I would solely recommend this as a pregnancy pillow and not a nursing aid do to the practicality of moving it.
There is no back support with this product and as the pillow was so large I did find myself turning back onto the back throughout the night. This was easily fixed using other bedding pillows to support the use of the Simba.
Final verdict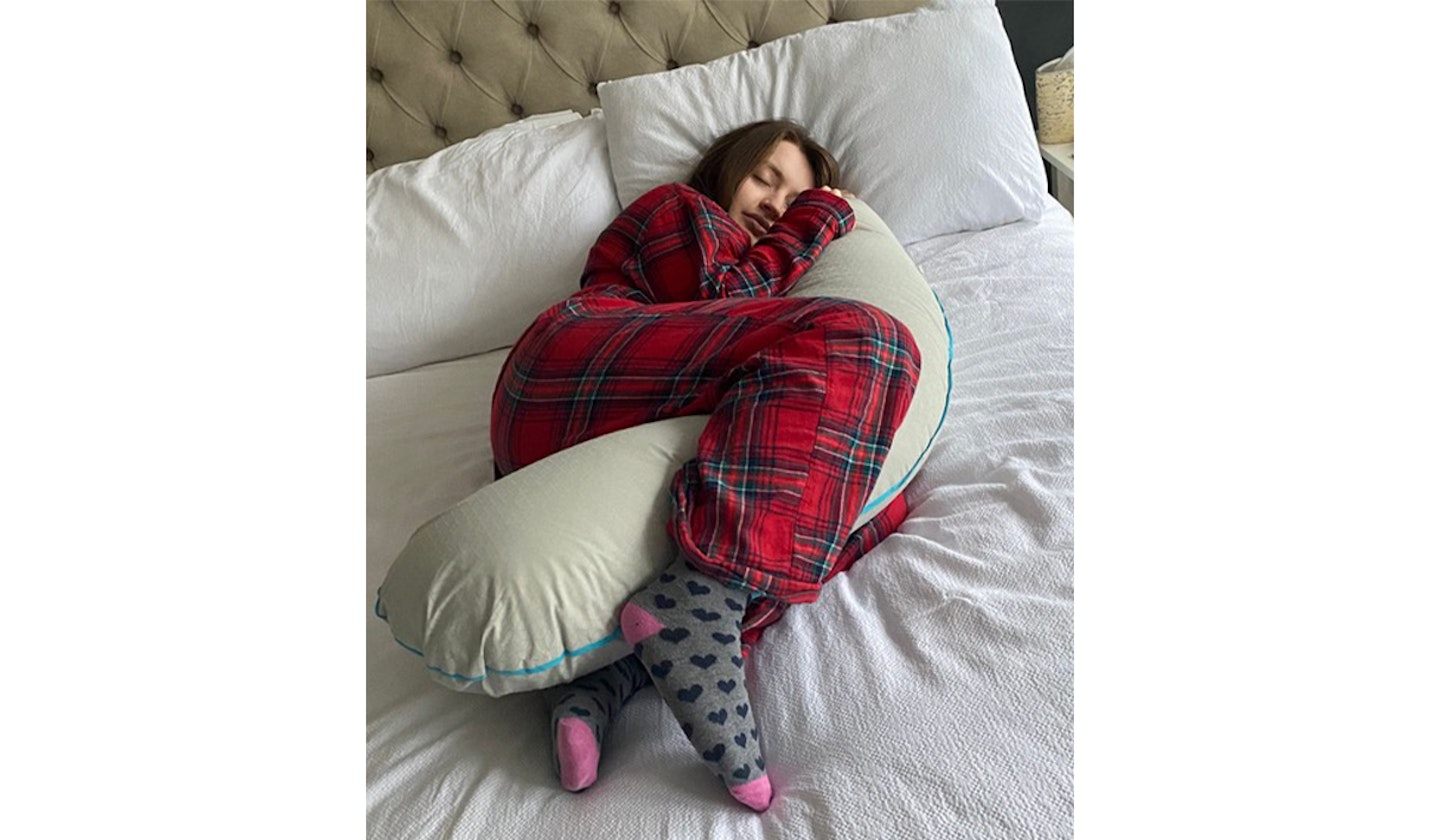 Overall, this was a really good product and I would definitely recommend it to any expecting mummy. It improved my sleep and made an otherwise uncomfortable experience much more enjoyable. The main benefit of using this pillow was the cooling material, which was a life saver throughout the summer months and the later stages of my pregnancy.
In fact, it was something I didn't want to give up postpartum and would consider using the pillow to cool me down during the night now. However, its size is problematic in a double bed and the depth of the pillow would not be suitable for me to use long term as my leg is too high, therefore my hips are not kept in alignment.
Simba cooling body pillow FAQs
Which is the cool side of Simba pillow?
According to Simba, to get the most out of the temperature-regulating Stratos® technology, keep the side of the pillow with the blue piping closest to your body.
How does the Simba Cooling Body Pillow compare to rival products?
There aren't a huge amount of pregnancy pillows on the market which promise to keep you cool while sleeping. However, there are that claim to be breathable like the Purflo Pregnancy pillow which promises to be breathable for added comfort. This is a fraction of the price of the Simba and comes in a range of different designs.
One of the most popular pregnancy pillows amongst mums-to-be is the bbhugme Pregnancy Pillow, which is higher in price point compared to the Simba but doesn't have the cooling technology. So if overheating at night is something you struggle with, then the Simba and its cooling technology is probably more suited to you.
Do I need a separate pillowcase?
The cooling body pillow features a removable and washable outer cover so there's no need for a separate pillowcase. However, the cooling technology will still work with a pillowcase over, so you'll still reap the benefits of the cooling pillow even if you choose to have a pillowcase.