The Dreamgenii Pregnancy, Support and Feeding Pillow is a quality pregnancy pillow that offers support during pregnancy and breastfeeding. Unlike some pregnancy pillows, the Dreamgenii is smaller in size and consists of a longer side that is a bump and leg support and a smaller wedge that supports your back. Super soft and comfy, it is a versatile product that's designed to take the pressure off of your legs and back and is designed to be used from 20 weeks onwards. A must-have for the second trimester and all the way through to nursing your baby.
It also encourages you to sleep on your left-hand side, which is the recommended position for you and your baby. Then, after your baby's born, the pillow can be used to support your baby while you're breastfeeding.
Dreamgenii Pregnancy and Feeding Support Pillow overview
Pros
Smaller than most on the market 
Helps to stop you from rolling onto your back
Soft and flexible
Can be used for nursing
Cons
Might be a little too firm for some
The case can be a little fiddly to put on after washing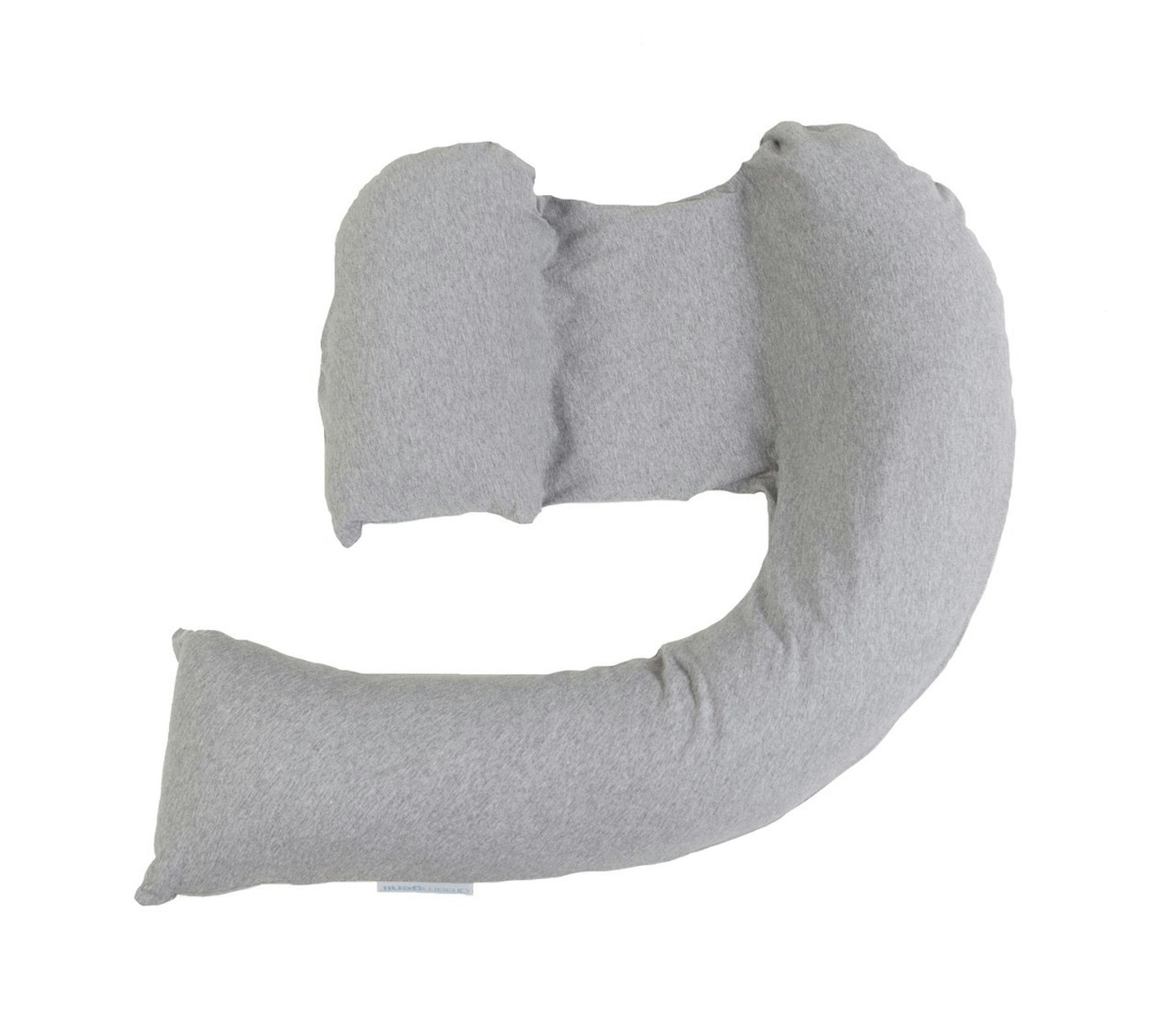 Testing the Dreamgenii Pregnancy, Support and Feeding Pillow
I started using the Dreamgenii Pregnancy, Support and Feeding Pillow when I was 24 weeks pregnant. I had been suffering from back and hip pain for a while, so I was so thankful to find a product that would help me get comfy at night. The Dreamgenii fits on my double bed which is amazing for me (and my partner) and is designed to encourage you to sleep on your left side, which has always been a struggle for me as I often wake up through the night on my back and have to spend a while getting comfortable again. The long side of the pillow supports your bump and knees whilst the shorter side fits nicely under your lower back. The leg support will gently elevate your legs while you sleep so the pressure is taken off your back and tummy and the brand states that if you use the pillow regularly from the second trimester, it can encourage baby to get into the optimum position for birth.
I like a good firm cushion, so the firmness of the cushion wasn't an issue for me, if anything, I would have liked the smaller wedge to be a little firmer – but everyone is different. I've tried a few pregnancy pillows including huge ones that hug every inch of your body, and the Dreamgenii has been the most effective at helping me sleep on my left side, but there have been a couple of times when I have still ended up on my back, but I always found that the shorter side was still supporting my back.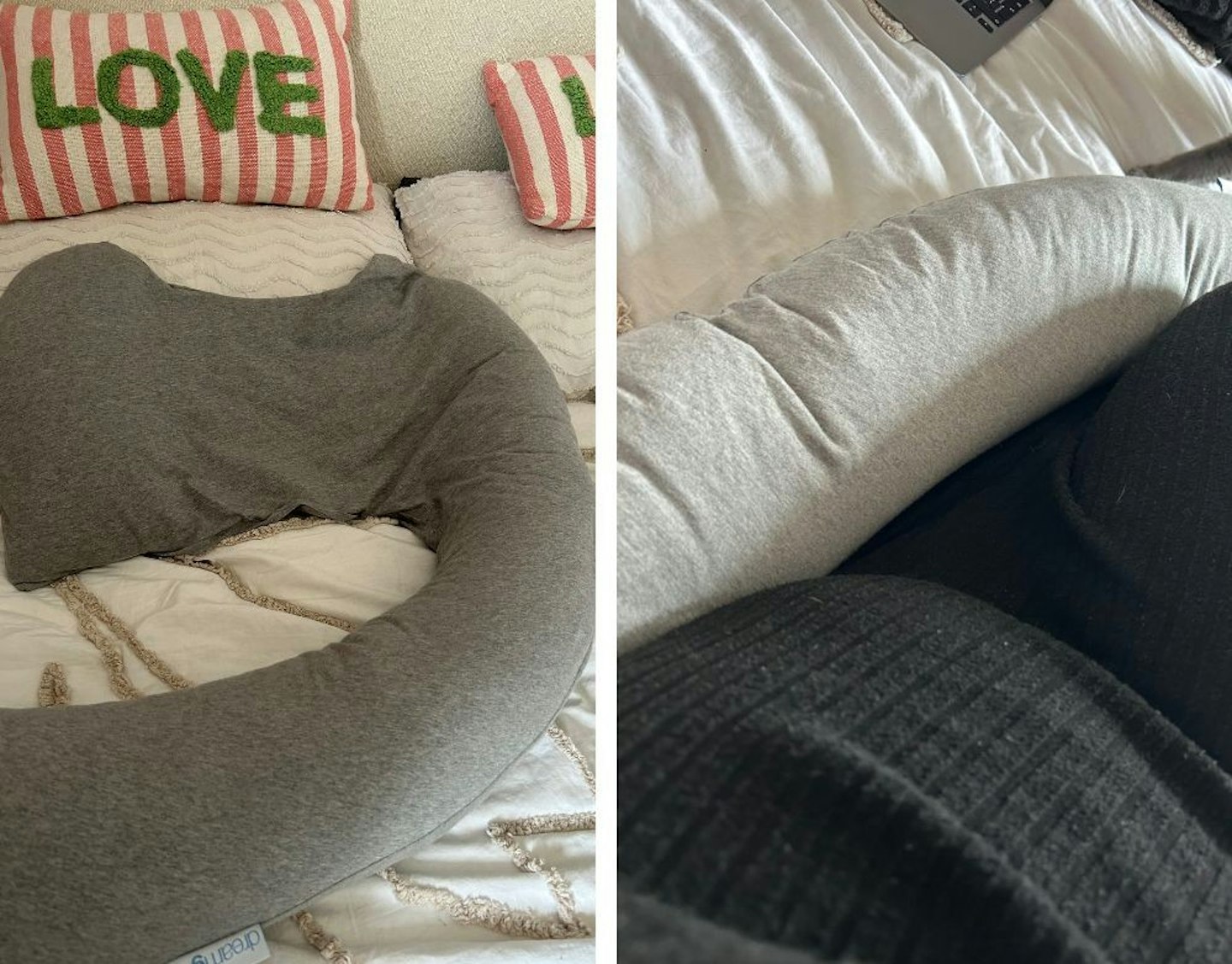 The outside cover of the pillow is easily washable, you just have to jiggle the inner cushion a little to get it back on and into shape but this will come with practice. The main pillow cannot be machine washed.
I loved the size of the Dreamgenii, it doesn't take up tonnes of room on the bed like some on the market and still gets the job done despite its size. I also love the idea that the pillow will last me all the way through nursing my baby and the grey cover is super soft to the touch. It is firm, but I wake up feeling refreshed and as soon as I cuddle up to it at night, all my aches and pains are soothed.
Final verdict
The Dreamgenii Pregnancy, Support and Feeding Pillow definitely delivers on what it was made for and helps relieve aches and pains throughout your pregnancy. The firmness of the pillow all comes down to personal preference and the price is in the mid-range market compared to other pregnancy pillows. The biggest selling point for me? How small and easy to use it is, you could easily use this pillow on a single or small double bed.
FAQs
How do you use Dreamgenii pregnancy pillow for feeding?
To use the Dreamgenii as a feeding pillow, you sit comfortably on a chair or sofa, and position the leg support comfortably into the small of your back, leaving the bump and back support in front of you. Fold the back support cushion around and under the bump support cushion to achieve a cradle shape in which to place your baby. You place another pillow under your arm if you require extra support whilst feeding.
Do I need a pregnancy pillow?
Sleeping when pregnant is notoriously difficult. Rest is one of the most important things you can do whilst growing your baby. NHS guidelines state that pregnant women should sleep on their left-hand side as if you sleep on your back after 28 weeks of pregnancy it doubles the risk of stillbirth. It's thought this may be to do with the flow of blood and oxygen to the baby.
When should you start using a pregnancy pillow?
Everyone is different but as soon as you start to feel your sleep is suffering, it is a good idea to look around for a pregnancy that suits you. There are loads of different types, from Q shapes to J shapes. For a lot of women, this happens when their bump begins to grow at around 20 weeks.