It's no secret that sleeping when you're pregnant can be seriously tricky, which is why a high-quality pregnancy pillow is a must for expectant mums, helping to support their changing bodies and keep them comfy at night or during naps and relaxing. But with so many choices now available, which do you pick?
Snüz, best known for their popular beside cribs, have recently launched their very first pregnancy pillow, the SnüzCurve, designed by a team of respected health experts, including Midwives, Chiropractors, Health Visitors and Physios. Here's how mum-to-be Simone got on when she took it to bed.
Pros
Visually appealing
Soft fabric
Easy to wash and washes/dries well
Packaged well in pretty box
Free sign up to receive a newsletter and videos with information to help with sleep – from the experts!
Doesn't take up much room compared to other pregnancy pillows
Cons
Doesn't stop you from rolling onto your back
Pricey
Key features of the SnüzCurve
Support
Taking the pressure off hips, legs and ankles, it also supports the upper body, creates a neutral spine posture, relieves pressure on the bump, keeping mums-to-be comfy.
KneeBlade™ design
The only pregnancy pillow with an innovative KneeBlade™ design, the SnüzCurve guides you into the correct sleep position.
Advice
Every SnüzCurve comes with a sleep support video series created by experts, to help guide you through your pregnancy.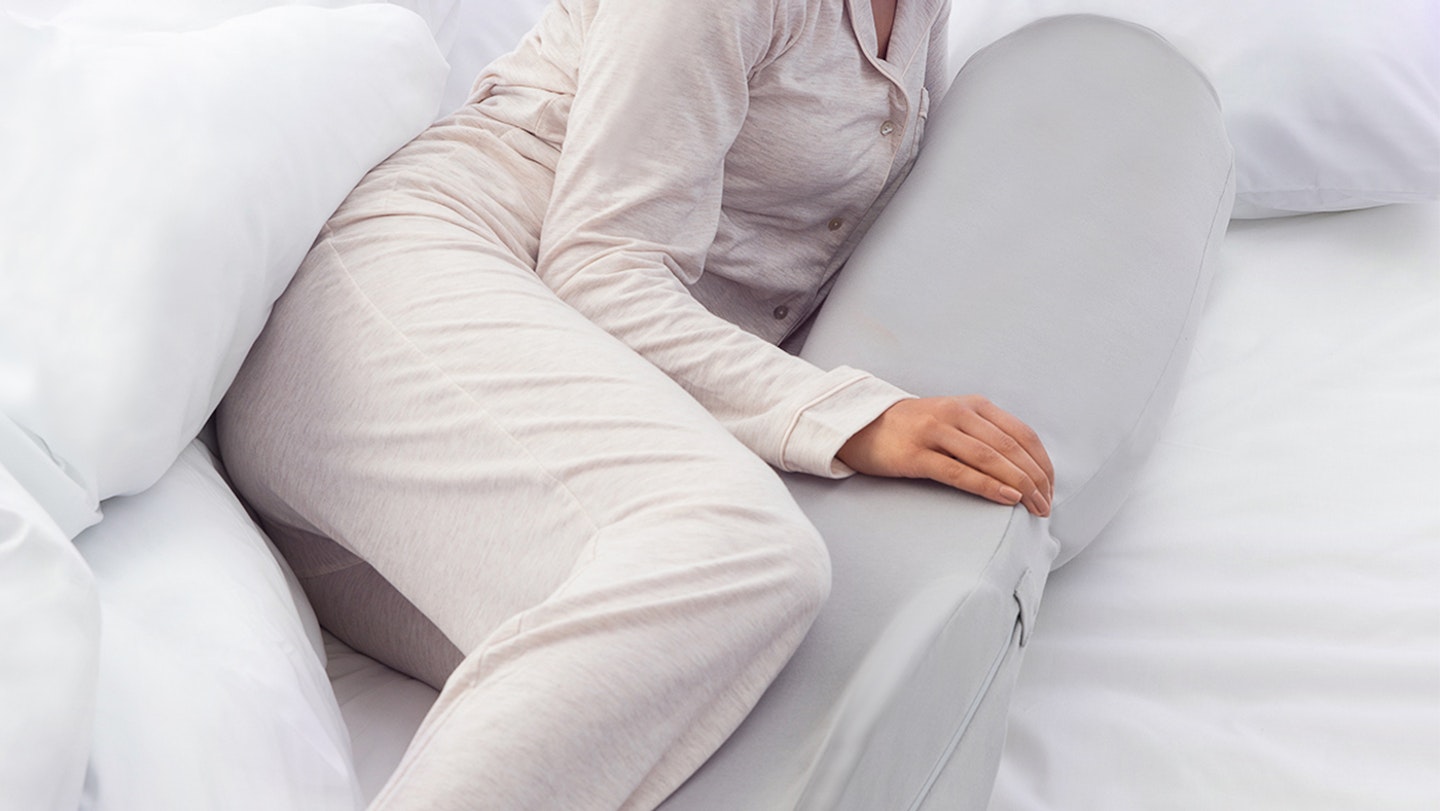 Testing the SnüzCurve
This is my first pregnancy and I was completely clueless about how much it was going to change the way I slept. I always used to sleep on my front but that soon became impossible, so the hunt for pregnancy pillows began!
The SnüzCurve caught my eye as it is a single long pillow, built into two sections. The top of the pillow is a huggable bean bag type pillow and the bottom is a blade made out of firm foam, to ensure the correct positioning for your lower body e.g. knees, hips and ankles.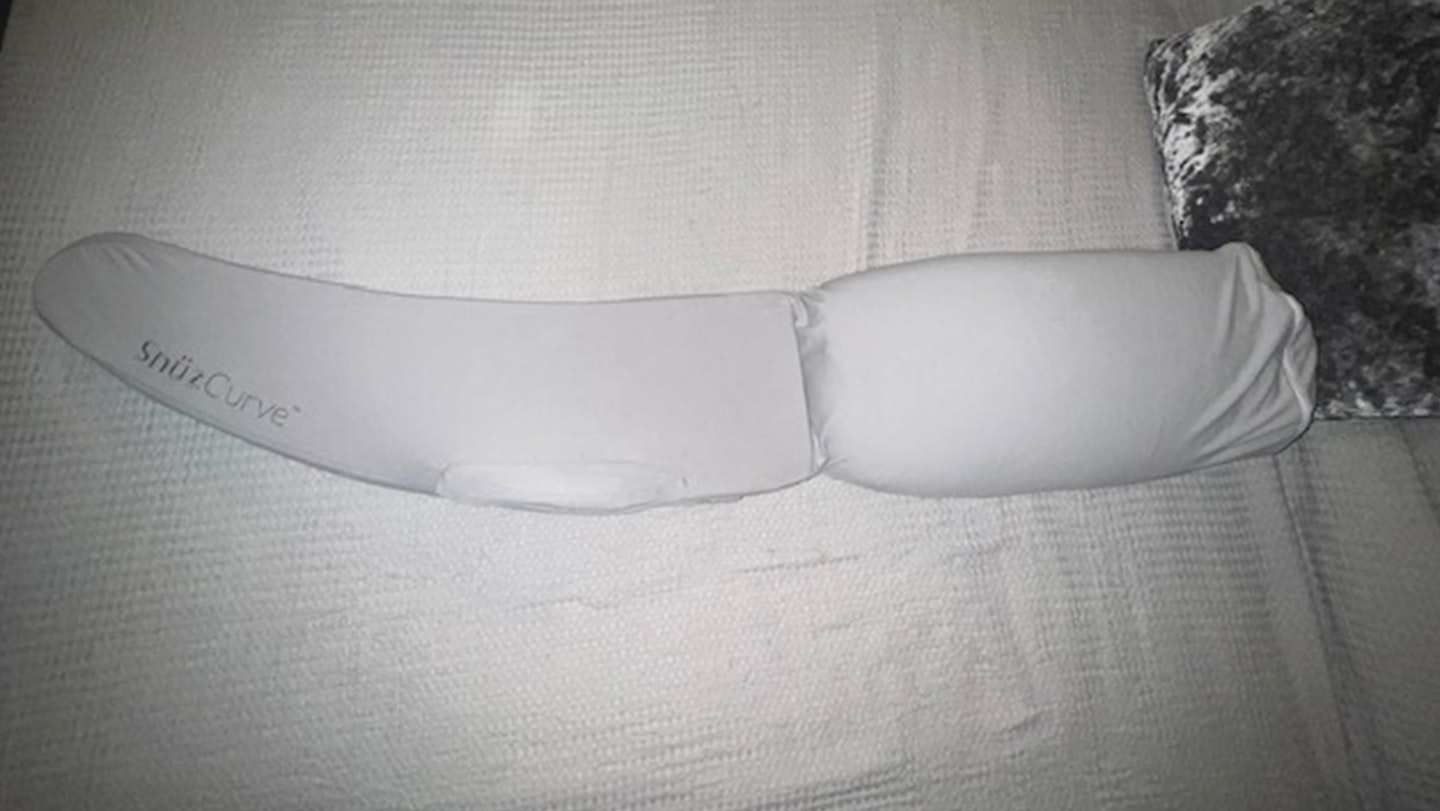 I started using the SnüzCurve from around 14/15 weeks pregnant and was so happy when it arrived! I had just started getting back pains from the change of sleeping position (from being a front sleeper to a side sleeper) and was using many different pillows that just wouldn't stay in the right place.
The SnüzCurve was a godsend and within a couple of nights, I noticed my back and knee pains started to disappear. The quality and length of my sleep improved also. It was really easy to unpackage and easy to get used to using too. I have used it every night since I unboxed it and wash the cover every time I wash the bed sheets.
The pillow cover is very easy to take off and put back on again, which isn't the case for many pregnancy pillows. It also washes really well, hasn't faded and is still very soft to the touch.
I am now 28 weeks pregnant and in my third trimester and have only just found this pillow to not be as effective for me, as I do toss and turn at night, and it doesn't stop me from rolling onto my back in my sleep. At this stage of pregnancy, you shouldn't sleep on your back, so I may need to start using a different pillow to support my back and prevent me from rolling over in my sleep.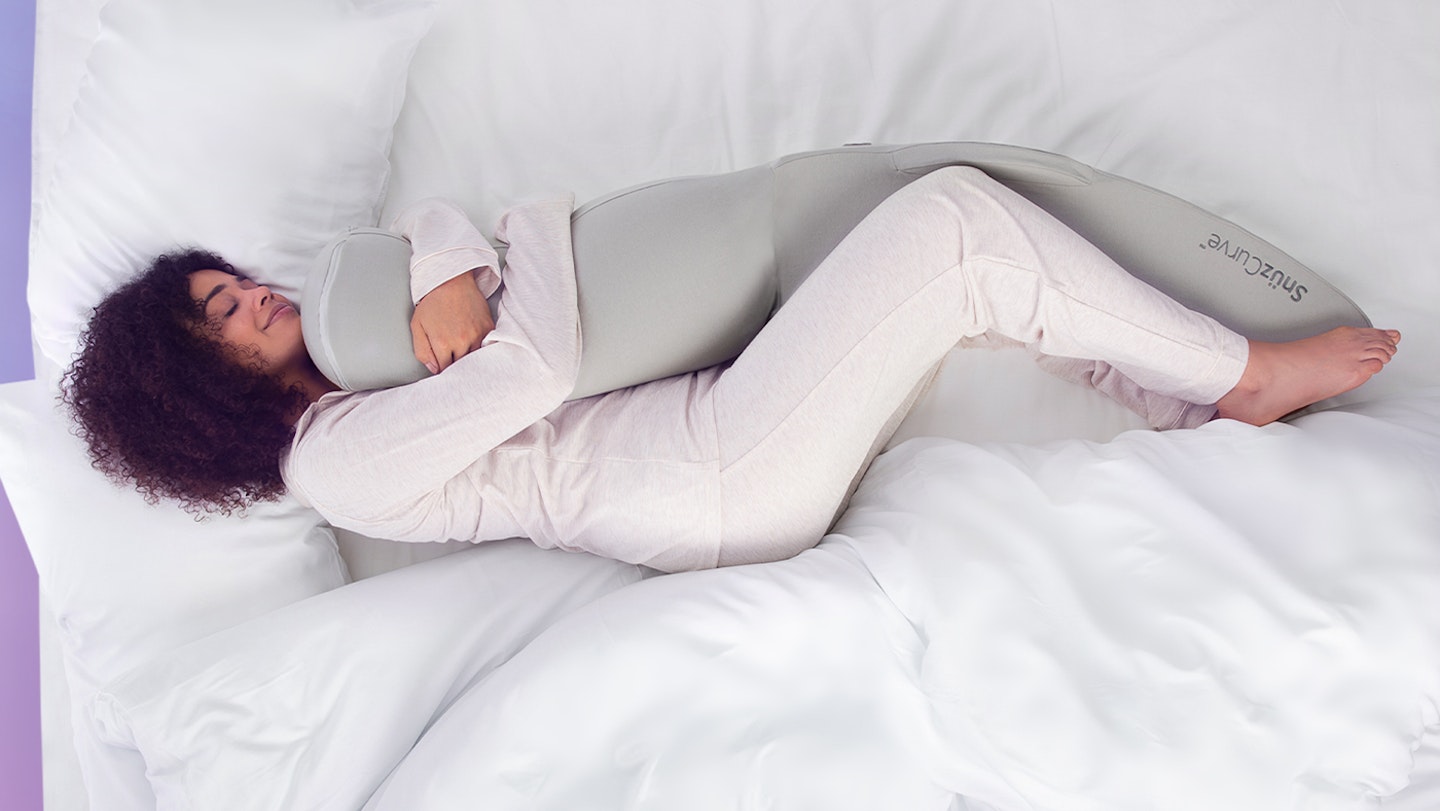 Final verdict
This is a fabulous pillow and has definitely helped me for many months during the beginning and middle of pregnancy. I do think side sleepers would benefit from the SnüzCurve a lot more than back or front sleepers though and as I get bigger in my third trimester of pregnancy, I do need more support to prevent me from rolling onto my back and to help with back aches and pains in particular.
I definitely think it is worth the price due to the premium feel of the fabric and the look of the product. The only thing I would change to this pillow is possibly an attachment of some sort for a wedge to support your back/the other side of your body.
SnüzCurve FAQ
What is the safest way to sleep when pregnant?
The NHS recommend that the safest position to go to sleep when pregnant is on either your left or right side. This is because research suggests that, after 28 weeks, falling asleep on your back can double the risk of stillbirth. Don't worry if you do wake up on your back though, just turn over and sleep on your side again.
When can I start using the SnüzCurve pregnancy pillow?
Whenever you want! You can use the SnüzCurve throughout your entire pregnancy although mums typically find pregnancy pillows are particularly of use during the third trimester.
Can the SnüzCurve help my back pain?
According to Snüz, the unique shape and cushioning of their pillow "helps support you and baby whilst you rest without having to worry about waking up with achy hips or a sore back".