Huggies Little Swimmers swim nappies is brilliant swimwear which makes swimming with your baby fun by giving you and your baby the freedom to enjoy the water without the worry of little accidents. This swimwear is made out of unique absorbent material ensures these nappies don't swell in the water and they are designed with unique easy-open sides for quick removal when your baby is wet, as well as leak guards to help stop leaks around the legs. They come in fun, colourful Disney designs too which will help you identify the back or front! We recommend wearing them underneath a swimming costume or shorts for extra protection.
Sizes available: 2-3, 3-4, 5-6
Materials: Adhesives, colourants, polyethylene, polypropylene, polyurethane, wood fluff pulp, thermoplastic polymers.
Great for: Mums concerned about baby having an accident while in the water.
Here's what our testers thought of the Huggies Little Swimmers...
Would you recommend Huggies Little Swimmers to other mums?
Bryony: I would recommend this product because of the side tape features. Other swim nappies on the market are pull up only which can be really frustrating if your child is not in a cooperative mood. The fit was good and so there was no leakage. The durability was also good. They seemed comfortable and there was no chafing or soreness.
Stacey: The design is bright, colourful and appealing to children. The pant style makes it very easy to put them on and the top sides make them very easy to remove. The swim pant is very thin and not bulky at all making it easy to store them and put them in a swimming bag. They are comfortable for a child to wear and the size covers a broad range.
Emma: Yes I would recommend them to friends or a fellow mum. They are very easy to use and of good quality. After a recent swimming session, I discovered my little girl had been to the toilet in her swimming nappy. It did not leak at all so I was very impressed. I like the cartoon designs and they are easily distinguishable from regular nappies.
Harriet: Swimming is always something that I like to do with my children, but it's a hassle getting them in and out of the pool. These nappies are easy to use and reliable - a win-win! They don't bulk up when wet as everyday nappies do, but still form a tight seal around the legs and waist so there's no chance of leakage.
Donna: I would only recommend this product for swimming pool use and not beach use, as they did leak pretty quickly after entering the water. The design is nice with the different characters, though I would like to see a wider choice. They are very easy to put on and take off being pull-ups, and my daughter seemed to be very comfortable in them. They don't take up much room in your swim bag or beach bag as they are quite thin, but this may be the reason they leak.
Claire: The instructions for fitting are clear and simple - you can't really get them wrong, and there is also a cute little bow to show the front and back. You can easily fit the nappies into a changing bag or holiday bag, the same size as normal nappies. This product is great when swimming with a baby or toddler. I personally don't like the neoprene nappies or suits, so to be able to put this on my son and then put his shorts on is very helpful and makes swimming so quick and easy. I would definitely recommend them and have even given some to a couple of mum friends to try.
Eloise: I would definitely recommend the Huggies Little Swimmers to a friend or fellow mum, as they are easy to put on and fit true to size, they are convenient to carry around (as they are just like an ordinary nappy), and we never had any problems with leakages. They have a very cute design on the nappy, and the price you pay is very good for the pack size.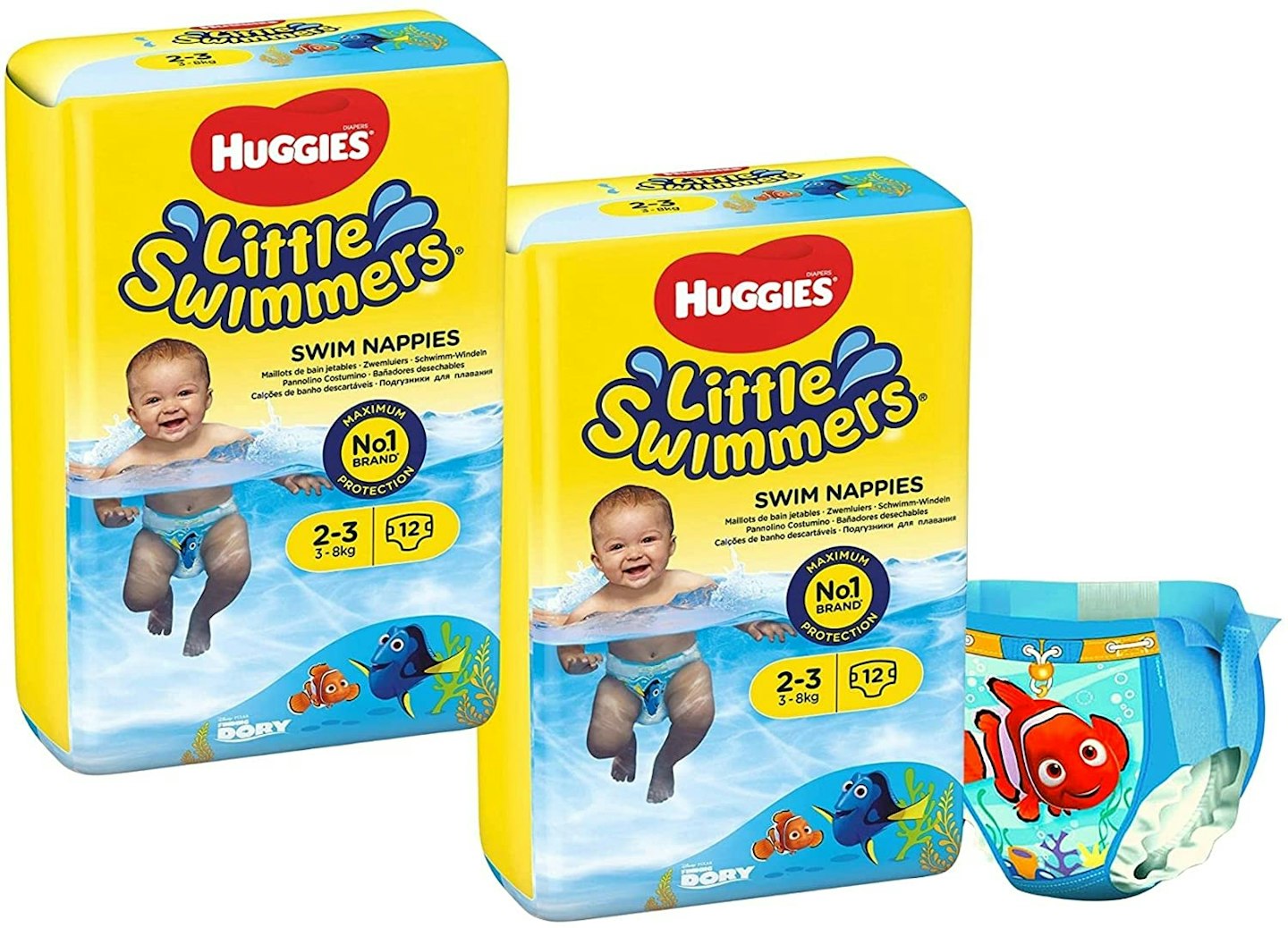 How did Huggies Little Swimmers make your life easier?
Katie: I really like these nappies and have been using them for a long time when my son goes swimming. They are super handy when you come out of the pool and can rip them off quickly to then wrap the baby up in a towel. My son loves the design on them and often points out the fish to me. They have only ripped once when I was putting it on but thankfully I had a spare one.
Emma: These swim nappies are really good quality. They make my life easier as a mum as I trust that they are consistently good quality, comfortable for my baby and they do the job of a nappy in the pool very very well. The bright colours and fun patterns are very attractive for my baby and it makes them very appealing.
Kirsty: I found this product so handy to keep in the cupboard. The size will last my little one for a long time. Having several in means we are always ready to go for a swim. They don't take up much room and are easy to just chuck into the bag as we are getting ready to go. They are easy to put on and comfortably fit under a swimsuit. I know I can rely on them to do the job I need them to do.
Harriet: The Huggies Little Swimmers can be put on either like a normal nappy, where you undo and do up each side, or you can pull them up as you would do with pants. It's great to have both options, as we all know children can be wriggly little things. The nappies seem to be a nice fit, look comfy and allow the children to move freely
Donna: This product didn't really make my life easier. It was great for in the water, but I would say it's not all that different to just using a normal nappy, only a little lighter when wet. Before entering the water these swimmers leak very badly. We only had it on for five minutes, ready to go to the beach, and the nappy leaked all through to her clothes. That said, the design and colour of the swimmers are nice, with the Finding Nemo characters on them and the price is also very reasonable. My little girl seemed very comfortable in the swimmers and they aren't bulky at all. I like the fact that these are pull-ups, making it much easier to put on and take off, especially when they are wet.
Claire: I find the product really easy to use, as it's just like a pull up nappy. I also find the quick tear sides very handy after swimming, as I don't have to worry about laying him down and can just tear them and get him showered. It has a nice design, so I don't have to worry about swimmers when we are outside at home, as they look cute worn on their own.
Eloise: This product made my life easier as they are easy to carry around in or out of the bag. I found it quick and easy to put on my baby whereas sometimes I tend to find myself faffing around trying to find the right side. The fit was true to size and didn't leave any marks. She seemed to be quite comfortable wearing the nappy!
Would you choose Huggies Little Swimmers over others?
Rebecca: I do think this product should win although it is the only swim nappy I have ever used. I do really like them so if there was another product I would see no reason to change. This does what it should, is effective and easy to use.
Bryony: I wouldn't choose this product over others. Although the side opening was convenient, I don't think it outweighed the additional price over supermarket own-brand options. We have used a supermarket own brand and the fit and durability were good and they were about half the price.
Stacey: My favourite thing about the product is the fact it's not bulky which makes it easy for a child to wear when swimming. It's still very absorbent and offers great protection. It is very flexible around the legs but doesn't leak. I would feel confident taking my child swimming with this nappy knowing that it would offer full protection.
Harriet: Yes I would – the nappies are reliable and well designed, and the fun design on them is nice and child friendly.
Donna: I think this product should win only based on swimming pool use. They are a very good design to look at with the characters on the front and back. They are soft on the skin, not too rough on the sides, and are very easy to put on and take off, even when wet. I would say they are good value for money, but I would suggest being able to buy smaller packs.
Claire: I think this product should win, because I haven't seen many alternatives. I personally don't like the neoprene nappies and I love the convenience of these ones. I can just put them in the changing bag and we can go swimming. I think the designs make them stand out, as it distinguishes them from more 'normal' nappies. And kids love them!
Eloise: I would these over any other swimming nappy, as I found they are the truest fit to size nappy out there. They are easy to carry around, either in a swimming bag, baby bag or just a small bag. They didn't look big and bulky whilst being worn, and they have a very cute design on the swimming nappy.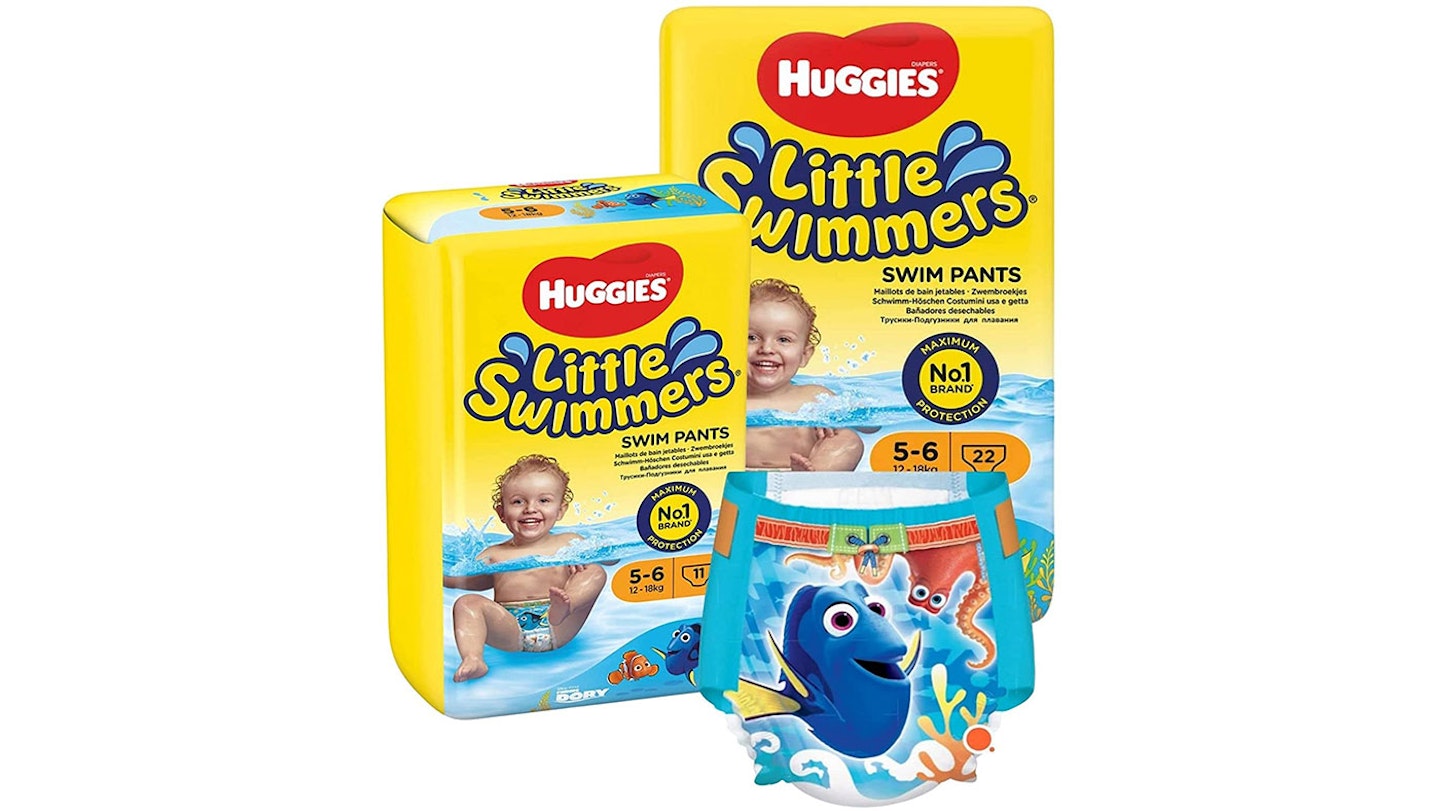 What changes would you make?
Harriet: I guess that the price is my main issue; they do seem rather expensive for what they are. It might be nice to have the option of a 'value' range as paying for pool entry or swimming lessons is expensive enough as it is. Also, neither I nor my friends could work out which side was the front!
Donna: I would only change the way they absorbed without being submerged in water, as the nappy leaked five minutes after putting it on. I would like to be able to purchase smaller packs, as children grow quickly, so you probably wouldn't use the whole pack by the time your child needs to go up a size. I would also like to see different characters rather than just Nemo.
Claire: I don't really think there is anything I would change about the product. It is nice and simple to use and also very efficient, as we had no leaks or problems in that respect. If I really had to criticise, I would say that the price is possibly a little high for what you are getting.
Eloise: If there were one thing that I could change about them, it would be the tags that stick to the front of the nappy. I was a little concerned when I first put the nappy on, as I didn't think it was going to stay on whilst swimming. There just didn't seem to be much stickiness to the actual flap.
Other swimming nappy reviews