Whether you're catching an early night yourself or tackling the tasks you can't get done when the baby's awake, purchasing the best baby monitor is a brilliant way to put your mind at rest so you can focus on something other than your baby while your tot snoozes. Your baby monitor is essential to use until your baby reaches toddlerhood, so it's important to invest in a good one.
Black Friday deals on baby monitors
We interrupt the regularly scheduled content to let you know that Black Friday is currently in full swing, and with it, a whole host of Black Friday baby deals, including plenty for baby monitors. Want to grab a bargain? These are the retailers that have the best baby monitor deals right now, or keep scrolling to continue reading our buyer's guide.
Shop Black Friday baby monitor deals on: Amazon UK | babymonitors | Mamas&Papas
Save 30%: Owlet Smart Sock Baby Monitor 3, WAS £289, NOW £202.30
Save 30%: Nanit Pro, WAS £299.99, NOW £209.99
Save 28%: Maxi-Cosi See Baby Monitor, WAS £99.99, NOW £69.95
Save 29%: Babymoov YOO Moov 360° Video Baby Monitor, WAS £199.99, NOW £141.39
Save 44%: Vtech VM5463 Night show Projection Monitor, WAS £100, NOW £75
Save 15%: VTech VM5463 Video Baby Monitor, WAS £99.99, NOW £84.99
Lots of parents like the peace of mind that comes with using a baby monitor– it's very reassuring to watch or listen to your baby sleeping soundly while you put your feet up and enjoy a well-earned cup of tea! A monitor also eliminates the need to creep into your baby's room to check on them – you'll see them stirring on the screen or hear them via the parent unit the moment they wake.
Most monitors consist of two parts: the 'baby unit' with an in-built microphone (and camera, if it's a video monitor) and a second hand-held 'parent unit', which displays sound and/or footage from the baby unit. You pop the baby unit near your baby's cot, and you can carry the parent unit around with you from room to room, a bit like a walkie-talkie. Instead of a parent unit, some monitors display information from the baby unit on your smartphone via an app. The advantage of this is that you can sign into the app from any location, so it's ideal if you're leaving your baby with a babysitter but want to check in on nap time remotely now and then.
Many of the best baby monitors we tested have extras, like sound and music features, room temperature gauges and two-way talkback so that you can speak to your baby via the parent unit from another room. Keep in mind that the more functionality you have, the more likely you are to spend nap time monitoring your baby instead of relaxing!
Best baby monitors at a glance:
• Best baby monitor overall: Hubble Connected Nursery Pal Premium - View offer on Amazon
• Best baby monitor for AI technology: Cubo Ai Plus Smart Baby Monitor - View offer on Amazon
Best baby monitors 2023
Description
The VTech RM7764HD was awarded Gold for Best Baby Monitor at the Mother&Baby Awards 2024.
Pros
East to set up and use
Large 7-inch screen
Modern design
360-degree pan and tilt
Automatic infrared night vision
Plays lullabies and white noise
Built-in temperature sensor
Cons
Can't be used with Alexa
Battery life could be better
Description
**The Babymoov YOO Go Plus 5" Video Monitor was awarded Silver for Best Baby Monitor at the
Pros
Portable
Energy saving
Comes with 4 attachments accessories
Easy to use
Expandable - can connect up to 4 other cameras to it
Description
**The Nanit Pro Camera & Floor Stand was awarded Bronze for Best Baby Monitor at the
Pros
Breathable wear
Encryption and security
Sleep trends and analysis
Best for checking baby's heart rate
Description
The Owlet Smart Sock does more than monitor your baby. This monitor tracks your little one's heart
Pros
Huge monitoring capabilities
Impressive battery life
Simple to use
Great for new parents
Cons
App could do with some work
Best for features
Description
The Nanit Pro is a smart baby monitor device, which compiles all data directly to your smartphone
Pros
Includes breathing analysis
Sleep trends
Encryption and security
Best for aesthetic design
Description
The Maxi-Cosi See Baby Monitor is a baby monitor that connects to your mobile phone device so that
Pros
Easy to set up
Camera is discreet
Good day and night image quality
Cons
Noisy camera movement
Blue light when movement sensor is triggered is quite bright
Best baby monitor overall
Description
The Hubble Connected Nursery Pal Premium offers a high-definition view of your baby during the day
Pros
Easy to set up
Great image quality
Room temperature display
Digital pan, tilt and zoom
Best for AI technology
Description
This baby monitor won Gold in the 2022 Mother&Baby Awards Best Baby Monitor category.
The
Pros
Soothe remotely and save the need for additional devices
Good video quality
Useful sleep analytics
Cons
Not the most portable, and setup is a little trickier than others
Best for ease of use
Description
This baby monitor won Silver in the 2022 Mother&Baby Awards Best Baby Monitor category.
The
Pros
Good picture quality
Sensitive to sounds
Easy to set up
Big screen
Cons
Uses a USB power source, so doesn't come with a plug included
Best for crying detection
Description
The Lollipop Baby Camera is designed for parents with newborns and toddlers. The bendable stem
Pros
Good quality camera
Quick to set up
Sturdy
Nice design
Cons
Monthly or yearly payments for features on the app- will add up
Best for camera panning
Description
This baby monitor won Bronze in the 2022 Mother&Baby Awards Best Baby Monitor category.
Keep
Pros
Fantastic picture quality
Simple to use and set up
Handy added features
Good camera movement
Best for monitoring movement
Description
Angelcare AC527 3-in-1 SensAsure video monitor has an adjustable camera with pan and zoom
Pros
Easy to set up
Clear image quality
Built-in thermometer
Great for first-time parents
Cons
Our mums would have liked to have seen a better and wider angle lens
Best for affordability
Description
If you don't need video functionality, the BT Audio Baby Monitor 450 is unbeatable value for
Pros
Easy to set up
Sweet additional features
Good sensitivity
Affordable
Cons
Our mums would have preferred it to have a video function
Description
With a range of up to 300m, the Tommee Tippee Digital Sound Monitor is ideal if you're often at
Pros
Great range
Easy-to-read LCD screen
Clear sound
Good value
Simple but effective!
Cons
No video, which might be a deal breaker
Types of baby monitor
As technology has advanced, there are now many different types of baby monitors to consider choosing from. These include:
Audio monitor
One of the simplest types of baby monitors available, similar to a walkie-talkie, with this, you can hear your baby but not see them.
Video monitor
Probably the most popular option, a video monitor allows you to look in on your baby as they sleep as well as listen. This requires a camera to be safely positioned where they are sleeping. You can watch the video footage via either a separate device or an app on your phone.
Movement monitor
A fairly recent invention to monitor your sleeping baby (even if you don't need to see them) is motion sensor pads. These plates lay under your baby's mattress and alert you if your little one doesn't move or breathe for a period of time so that you can go and check on them.
Wearable monitors
Working similarly to a fitness tracker, these innovations mean that your baby wears a smart item (usually a piece of clothing or a clip-on monitor) to help monitor their movement and even oxygen levels. These monitors also supply trackable data, which can help parents learn about their child's sleep habits.
Choosing the right baby monitor for you
There are lots of key decision-making factors to consider when selecting the best baby monitor for your family. Here are a few things to consider:
Screen: With a video monitor, the parent unit has a screen that displays the camera footage. Make sure the screen size is adequate and that the controls are easy to use, especially in the dark.
WiFi: If you choose a monitor which relies on wifi connectivity, make sure it's compatible with your router and that your signal is up to the task. Check if the baby unit needs to be near your router for optimum efficiency.
Pan, zoom, and tilt: If your baby moves around a lot or if you have two children sharing a room, a video monitor with a camera that you can control remotely from the parent unit is very useful, as you can scan the room or reposition the camera without disturbing your baby.
Temperature gauge: A baby thermometer is a useful feature on a monitor as it enables you to check the temperature in the room without disturbing your baby, alerting you if it's too hot or cold.
Night mode: If you want to be able to check on your baby via the monitor in the dark, choose one with night mode or infrared functionality.
Battery life: Most parent units are battery operated – if you're likely to forget to plug it in overnight, choose one that charges quickly or has a portable docking station so you can charge it while in use.
Portability: If you'll take your monitor on holiday, choose one that's lightweight and portable. If it relies on wifi connectivity, make sure you've got that wherever you're going!
Sound quality: Don't overlook audio when you're buying a video monitor – good sound quality is essential because you won't always be glued to the screen.
Style and design: A monitor that resembles a heavy-duty surveillance camera might have excellent functionality but choose the one you'll be happy to look at every day.
How we do our testing
Our Mother&Baby Awards are renowned in the industry for being one of the most highly respected product awards for baby and parenting products, and every year, we arrange for thousands of independent mum reviewers to test the latest products on the market.
We've tested over 60 of the best models available in the UK, with around 10 reviewers per product to ensure that we get a range of views on the device. Our independent mums review the products based on their usability, design, quality, and value for money. Reviewers give us qualitative feedback on their experience with the product, which our team of journalists review to decide our recommended products.
From all this work, our best baby monitors award winners are chosen and listed above in our finalised and definitive list of the best baby monitors, one for each key category, along with the quotes we found to be most useful when choosing our selection.
Our editorial team is also constantly looking for new baby monitors to test so that we can help you find the best - be that a cheaper product that we want to test for value for money or the latest baby monitoring innovation.
Do I need a baby monitor?
Wondering whether you need a baby monitor? Current NHS advice is to keep your baby in the same room as you until they are six months old, particularly when sleeping, as this can reduce the chance of SIDS. Most parents find them handy for those times when they need to leave the room momentarily. A monitor can be helpful when you need to pop to the loo or head into the kitchen to make dinner and still make sure your baby is sleeping comfortably.
No devices on the market will substitute at least one person being in the same room as baby for safer sleep, but a baby monitor can help for those times you need to be away from them for short periods of time.
When should I start using a baby monitor?
You only really require a baby monitor when your baby starts to sleep in a separate room from you. As above, for the first six months of your baby's life, they should be in the same room as you when they're asleep, both day and night. However, many parents like to have a monitor from birth so they can nip to the toilet or make a cuppa while still keeping an eye on baby.
Are baby monitors safe?
Take time to ensure your baby's monitor is in a secure location in your baby's nursery where it won't get knocked over. If it's on the wall, regularly check the fittings in case it starts to come loose over time.
Double-check your digital security, too, especially if your monitor connects to the internet in some way. Use strong and unique passwords for your Wi-Fi and any apps, and use two-factor authentication where at all possible. This requires people to use a code generated by a text message or app to sign into a specific account and ensures a secure way of protecting your information, preventing hackers or stolen information.
What age do you stop using a baby monitor?
There is no official NHS guidance or set age for when to stop using a baby monitor, it is entirely your choice. However, most experts suggest that you can stop using a baby monitor when your little one is between two to four years old, but this depends on how comfortable you personally feel with giving it up.
Mother&Baby Award Winners 2023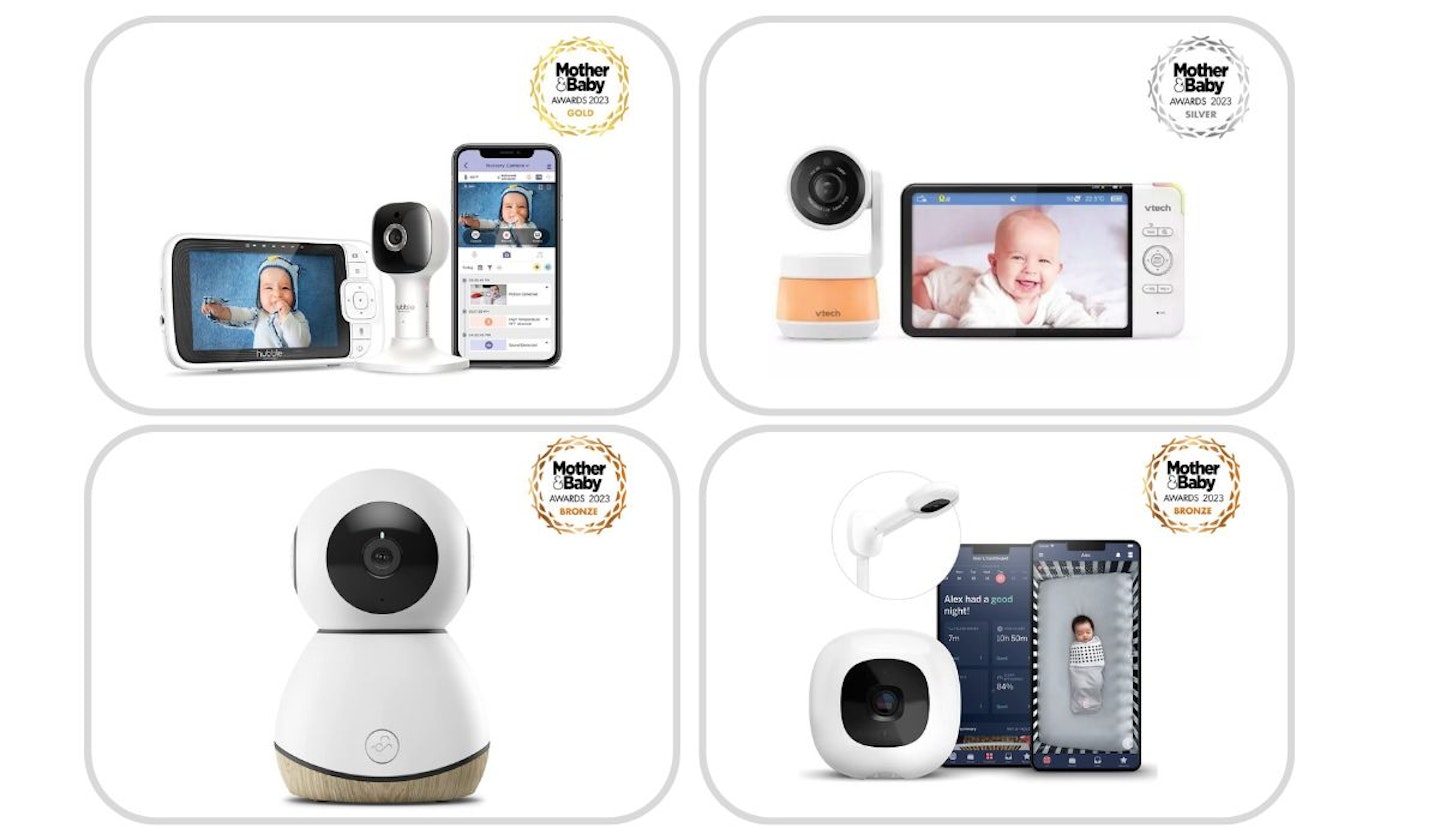 Top Left: Hubble Connected Nursery Pal Cloud
Top Right: VTech RM7767HD
Bottom Left: Maxi-Cosi See Baby Monitor
Bottom Right: Nanit Pro
Whether you're pregnant or have already welcomed your new baby into the world, you know you need a lot of stuff. The Amazon Baby Wishlist is the best way to keep track of everything you need for your baby - and it's easy to set up.
Maria Martin is Digital Group Editor for Yours.co.uk and Motherandbaby.com. She is a mum-of-two with a passion for helping women from all walks of life – from supporting breastfeeding mothers with expert advice to encouraging conversations about mental health. In her professional role, she has over 10 years' experience in the digital world, including editing article, focussing on SEO, social media engagement, picture researching and video editing.