We all know having a baby is an expensive business, but the best cheap baby monitors will help you sleep well without breaking the bank. You may only need a baby monitor for the first year of your child's life. However, the best baby monitors can be used well into their toddler years. A baby monitor allows you to check your child from a distance. Some even have features that can help you to speak to your child, play soothing music and even analysis their sleeping patterns.
However, the more advanced the baby monitor, the more expensive it is. Baby monitors can cost anything between £30-£400+. The great news is you don't have to spend hundreds to get a good baby monitor. If your sole purpose is to check on your child's well-being from the comfort of your own bed, there are plenty of cheaper options.
With every new baby comes an extra ounce of worry. Don't get us started on phantom baby cries, which is when you think you can hear your baby crying only to check and find them safe and sound asleep in their cot or crib. Although you may feel like you are losing your mind, doctors say this is very normal. This is a prime example of when your baby monitor becomes your best friend.
The best cheap baby monitors at a glance:
Best overall cheap baby monitor: BOIFUN Video Baby Monitor - Buy now from Amazon UK
Best range: VTech DM1212 Digital Audio Monitor with Night Light & Projection - Buy now from John Lewis
When deciding which baby monitor you want to purchase, there are a few things to consider. Firstly, would you prefer to see your baby, or are you happy just hearing whether they are awake? How far away is your baby's room? If it is on the other side of the house, pick a camera with a longer range. Would you like to speak to your baby or play a comforting sound? We have found a selection of baby monitors at a budget-friendly price that will suit most needs.
Best cheap baby monitors 2023
Best overall cheap baby monitor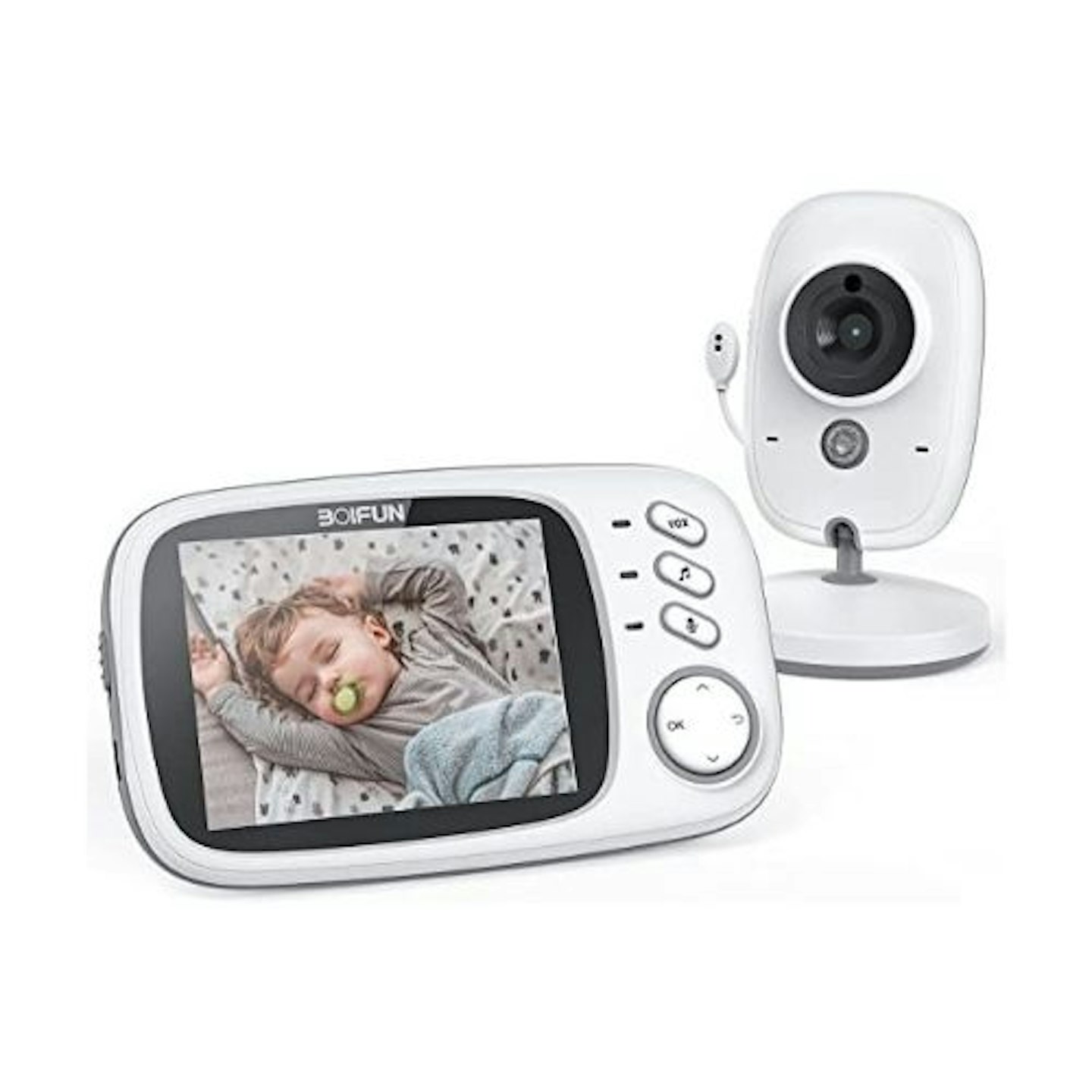 Image: Amazon
Description
When your baby is feeding every three hours, and you are tired, it can be so difficult to remember
Pros
Doesn't need Wi-Fi
Long battery life
Good size
Nice lullabies
Best audio baby monitor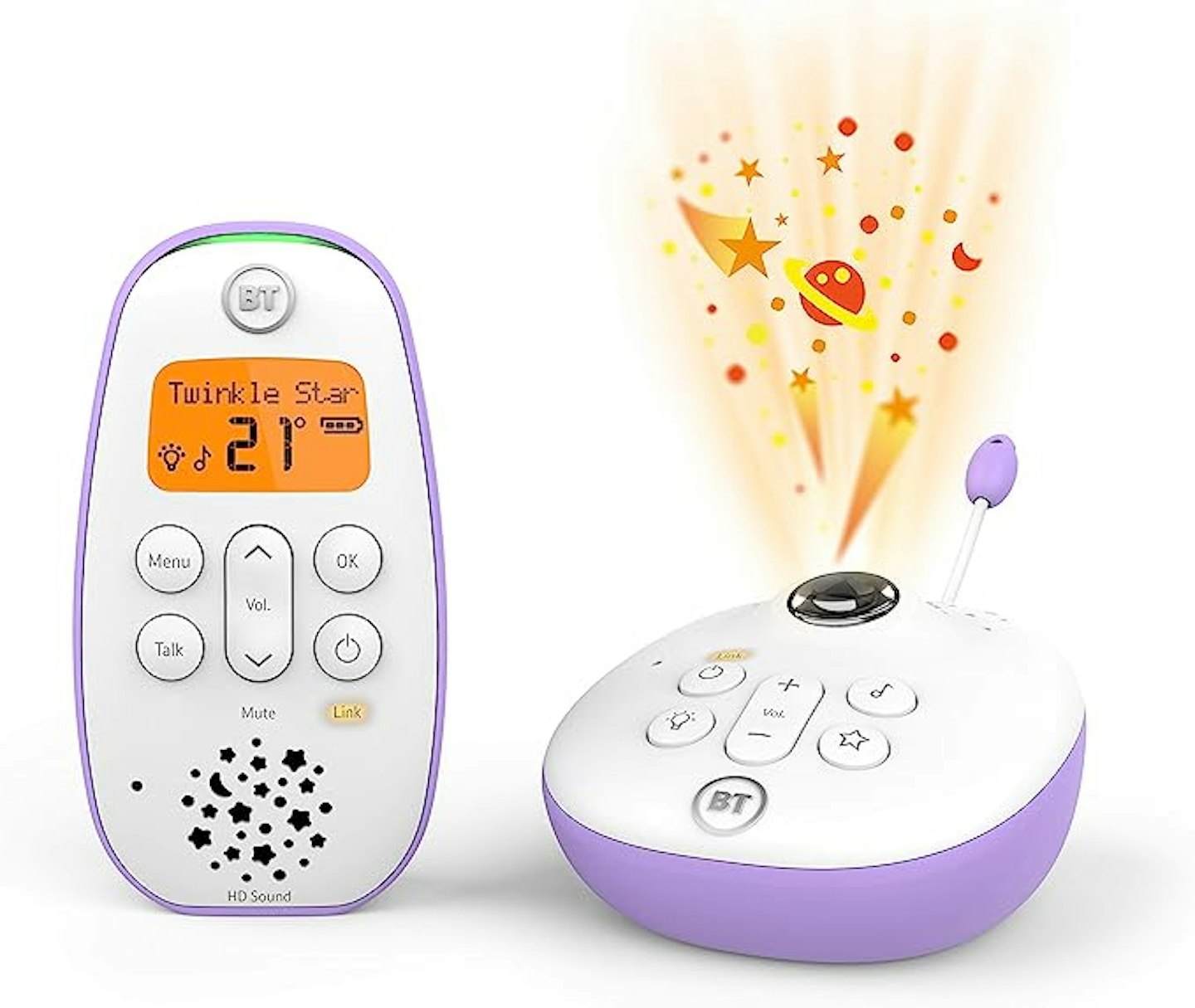 Image: John Lewis
Description
If you just want to hear when your baby cries, this BT Audio 450 may be the monitor for you.
Pros
Good charge
Easy to use
Good sound quality
Best for the clearest camera baby monitor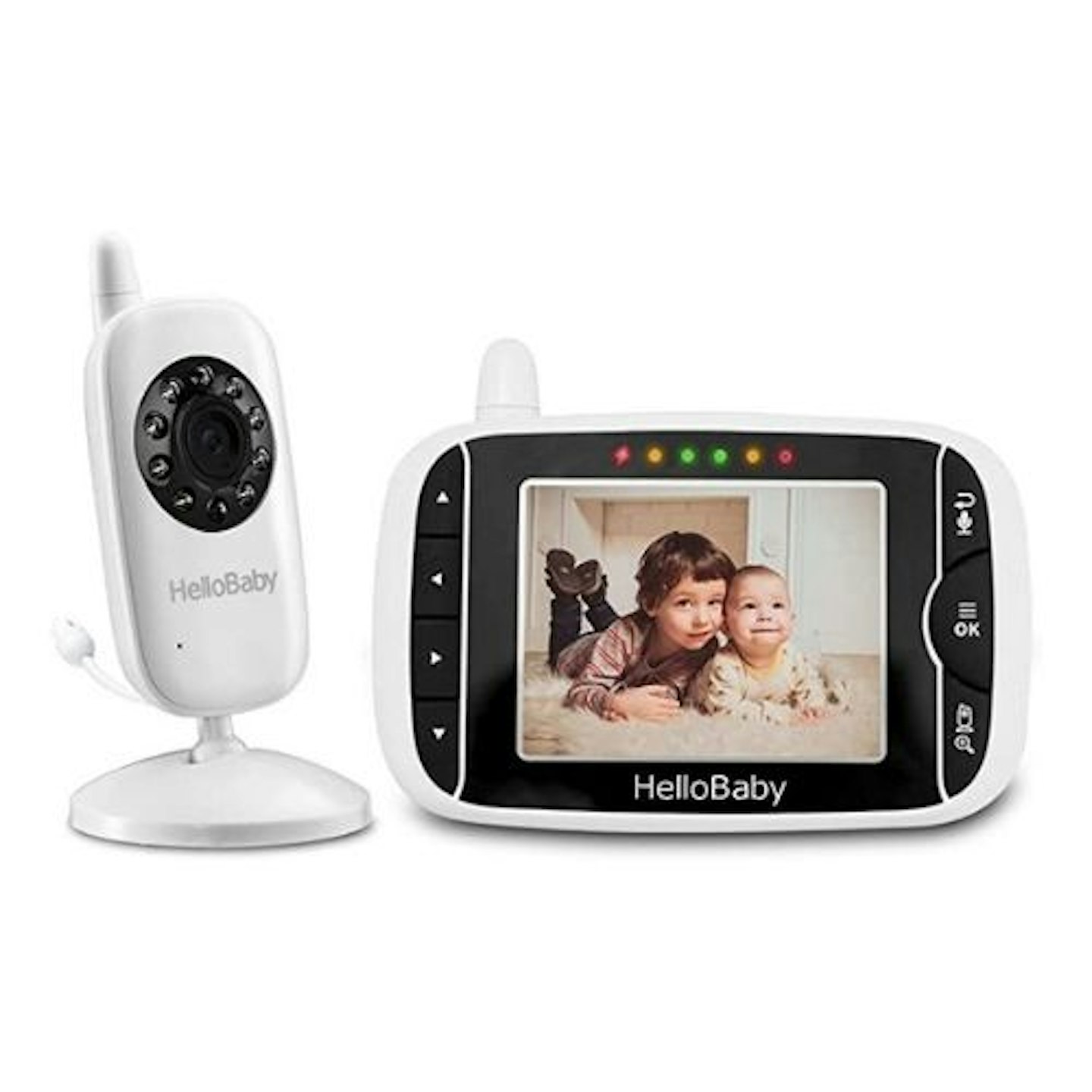 Image: HelloBaby
Description
This HelloBaby baby monitor has a clear image, and parents can zoom into their child's bed to get
Pros
Temperature shown
Camera can be angled
Two-way microphone
Best baby monitor that records temperature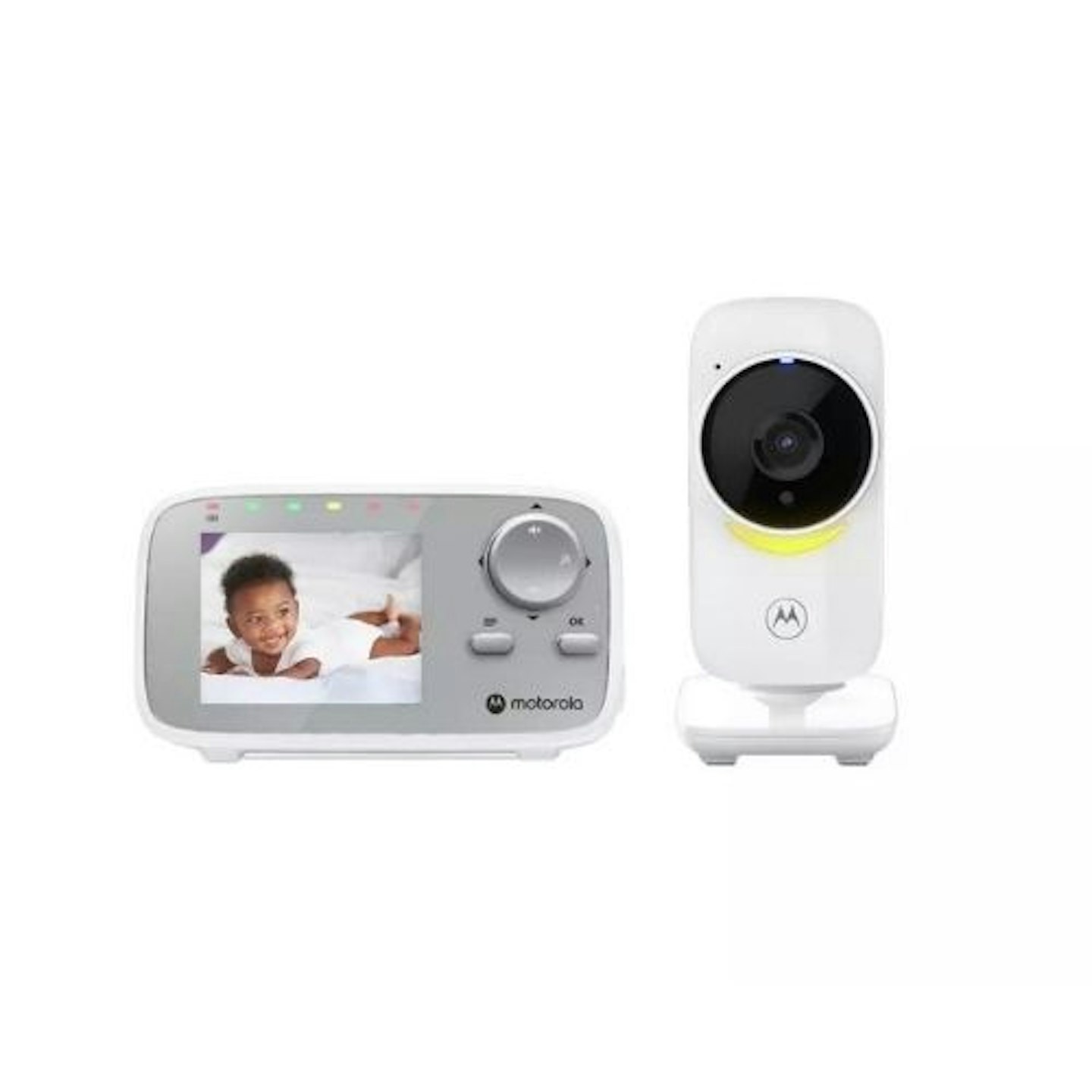 Image: Argos
Description
This Motorola baby monitor works effectively even in low levels of lighting due to its infrared
Pros
Good picture
Excellent connectivity
Records temperature
Zoom function
Best range baby monitor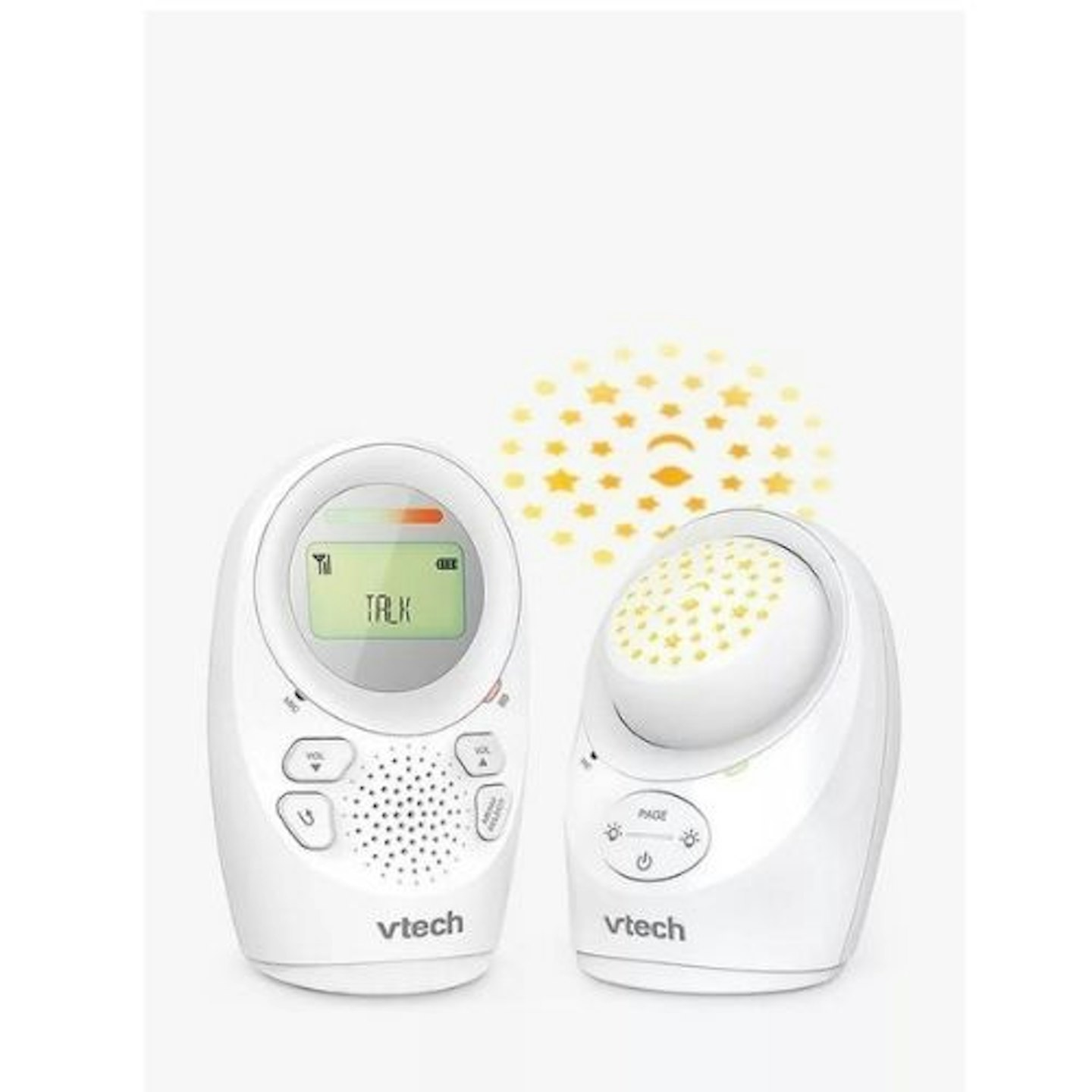 Image: John Lewis
Description
We love this VTech baby monitor because it has a light projector, which is a lovely soothing
Pros
Glow-on-the-ceiling night light
Vibrating sound alert on the parent unit
5 soothing lullabies
Belt clip on both parent unit and baby unit
Best baby monitor with infrared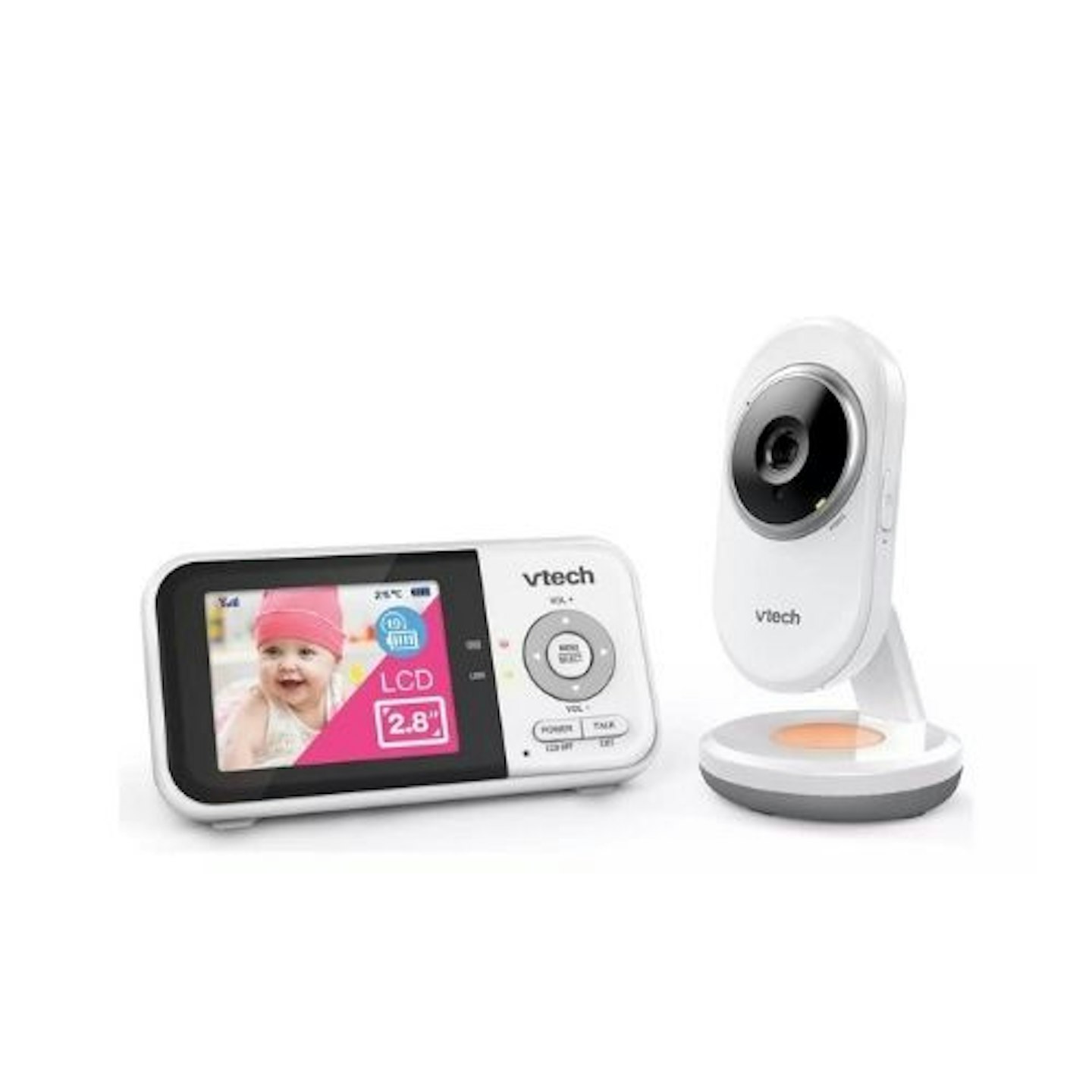 Image: Argos
Description
The VTech baby monitor is a rechargeable digital baby monitor. It comes with a parent unit which
Pros
Great quality
Good battery life
Good picture quality
How to choose a cheap baby monitor
Below we have listed all of the different types of baby monitors so you ensure you get the best product for your individual needs. One of the biggest aspects to consider is your budget. The more features that a baby monitor has, the more expensive it becomes. Some of the more expensive ranges are great for tracking sleep patterns. However, if your child is a good sleeper and you just want to be able to check when they wake, a cheap monitor may be the best option for you.
Different types of baby monitors
Audio Monitors - Audio monitors work a bit like a walkie-talkie. When your baby cries, you will be able to hear it through a monitor. Some will operate by charge, others will use batteries or work wirelessly. These tend to be cheaper. This is a fantastic option for parents who just want to hear if their child is awake.
Digital monitors – A digital baby monitor allows you to see your baby as they sleep thanks to a camera and mini screen. Most digital monitors also allow you to hear your child when they cry. You will need to place a digital monitor somewhere safe where you can see the whole cot. Each manufacturer will specify the best location for the monitor.
Wearable monitors – Wearable monitors tend to be the most expensive type of baby monitor. They operate by tracking your baby's heart and breathing rate as they are sleeping. Usually, they will also have a digital monitor, and many use smartphone technologies. Due to their high price point, we have not included any wearable monitors in this article on cheap baby monitors.
Key features
There are a few things you need to think about before purchasing the best baby monitor for your budget:
Adjustability – Some baby monitors will have a larger range than others. If you are looking for a digital baby monitor, it is a good idea to check how much the camera can adjust or how much can be seen via your baby monitor.
Two-way audio – For many parents being able to communicate via your baby monitor will be a crucial element. This can be especially helpful as hearing your voice may reassure your child and help them to self-settle without you having to go into the room.
Distance- The distance you can take your parent unit from the baby monitor will differ for each product. Many baby monitors do not factor in different rooms, walls and furniture, so the range may be hindered by your house's layout. Measure your rooms and check the range specifications before purchase.
Wi-Fi – Most modern baby monitors will operate via Wi-Fi, especially the more expensive options. It is important to note that these monitors will not work if you do not have the internet.
Night light – Some baby monitors come with a nightlight feature, which can make visits to your baby's room easier in the middle of the night.
Music or sound effects - this can be useful as it may help to soothe your baby. Some monitors will have a white noise feature or lullabies.
Picture and audio quality – When thinking about purchasing a baby monitor, check the picture quality. Cheap baby monitors may have slightly lower picture quality than their high-end competitors. However, it will still allow you to see your baby while they rest.
Smart technology – There is a range of smart technology elements in the world of baby monitors. Usually, these come with a high price tag. Cheap baby monitors may not have all of the bells and whistles that expensive monitors do.
Do I need a baby monitor?
For a lot of parents, baby monitors offer peace of mind. They give parents the ability to check on their infant from the comfort of their bedroom or sofa without disturbing them. It may be time to stop using a baby monitor if your child notices that they're being recorded and keeps trying to talk to you as that can disturb both of your sleep patterns. Once they reach the ages of about 2 to 4, they probably won't need one anymore.
Where is the best place to put a baby monitor?
Always follow the manufacturer's guide when installing your baby monitor. Your baby's cot should always be free from any wires and out of reach. Usually, your baby monitor should be at least one metre away.
Can baby monitors be hacked?
Baby monitors are generally very safe, but like anything that relies on Wi-Fi, there is a chance it can be hacked. Audio monitors and digital monitors which do not use the internet are a lot less likely to be hacked. When you are purchasing a baby monitor, always opt for a reputable brand from a trusted retailer.
Safe sleeping advice video
Our product recommendations are based on a combination of real-world testing from our army of mum testers and the extensive knowledge of our experienced editorial team and product specialists.
Hannah James is a Parenting and Lifestyle Writer working across Mother&Baby, Yours and Grazia.