When it comes to shopping for the best breast pump, you want to consider one that is practical and convenient to use when looking after your little one, which is where the Fraupow Wearable Breast Pump is extremely handy.
The electric breast pump is handsfree and portable, meaning you can look after your baby or be on the go, and you can still effectively express.
Handsfree breast pumps are extremely convenient for mums, as you can still carry on with day-to-day activities without having to set a certain amount of time aside to sit down and pump.
With plenty of alternative handsfree pumps on the market, the Fraupow Wearable Breast Pump is great value for money and easy to use.
Pros
Comfortable to use
Power pump with long lasting battery
Anti-leak design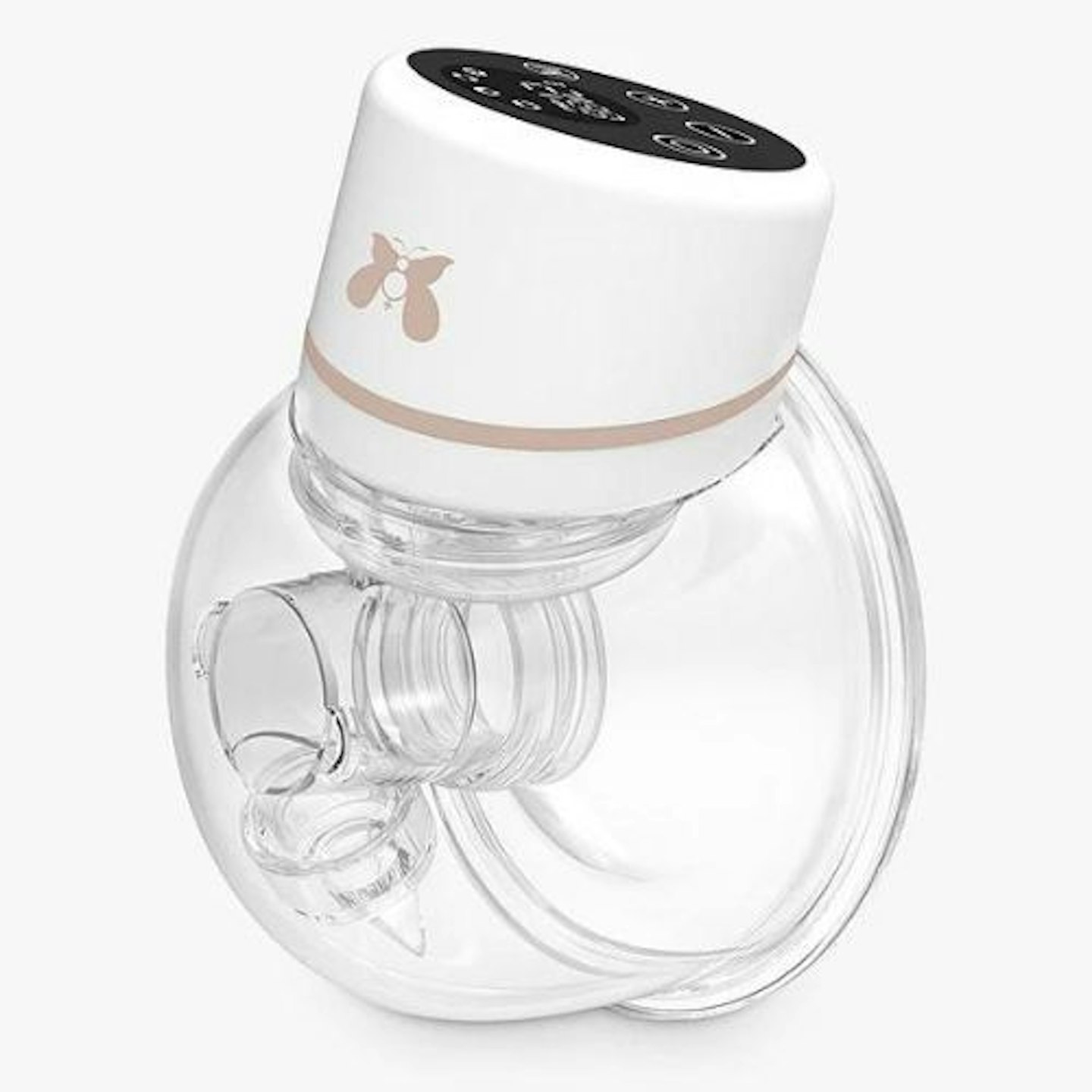 Testing the Fraupow Wearable Breast Pump
Performance
Compared to other electric breast pumps, the suction doesn't feel as strong, however it still manages to express effectively and more so than when using a manual pump. It doesn't make much noise either, making it more discreet to use when out.
The pump can be recharged using a USB and once fully charged it has up to two hours pump time, which is convenient when you want to take the pump out with you, as you know you're guaranteed to have at least two to three pumping sessions when on the go.
Usability
The hands and wire free design makes the Fraupow Wearable Breast Pump so easy to use and use on the go, and the fact that it's lightweight too means it doesn't feel heavy under your bra, even when it's full of milk. It can hold up to 180ml of breastmilk too, so you don't have to keep emptying it and carrying on every 50mls.
The LED touch display is easy to use, and it displays how long you have been pumping for and also how much battery is left on the pump. It has four modes and 12 intensity settings that are all easily adjusted on the touch display, so even mid-pumping you can adjust the settings with ease.
Build
With just five main washable parts, the built of the pump makes it extremely easy to put together and take apart for washing. The LED screen makes the pump feel a little bit big when wearing, however the screen needs to be big enough to use so this isn't a major concern.
The Fraupow Breast Pump also has an anti-spill and anti-leak design, so when moving around and pumping, none of the milk would leak out, which is a positive when expressing as you want to save as much milk as possible!
Our final verdict on the Fraupow Wearable Breast Pump
Overall, the Fraupow Wearable Breast Pump is easy to use, and even with the different settings and LED screen it's easy to adjust the pump to suit you.
The pump is also easy to take apart, making it extremely handy when it comes to cleaning the breast pump as there are not many pieces to try and put back together and small parts you can potentially lose.
The only downside to the product is that it is a lot more bulky than most wearable breast pumps, as the LED screen sticks out from your bra so even if you wore a high rise top it would still be noticeable. However, this isn't a huge problem as you are not restricted to what you can do.
Also, the pump is extremely good value for money, so a slightly bulky pump is a small price to pay for effective pumping at a reasonable price.
Fraupow also offer midwife support, which is incredibly helpful to mums, especially if they have questions around breastfeeding and pumping. So not only are you getting a pump that is really good value for money, but you're also investing in some support, which feels reassuring as a mum, knowing that online help and support is there.
Fraupow Wearable Breast Pump FAQs
Are wearable breast pumps any good?
While a wearable breast pump can be more expensive than manual breast pumps, they are a lot more practical. Not only do you have to use at least one hand to pump milk, when you are trying to care for your little one or get on with some jobs, but you're not restricted by wires when using a plug in electric breast pump.
A lot of wearable breast pumps are also discreet under your top and bra, meaning you can even pump when on the go, making it great if your pumping time clashes with a school run, a quick errand or just generally pottering about the house.
How does the Fraupow Wearable Breast pump compare to other breast pumps?
Similar to the Elvie Pump Breast Pump, the Fraupow can sit inside your bra and doesn't have any wires or require you to manually pump.
While the Elvie feels more discreet than the Fraupow, they both have a very similar pumping efficiency, but the Fraupow is a fraction of the price of the Elvie.
Samantha Ball is a Product & Lifestyle Writer for Mother&Baby and freelanced for the website for two years before joining the team full time. She's a mum of two and loves browsing for the best products and cute outfits.