Mamas & Papas have launched their lightest, most compact pushchair to date called Mamas and Papas Airo.
The Mamas and Papas Airo at a glance:
The Airo is the latest edition to the Mamas & Papas pushchair family and echos the show-stopping features of the Ocarro, whilst maximising lightweight comfort and effortless manoeuvrability, ideal for city adventures and parents who are always on-the-go. The super-lightweight design will have you gliding through city streets and tight spaces with maximum ease. Storing your pushchair away has never been so easy, thanks to the famous one-hand fold. The Airo's compact design also allows you to tuck it neatly into car boots, footwells, luggage racks and overhead compartments and can even be worn as a backpack.
Suitable from birth thanks to the multi-recline seat positioning, the Airo is a lightweight pushchair and has been designed for those of us who crave luxurious practicality, while most importantly keeping our child safe and comfortable. Your little one can watch the world go by with fully upright seat positioning, whilst the bumper bar and adjustable footrest will keep them safe and secure. The extendable hood will keep your baby protected and comfortable in warmer climates, whilst the adjustable handlebar makes the perfect accessory for effortless strolling.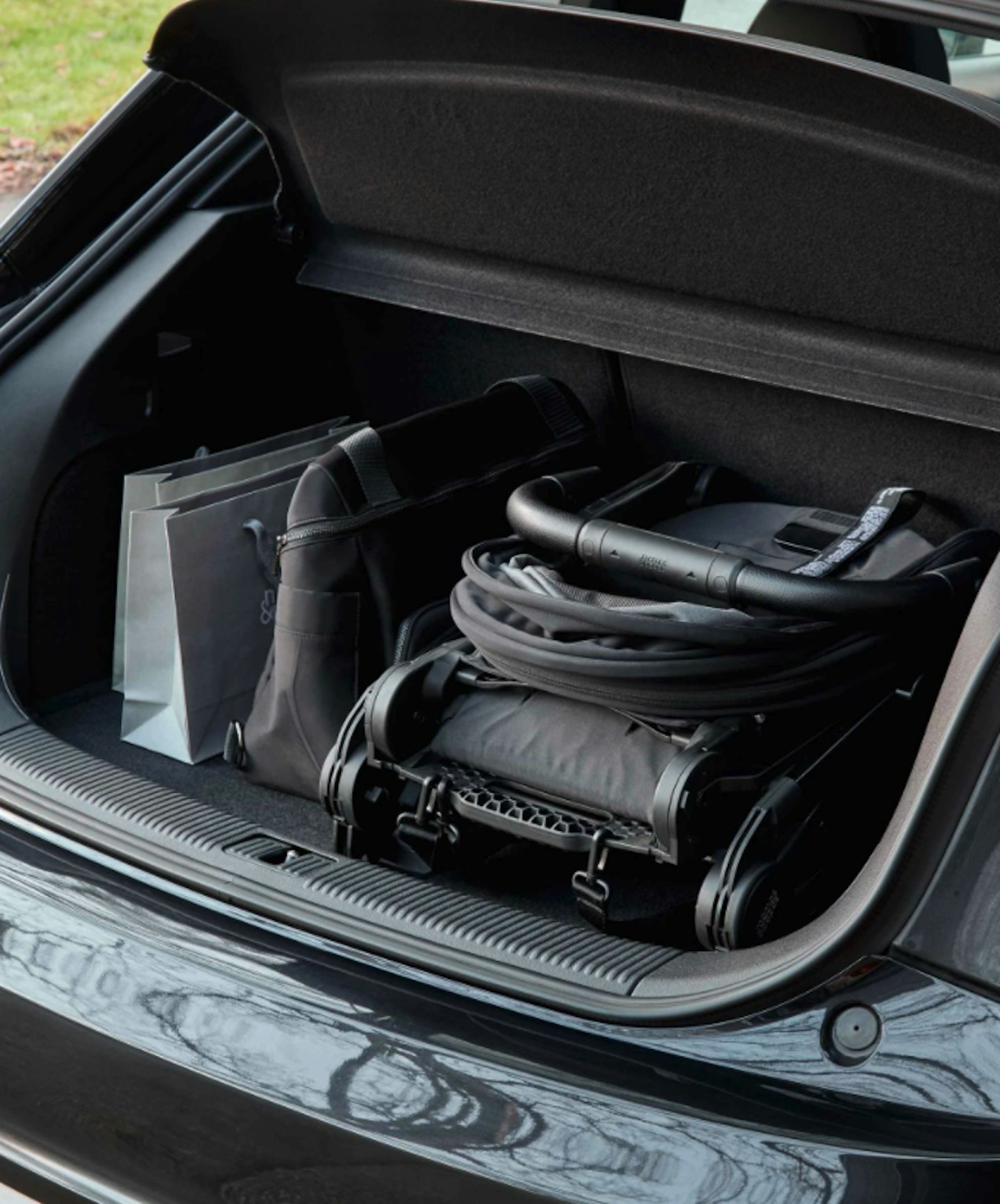 How did this product make your life easier?
The moment the Airo arrived, all I could think of is 'where's the rest of it?' It's so hard to believe that something so small can be so sturdy. I'm in my third trimester of pregnancy, so to be able to just take it out of the box and use it straight away was handy. It's rare, in fact, I've never come across, a pushchair where you don't need to assemble some part of it. In most cases at least the wheels. The Airo was simply lift out and go.
Being able to take advantage of how compact this stylish, little pushchair is one of my favourite parts. With a 2-year-old in tow, a full boot of shopping, a water bottle, dinosaur toys, the Airo is the perfect companion for my life as it is right now. It's not bulky and goes unnoticed in any spot. I've always hidden the buggies, strollers, pushchairs in the boot of my car, but the Airo happily sits in the house, in the hallway and doesn't get in the way. I am also already envisaging how useful it will be when we go on holiday. Excited in fact to take it on our family adventures around the UK and, eventually when we can, abroad.
Again my heavily pregnant self, found it particularly useful as the 7kg frame is a doddle to lift in and out of the car boot, manoeuvre around the house and even hold with the strap/rucksack conversion.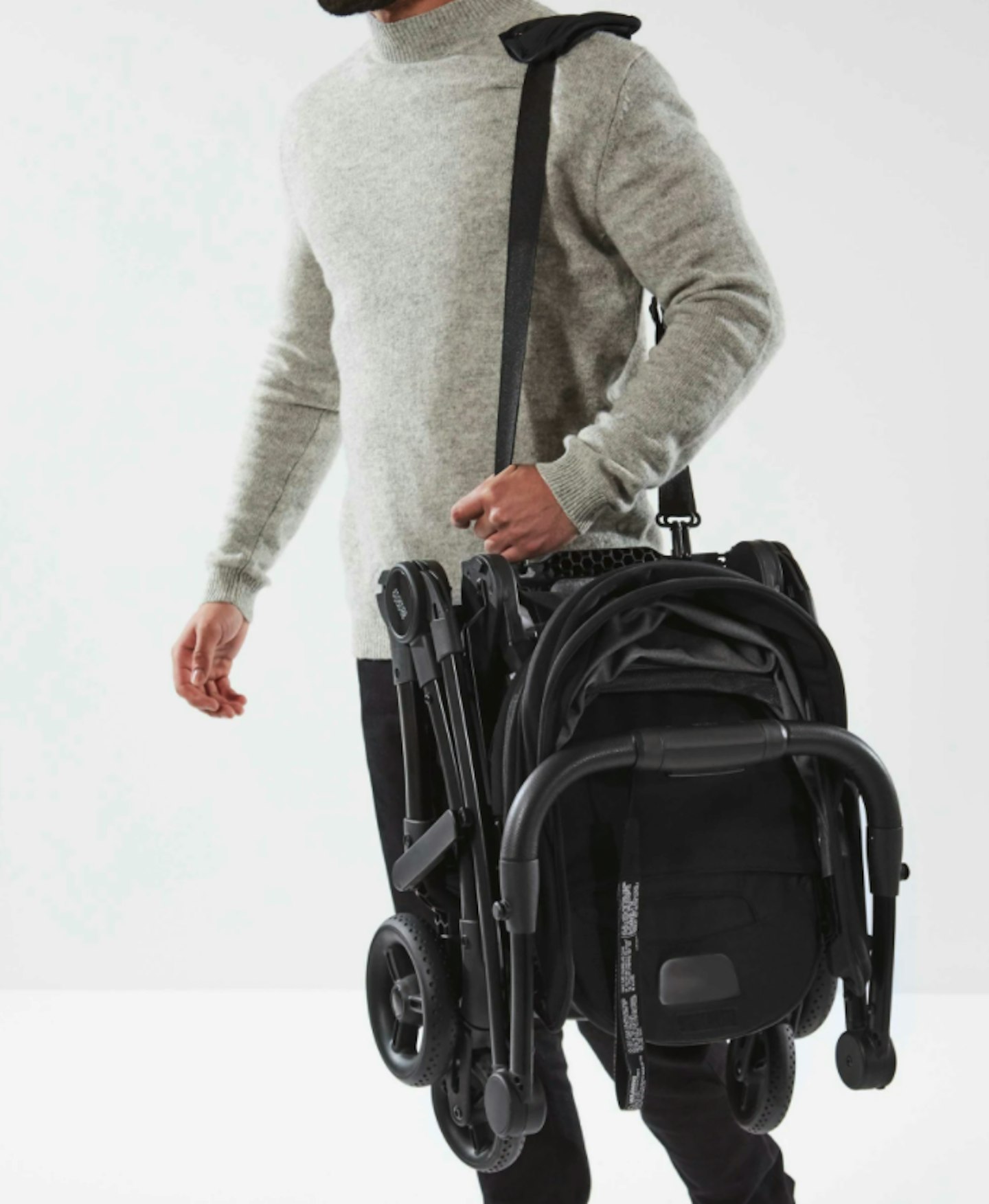 Nothing gets in the way with the Airo, all features of it fold away into this little square.
Would you recommend this to other parents?
Most definitely. For both city strolls and on (dry) country lanes. It's a useful, can't highlight enough, compact addition to our days.
Perhaps if it was winter I'd feel slightly differently, but using this during spring where outerwear is minimal, the Airo's small under-seat storage is just what we needed. It would fit a small backpack, some toys, a water bottle.
The adjustable footrest is something I'd also like to highlight. Doesn't sound very exciting does it, but let me ask you, how tall is your child? My tot is 93cm tall and having a footrest that is not only adjustable but doesn't have a foot ledge is really handy. Previously I had used the Micralite GetGo and a caveat with that pushchair was the footrest had a small ledge, meaning my tot's calves were perched on top of the ledge and couldn't drape comfortably. The Airo doesn't have one, so it means my tall tot can rest his legs comfortably here.
As well as the seat enabling my tot to lie flat with its multi-recline position and have a nap while out-and-about, it also hugged him when upright. There are fabric panels on the side of the seat which gave extra support and comfort to my son. Well, my son never complained in the Airo.
The Airo seat feels quite low down and I also feel like this added to my tot's comfort, making him feel like he was in his tricycle, which has a handle and we sometimes use instead of a pushchair to keep him entertained.
The great thing about having a toddler is the feedback they give when trying out items for them and he actually requested the bumper be put on. As the parent, the bumper slots in and out with ease. The seat is also plush enough for a toddler and has an easy-to-use 5-point harness.
Would you choose this product above all others on the market?
Moving on to the handle and one I actually hadn't come across yet. The handle has a twist mechanism that enables the one-hand open and fold. It took me a bit of getting used to using the twist, but with a bit of practice, I can see how the one-hand open and fold can be achieved.
The handle of any pushchair is the main point of contact to the chassis and tells a lot about how sturdy a pushchair is. The Airo handle was more than sturdy and in comparison to other compact, made-for-the-city style pushchairs, there wasn't that awkward sway in the handles as I pushed the Airo up onto pavements. It is a well-made, solid - very solid - pushchair. I was pleasantly surprised with its strength for such a light thing.
One thing I also noticed, which made me happy, was there is a removable strap at the handlebar. Some straps on pushchairs aren't removable and do you know how frustrating that can be when you want to take it off? Very.
This is built-for-purpose, the storage compartment fits neatly under the seat and is a perfect square. If you know me and my previous pushchair reviews, you'll know I'll often complain if the storage of a pushchair is at a slant. Sitting directly under the seat, the Airo's storage will keep items safe.
Once again it folds the most compact I've ever seen a pushchair fold, comes with a more than capable rain cover and when it folds there's an additional lever to click it in place. It's not one of those levers which need any handling, just fold and it clicks automatically in place.
From other's I've used and seen on the market, it's rare to find a compact pushchair that would suit newborn and toddler as seamlessly as the Airo does. This would happily fit your baby's journey from newborn to walking. The Airo has become my go-to, everyday use pushchair.
What changes would you make to this product?
Not very much, it's fit for purpose and well made, I have really enjoyed using it. If you want to use it from newborn, you do have to buy a separate package for that. The only downside, if there is one, is that according to Mamas & Papas it's not suitable for running or skating, neither of which I had tried.
Product Information for Mamas and Papas Airo
Age Suitability: 0-22kg or up to 4 years.

Upright Size: Handle at highest height H99 x W45 x L95.5cm approx.

Folded Size: H25 x W45 x L55cm approx.

Weight: 7.6kg approx.

Available in 5 colourways: Black, Grey, Mint, Grapefruit and a special edition Rose Gold Dusk colourway

Wipe clean only

100% polyester

Includes: Pushchair, bumper bar, shopping basket and rain cover

Newborn pack available at extra cost

Compatible with car seats when using Airo car seat adaptors

Adjustable straps with the 5-point harness

Adjustable hand height position