A baby gym or play mat is a classic baby toy that shows no sign of falling out of fashion any time soon and are great to use before a baby play pen. Nor should it, because having somewhere safe to pop your baby when you need your hands free can be a lifesaver, and it can really help baby to reach their development milestones!
Back in the day, baby gyms all had much the same design, but no end-of-smart variations are now available. That said, most still have a soft, padded mat for your baby to lie on beneath an arch with hung toys. They're a must-have for your little one's space, creating a safe and happy area for them to play in.
The idea is to occupy your baby and present them with all sorts of stimulating objects, colours, textures and sounds to encourage them to explore their senses and boost their development while they're enjoying some tummy time.
You'll want one within your price range that has design features that your little one will love - that's why it's so handy that there are many on the market. They're suitable from birth until your baby starts moving independently, and many will be designed with that in mind – after that, they'll crawl off in search of other adventures!
Editor's Choice
• Best overall play gym: Fisher-Price Kick 'n' Play Piano Baby Gym
• Best playmat for colour: LAMAZE Freddie The Firefly Baby Activity Play Mat
• Best interactive playmat: Rock Stepper Reversible Playmat
• Best modern play gym: Tiny Love Magical Tales Black And White Gymini
With plenty of different options available, finding the best baby playmat for you and your baby can be difficult, so we've done some research to help you choose. We have considered the overall design, durability, and price of favourites listed down below.
The best baby gyms and playmats 2023
Best overall play gym
Description
By far one of the most popular baby gyms on the market, this Lupantte baby play mat helps your
Pros
Mat is specially designed with green tree, brown branch and comes with ball pit and 4 colorful balls.
The baby gym play mat is made from high quality fabrics, thick with fine and smooth touch.
Best baby gym for comfort and softness
Description
**Awarded Gold at the M&B Awards 2022 for Best Baby Toy
**
Soft and comforting, Snuggle Me
Pros
Easy to assemble
Washing machine friendly
Ideal if you have hard flooring
Study sides to support baby
Cons
 No lights or musical element
Best interactive playmat
Description
Designed as a reversible playmat too, this Rock Stepper Reversible Playmat is no ordinary playmat.
Pros
Reversible and stylish design
Helps to encourage development
Encourages movement
Cons
App is still under development
Best playmat for design
Description
This adorable Skip Hop Camping Cub activity mat might be on the expensive side, but it sure has
Pros
Introduces baby to animals
Nice-looking design and colourful
Sturdy
Cons
Not as many features as others
Best play gym for quality
Description
Skip Hop has done it again with this seriously adorable Celestial Dreams activity gym themed
Pros
Soft and ideal for tummy time
Machine washable
Pretty design
Comes with five hanging toys, cushion and mirror
Best play gym for style
Description
Pros
Looks lovely in every nursery
Good variety of sensory features
Large size
Cons
Can take up a lot of room
Best playmat for sensory development
Description
Adjustable walls act as a barrier during playtime - a great option if you're worried about those
Pros
Suitable for babies and toddlers
Comes with a carry case for easy storage
Exercises fine motor skills
Cons
Not much cushioning underneath
Best playmat for colour
Description
A cute baby gym from a brand you can trust — Freddie the Firefly from Lamaze featured on
Pros
Affordable
Machine washable
Fun design
Cons
Comes with less toys than other playmats
Best playmat for easy storage
Description
Pros
Large mat (good size for twins)
Adjustable arches for different play modes
Washable
Cons
Doesn't have a lot of padding
Best modern play gym
Description
Pros
Aesthetically pleasing
Folds away easily
Adjustable arches for different play modes
Cons
Mat moves easily on wooden floor if you have an active baby
Best play gym for sustainability
Description
Pros
Aesthetically pleasing (each charm is hand finished)
Responsibly sourced materials
Detachable toys
Best play gym with light up features
Description
This Skip Hop Vibrant Village Activity Gym is a stylish, modern take on the traditional baby gym.
Pros
More than 17 developmental activities
Four hanging toys are also reversible
Stylish looking
Best play gym for shape
Description
Yep, that's right, aden+anais don't just do amazing muslins and swaddles - they do baby gyms too!
Pros
Made with eco-friendly, non-toxic fabrics
Beautiful design
Cons
Less toys/activities than competitors
Best play gym for music making
Description
Do you think that you might have a little upcoming musican? Kick play time up a notch with the
Pros
4 ways to play as your baby grows.
3 Smart Stages learning levels and a bonus piano play setting with real music notes.
Cons
Only suitable for babies.
Choosing the right baby play mat and gym for you and your baby
You need to choose a baby playmat that is very easy to use, clean, portable, and can also be customised by hanging extra toys on it.
Material - You'll want soft and padded materials to enrich their sensory time that are easy to wash if necessary.
Size - As long as it's large enough to grow with them but not too big for your space, it should work for you.
Easy to clean - Things can get messy with little ones so, make sure it's as easy to clean as possible.
Sensory features - Try to pick out a playmat or gym that has engaging and stimulating features that they'll love.
Colours - Make sure your chosen baby playmat is colourful and bright to stimulate your baby.
Age range - Your choice will have to be age appropriate for your little one so check the packaging.
There are many types of baby playmats, but choose a flat one because it's better for your baby's back. Also, you need to look for one that gives you space to hang many types of toys with different textures, sounds, colours, and shapes not only above your baby's head but in all their surroundings.
Playmat: Some gyms have much bigger playmats than others, so think about how much floor space you have available, but also how big and active your baby is. Dribbles and leaks are unavoidable, so a detachable, machine-washable mat is essential.
Baby-safe mirror: A mirror is a must – looking at themself will encourage your baby's face-recognition skills and boost their social and emotional development. Add one to the gym yourself if it doesn't already have one.
Toy arch: Opt for a lot of variety when it comes to sensory toys to hold your baby's interest as they get older. Black-and-white patterns might delight a newborn but not a four-month-old.
Musical features: Babies love music, but check you can turn this function off because the tunes will eventually get on your nerves!
Extra toys: Some gyms are designed to allow you to attach other toys to the hanging bar to keep your baby's interest. If your tot is inquisitive or easily bored, this is a great option.
Sensory activities: Many gyms have different sensory elements for your baby to explore, from peek-a-boo flaps, which can help boost fine motor skills, to crinkly-textured toys. When you're comparing gyms, think about whether the features will stimulate different senses.
Tummy-time pillow: Time spent lying on their front every day is important to help your baby strengthen the muscles they'll eventually use for sitting, crawling, and walking. Tummy-time features, or a dedicated pillow for extra support, are useful.
Do you need a baby play gym or activity mat?
When it comes to must-have baby gear, a baby gym isn't up there with a car seat or pushchair, but life is much easier with one. Having somewhere to put down your baby when you need to sign for a parcel from the postie or nip to the loo is so handy – and they'll be safe, comfy, and entertained! They'll benefit physically and cognitively from having interesting things to focus on as their sight and colour recognition develops, and they'll love kicking and batting at the toys overhead. A baby gym is also brilliant for helping tire out an active baby!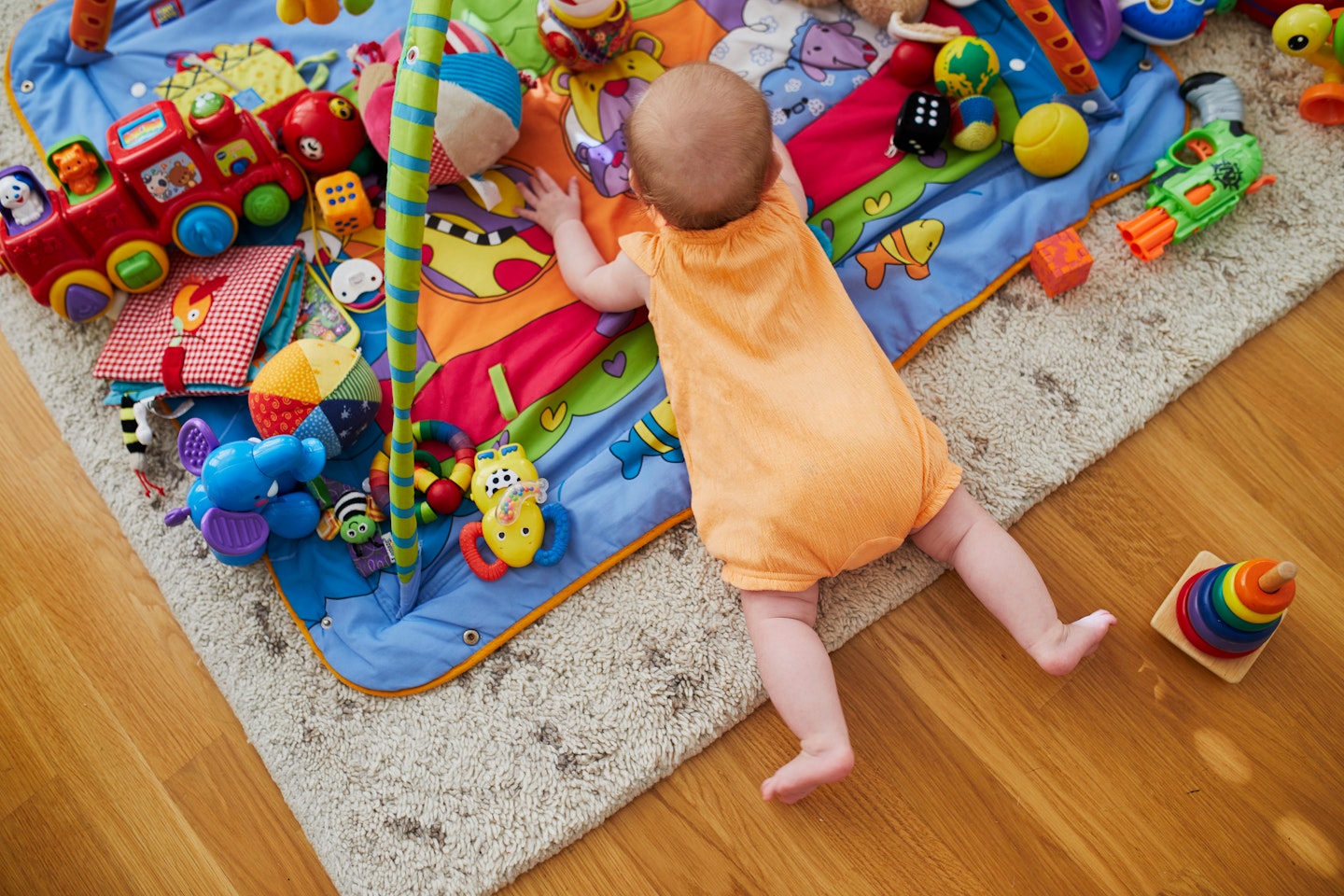 Why are playmats good for babies?
Learning about 'cause and effect' - Activity mats can help your baby from when they are firstborn. At around six weeks, they will help your baby start to develop 'cause and effect' as they realise if they push the toys on the hanging mobile, they will move.
Developing your baby's vision - Your baby is born with pretty blurred vision, meaning they can only see a few inches in front of their face. As they grow, they'll start to take an interest in different shapes and colours, which means most playmats are designed with a variety of bright, eye-catching toys for your baby to focus on.
Developing grasping skills - You'll already have noticed your baby's grasping skills - reflexively grabbing onto anything in their palms. As your baby grows up, you'll notice your little one reaching and grasping at the toys hanging on the mobile, even if they aren't interested in them when you first introduce the mat.
Developing self-awareness - Another feature you'll spot on a lot of play gyms on this list is a small mirror. Your baby probably won't notice themself in the mirror until they're around four months old when you might notice them starting to reach up at it. As they grow, your baby will interact more with their reflection in the mirror, making faces and smiling at themself.
Developing motor skills - Stimulating toys from activity gyms are great for your baby's development but also for use during tummy time. You should always use a playmat or blanket for tummy time, not a sofa or raised surface. Tummy time is important for helping your baby develop those all-important fine motor skills. Lie with your baby and encourage them to look up at you or the toys hanging over the mat.
Modern or traditional?
Baby gyms can completely divide parents. Some love the more minimalist, modern-looking gyms, while others felt they got much more bang for their buck from those with more interactive features. But even babies of the most discerning, style-conscious mums find it hard to resist noisy toys and flashing lights! Do consider your baby's personality as well as your preferences – a more sensitive baby might find a bright and busy gym too stimulating and might play for longer with one that has a simpler design.
Do you need it to fold away?
You'll use a baby gym several times a day for about six months, so choose one that you'll be happy to keep assembled while it's in regular use or that you can easily pop away. If you're short on space or prefer to reclaim the living room when your baby goes to bed, a gym that folds away quickly and isn't fiddly to set up again the next day is useful. Factor in whether you're likely to pop it in the car and take it with you when you're visiting the grandparents, too.
Why trust us?
Mother&Baby product recommendations are independent and based on a combination of real-world testing from our army of mum testers and the expertise of our experienced editorial team and product specialists. Whilst we may receive a commission for purchases made through our links, we never allow this to influence product selections. Any revenue earned helps us to fund more great content like this. Want to know more about how we work? Click here to read about our process and why you can trust our product picks.
Emily Gilbert is a Digital Writer for Mother&Baby and had written for the website and previously the magazine for six years. Specialising in product reviews, Emily is the first to know about all the exciting new releases in the parenting industry.