If you're going somewhere with your baby and expect high noise levels, such as a fireworks display or where there's a lot of construction noise, it's wise to invest in a pair of the best baby ear defenders for your baby's comfort and safety.
We take precautions to protect little ones from the sunlight, so why not protect their ears from loud sounds? Even as adults, extreme noise can be really uncomfortable, so you don't want your little one getting scared or upset or even experience ear damage by loud noises.
Best baby ear defenders 2023 shortlist:
• Best overall baby ear defender: Alpine Muffy Baby Ear Protection
• Best compact baby ear defender: Ems 4 Kids Ear Defender
Children with sensory processing disorders or autism might also prefer to wear ear defenders when in busy environments.
It's important to remember when buying baby ear defenders, is that you choose the right fit. Ear defenders for babies need to be designed specifically for them – you can't use adult earplugs or any other ear protection designed for adults.
Your children also need to be able to move their heads when using them without the protectors slipping or falling off. You also want to make sure that they don't put too much pressure on their heads.
The Best Baby Ear Defenders 2023
Before using baby ear defenders and protectors, make sure you read all the instructions and recommendations and bear in mind that most of these products are not supposed to be used for long periods of time.
Best overall baby ear defenders
Description
​The Alpine Muffy baby ear defenders are designed not to put any pressure on baby's head; they're
Pros
No pressure on fontanelle
Comfortable
Adjustable and easy to fit
Includes a carry bag
Cons
They're described as anti-slip, but some parents found they didn't always stay in place
Best snug-fitting ear defenders
Description
Whether you're attending a family party with fireworks or taking your mini-me to their first
Pros
Easy to clean
Sturdy and robust
Choice of fun colours and designs
Cons
Could be more lightweight
Best long-lasting baby ear defenders
Description
Perfect for any noisy environment, the Snug Kids ear defenders will keep your little one's ears
Pros
Padded ear cup and headband
Adjustable headband
Foldable
Best baby ear defenders for on-the-go
Description
Reducing sound by up to 45 decibels, these ear protectors are great for loud events or
Pros
Good sound reduction
Compact design
Velcro headband fastening
Cons
Can slip down with little movers
Best eco-friendly baby ear defenders
Description
These Iwinna Baby ear defenders are soft and lightweight, making them great for young, sensitive
Pros
Lightweight and soft
Adjustable
Best ear defenders for crowd visibility
Description
Coming in two brightly coloured designs, the 3M Peltor ear defenders are durable and well-made,
Pros
Soft and comfortable on the ears
High-vis colour for better visibility in crowds
Good noise reduction
Cons
Some parents weren't fans of the bare wire
Best baby ear defender for adjustability
Description
Adjustable and with comfortable padding on the headband, these should provide a comfy fit for
Pros
Lightweight
Zero-pressure headband
Adjustable
Cons
Some little ones might find them difficult to sleep with
Best baby ear defenders for longevity
Description
Available in seven colourful designs, the flexible headband of these Zohan Kids ear defenders
Pros
Great value
Long-lasting
Carry bag included
Cons
Described as having Active Noise Cancelling - they won't block out noise, but they will reduce it
Best compact baby ear defender
Description
Described as the 'original baby ear defenders', these will provide support and protection -
Pros
Compact
Lightweight
Comfy and soft
Easily adjustable
Easy to wash
Cons
More for babies than toddlers
Best baby ear defenders: All you need to know
Choosing the right ear defenders for your baby
When buying ear defenders for your baby, there are many factors that you need to consider before purchasing. Ensuring that they are the right size and weight to sit comfortably on your baby's head is incredibly important, and also factoring in whether the material will be comfortable.
Padded ear defenders will be a lot more comfortable than ones without padding and also be gentle on their little ears and soft spot.
Another thing to consider is ease of transport. You already have lots of things to take on the go with you in your baby changing bag, so consider how easy the baby ear defenders are to store - bonus points if it comes with a case!
What level of noise is too loud for a baby?
Your baby is more sensitive to loud noises compared to you because their ear canal is smaller, so the sound pressure that is generated in the ears is much more. If you're travelling by plane with your baby, it would be worth investing in some ear defenders.
Even toys that make loud sounds might be too loud for babies as they play with them closer to their heads. It's important to check noise levels from toys before your child plays with it.
When do babies need ear defenders?
There are many environments where your baby might need to use ear defenders, in particular, fireworks displays at festivals and some parties where loud music is playing.
Even if you don't anticipate a place having loud noises, it's good practice to keep a pair in your baby changing bag just in case.
Digital Editor Maria Martin's son Parker in his ear defenders: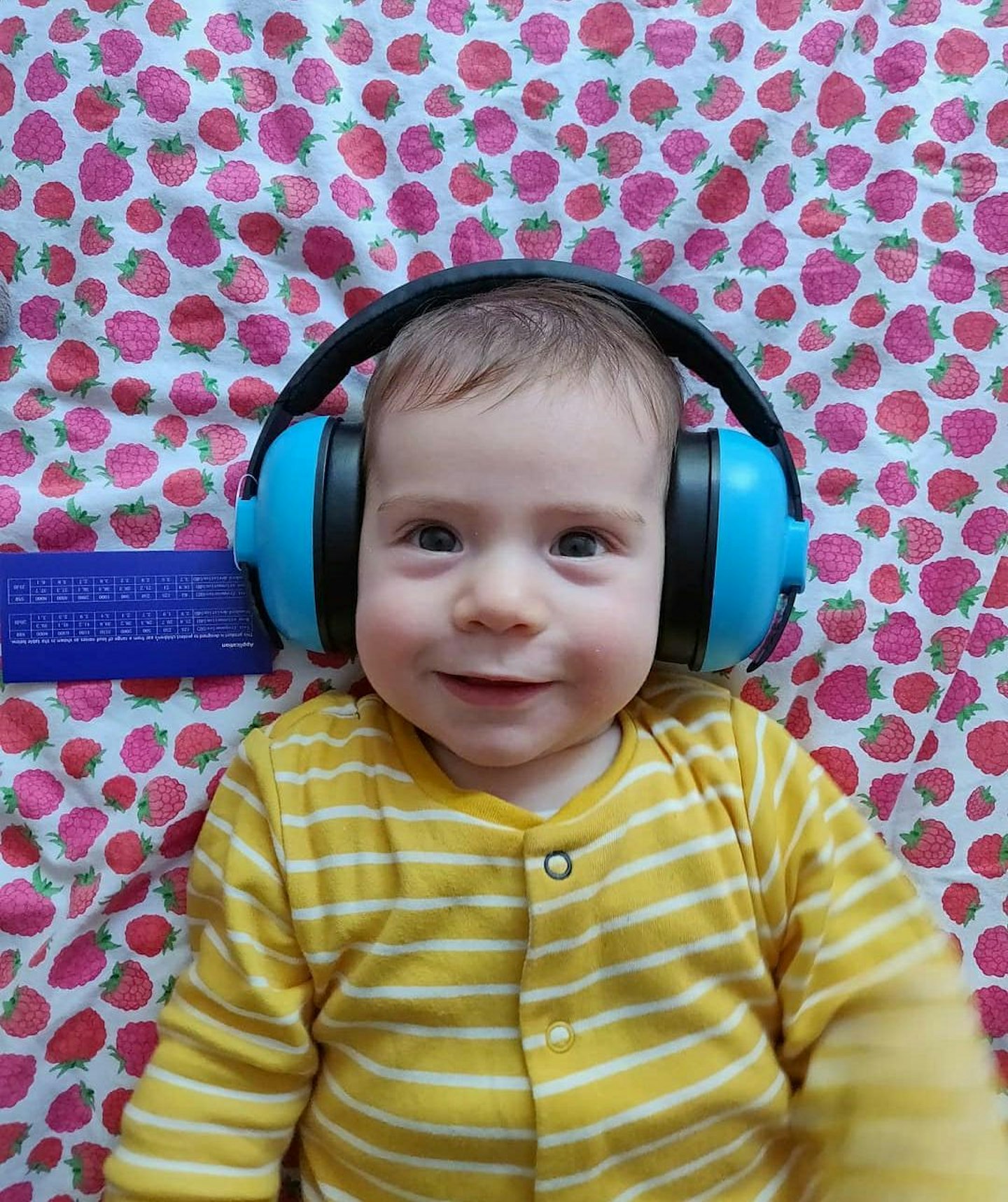 Can babies go deaf from loud noises?
According to babyhearing.org, "noises softer than 80 dB will not damage hearing unless the exposure lasts for several hours."
Samantha Ball is a Product & Lifestyle Writer for Mother&Baby and freelanced for the website for two years before joining the team full time. She's a mum of two and loves browsing for the best products and cute outfits.