Any parent will know that you can never have too many baby muslin cloths, and it's understandable why you might want the best baby muslins for your little one. If you're not familiar with a muslin square yet, it's basically a small square cloth usually made from cotton, and it's an essential baby item you'll need plenty of.
The reason us mums can't get enough of them is because you can use them in so many different ways. From burping cloths to bibs, to a coverup when breastfeeding, for swaddling, a blanket, playing peek-a-boo, something to suck when teething, the list really can go on and on.
Editor's Choice:
• Best bamboo baby muslin cloths: BabyBamba Bamboo Muslin Blanket - buy here on Amazon.
• Best baby muslin cloths for using organic cotton: Bibs Muslin Cloth 2-Pack - buy here on Amazon.
• Best quality baby muslin cloths: Bloomsbury Mill 100% Organic Cotton Muslin Squares - buy here on Amazon.
• Best multipurpose baby muslin cloths: Cheeky Chompers 6 in 1 MultiMuslin - buy here on Amazon.
Since it's a given that your muslins will get covered in baby's sick, saliva and other fluids, muslins are often sold in multipacks as you'll probably get through a couple a day with a baby. We'd recommend having a few in your changing bag and some dotted around the house for those emergency moments.
The best baby muslins for 2023
Best colourful baby muslin cloths
Description
We like these adorable Bright Bots Unisex Combo multi-colour muslin squares that come in yellow,
Cons
Some reviewers wished they were more absorbent
Best animal design baby muslin cloths
Description
These LEBCO Animal Friends muslin squares are made from 70 per cent bamboo and 30 per cent cotton,
Cons
Some reviewers wished they were bigger
Best baby muslin cloths for gifting
Description
Sometimes you really can't go wrong with a supermarket bargain. Add to your everyday essentials
Pros
Made from pure cotton
Pack of 5
Cons
Could be a more unisex design
Best baby muslin cloths for softness
Description
You need aden + anais 100% Cotton Muslin Musy Squares in your life. Not only do they do the job
Pros
Super durable and made with premium fabric
Pack of 3
Cons
Some found them thinner than expected
Best bamboo baby muslin cloths
Description
This BabyBamba bamboo muslin blanket is made from 100 per cent bamboo, so you're saving the planet
Pros
Material has thermoregulating properties
Super soft fabric
Cons
Some mums found them too large
Best baby muslin cloths for using organic cotton
Description
Whether you use them as a burp cloth, a light summer blanket or as a cover on your changing mat,
Pros
Made from 100 per cent organic cotton
Pack of 2
Cons
Some reviewers expected them to be thicker
Best highly rated baby muslin cloths
Description
You get six muslins included for the price in this pack from Comfy Cubs Muslin Cloths for Baby
Cons
Could include a variety of colours per pack
Best baby muslin cloths for a more neutral colour palette
Description
Designed with practicality in mind, these GLLQUEN BABY Muslin Squares for Baby are easy to wash,
Pros
Gender-neutral design
Pack of 6
Cons
Some parents may prefer a more colourful design
Best baby muslin cloths multipack
Description
Your little one is sure to get through a lot of muslins throughout the day, so you'll be pleased
Pros
Great present for a newborn
Easy to wash and dry
Cons
Some parents may prefer a bigger size
Best quality baby muslin cloths
Description
These Bloomsbury Mill 100% Organic Cotton muslin squares come beautifully presented and tied
Pros
Made using organic cotton, so perfect for delicate skin
Pack of 6
Cons
Some reviewers wished they were bigger
Best multipurpose baby muslin cloths
Description
This Cheeky Chompers 6 in 1 MultiMuslin is more than just a muslin. It's a large triangle, as
Pros
Has six different uses
Comes with attachable teething rings
Cons
Some found it nearly too big
How to use a muslin cloth safely
You'll use a muslin when you are breast or bottle-feeding to wipe milk away from baby's mouth and clean up any spit-up. Given how often a newborn feeds (sometimes it feels like constantly), you'll need a lot of muslins.
You can use one on your changing mat and as a cover-up, while breastfeeding in public if you want. You can use a baby muslin to pat bottoms dry after changing nappies, to play peek-a-boo, at bath time as a washcloth or even as a towel, and also as a teething toy: they're great for chewing or sucking on.
Are muslin cloths safe?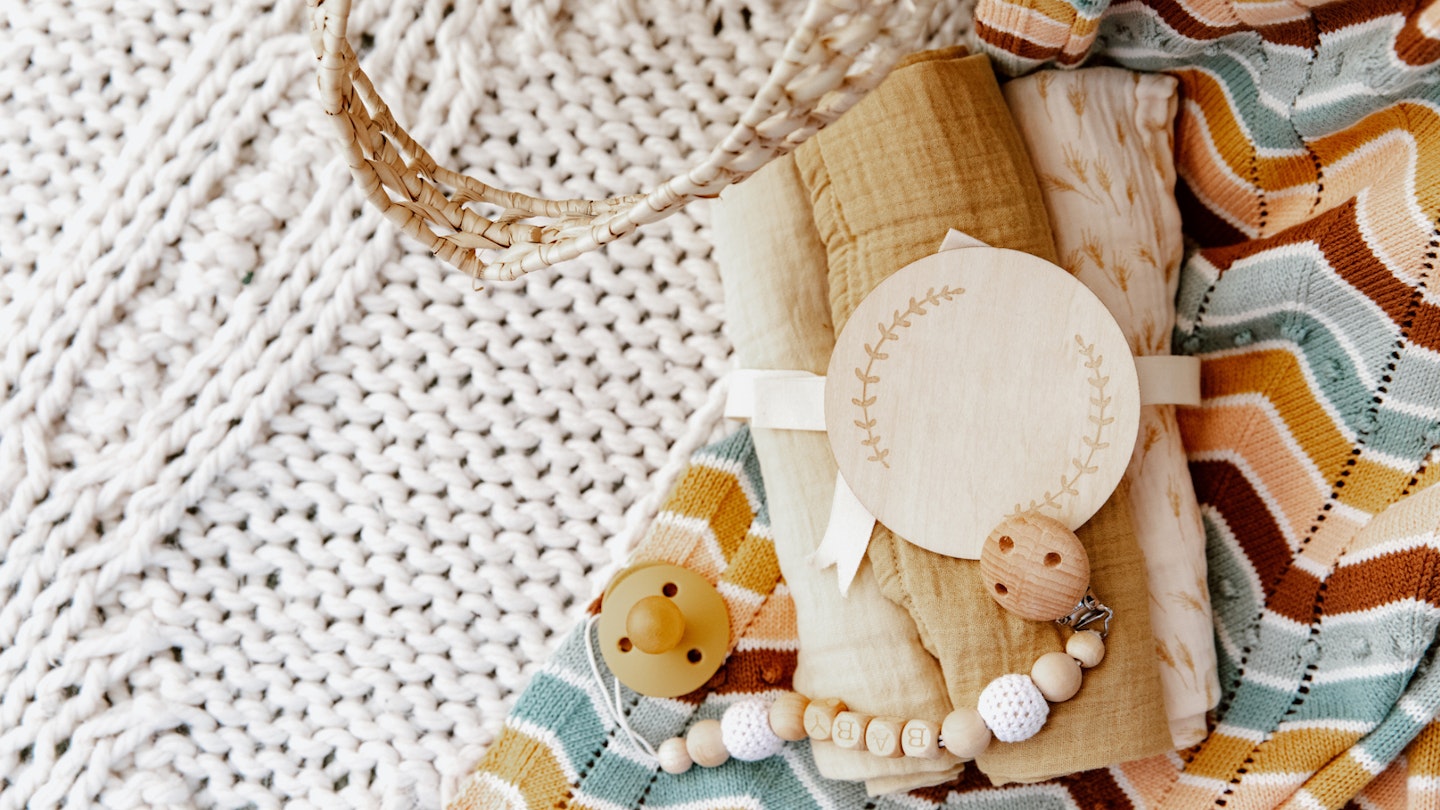 Muslins are also great to use to wrap or swaddle your baby, to replace a comforting toy, and when burping your baby. Just keep in mind the safety surrounding swaddling and leaving muslins in your baby's cot while they're sleeping. According to the Lullaby Trust, there are some important safety factors to keep in mind.
"If you decide to adopt swaddling, this should be done for each day and night time sleep as part of a regular routine; use thin materials, do not swaddle above the shoulders, never put a swaddled baby to sleep on their front, do not swaddle too tight, check the baby's temperature to ensure they do not get too hot."
In order to avoid the risk of SIDS, it's a good idea not to keep any unnecessary items in your baby's cot. 'We recommend babies sleep in cots or Moses baskets that are kept as clear as possible. We specifically advise no pillows or duvets, no cot bumpers, no soft toys, no loose bedding, and no products (such as wedges or straps) that will keep your baby in one sleeping position.' Says the Lullaby Trust.
The NHS doesn't recommend using any spare piece of fabric on your unattended baby. This is to avoid suffocation, however, under supervision, a baby muslin is a must-have baby essential.
How many muslins do you need for a baby?
The amount of times you find yourself grabbing a muslin cloth can vary depending on your baby. If they suffer from reflux or are regularly sick, then you'll probably find yourself needing more. To put a figure on it, you might want to start with around 5-10 muslins and purchase more if you find you're always running out when they're in the washing.
As you can see from the products we've featured, the majority of muslin squares come in multipacks, so you may just want to add two packs of baby muslins to your baby shopping list.
Do I need to wash baby muslins before use?
Although many modern muslins are made using natural and organic fibres where they've not come into contact with chemicals or pesticides, some cloths have come into contact with nasties during the production process. Either way, we'd recommend giving your muslin squares a was before your baby arrives and drying them outdoors if possible. This will mean that any harmful chemicals that may have come into contact with the muslin is washed out before coming into contact with baby.
How to wash baby muslins
If you're currently prepping for the arrival of your little one and popping all their baby grows and clothes into the wash, ready to be worn, you might want to toss the muslin squares in, too, for a wash before using them.
Muslin squares can be washed in the washing machine with the rest of your baby's clothes. Just be sure to fasten up any buttons and zips to avoid them catching on the cloth, and don't wash with Velcro items. Wash them below 40 to avoid shrinking and tumble dry on a low setting. In terms of detergent, it's up to you, but it's a good idea to go for a gentle baby washing powder that will be gentle and kind to your baby's delicate skin.
Other muslin cloth uses
Not only are muslin squares brilliant when it comes to burping, nursing, using as a baby swaddle blanket, sun shading... the list goes on, but they can also come in handy for loads of other things.
Looking for a new facial exfoliator? A damp muslin cloth will work the same, especially when exfoliating dry skin from your lips.
If you love to make homemade jams and marmalades, you can use a muslin square to strain the mixture. Removing any lumps or seeds to leave you with a tasty, smooth spread.
There's nothing worse than getting little lemon pips in your food when cooking, so a good solution is to wrap your lemon wedge in a muslin cloth before squeezing the juice out - you'll still get the lovely lemon flavour, minus the pips.
For an alternative gift wrap, you could use a muslin cloth to gift wrap some presents. Add a colourful ribbon or bow for a chic-looking gift.
Got a blocked nose? Dab some airway-clearing oils to a muslin cloth and sleep with it under your pillow at night.
You can never have too many dusters. Add your old and unwanted muslin cloths to the under-the-sink cupboard collection.
Emily Gilbert has been a journalist since 2015 and has worked across a variety of specialist and lifestyle brands both in print and online, including four years on Mother&Baby magazine where she was Senior Writer and wrote news, product pages, features and interviewed celebrities such as Paloma Faith and Fearne Cotton.