You can't beat spending time outdoors as a family, so when the weather's nice, why not make the most of it with a toddler picnic table? You can experience all the joys of a fun picnic at the park with a nice picnic blanket but from the comfort of your own home, so there's no need to get them out of their pyjamas or coax them into putting on their shoes, as you'll hardly have to step foot out of the door. Result!
Picnic tables also double up as activity tables and provide an ideal space to play outside and do activities that may be too messy to do indoors. Plus, once the fun is over they can enjoy eating their lunch or some snacks in the garden before they come in for nap time.
Editor's choice:
•Best plastic picnic table: Little Tikes Picnic Table•Best picnic table with cushions: KidKraft Wooden Garden Table and Bench set
•Best for messy play: TP Splash And Play Wooden Picnic Table
•Best picnic table with umbrella: COSTWAY Kids Picnic Table
So, if you're looking for some outdoor furniture for your little ones use in the garden, we've rounded up some of the best picnic tables for kids. There's such a variety to choose from, including small two-seater options to large wooden benches and even picnic tables with umbrellas; check them out below.
The best toddler picnic tables 2023
Best for activities
Description
This picnic table has two sections: one for sand and the other for water. We love that it comes
Pros
Rounded corners
Easy to assemble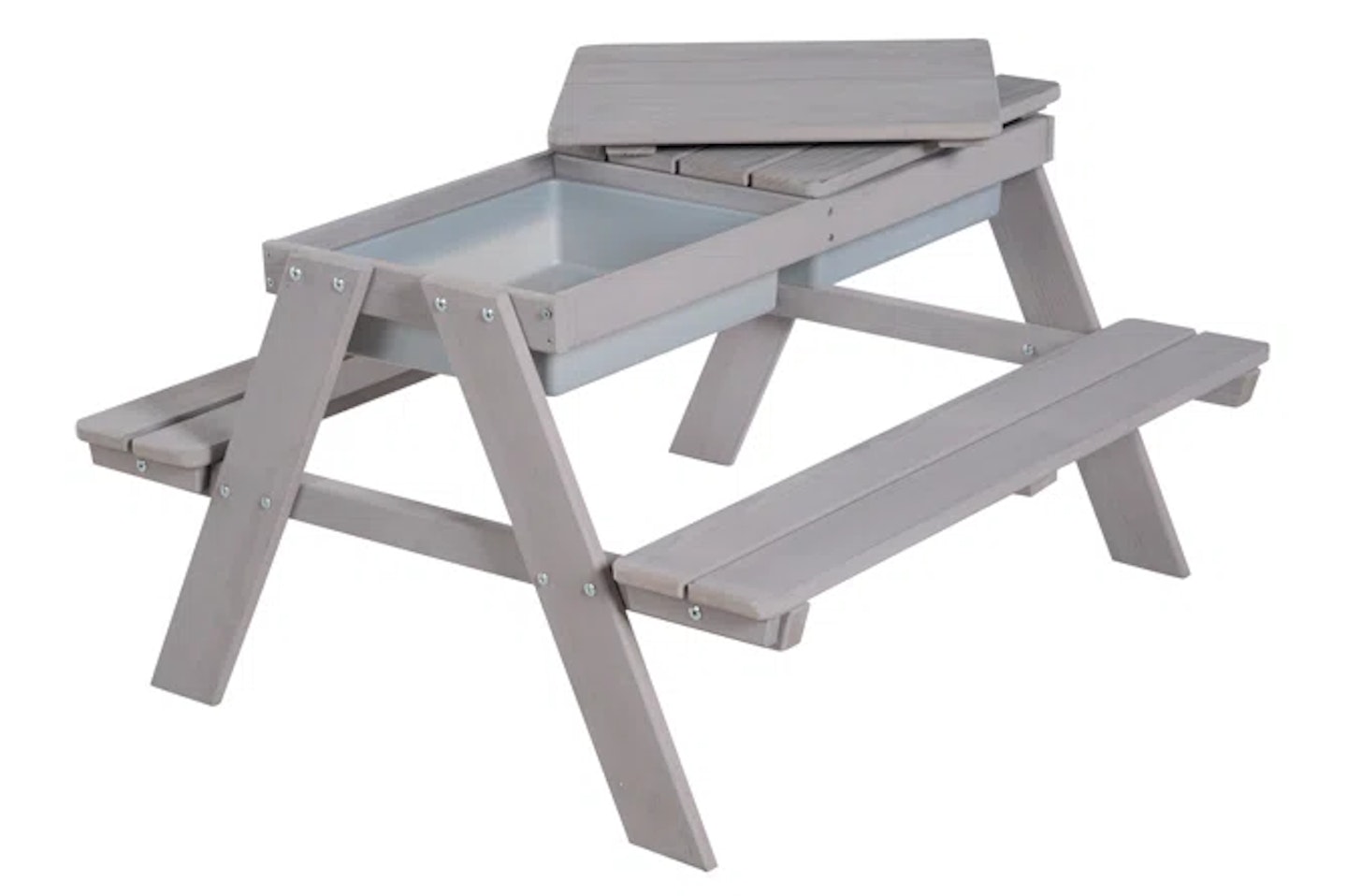 Best plastic picnic table
Description
Little Tikes have created a durable table that can be used both indoors and out. Made from
Pros
Easy to manoeuvre
No sharp edges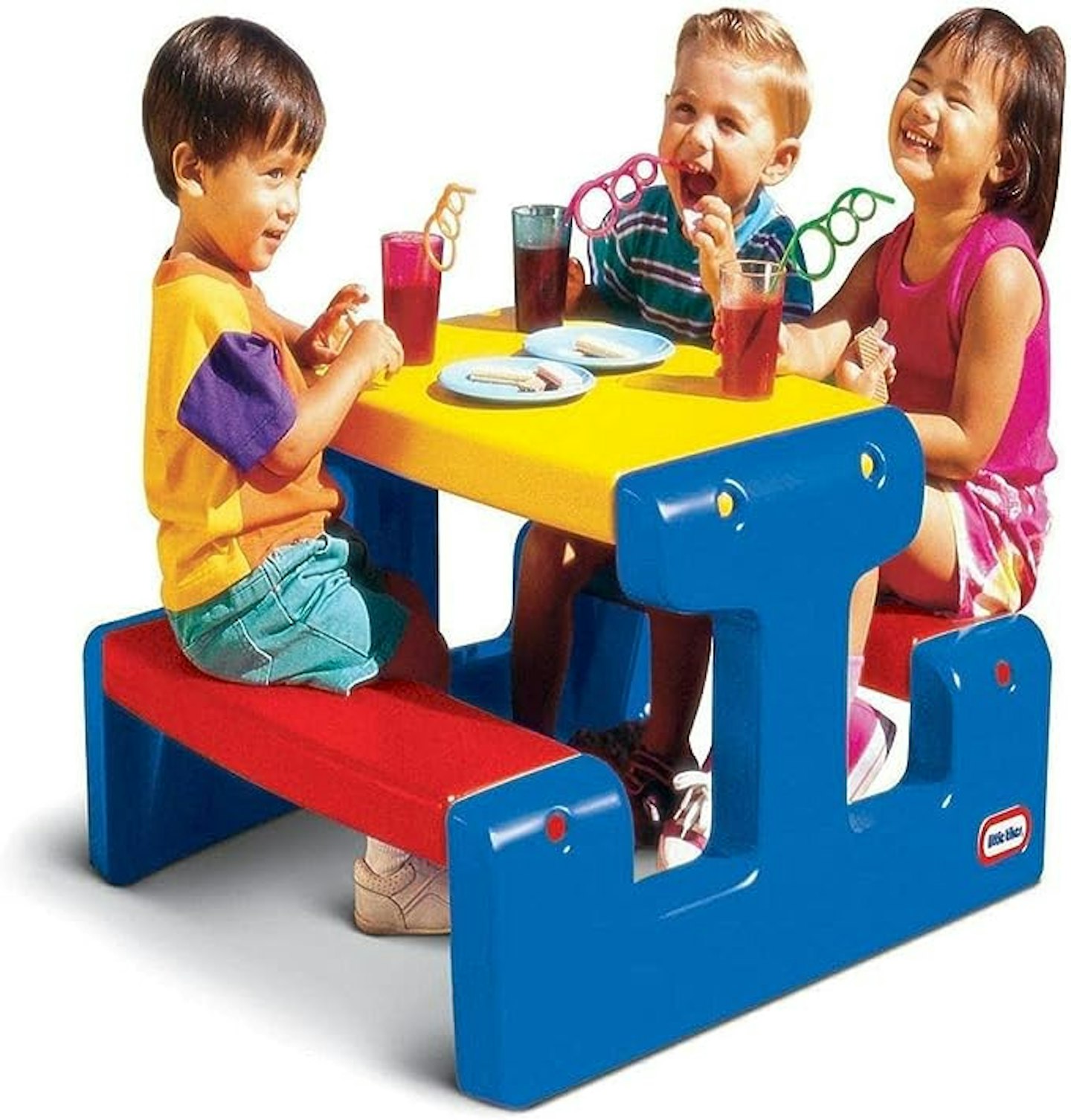 Best Picnic table with cushions
Description
Plastic chairs and tables may be practical, but they're not the most aesthetically pleasing
Pros
Stained wood for durability
Cushions attach to the seat, preventing slips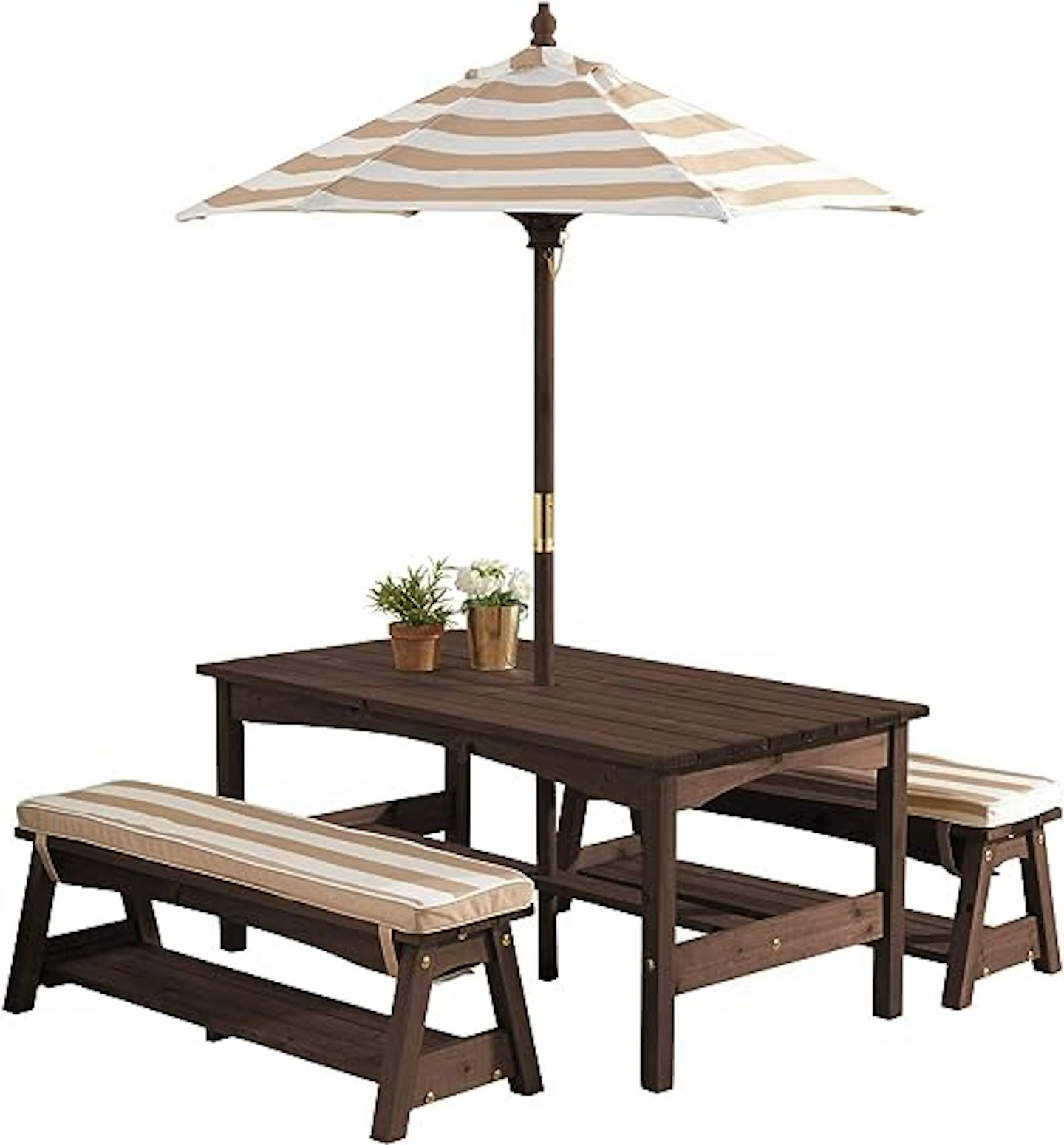 Best for messy play
Description
Perfect for sensory play, this table from TP is loved by parents and toddlers alike as it comes
Pros
Sand tray

Recycles water - no need to refill
Cons
Only fits one to two kids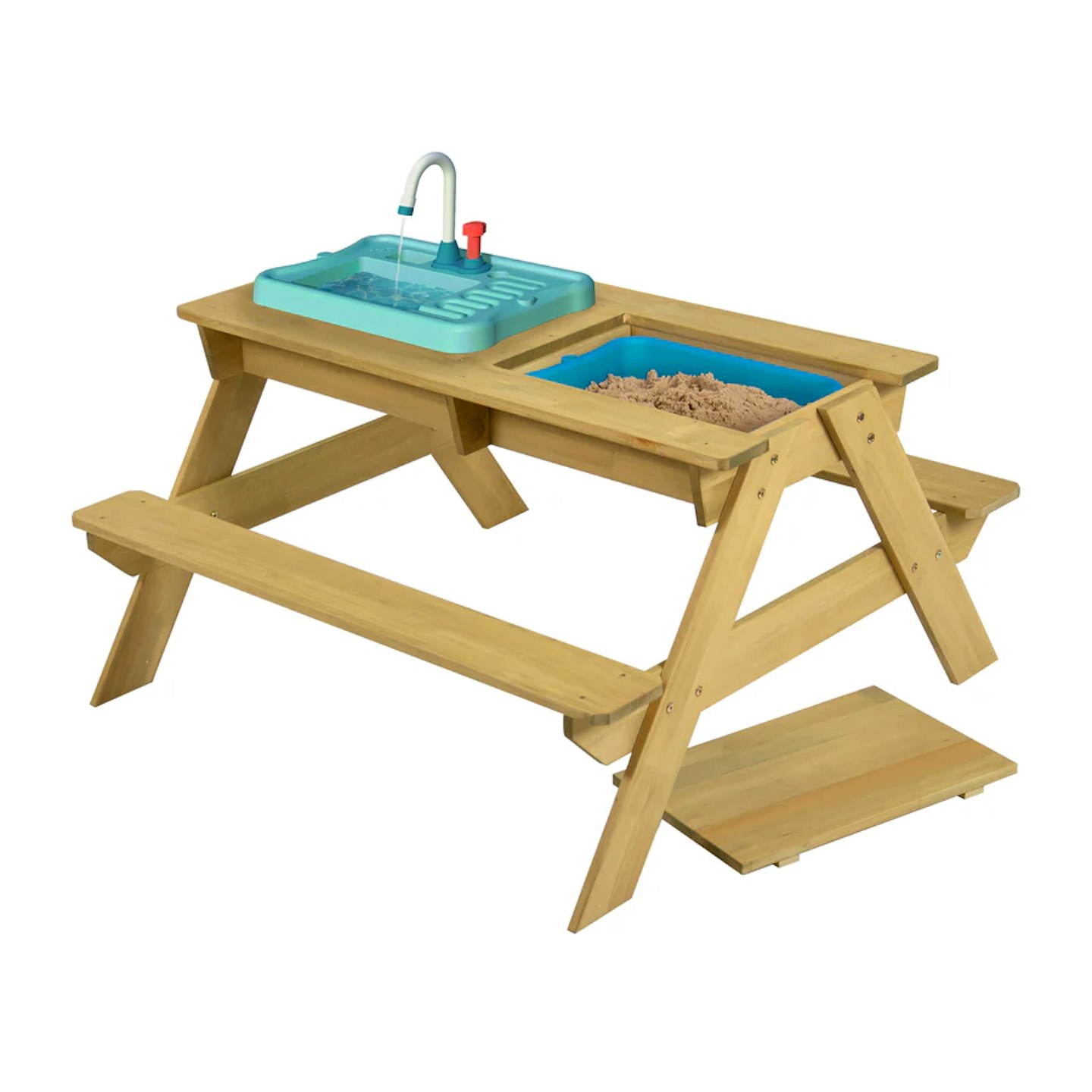 Best picnic table with umbrella
Description
Brighten up any outdoor area with this fabulous rainbow table. It comes with a matching umbrella
Pros
Reinforced screws
Umbrella is waterproof and blocks UV rays
Cons
Some reviewers say it may be a little wobbly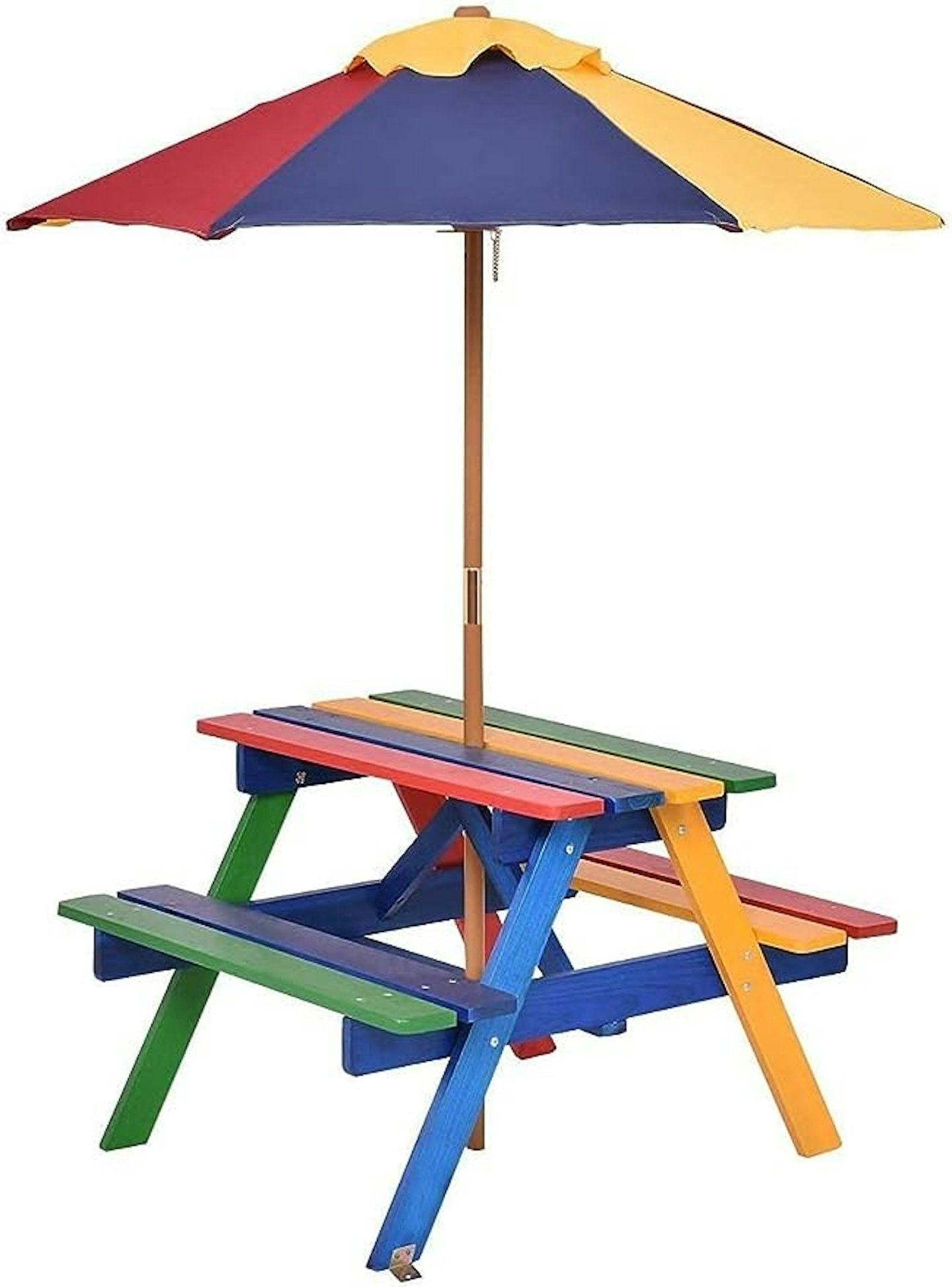 Best wooden picnic table
Description
Now, this may look like your average picnic table, but hidden away inside is actually a sandpit
Pros
Lid has handles for easy lifting
Cons
Raw wood, so may need to satin it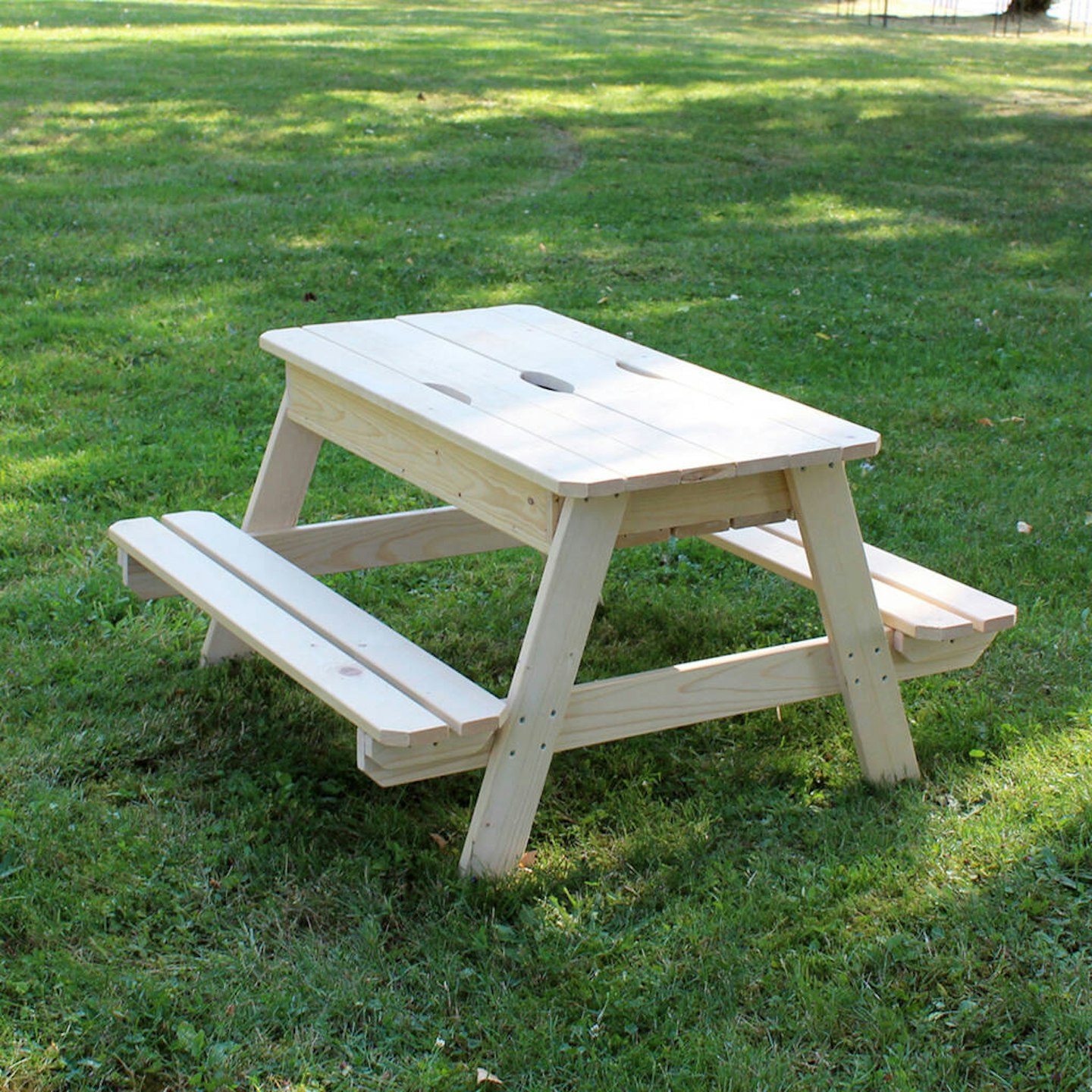 Best multipurpose option
Description
If you've got a small garden but you still want to create a special place for your little one to
Pros
Compact size
Indoor kitchen/grill so they can pretend to cook food
Cons
Can only sit two kids at a time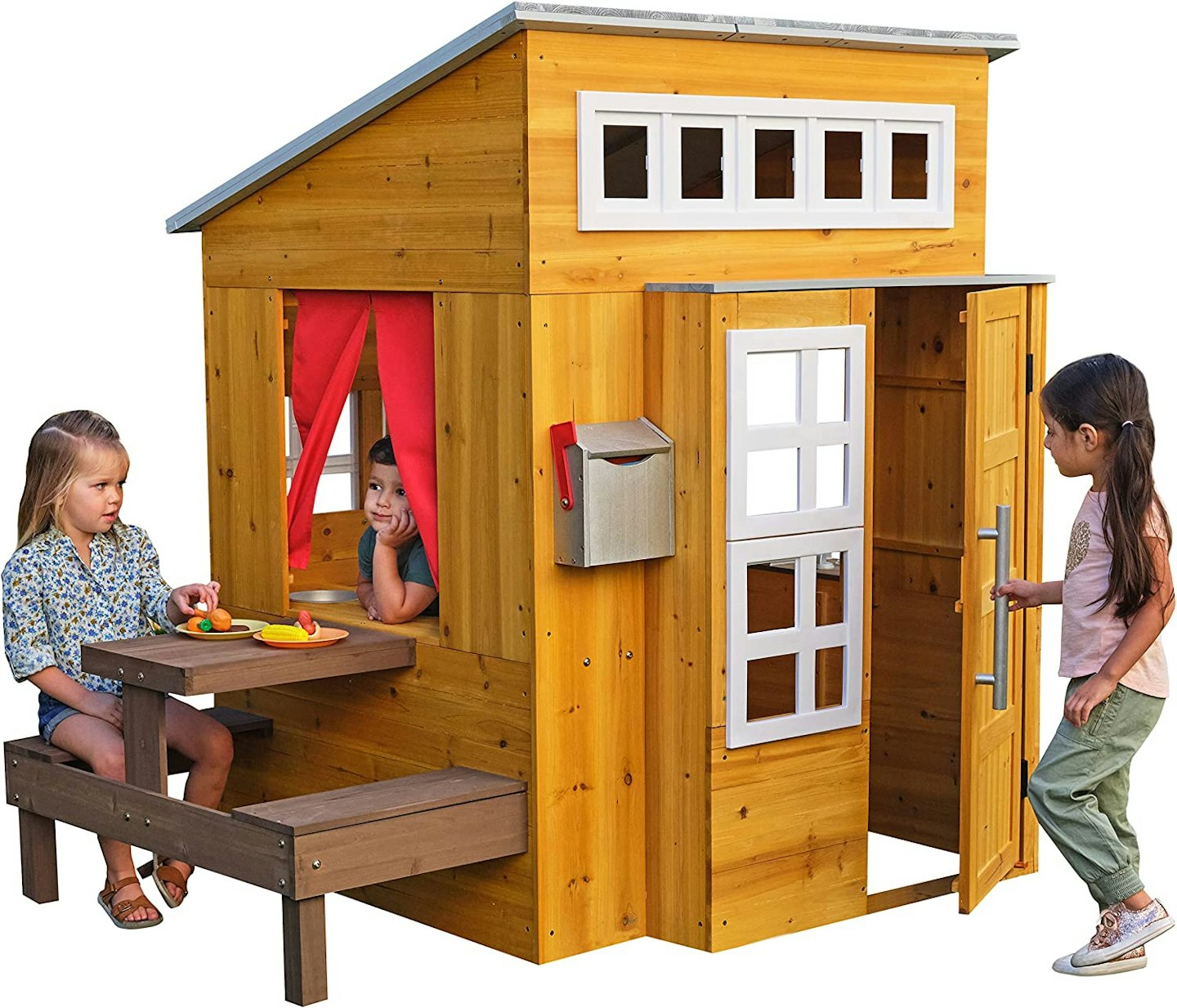 Things to consider when buying a toddler picnic table
Size - When buying a picnic table, you'll need to check how big it is to make sure that it will fit into its designated space. It may be worth measuring the area you want to put it in beforehand, particularly if you have a small garden. It's also a good idea to picture how many children it will realistically seat if your toddler has siblings or has lots of play dates.
Material - You can't go wrong with a classic wooden picnic table. They are durable and sturdy, plus they're more eco-friendly as well. However, if you'd like something that's easier to manoeuvre or wipe clean, a plastic picnic table is a great option. They're often cheaper too.
Accessories - Many picnic tables for kids come with extra items such as umbrellas, parasols and cushions. Some options even have built-in water trays and sandpits with covers, making them excellent activity tables.
Toddler picnic food ideas
Once you've ordered your new picnic bench, it's time to think of all the delicious meals they will enjoy eating on it. There are plenty of picnic foods the whole family can enjoy, from your basic crisps and sandwiches to delicious savoury muffins, fruit and vegetable sticks.
If you have a picky eater, you may want to let them help you to choose what picnic foods they'd like to eat. Perhaps you could write a list and go food shopping together, then they could help you to prepare the items. Why not host a teddy bear's picnic with a couple of toys or some of their friends?
Arabella Horspool is a Commercial Content Writer for Mother&Baby at Bauer Media. She's a bookworm who enjoys cooking and spending time with her many pets.