The Aptica System Quattro from award-winning Italian brand Inglesina is one for the stylish and adventurous parents out there who want a little bit of luxury as well as practicality. The travel system has been designed to ensure baby's sleep, comfort, and wellness all year round and has plenty of well-thought-out features to make getting out and about easy and enjoyable.
The Aptica System Quattro travel system is so much more than just a way to transport your little one. It has been designed as a perfect environment where your baby will spend many hours and moments. This includes a removable Comfort Cover that protects your baby from the cold in winter and breathable mesh that promotes proper temperature regulation in the summer months.
A special shout-out goes to the special ergonomic support welcome pad designed in collaboration with a team of neonatal paediatricians. The new lay-flat Darwin Infant Decline car seat also allows your little one's back and legs to be aligned in an almost full supine position, meaning you don't need to worry about how long your little one spends their car seat.
The travel system includes:
• Carrycot and stand support for carrycot and car seat
• Chassis
• Stroller seat and footmuff
• Darwin Recline car seat with 360°base
• Welcome pad and mattress
• Storage basket
• Cup holder
Pros
Stylish and high-quality
Quick one-hand fold
Suitable for overnight sleeping
The car seat allows the almost full supine position
Suitable for use all year round thanks to the removable Comfort Cover, UPF 50 hood, and breathable fabric
Lighter than previous models
Raincovers included
Cons
The carrycot is large, so you will need the room in your house to store it all
Overview
The newly designed Aptica travel system is 1.5kg lighter and folds down 4cm smaller than its predecessor – making it a great option for those who don't want a bulky pram that is tricky to lift and store away. The wheels have also improved so they are much sturdier and stronger. The complete travel system now comes with a lie-flat car seat and a 360° swivel base. It is a solid investment that will take your little one right through until four years of age. It is priced at the higher end of travel systems at £1,595 and compares to the Mamas and Papas Ocarro Complete travel system.
Assembly
Due to the luxury design and the many components that are included in the Apicta travel system, it would be easy to assume that the assembly would be tricky. How wrong was I? The entire travel system was delivered in four boxes and once you open them up, you soon realise that building this pram is simple and almost faultless. The only component you have to really build is the stand, but that is super simple and you probably won't have to take it apart ever again as it folds down small.
Inglesina is also thinking about how much packaging it uses and has reduced how much it uses as part of its plan to become more eco-friendly. The leatherette on the handles, for example, is cactus-based vegan leather.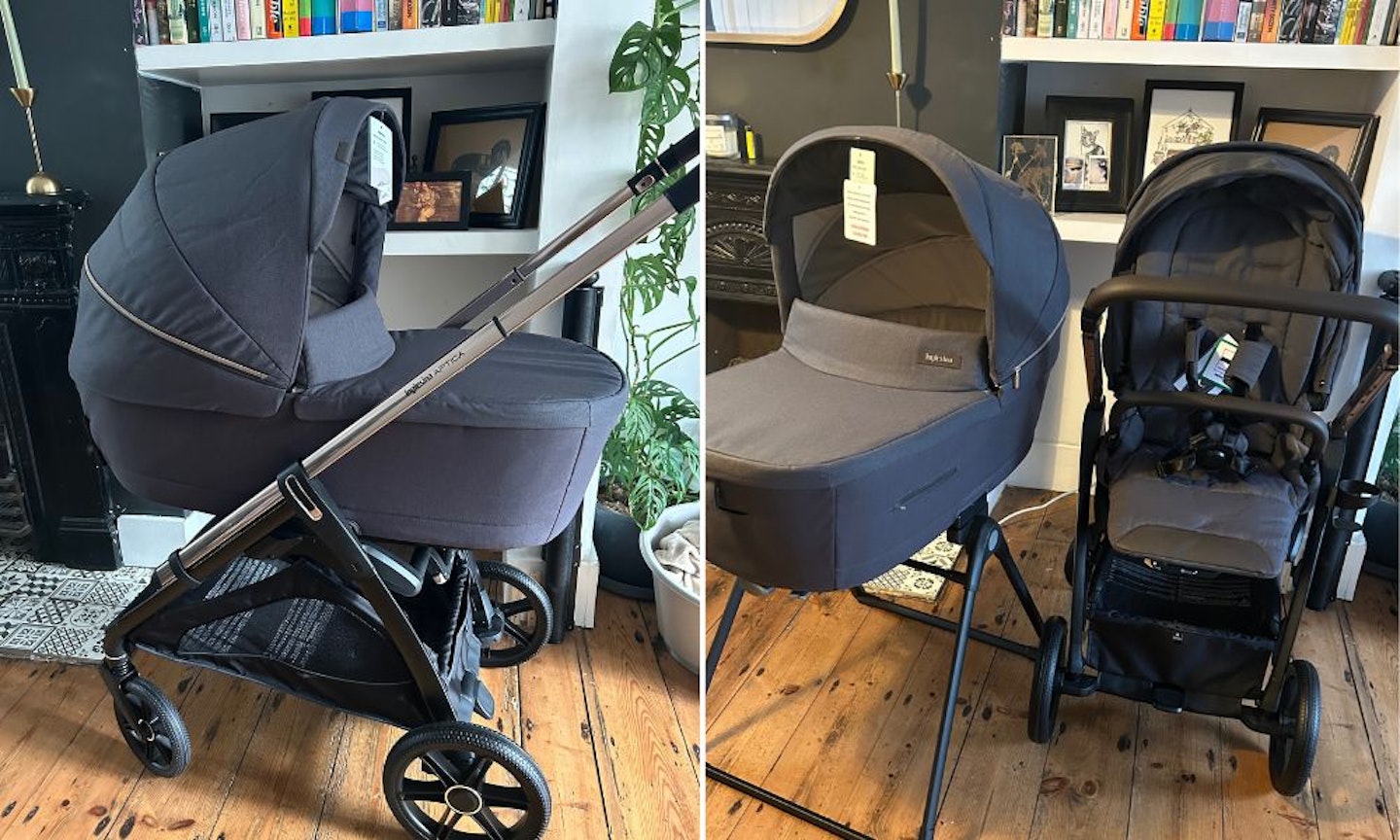 Design and build
When you first lay eyes on the Aptica System Quattro, it is apparent that it has been designed and created with quality front of mind. It really is a thing of luxury, from the all-terrain suspension and strong and sturdy wheels to an easy one-hand fold, it is ideal for parents who are looking for the best for baby without compromising on style. The fabric feels and looks of the highest quality and I love the new chrome details and leatherette handles.
One tester commented on the faultless design, admitting that "it makes life easier in many ways". Having the stand as part of the travel system means there is no need to buy a next-to-me cot, the baby can sleep in the carrycot from birth for long periods, and the car seat can also be attached to it. A special shout-out to how simple it is to slot each element onto the chassis and the stand, you just line everything up, push down and wait for the click. Same with the car seat, it really does become second nature. The car seat also has a 'traffic light system' of red and green, so it stops you from making a mistake - it won't appear green until you fit it safely.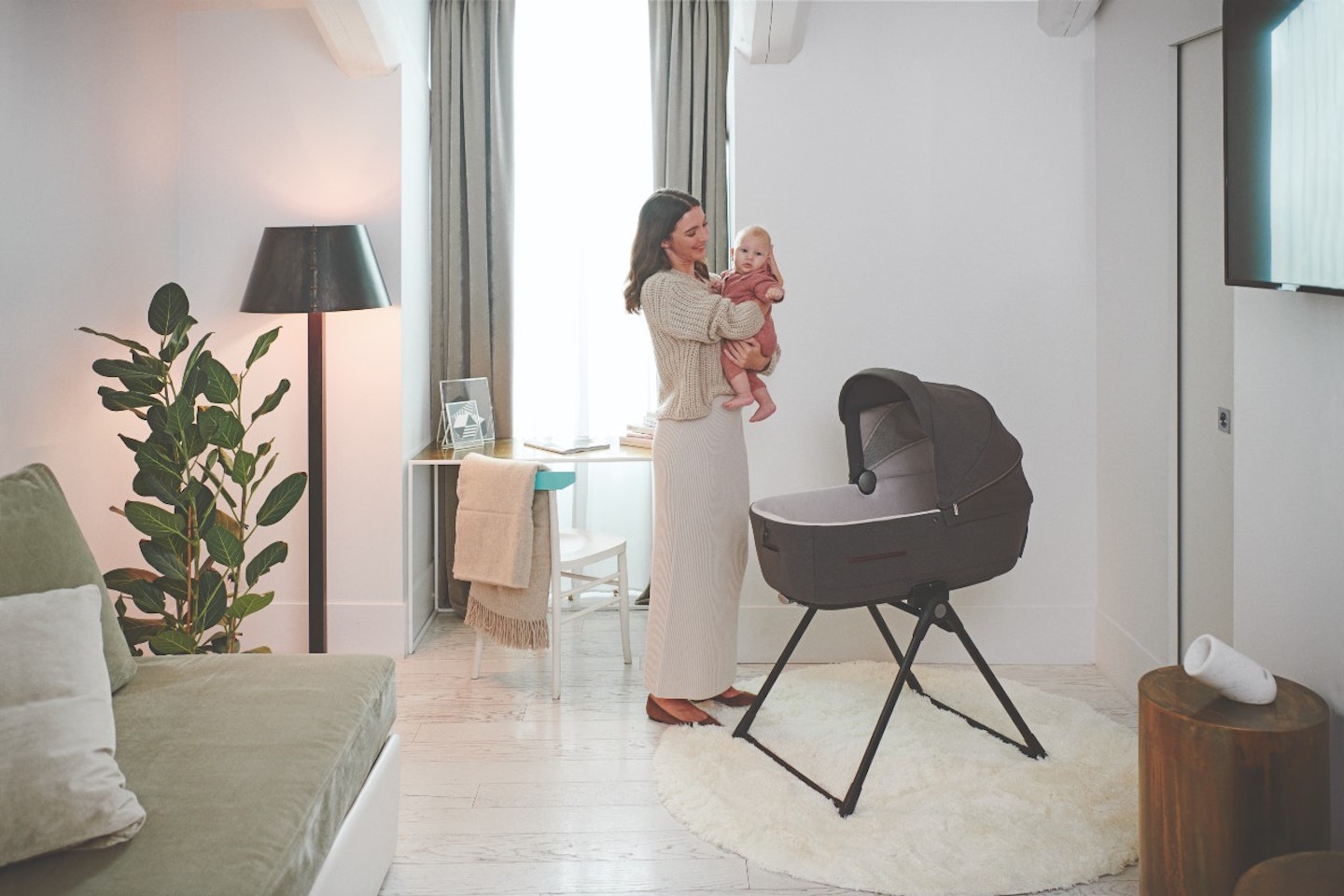 The Apicta is also incredibly easy to fold, with the chassis itself folding by pushing a button and pulling a lever under where the seat fits. You can easily do this with one hand. To unfold, you have to press a button on the side and lift the handle. One tester did comment that while it is a piece of cake, it is a little simpler to fold than to unfold. It is worth noting that the new Aptica is now lighter than previous models and the stroller seat and chassis fold down together too.
Many reviews of Inglesina have mentioned that their products are on the larger side than some on the market, with one mum admitting that the pram is bulky, especially the carrycot that has been designed to ensure your little one has all the space they need thanks to it doubling up as a bedside cot, moses basket or even a travel cot. They also added that transporting the chassis and carrycot in a small car may be a tricky task. However, if you have the space, it really will be a luxurious ride for your little one, with many testers commenting on how happy their baby was when inside and how well they slept - even indoors at home. When it comes to buying a pram, practicality and storage are important, but so is your little one's comfort.
Performance
If you have chosen the Aptica as your first pram, the thought that has gone into the first year of your little one's life is incredible. Inglesina truly believes in ensuring comfort for your little one and thinks that during the first few months, a baby should remain in the supine position, free to stretch, slumber, and explore, without being confined to narrow spaces that limit their movements and prevent muscle relaxation.
The Apicta carrycot comes with the Welcome Pad®, a support designed in collaboration with a team of neonatologist paediatricians in compliance with the latest scientific guidelines in terms of well-being and safety. The carrycot also reclines up so your little one can see the world and be more comfortable if they are suffering from colic.
It is incredibly easy to push, in fact, it glides around and really suits an urban environment. The brake is very easy to click into place with your foot and feels incredibly safe once locked; the pram stops moving immediately and you won't find yourself kicking it accidentally. The leatherette handle is also adjustable, which is fab when you and your partner are different heights and the cup holder will definitely come in handy when you're on long walks.
Price
Sitting at £1,595, this is a high-end travel system that is definitely an investment. However, it is suitable for up to four years of age which is generally the time in which they want to be independent and walk. We do believe it is good value for money, thanks to the impeccable quality and the bonuses like not having to worry about buying a Moses basket and the car seat base being backwards compatible - meaning any Inglesina car seat will fit. If you have the money to spend, then the Inglesina Aptica is well worth it.
Inglesina Aptica System Quattro FAQs
Who are Inglesina?
While Inglesina might not be as famous as other pushchair brands, the Italian founded brand have been making strollers, car seats, prams, highchairs, and more since 1963. They're more of a premium brand in terms of their style and comfort without the hefty price tag and are a good go-to if you want something to feel a little more premium for your baby without the premium price tag. They are huge in Europe and have provided collaborations with designer brands Fendi and Dior.
What colours does the Inglesina Aptica come in?
The new Apicta also comes in three gorgeous new colours: Velvet Grey, Resort Blue and Pashmina Beige.
How to clean your Inglesina Aptica
Keeping strollers clean and hygienic can be a real challenge. The fabric on the Apicta is easily removable and can be cleaned. It is recommended to hand wash the fabric in cold water and a mild detergent then air drying it in a shaded area. However, the Apitca has been designed to avoid dirt as much as possible, even when closed, the fabrics will never touch the ground.
Hannah Mellin has been working in the journalism industry for over a decade. Hannah is currently expecting her first baby with her partner and is equally excited and a little bit scared. She's up for trying anything and everything to make first-time mums feel less anxious and prepared for motherhood.