Our family was all set for our very first holiday with our 9-month-old Luella to Crete in Greece. Top of our packing list was a travel stroller, an absolute essential for breezing through airports and exploring our resort. When offered the chance to try out the Cybex Coya, a travel buggy by a brand known for its high quality, I couldn't wait to put the Coya to the test and check whether the pushchair matches the brand's reputation.
Pros
Lightweight
Ergonomic near flat recline
Sleek overall design
Fits perfectly into the overhead locker
One pull harness strap
Cons
No sun sail included
Shopping basket is tricky to reach
Recline position in upright still appears quite reclined
Testing the Cybex Coya pushchair
Putting it together
I was delighted to discover that the Coya arrived preassembled, a game-changer when it comes to convenience. Right out of the box, I was impressed that all I had to do was attach the wheels and figure out the simple open-and-close mechanism. It was a breeze, hassle-free and neat.
Design and build
We opted for the 'sepia black' with the matte black frame because, well, we knew our little snacker would leave her sticky prints everywhere. While I'm so glad we made that choice, the Coya is easy to wipe clean and you can easily get into all the crevices. Other options include 'mirage grey, of white, peach pink, leaf green' and other collection options. You can also choose from different frames. Cybex offers matte or chrome finishes so you will be spoilt for choice. What is even more handy is the fabric covers are machine washable at 30 so if it needs a freshen-up, you can easily remove it. This stroller exudes a sleek aesthetic, further enhanced by the addition of the leather handle, which brings a touch of sophistication to the overall design and I felt was a nice touch.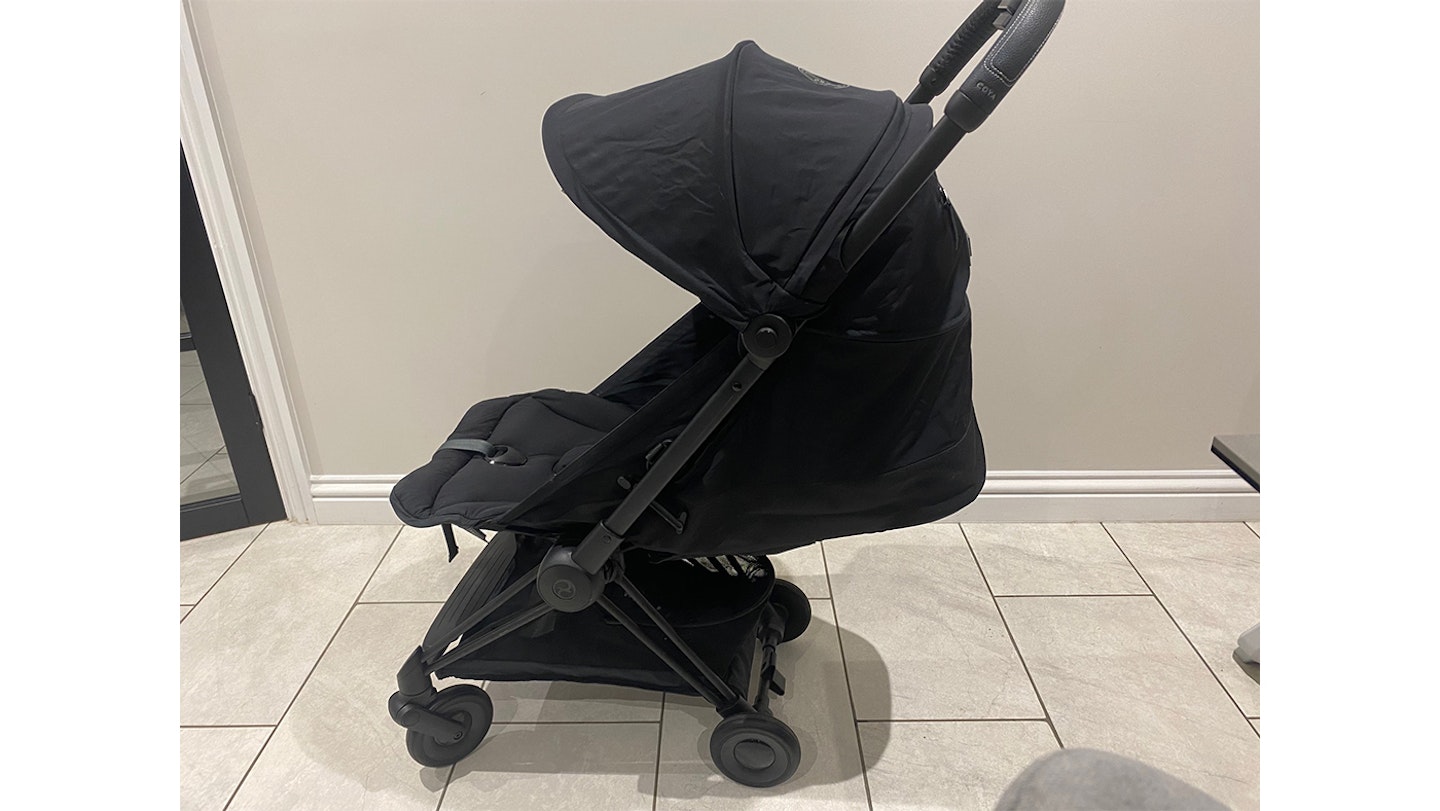 Features
What really sets the Coya apart is its functionality. The one-handed fold and unfold feature is seamless. To fold the Coya there are two buttons you press on the handlebar which aids the pram to collapse. The latches then need clicking in place to ensure it doesn't unfold. You then pull the handle strap which turns into the carry strap! So convenient and there's no need for any awkward faffing around before boarding your plane. It's done in seconds. To unfold you simply undo the latches and pull the handlebar and it pops open.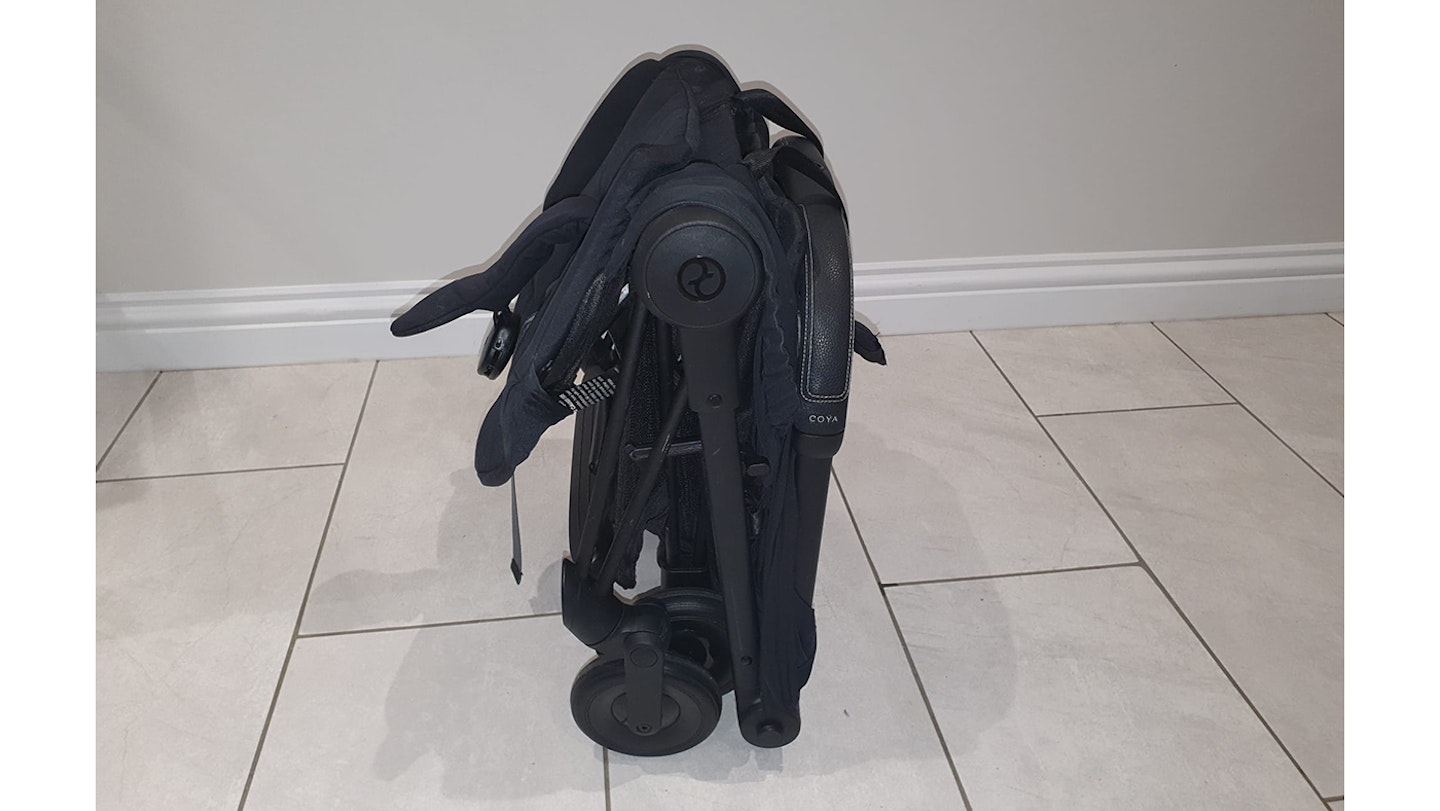 The lightweight design makes it easy to carry on your shoulder with the convenient carry strap.
I was worried that we wouldn't be able to take our new pram onto the plane and it would have to go into the hold luggage. I can reassure you it effortlessly fits in the overhead locker without any questions or fuss, taking up minimal space. This was such a relief as I didn't want my brand new stroller going in with the suitcases for the obvious reason that it might get damaged.
The stroller comes with storage including a shopping basket with a load capacity of 5kg which on appearance looks small but we managed to pack a lot in there so it worked out very handy! There is also a storage pocket which you can fit small essentials into. A downside to this storage is that it can be difficult to access due to the narrow rear frame, seat, side walls and the leg rest is likely to be in the way.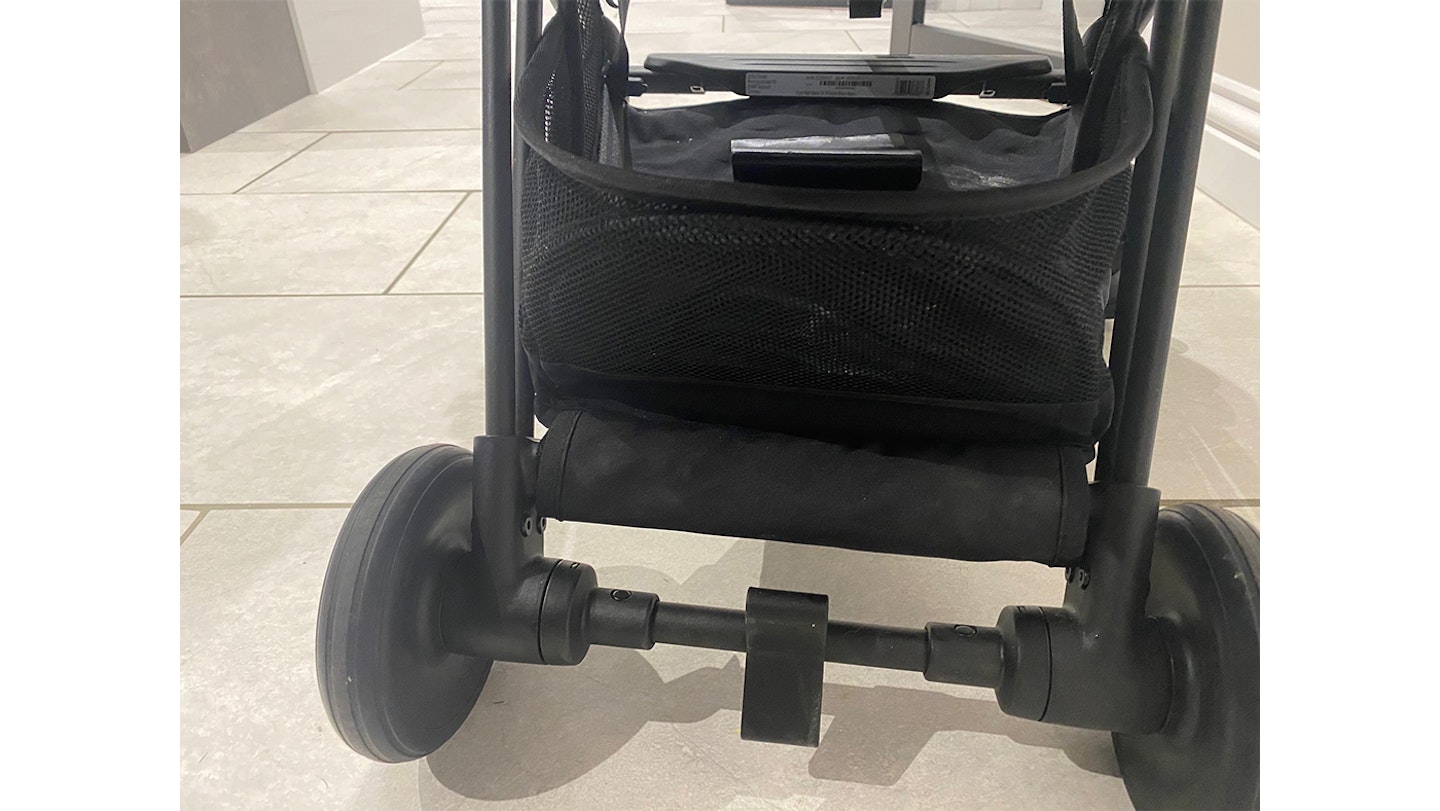 On a practical note, the stroller's lightweight design was handy for manoeuvring through airports and the resort but it did tend to tilt at times when going downhill, which required some extra attention for safety reasons. This could be due to the reclined seat position and being quite top-heavy compared to the base.
The front wheel suspension of the Coya glided through the airport smoothly and handled the resort grounds well at our hotel. The material is a tough rubberised foam. Although they are quite smooth, the downside to this is they might not hold much grip depending on what you use them for.
I appreciated the ergonomic near-flat recline. This provided a comfortable spot for Luella to nap on the go. Whether it was day or night this feature certainly came in handy! However, one minor downside to this was that with Luella in the seat, there were moments when she appeared slightly slumped, which could potentially affect her comfort during longer rides. Nevertheless, she still got plenty of naps in. Reclining the seat was easy as there is a button on the seat which you pull down and when you want it to go back upright you pull it forward and push the button until it's in place.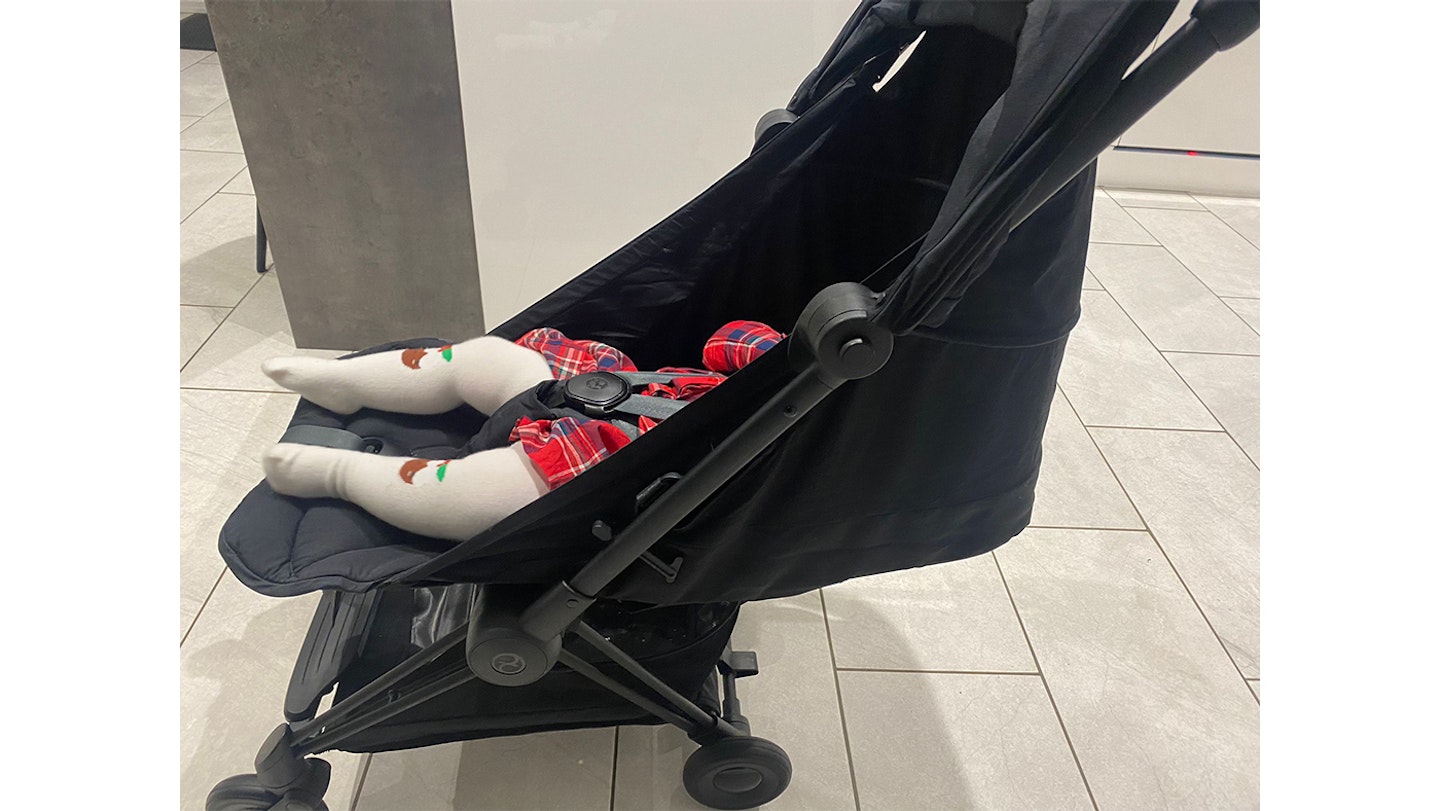 However, a downside to the reclining positioning would be the upright position didn't seem very upright and almost like it was reclined but this didn't seem to bother my daughter. Perhaps this would be more suitable for an older child.
The one-pull harness straps are easy to use. Cybex thought of the same technology that you find with car seats which is smart and we particularly liked this feature of the Coya. Typically with strollers, you use buckles to tighten and loosen which can be a bit of a faff. To tighten and loosen you simply pull the strap and push the button nearby to release. It couldn't be any easier.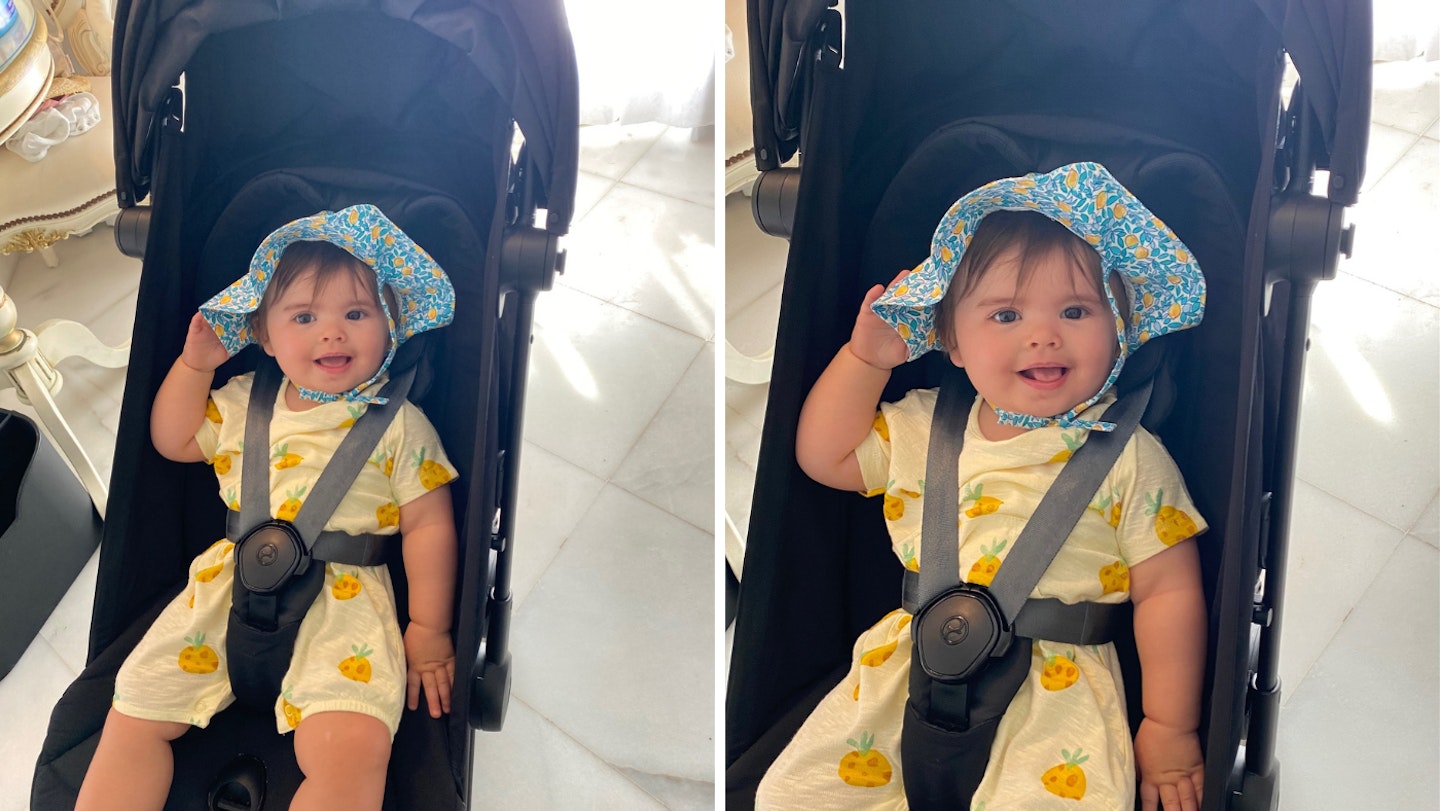 Other features of the pram include an adjustable legrest for maximum comfort and a backrest with a padded inlay which can be removed. What's great about this is the breathable mesh allows cooling breezes through the hot summer days.
This pram is also compatible with the Cybex car seat but the adapters would need to be purchased separately. I haven't tried this myself as I do not own a Cybex car seat.
Final verdict
The Cybex Coya is going to set you back £499.95, slightly higher than the Bugaboo Butterfly although the latter is only suitable from six months unless using a car seat. Personally, I feel that this is a little overpriced. Although it has a lot of positive features I enjoyed, the price is quite high compared to other travel prams. If some accessories were included such as a sun sail, the shopping basket was easier to access and it didn't tilt I would say that would be better suited at that price. Yes, you do get a rain cover but this wasn't required for what I needed the stroller for and most people associate taking a travel pram on holiday so a sun sail would be more appropriate.
In summary, the Cybex Coya Travel Pram is a user-friendly choice for families on the go, offering comfort and convenience, albeit with a few minor drawbacks, such as the price point, reclining position and occasional tilting on downhill terrain.
Cybex Coya FAQs
What age is the Cybex Coya for?
The Coya is suitable from birth to approximately 4 years old with a maximum weight of 22kg.
What is included with the Cybex Coya?
When purchasing the Cybex Coya, you will receive:
• Coya frame including wheels
• Seat unit (hard parts & soft goods)
• Shopping basket
• Sun canopy
• Carry strap
• User guide
Laura is a first-time mum to Luella. While on maternity leave, Laura is making the most of her time with her daughter and is enjoying swimming, baby sensory and local baby groups.