When you're heading on holiday with your family, you'll most likely want to pack a travel stroller to take with you. Going without isn't an option if you have a little one who will no doubt get tired while you're out and about and a travel system tends to be too big for taking away. One popular option is the Bugaboo Butterfly. While also marketed as a pushchair for city-dwellers thanks to its one-handed one-second fold, it quickly became a hit for families heading on holiday as it folds down into an ultra-compact package and is IATA-compatible, meaning it can be used as carry-on luggage on planes.
As a brand, Bugaboo sits at the top end of the market and the Bugaboo Butterfly will set you back £419. They do have other city-designed pushchairs: the Bugaboo Bee 6 and Bugaboo Dragonfly, both more expensive but suitable from birth and offering extra features.
The closest comparison would probably be Babyzen YOYO2 which is lighter at 6.6kg but more expensive overall, requiring you to buy 'packs' to suit your family situation.
So how does the Bugaboo Butterfly compare and should it be joining you and your tot on your next break? Find out how our Mother&Baby tester got on when they put it to the test.
Bugaboo Butterfly overview
Pros
Lightweight
Compact fold so can be taken on many planes as carry-on luggage
Stylish design
Roomy adjustable seat
Large basket
Extendable UPF 50+ sun canopy
Cons
Limited colour choice
Seat doesn't fully recline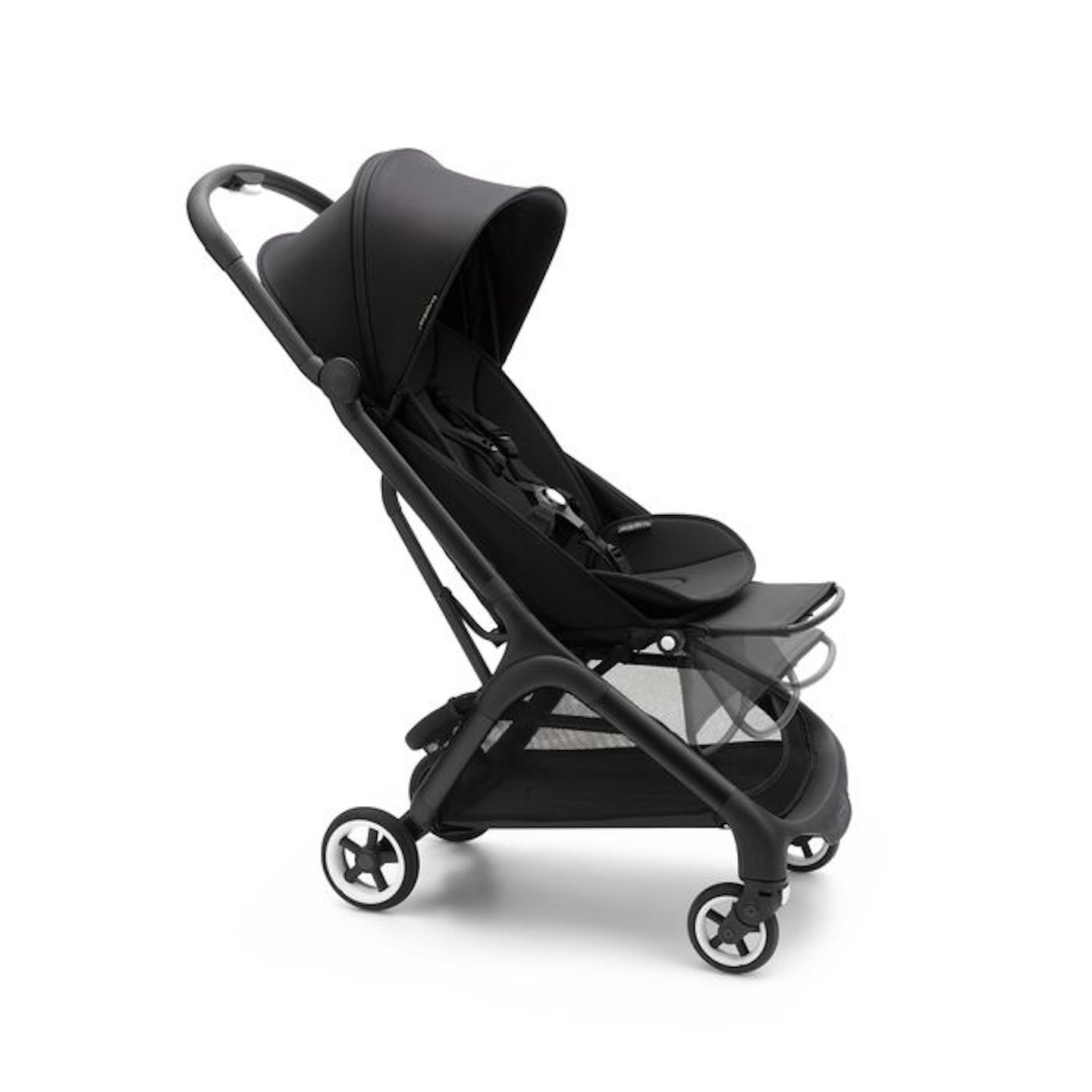 Testing the Bugaboo Butterfly
Unpacking the Bugaboo Butterfly couldn't be easier as it arrives already constructed, meaning there is no assembly required other than attaching the seat in-lay. You do receive a picture-led instruction book for the pushchair's features that I felt could have been more useful with words but it is fairly self-explanatory anyway so this wasn't a problem.
As it comes, the Butterfly is suitable from six months but it can be made suitable from birth with adaptors, purchased separately along with a compatible car seat.
As someone who is a fan of the style of Bugaboo products in general, I found the Butterfly was no different in this regard. It's a stylish and modern pushchair that comes in three colour options, all on a sleek black chassis.
Performance
Pushing and steering the Butterfly is smooth and effortless, something I've noticed in Bugaboo products in general. The lightness of the pushchair also helps here. While the wheels are quite small, this didn't affect how the Butterfly tackled bumpy surfaces and having tested the stroller on a variety of terrains, I found it faired comfortably on the likes of cobbles and steps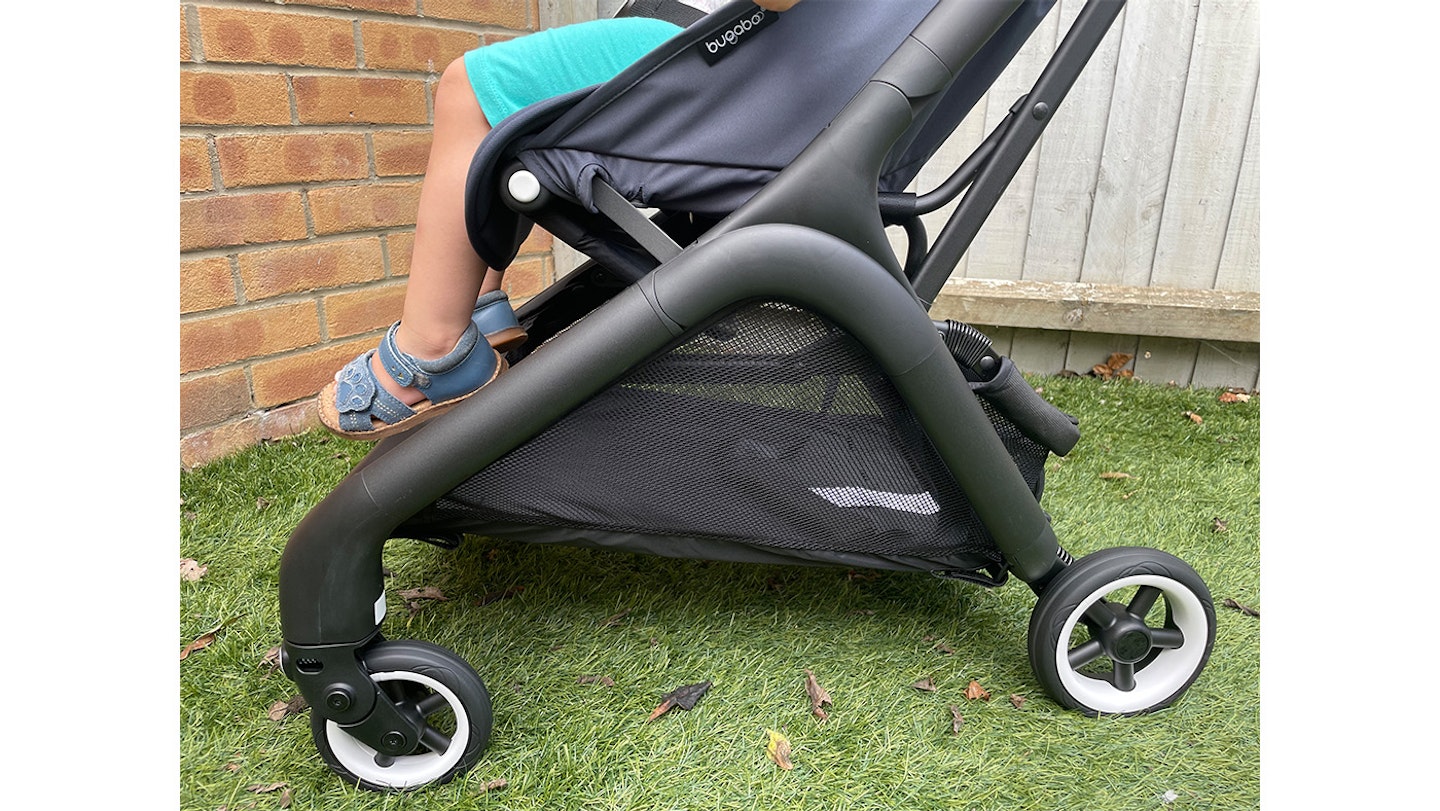 The brake pedal can be found in the centre of the chassis and while I worried that we might accidentally kick this on while walking, this wasn't the case. I did find the break needed quite a bit of force, however. As you'd hope, the Butterfly feels secure and sturdy when the break is on.
Fold
The fold is definitely the star of the show with the Bugaboo Butterfly. There's no need to adjust anything, simply push the two white buttons on the handle until locked and the stroller folds into itself. Unfolding is just a quick: click the same two buttons and the Butterfly springs open. I don't always trust pushchairs that say they fold one-handed but there's no denying this is the case here.
When folded, the Butterfly stroller fits neatly into the overhead lockers on aeroplanes as it is IATA compatible. However it's worth noting that not all airlines allow strollers to be stored in the cabin, so you should double-check before flying.
This compact fold also means it was so easy to tuck it away at home without taking up much space as well as fitting it into my and my husband's cars along with all the usual debris of parenting plus bags of shopping.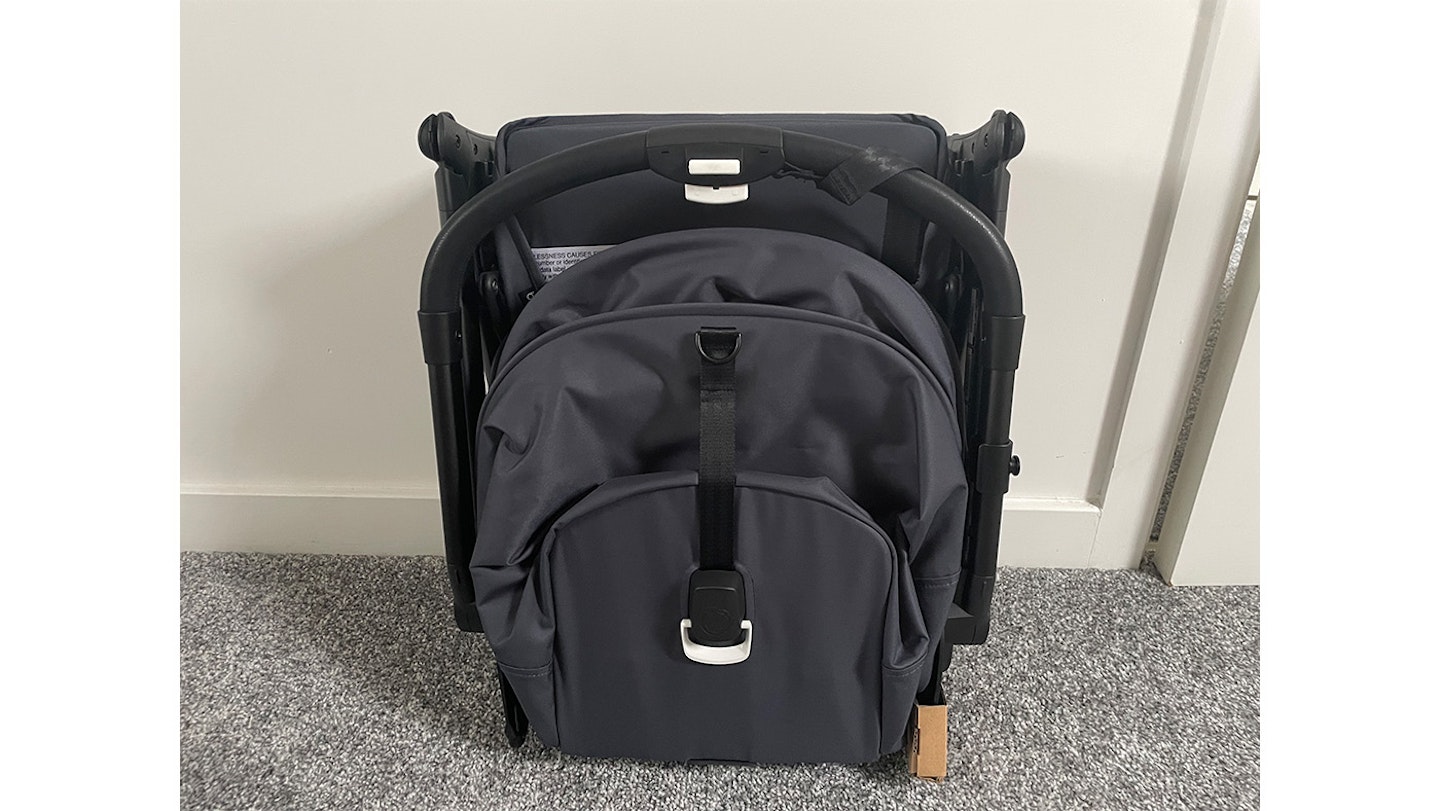 Usability
I was really pleased to see how large and roomy the seat unit of the Bugaboo Butterfly is in comparison to the Babyzen YOYO2 which I'm aware many parents find too small. It's important for me to be able to get the most out of my baby products and I feel confident that the Butterfly with its 56cm high backrest (63cm in total with the headspace included) will last my daughter until she is four due to its spacious seat. It's also very comfy, with a padded insert that my youngster seems pretty happy with.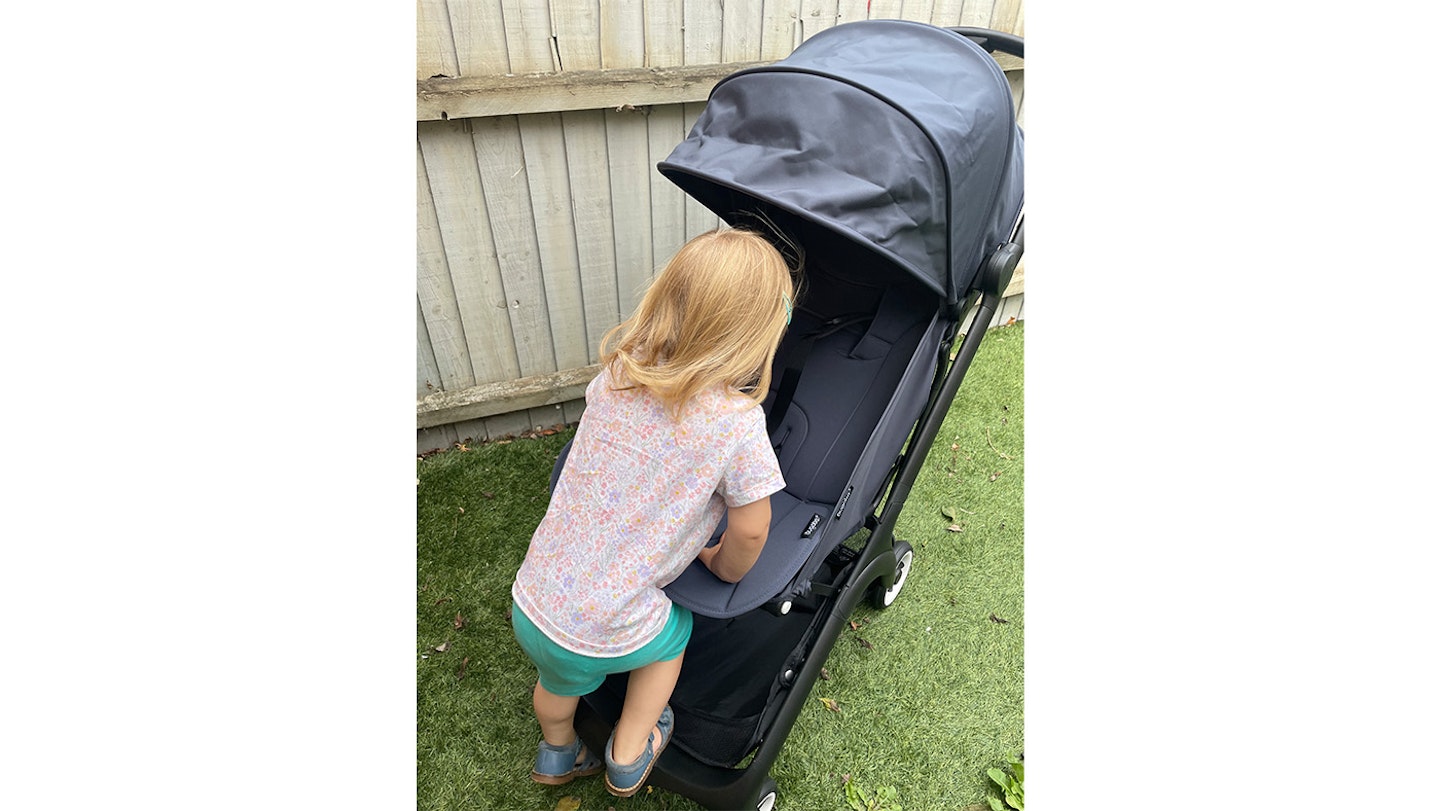 By pulling the white handle (again, one-handed), the seat will recline but not fully flat. This is something that may be an issue for some parents, although I generally find my daughter is happy relaxing even with just a slight recline. To pull the seat upright again, just pull the cord and secure it with the button.
When it comes to adjustability, the Butterfly fares pretty well overall. The leg rest has five different positions or it can even be folded away if preferred.
The handle cannot be adjusted but having asked a variety of adults of different heights (from 5ft to 6ft2) to take the Butterfly for a spin for the sake of this review, this wasn't a problem for anyone.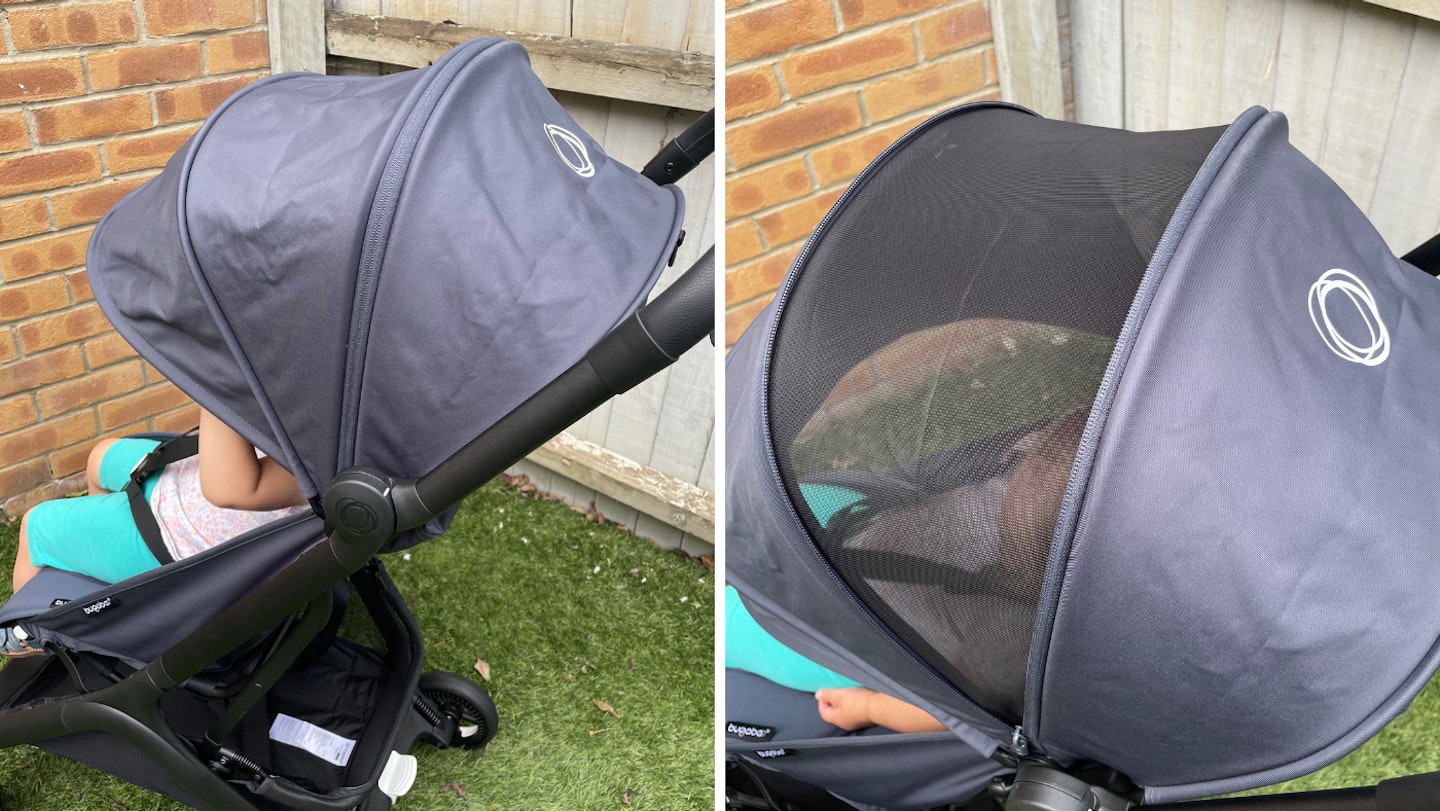 I absolutely love the breezy sun canopy which can be extended by four panels, providing plenty of shade. It made such a difference in both protecting my daughter from the sun and providing a cosy place for her to nap. The first panel is made from mesh, which I found great for being able to keep a close eye on my little one as well as air circulation. You could also zip this up if it wasn't required.
Considering its compact size, the under-seat basket is seriously impressive, holding 8kg worth of storage. It's accessible from both the front and the back, with high sides that reassured me that nothing would fall out. The flexible opening in the rear was handy when popping things in and out as with previous strollers, I've found a bit of manoeuvring was needed.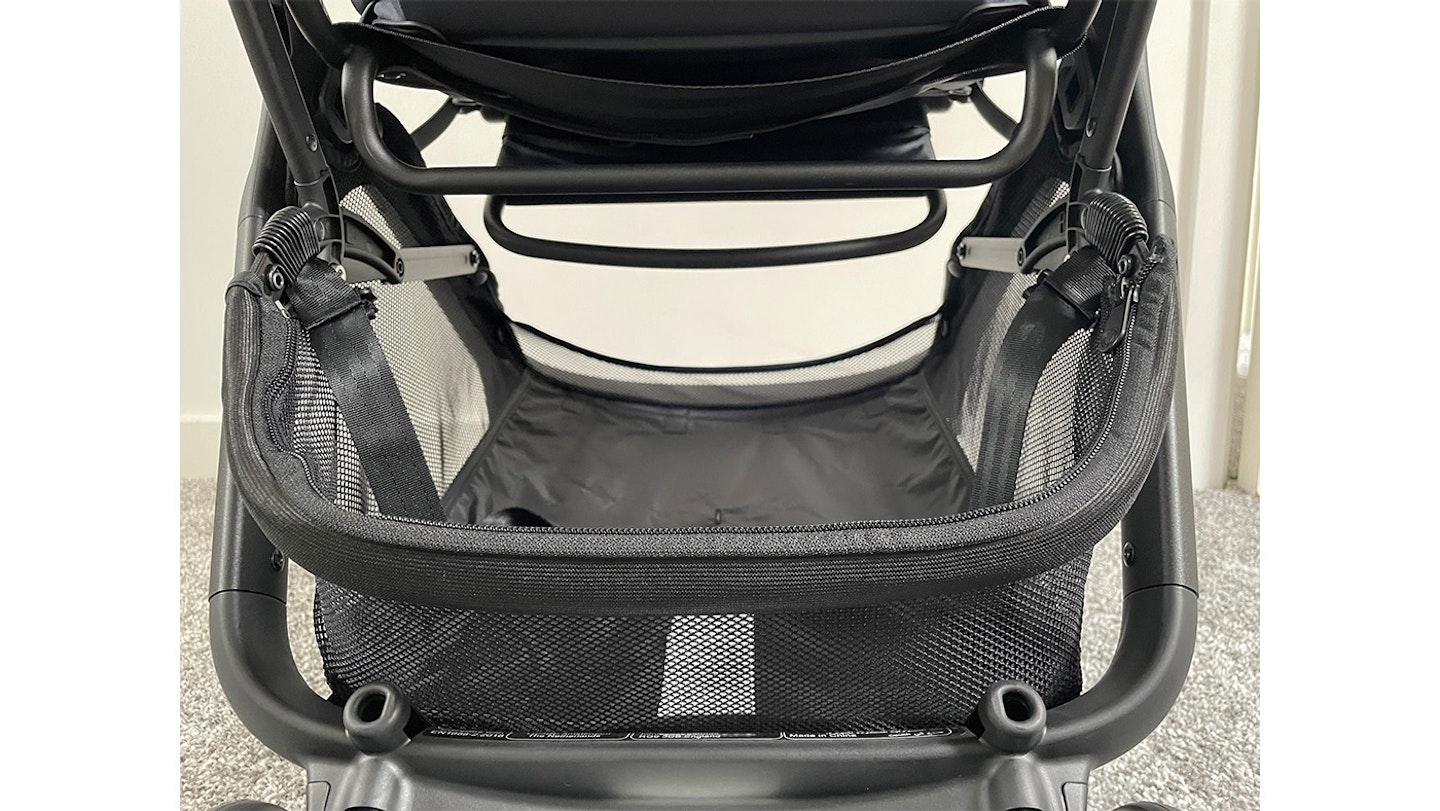 Final thoughts
While I wouldn't necessarily use it as my main pushchair just yet, the Bugaboo Butterfly has become a real asset to me and my family. We like to take trips out and about wherever we can and for this, the Butterfly is our pushchair of choice, whether we're heading to London for the day or a trip to the coast. The fold and unfold is an absolute dream and being so compact when folded was a massive plus, you really can't beat it when travelling.
I'd really like to see more colours available as there are only three which I found quite surprising. While the options available are all very classic and attractive, I can see more choices being really appealing to parents who want to stand out from the crowd. All of the accessories such as a bumper bar or cup holder are an extra cost which is fairly common but I was disappointed it didn't come with a travel bag.
The lack of a complete recline wasn't an issue for me personally but given this is something many competitors have, it would be good to see this on any updated versions of the Butterfly.
Yes, the Bugaboo Butterfly is on the pricey side when it comes to travel pushchairs but considering the features, high-quality, premium brand and how effortless it is to use, it feels more than a fair price to pay.
Bugaboo Butterfly FAQs
Can I take my Bugaboo Butterfly on the plane?
The Butterfly is IATA compatible which essentially means that the folded dimensions make it compatible with the requirements for carry-on luggage. You should however check with the airline you are flying with before bringing your Butterfly as the carry-on allowance can vary between airlines.
Can you put a bassinet on the Bugaboo Butterfly?
There are no bassinet options with the Bugaboo Butterfly but you can purchase adaptors to use a newborn car seat with it. If you want a compact pushchair with the option of a bassinet, we'd recommend the Bugaboo Dragonfly.
How to clean the Bugaboo Butterfly
To keep the pushchair looking as good as new, simply wipe the seat inlay, underseat basket and carry strap fabrics with a damp cloth. The base seat fabric can also be washed by hand.
Emily Gilbert is the Features & Reviews Editor for Mother&Baby and has written for the website and previously the magazine for six years. Specialising in product reviews, Emily is the first to know about all the exciting new releases in the parenting industry.