As a parent, we all want the best for our babies. Every parent wants to provide a safe and healthy environment for their little one to grow up in. So, whether you are setting up your baby's first nursery or just making improvements to your little one's bedroom, you should consider the room's air quality.
Researchshows that a healthier and cleaner nursery can help your child breathe easier. It can have a huge impact on their development and future health. Air purifiers for nurseries have become a must-have item in many homes. In this review, we look at the new Clevamama ClevaPure Air to test all of the functions like air improvement, usability, noise levels and to establish whether we thought it was good value for money. Read on to find out how we got on when we tried and tested Clevamama ClevaPure Air Purifier review.
Clevamama ClevaPure Air Purifier Review overview
What is the Clevamama ClevaPure Air Purifier?
The ClevaPure was designed especially for nurseries, it helps to create cleaner air whilst being whisper-quiet because no one wants to wake a sleeping baby. The ClevaPure Air Purifier comes equipped with an ozone-free, medical-grade HEPA H13 filter. The filter works to trap and destroy 99.95% of airborne particles, including bacteria and viruses. The purifier eliminates asthma and allergy triggers such as dust, pollen, pet dander, mould, VOCs, dust mites, fumes, smoke, and unpleasant odours, helping to create a healthier environment for your little one.
To learn more about the importance of clean air, we've sought expert advice from GP and medical expert, Dr Philippa Kaye.
Dr Philippa Kaye, explains: "We have all heard the phrase 'prevention is better than cure', removing allergens and pollutants from our homes may well help improve the health of our children. As babies spend on average up to six hours per day in their nursery, Ozone free air purifiers ensure good quality, and safer air indoors, helping prevent exposure to allergens. The new ClevaPure Air Purifier purifier removes almost 99.95% of airborne allergens throughout the home and is ideal for keeping allergies and pollution at bay as we all spend more time inside and head into the colder months."
Pros
Appearance
Medical-grade HEPA H13 filter
Destroys 99.95% of airborne particles
Air quality indicator
Easy to use app
Description
The ClevaPure Smart Air Purifier Replacement Filter works with the ClevaPure Smart Air Purifier.
Key features
Three-stage air-quality indicator - Using smart technology, the ClevaPure has dust sensors that read and monitor your air quality. You can check your reading on any smart device and adjust your fan speed. Additionally, you can set the device to automatically react to your real-time reading.
Three-layer filtration with HEPA H13 & active carbon filter - The ClevaPure Air Purifier's HEPA H13 filter can remove viruses, bacteria and allergens, including those that cause Strep A, Pneumonia and COVID-19. This filter removes at least 99.95% of airborne particles that pass through it. As previously mentioned this should be changed every six months.
Smart phone control - You can monitor and operate your ClevaPure via your smart device using the Smart Life App. The app allows you to turn the device on or off remotely as well as the ability to check your air quality, as previously mentioned. The smart device is also compatible with Alexa and Google Home.
Air quality indicator - Three air qualities are shown: Good, Moderate and Poor..
How we tested the ClevaPure Air Purifier
Mother&Baby writer and mother of three, Hannah James, tested this bag for two months to get a good and fair assessment of the air purifiers properties and functions. Here is her honest and fair review.
Testing the ClevaPure Air Purifier
My son suffers from a long list of allergies. So, I leapt at the chance to test this product. I have found this purifier has helped his symptoms and his symptoms have definitely improved.
My initial thoughts were how simple it was to set up. I previously envisioned a complex system, which would require some serious Googling. But to my delight, it was easy. Simply, turn the base, put in the filter and then click the lid back into place. Similarly, the app was very user-friendly and within a few minutes, my device was up and running.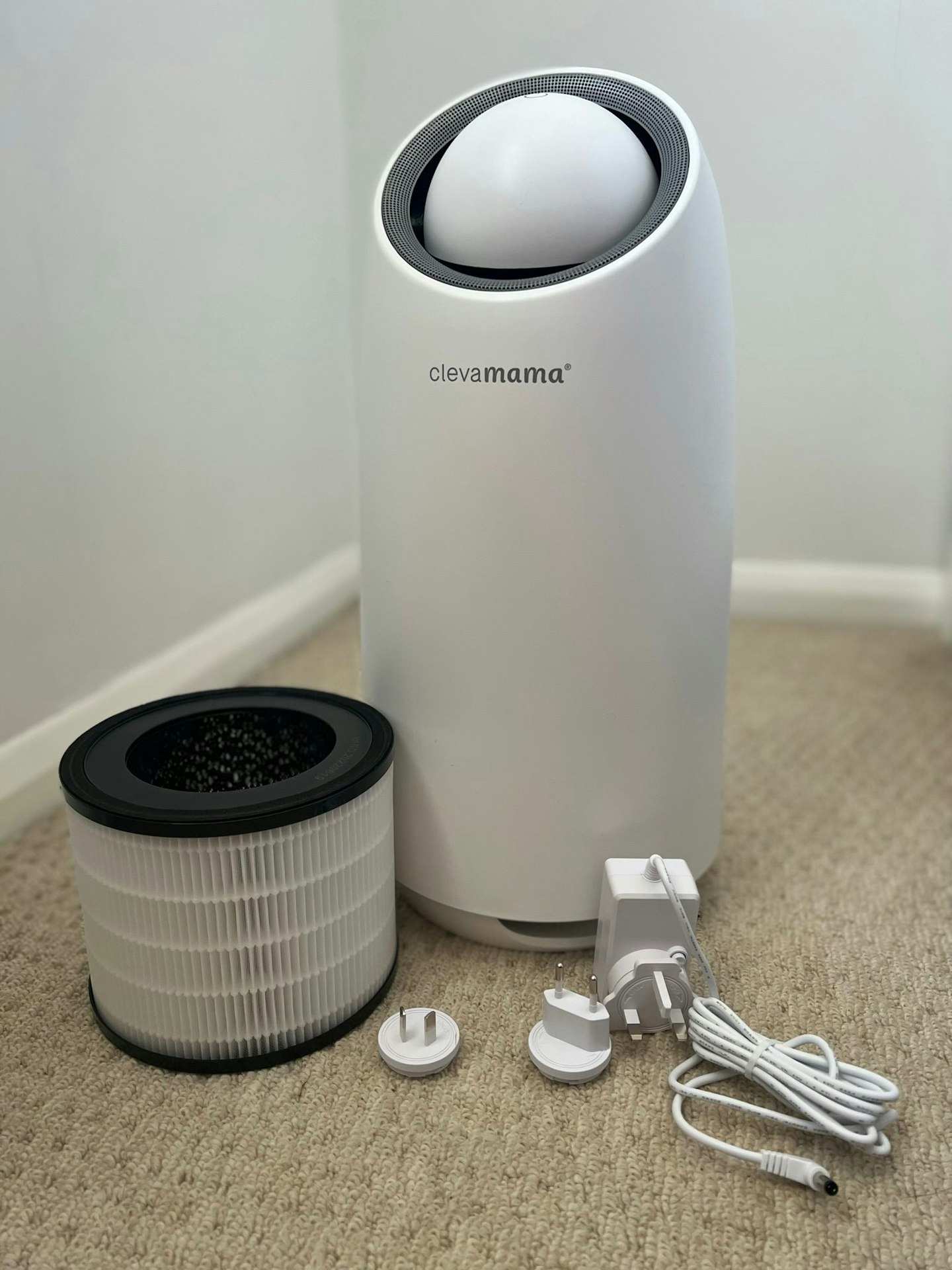 The Clevapure device is named on the app as Mika. It is very reminiscent of the loveable Disney robot, Wall-e. You can turn the purifier on by either the app or manually via the touch control. Then the device silently turns on, scans the room and displays the air quality. The face of the device then reflects the air quality and adjusts accordingly.

As you continue to use the ClevaPure you can check the filter when it needs changing. Over the two months, I was testing the device it has still go 89 per cent of the filter remaining.
I think the device is very reasonably priced. Air purifiers can price at more than £400. So, in my opinion, at under £200, this is money well spent. This device removes 99.5 per cent of dangerous and damaging particles. You can't put a price on health but if you could, then this would be a very reasonable one.
Would you recommend this to other mums?
We are all becoming more conscious of the importance of air quality. The air we breathe indoors can be more damaging than the fresh air outsides. Fresh paint, burnt toast, and cleaning products can all affect the air we breathe. And even if you clean like Mrs Hinch dust, pollen and pet fur can still cause severe problems for some children. When you bring a new baby into your home, ensuring that your child is in a safe environment is one of the top priorities. This device not only offers peace of mind it is proven to help remove dangerous particles. I will recommend this to every new parent and especially to parents of children with allergies. On the lowest setting, you cannot notice that it is on. However, the higher the setting the more audible the fan - personally I prefer to hear the fan.
What changes would you make to the ClevaPure Air Purifier?
My only gripe with the ClevaPure is that there isn't a child-lock function and because of its intriguing appearance it is much too tempting for my toddler to not touch it. Which often means I find the device has been turned off. In my opinion, the device is too large to be put up high so, it is always within reach.
Final verdict
I would give this five stars. It is a wonderful device for any and every home. My children suffer from allergies and with a dog at home, this felt like a no-brainer. Since having the air purifier I have found that my children have had fewer airborne reactions. Before using the air purifier I would notice that my children could often be seen rubbing their eyes especially if the dog had come upstairs. Since using the purifier this has not happened. I also love using the purifier when there are any lingering odours from nappy changes. It looks sleek and can be put on in a quiet setting to not wake the baby. I personally love having it on a higher and thus louder setting because I enjoy hearing the Mika going to work.
Clevamama ClevaPure Air Purifier Review FAQs
Is it OK to leave air purifier on all the time?
It is safe to leave an air purifier on all day. However, it is important to adhere to the safety instructions. Make sure the machine is not tilted. It is important that no obstacles blocking the air inlet or outlet.
How long should you run an air purifier at a time?
You can run an air purifier for a few hours a day and this will give the air a thorough cleaning.