Having a comfortable place for your little one to sit at meal times is incredibly important, but you also have to consider the practicality of the high chair for babies and toddlers, which is where the Stokke Nomi High Chair really impresses. Not only is it comfortable to sit on, but it ticks all the right boxes as it's easy to clean, wriggle proof and will grow with your child.
It's suitable for newborns with the special attachment, which allows your baby to be at height level at the dinner table, and can easily be converted to the sturdy high chair with the baby attachment. It also functions as a chair for toddlers and older children.
I tested the Stokke Nomi High Chair using the baby attachment with my 15-month-old daughter and as the stand-alone chair with my six-year-old son. With a wriggly toddler and a child who doesn't keep still, we were able to really put the Stokke Nomi chair through its paces.
Pros
Grows with child
Comfortable
Easy to build
Anti-tilt wheels
Cons
Harness for baby attachment needs to be purchased separately
Key features
Anti-tilt wheels: the base of the high chair is a unique shape and very different to normal high chairs which usually have four legs. The stem and footplate allows for support of the high chair, so no matter how much my child wriggled and bounced around, it didn't tilt.
Adjustable footrest: with the option to lower the footrest when needed, it's easy to adjust and no tools are needed. It gives great support rather than just having feet dangling. Footrests often give younger children a chance to push themselves out of the high chair, however the design of the high chair meant they couldn't do that.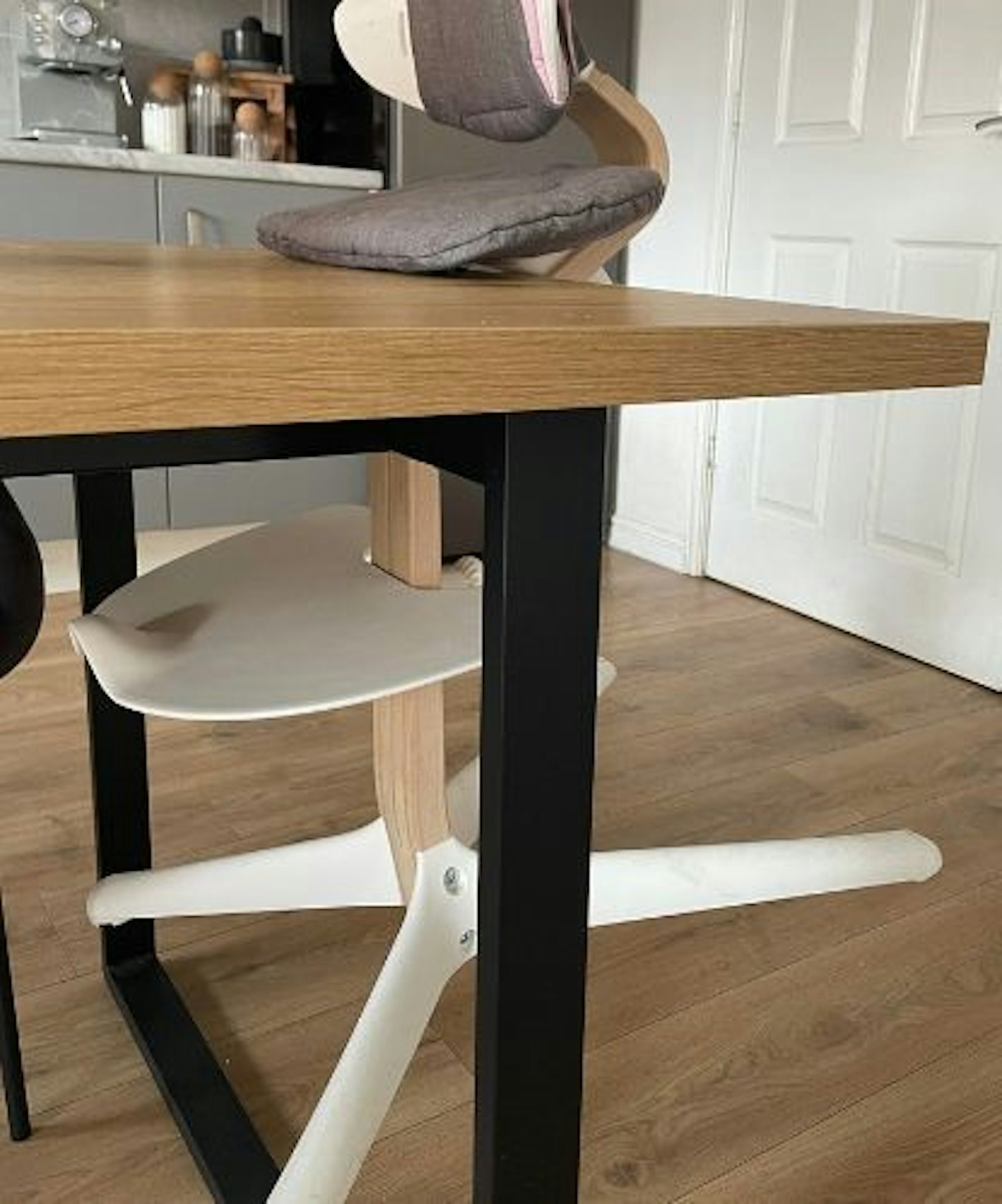 Lightweight design: this high chair is easy to pick up and move and can even be balanced on the table using the seat, to easily clean up spills underneath. It was very useful being able to do that, as meal times can be extremely messy. Despite the fact that this high chair is incredibly light to move around your home, it's very sturdy.
Testing the Stokke Nomi High Chair
Performance
My daughter does not like high chairs and after trialling a few we found it a lot easier to just let her sit on our knees as she would sit nicely and not try to climb out of the chair. With the Stokke Nomi High Chair, she would happily sit anywhere in the room and eat or play at the table.
She loved the freedom of not being restricted by straps, but was also sat in secure enough that even when she did wriggle or attempt to climb out, she couldn't and then would be happy to sit for longer. The adjustable footrest also meant that I could raise it to a height that suited her, so that her legs weren't dangling. I think both these features allowed her to feel free to move as well as secure.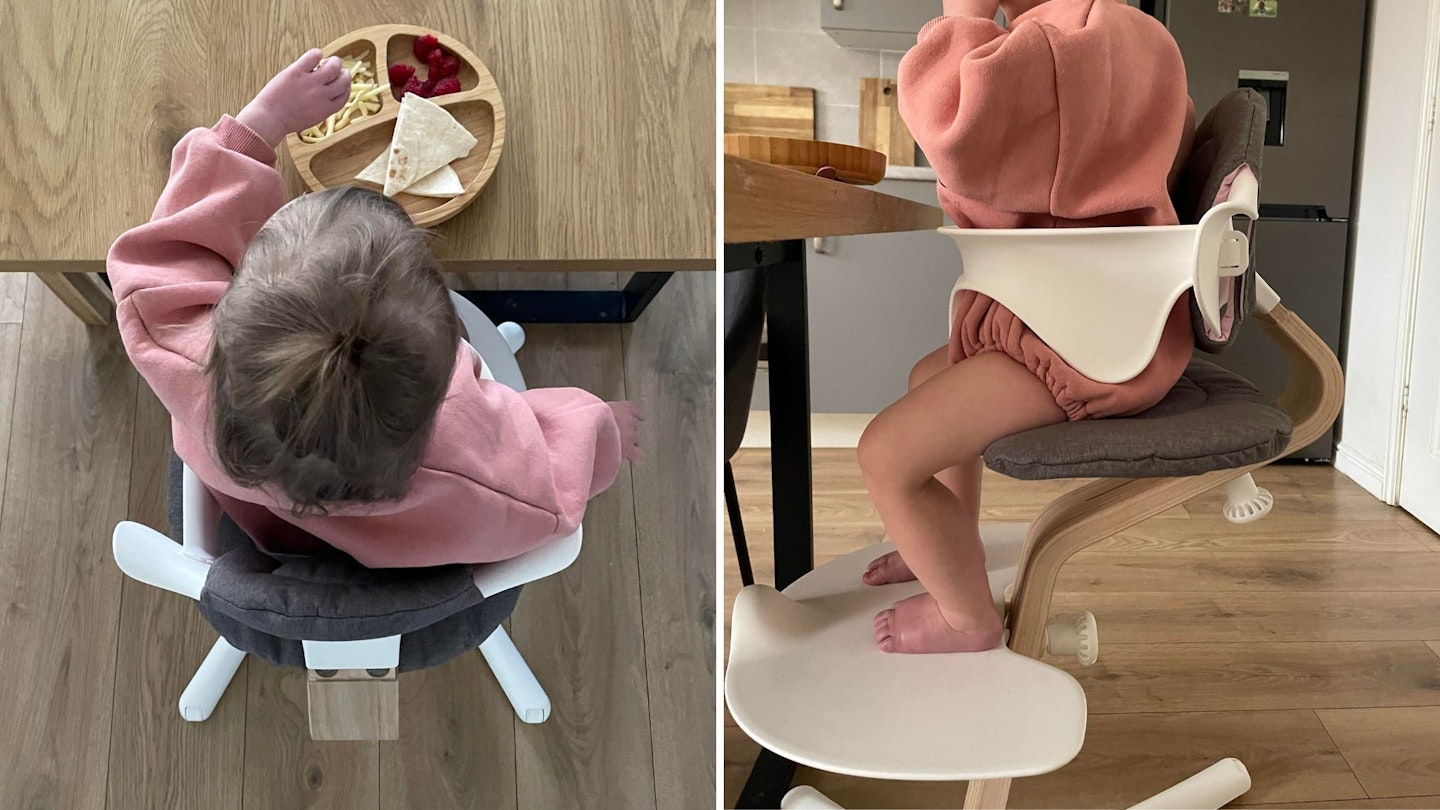 The Stokke Nomi Chair was also easy to clean, with a wipeable seat, baby attachment and footrest, we could easily clean up spills. The cushion seat and back are also washable and didn't lose their shape after they had been in the washing machine.
The Anti-Tilt wheels made it easy to slide the high chair up to the table and away if needed. If my toddler bounced in her seat hard enough, they supported the movement and allowed the high chair to slide backwards slightly, without fear of it tilting over.
As a chair as well, my son loved that he could bounce around on the seat without it tipping over, which has happened a few times with just dining room chairs. This was noticeable as the chair moved itself backwards, and he would ask if I could tuck him back into the table.
We've noticed a huge change in his eating habits from using this chair, as when he does get restless, he would normally want to leave the table, but with the freedom to move around safely on the seat he can sit for longer.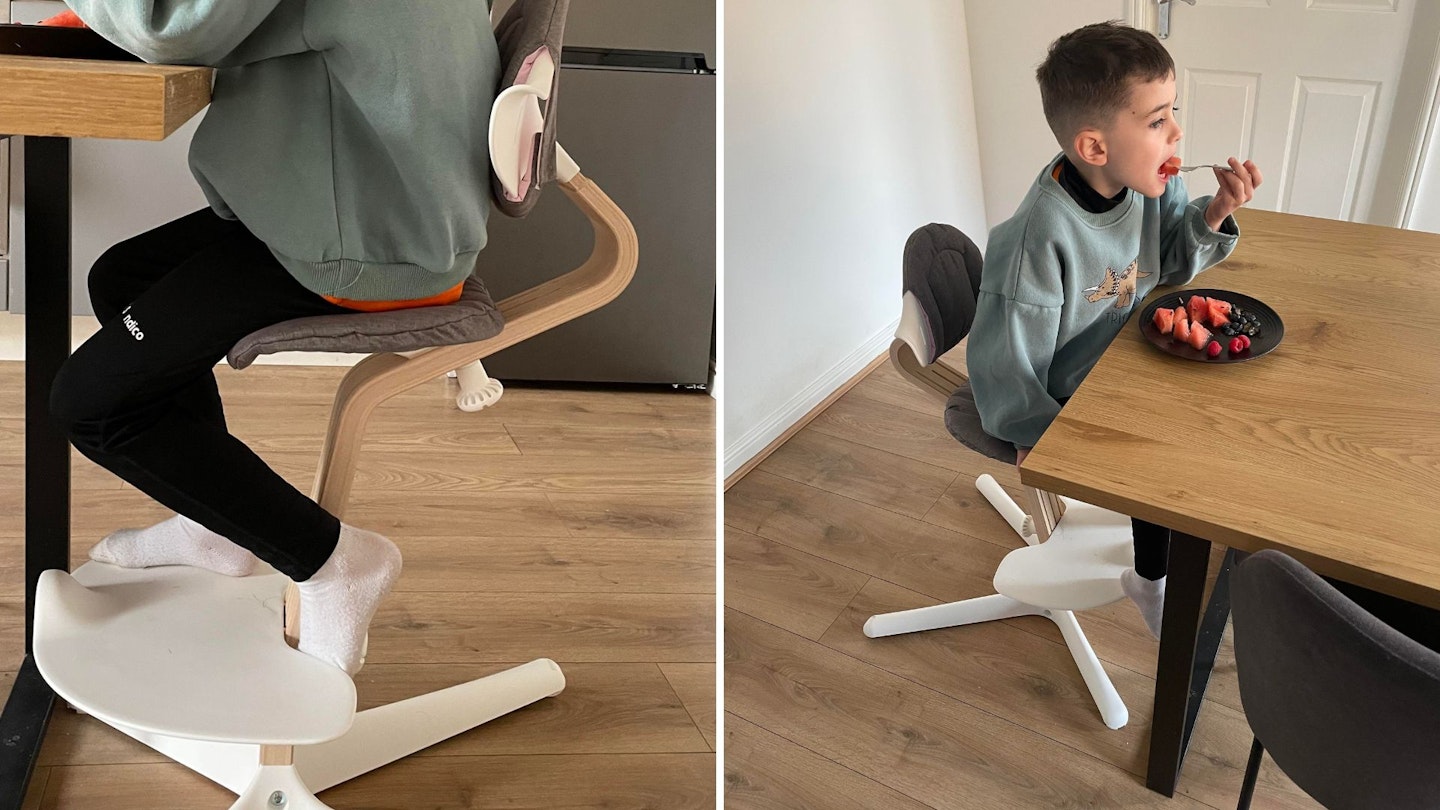 Usability
I found the Stokke Nomi High Chair extremely versatile, as with the right attachments, it can be used from birth onwards. It was easy to use as a chair and as a baby high chair. I loved that I could also balance the seat on the table so that I could hoover and mop under the high chair, rather than trying to clean around it or move it around.
My son found it a lot easier to climb on and off the seat compared to other chairs, as the Anti-Tilt wheels allowed for movement, and it's not a heavy chair to move so he could pull it back a lot easier.
The design of the chair is also very modern, and whilst it does have a unique look compared to other high chairs, it fit into our home beautifully. The colour options for the high chair are mainly neutral, with different wood choices for the chair stem, and then white, black or grey choices for the plastic seating.
If you want a high chair that matches your house style then the Stokke Nomi will definitely do that.
Most high chairs come with a high chair tray so that your baby can eat without sitting at a dining room table, however I found it a lot better being able to sit our toddler with us at the table, and she definitely felt more included at meal times.
Build
The chair itself was super easy to build which is ideal. The only tools needed to build as well was an Allen key, which came with the set. All the screws twist tightly and securely into place and the footrest and seat itself have an adjustable screw to secure them in place.
I found the trickiest part was securing the footrest into place as there isn't anything to rest it on as you're tightening the screw at the back. I also found that if I hadn't really really tightened it, the footrest would drop itself down occassionally, however this isn't really a huge issue.
The seat was easy to slide up and down to get the right height for the baby attachment and to use as a chair. There's a slot underneath the seat that allows the baby attachment to slide into, and then the waist element slots into the backrest. You do have to really push it into place to make sure the clips attach properly, but this reasured me in knowing my toddler was safely fastened in.
Final verdict
Overall I found the Stokke Nomi High Chair one of the best long-lasting high chairs that I've used for my children. It gave both my children the independence they want whilst also reassuring me that they were safe in the chair through the clever Anti-Tilt wheels.
I feel that it hits all the pain-points that all parents are familiar with when it comes to meal times and high chairs, such as style, practicality and ease of use. It's usually a struggle trying to wrestle a strong-willed and wiggly toddler into a high chair, then having to strap them in, but with the Stokke Nomi that really isn't a problem as babies over six-months and toddlers can just slide into the seat easily.
Whilst the chair is expensive, I do feel it's good value for money with the fact it can be adjusted and grows with your child. We had already gone through three different high chairs and two baby seats by the time my daughter turn one-years-old, so an all-in-one chair is definitely worth the investment.
It looks great in our home and has definitely made meal times a lot easier.
FAQS
How does the Stokke Normi convert?
Once the chair is built, there are no tools needed to convert the chair to newborn, baby seat or chair. The attachments and footrest have a screw that allows you to tighten them into place.
The baby seat also just clicks into the back of and underneath the chair.
Why does my child need a high chair?
At approximately six months old, your baby will start sitting up by themselves and you will start to wean your baby onto foods. A high chair is the safest place for a baby to be when weaning them, whether it's onto purees or you are trying baby-led weaning.
There are a few ways you can tell if your baby is ready for a high chair:
• Your baby is at least 17-weeks-old
• They can sit up holding their head and chest straight and steady
• They are showing an interest in food
• Your baby can coordinate their eyes, hands and mouth (they start to pick things up to chew on)
How long will my child need a high chair for?
This completely depends on your child. Most children at around 18-months will be comfortable sitting on a chair and by two-years-old probably won't want to be sitting in a high chair. They might, however, feel and look a little too small to be sitting on a chair.
If your wriggly toddler is ready to leave the high chair, then a toddler booster seat for the table is a great alternative, as they can clip to any chair and are usually portable, so you don't have to worry about eating out.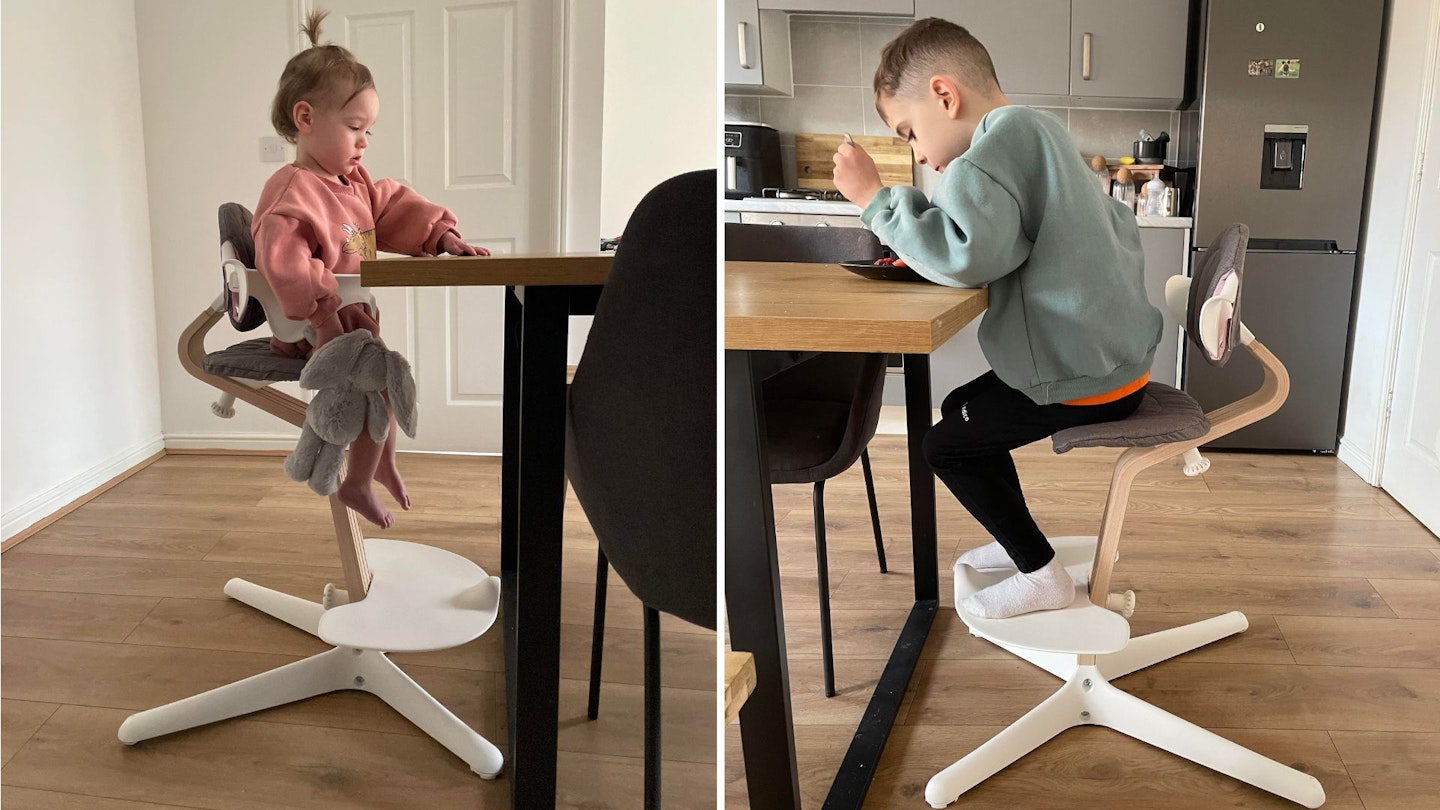 Stokke Nomi Chair accessories
Description
Suitable to use from birth, the Newborn Set can be adjusted from a horizontal position, to a more
Pros
Suitable from birth
5-point harness safety harness
Adjustable positions
Cons
Can't be used when baby can sit up unaided
Description
Attaching to the newborn set, the Nomi Play has three hoops where you can hang your babies
Pros
Entertains baby
3 loops to hang toys
Easy to attach and detach
Description
Pros
Suitable from around 6 months
Easily to attach
Made of recyclable plastic
Description
The cushion is reversible, with two colours for versatility. Both styles of cushion have grey as
Pros
Machine washable
Two colours for versatility
Soft for comfort