The Google Pixel tablet is the first tablet with a charging speaker dock included, plus it features Google AI for smooth streaming, high-quality video calls and more, making it so much more than a tablet. It's also currently on a Black Friday deal at £499 - was £599 - so you're saving £100! With a powerful processor, it can handle anything you (or your toddler) throw at it whether you're browsing, streaming, playing games or using apps.
The 11" screen with adaptive brightness is perfect for streaming your favourite entertainment and editing photos and videos. When you snap it onto the dock, the tablet transforms into your smart home hub. In Hub Mode, the screen stays on so you can always see notifications, control your smart home, or display your favourite photos. And when you need your Tablet again, just pick it up – it'll be charged and ready to go. Since it's a Google product safety and security are paramount, making it brilliant for families and a safe tablet for kids to use.
Pros
User-friendly for the whole family
Profile options for adults and children available
Time limit settings available/Sleep mode available
Many safety features to limit screen time and keep children safe
Useful hands-free command options
Cons
No child-friendly case options
Testing the Google Pixel Tablet
Mother&Baby Deputy Editor Stephanie Spencer tested out the tablet for herself, here's how she got on, "As an android tablet, the Pixel Tablet is a pleasure to use. We've been planning a holiday recently so I've been using it in my downtime while watching TV. It's so handy to have a larger screen than my phone, and not have to go through the palaver of getting my laptop out and finding it's not charged etc. The tablet is docked in our living room so I can just reach over and grab it – easy. I've linked it to my fingerprint so it's simple to login, and you can also set it up for voice commands but this isn't something I've activated."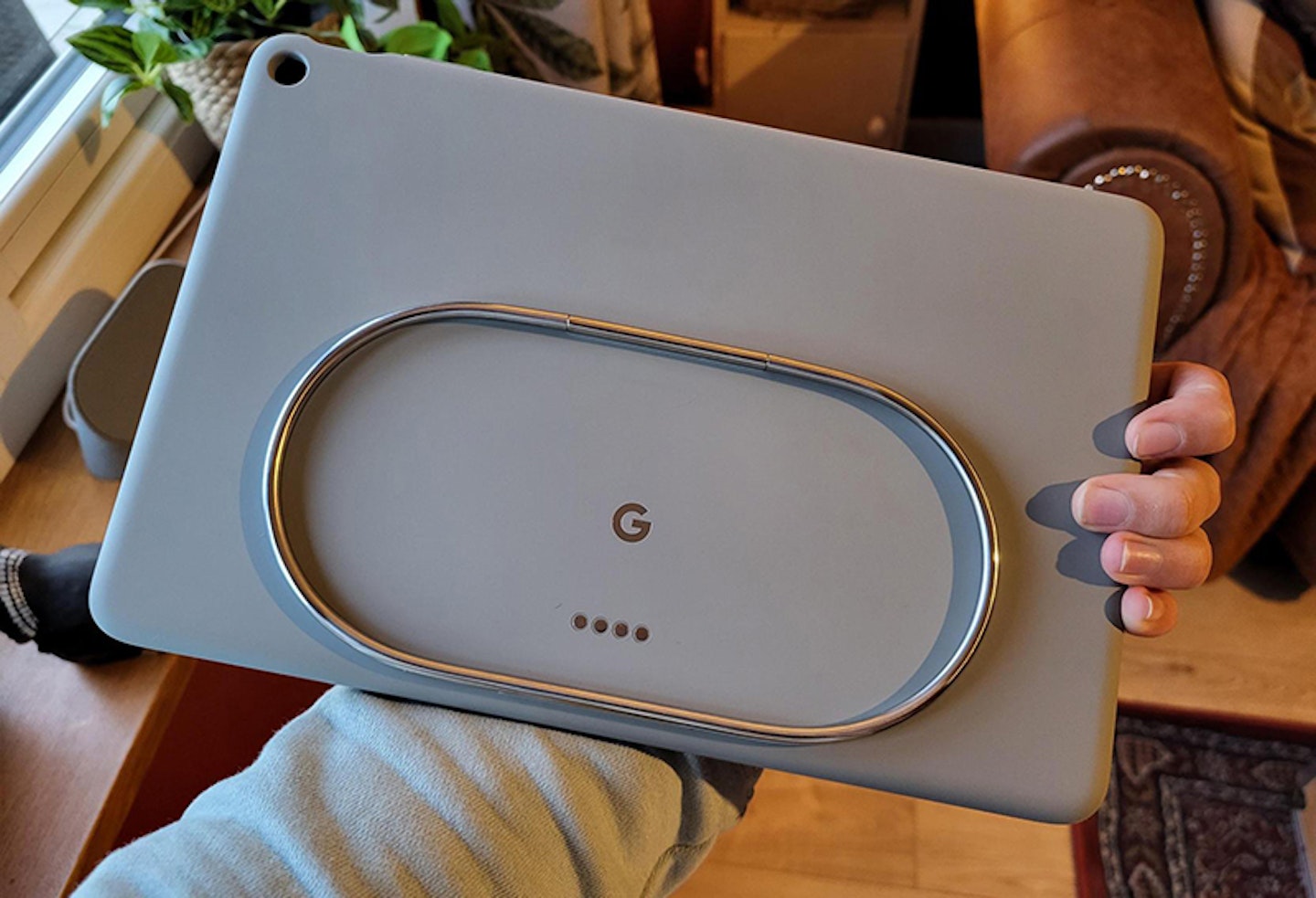 Although an additional purchase, Stephanie also tried out the Pixel tablet case, "The case is very tactile and feels nice to hold, the tablet isn't overly weighty and is a good size for having more functionality than a phone screen, but still easy to transport. The screen quality is great, as you'd expect, it's perfect for watching streaming services or YouTube, and the built-in kickstand on the tablet case is brilliant for this. It also has a pretty decent camera, although I still tend to use my phone for this.
"My niece and nephews have used the tablet and, as with most tech-savvy kids, they took about two seconds to figure out how to use it and play their favourite apps for toddlers. They do have their own tablets but obviously wanted to play with mine, but I didn't mind as it was so easy to set up child controls - you can limit which apps they can access, how long they use it for and even set timers so they can't use it within certain hours of the day."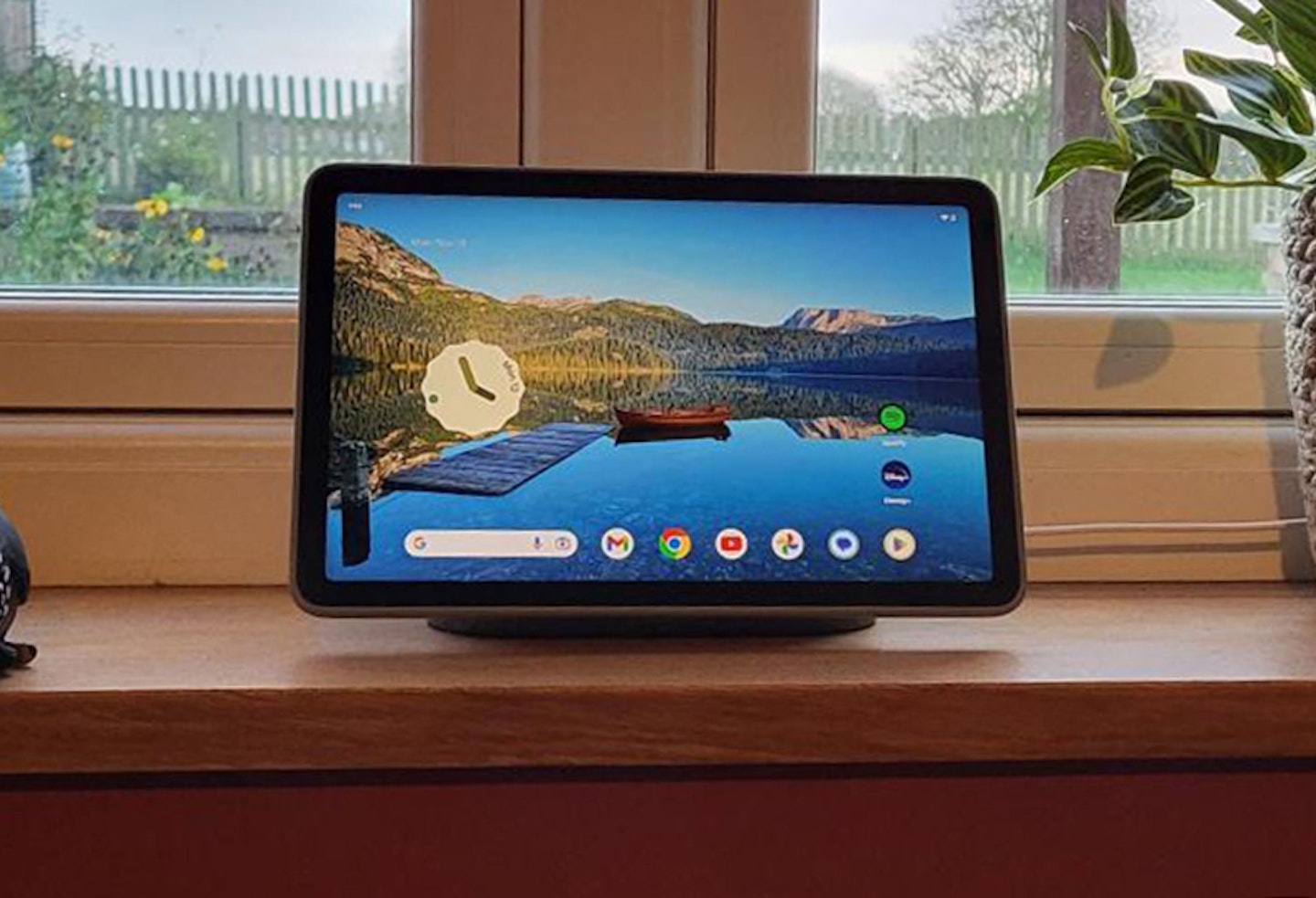 Stephanie's favourite feature was the split screen mode, "It's perfect for multitasking and this has been especially handy when looking at Google maps and also in Google looking at a specific holiday route, or if I'm on the train quickly checking work emails while also finding files to forward on. I mostly use the tablet at home rather than on the go, and this is where the Pixel tablet excels.
"I also love that when the tablet is docked it doesn't just sit there and collect dust, there are additional functions you can set in motion, for example using it as a hub for smart home devices. We don't have any so mostly use ours as a digital photo frame and I've set up a selection of my favourite images from Google Drive to slideshow through when it's in docked position. It's a lovely reminder of old memories."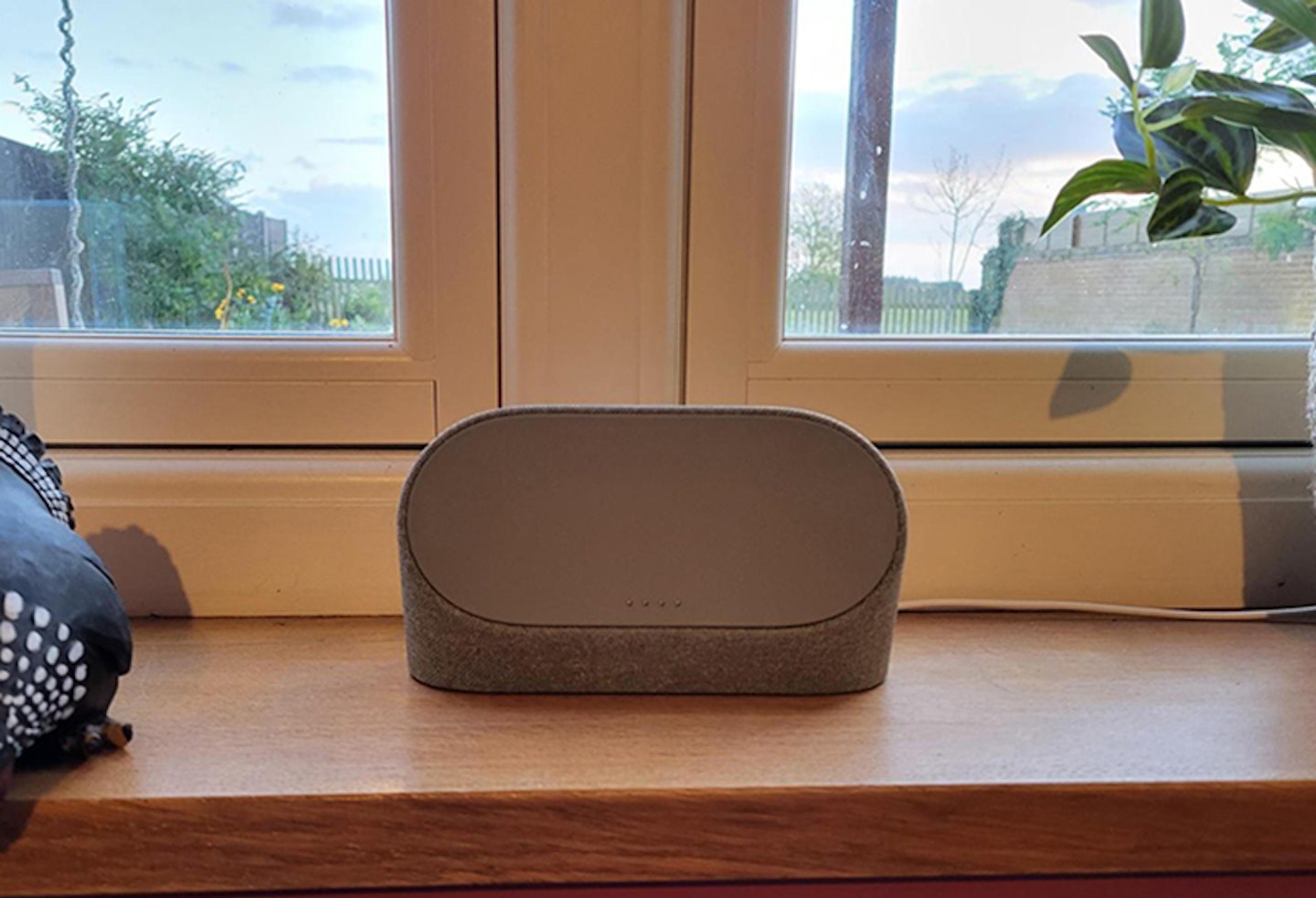 The dock comes with the tablet and also works as a speaker and a charging point, "It clicks into place with a magnet so there's no faffing trying to fit it onto a plug or anything like that," Stephanie adds, "When playing music it automatically and seamlessly switches from playing on the tablet to playing from the speakers when you dock it, and the sound quality is brilliant. We've got into the habit of bringing the tablet and speaker into the kitchen when we're cooking and using it from there to play our favourite songs. If you're using a recipe online you can also refer to it via the tablet, so it's multi-purpose! You can also purchase docks separately if you wanted to have them in multiple rooms, rather than moving the dock itself."
Mother&Baby's Editor, Maria Martin, also tested the Google Pixel Tablet, along with her 4-year-old son, Parker and her daughter Summer. "What a great addition to our home," says Maria. "The tablet lives in our kitchen as a useful timer, radio and speaker. I use it to look at recipes, for word search apps, plus the screen is big enough for daily admin jobs, in particular when using Google Docs, Google Sheets.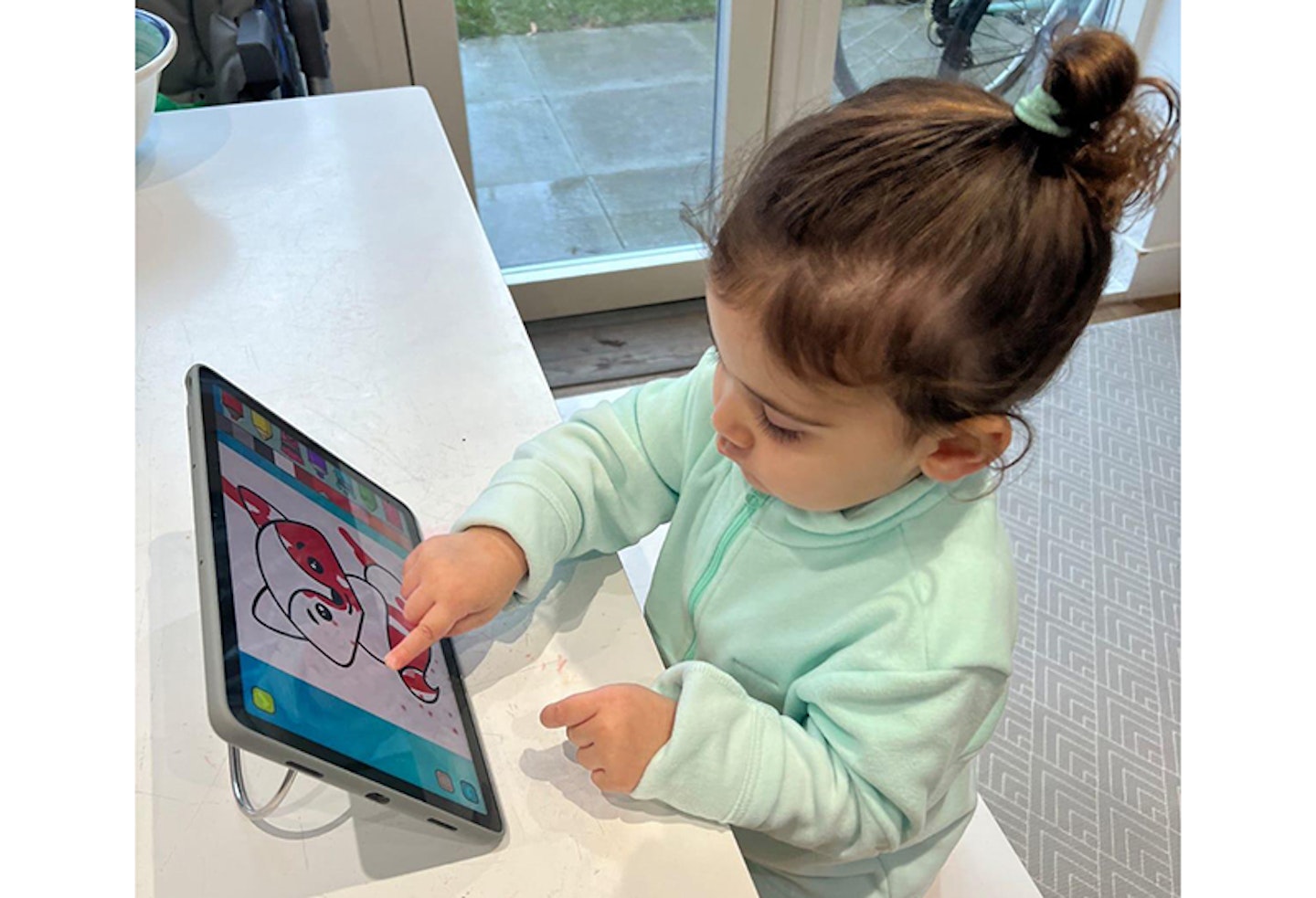 "We also like to watch YouTube Videos, Disney+ films, Prime Video in our house, and the 10.95-inch screen is honestly big enough for our little family of four to watch it together. The screen has adaptive brightness and is useful for multitasking - which is something as a parent I'm always doing. This also leads me into expressing how much use we get out of having separate user profiles. I have my adult profile, which I can password protect to keep things like my banking apps safe. I also have a kids' profile for my son.
"The best part of this feature is that I can choose what apps he can access and have also set a code to access the profile, along with what is called a 'Downtime' mode. So as soon as 7pm hits, my son knows he's up to bed and ready to wind down time. The whole point of 'Downtime' mode is to be able to manage any user's digital wellbeing, and I like that Google has thought about the future for adults and children."
Final thoughts on the Google Pixel Tablet
Stephanie says, "If you're looking for a tablet for casual use around the home then the Pixel tablet is hard to beat in terms of functionality, aesthetic and being user-friendly. Since the case doesn't have a screen cover, I personally don't like to take it out and about too much and prefer to stick to my laptop in these instances. There also isn't a child-friendly cover available, whereas some tablets do offer these. We mostly use ours in the living room or the kitchen, and the portability of the dock works well for us. It would also perhaps be good if the dock had some kind of smart functionality when it's not connected to the tablet."
Maria says: "I'd love to see a case for when I want to take the Google Pixel when on the go. I'm sure this is in the pipeline for Google's Pixel tablet. The safety aspects and digital wellbeing options are a great plus for those with children, as you can monitor what it available and accessible to your children, while encouraging breaks and Downtime modes. The battery life can take you about 2-3 days of use, and if you're an active Google user like myself, you can connect your Calendar, Photos to your Gmail account with ease. It pairs with it's dock well and turns into a great addition for when hosting a party at home, or simply for when just jamming with your kids. The dock as got a bit of kick to it. The Google Assistant needs to be told a good few times when asking instructions such as 'Hey Google' to set timer or switch off music, so I shall also be looking forward to device updates to rectify this. Overall, I would recommend if you're looking for a sturdy, reliable and fun tablet to add to a busy family life."
Google Pixel tablet FAQs
Does the Pixel Tablet have a mobile plan option?
While you can set it up to connect to your phone so you have access to your calls and texts, the Pixel Tablet is only available with Wi-Fi connectivity so you can't get a mobile plan option.
Can I purchase a Pixel Tablet without the Charging Speaker Dock?
You can only purchase the Pixel Tablet with the Charging Speaker Dock, however you can purchase additional Charging Speaker Docks separately.
Can the Pixel Tablet charge with a regular USB-C cable?
Yes, in addition to charging your Pixel Tablet with the Charging Speaker Dock, you will also be able to charge your Pixel Tablet with a USB-C cable.
What is Nearby Share and what devices can it work with?
Nearby Share allows you to quickly and securely share photos, videos, contacts, links and more between your Pixel Tablet and nearby Android phones and laptops.
Can the Charging Speaker Dock pair with any Bluetooth audio device?
No, the Charging Speaker Dock only works with the Pixel Tablet when it is docked.
Can I control my Nest devices with the Pixel Tablet?
Yes, in addition to controlling your Nest devices and other compatible smart home devices with the Google Home app, you can also control your home with the Pixel Tablet's home control panel.
Stephanie Spencer is the Deputy Digital Editor at Mother&Baby and auntie to four aged 8 to 6 months old. With a particular interest in health, she loves discovering products that make parent's lives easier.