We all have our little pleasures in life, from reality TV to chocolate and being a parent makes you appreciate these more than ever, especially as it's likely you have less time to enjoy them than you did before children.
If you're a lover of fine wines and look forward to a generous glass after a long day, you might have considered buying your very own wine fridge.
We spoke to luxury Scandinavian appliance brand, ASKO, who has teamed up with wine expert and sommelier, Andreas Larsson, to reveal the best ways to store your wine and what features to look out for when purchasing a wine cooler.
What is a wine fridge?
A wine fridge or cooler is a designated refrigerator that keeps wines at the ideal temperature for drinking.
Do I need a wine fridge?
If you're somebody who really enjoys their wine and likes to try and buy a variety, a wine fridge could be a great fit for your home. Drinking wine at its optimal temperature means you can enjoy it at its very best, enhancing the experience for the drinker.
However, if you aren't fussed about what you drink (or how), we'd recommend giving a wine fridge a miss.
What types of different wine fridges are there?
There are a few options to consider when purchasing a wine cooler, says Andreas, but you need to consider your own wants and needs.
Built-in wine coolers have the benefit of achieving a streamlined look in a kitchen, but once placed it's a challenge to change the positioning. A design-led freestanding wine cooler gives you the freedom to find the best position for your kitchen whilst looking stylish.
What features should I look for in a wine fridge?
After such a complex process of making the wines, you can spoil the taste by serving it at the wrong temperature. When purchasing a wine cooler, it is crucial that the features allow for the temperatures to be adapted and changed in order to get the best out of your wine.
Sommelier Andreas Larsson says: "Optimum light conditions are also key to keeping wines at their best. Keeping your wine away from harmful UV light is very important, as exposure can damage the drink, resulting in a strange taste and odour."
As well as UV light and incorrect temperatures, humidity can also have a big impact on the overall outcome of wine. Wine should be kept in conditions with a humidity level of around 70%, as anything below this can result in drying out and anything above this can cause mould.
Do I need a single or dual-temperature wine fridge?
When purchasing your wine cooler, it is crucial to invest in a product that has different temperature settings which allow you to adapt to suit your wine needs.
A single temperature wine cooler is set to the same temperature which may not be ideal for all wines. Dual wine coolers have two temperature controls with a divided storage space which may be set to their own temperatures.
Why is it important to serve wine at the correct temperature?
Maintaining and developing the wine's flavour depends on the temperature the wine is stored in. Many don't know the correct temperature to store their favourite wines which results in spoiling the taste.
"It is commonly thought that red wine should be served at room temperature - but that's a myth. Wine should be served at the right temperature," says Andreas. "This is slightly below room temperature, at around 20°C."
How much does a wine fridge cost?
Like with most things, the price of a wine cooler really varies which means there's something for every budget, as you'll notice from our round-up. We've included wine coolers from as little as £145 and all the way up to £1,239 at the top end.
As a rule of thumb, think about how expensive your wine collection is. If your entire collection of wine is worth £300, there's not much point splurging on a £1,500 wine fridge. But if wine is something you heavily invest in, it makes sense you'll want a more expensive wine fridge with all the bells and whistles you could ever need.
The best wine fridges 2022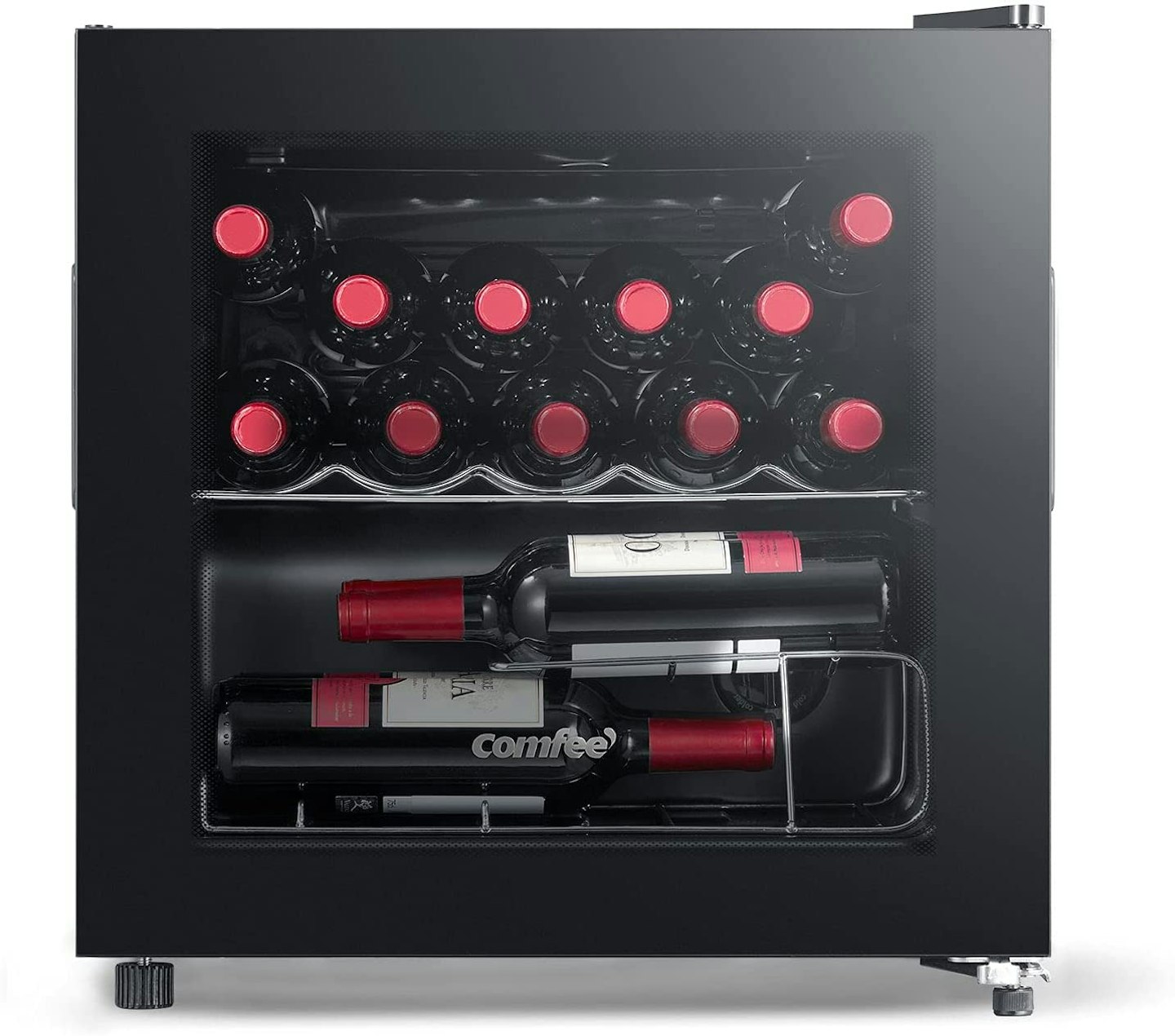 1 of 8
COMFEE' 43 Litre Wine Fridge
Equipping with an advanced compressor, this wine cooler is efficient and extremely quiet. It contains two removable chrome shelves allowing you to easily adjust the storage capacity. The two front adjustable legs will stabilise your cooler on any surface while the reversible hinge door allows you to install the door for either left or right side opening.
Capacity: 14 wine bottles
Size: 48 x 43.7 x 49.3cm
Temperature range: 5-18°C
Review: "It's a simple looking fridge that has a borderless type black glass door which looks really modern (and conveniently matches the doors on my integrated oven). It's reasonably quiet and we can't hear it any more than the fridge next to it, in fact, I think it's quite a bit quieter than that."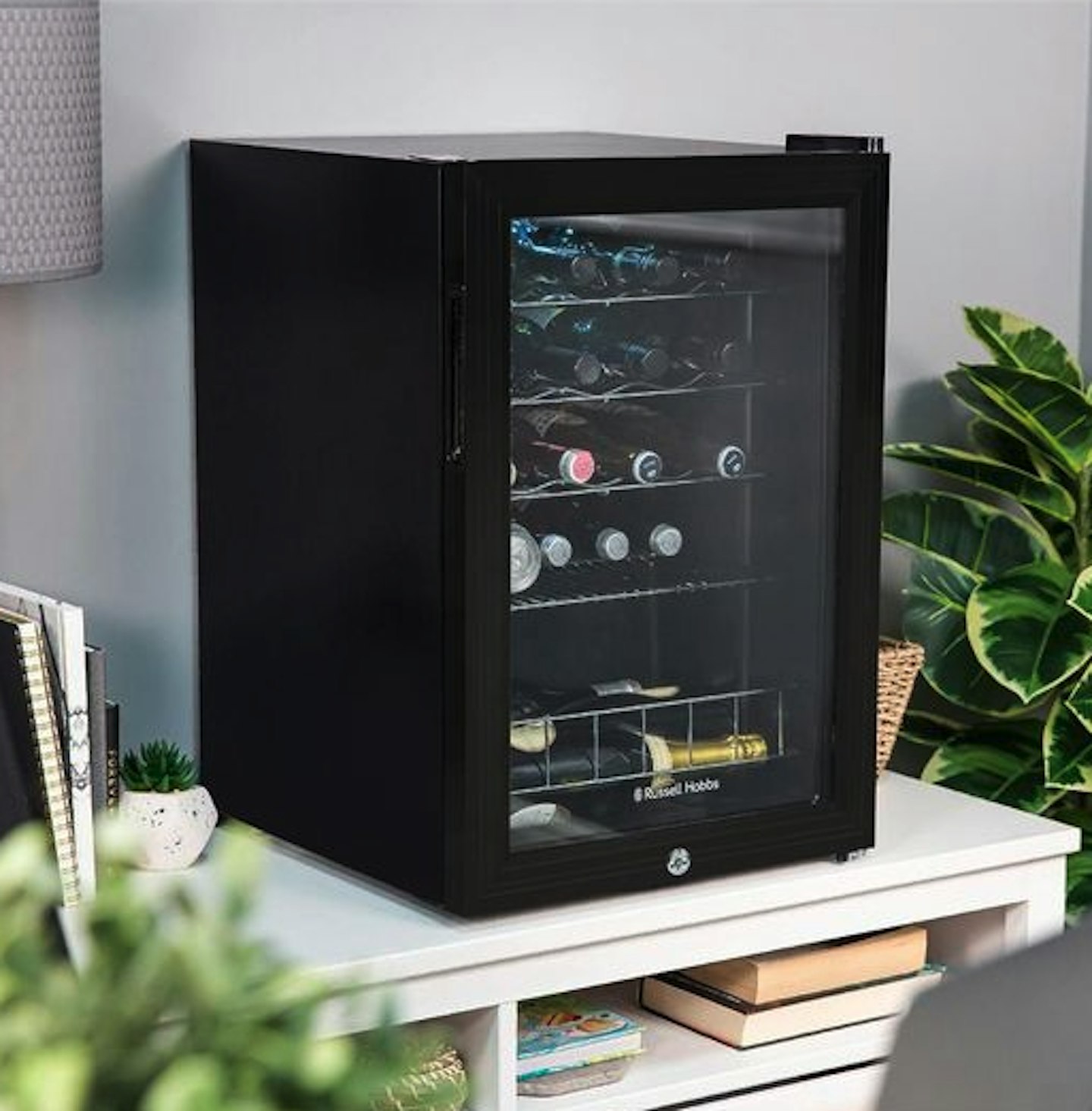 2 of 8
Russell Hobbs RHGWC4B-LCK Wine Cooler
Thanks to the glass door and interior light of this Russell Hobbs wine cooler, you'll always be able to see what's inside. It has a lockable door so you can keep your more expensive wines safe and sound.
Capacity: 20 wine bottles
Size: 640 x 430 x 480 mm
Temperature range: 5-18°C
Review: "The wine cooker maintains a nice low temperature, perfect for chilled wines. Shelves suitable for standard shaped bottles of wine."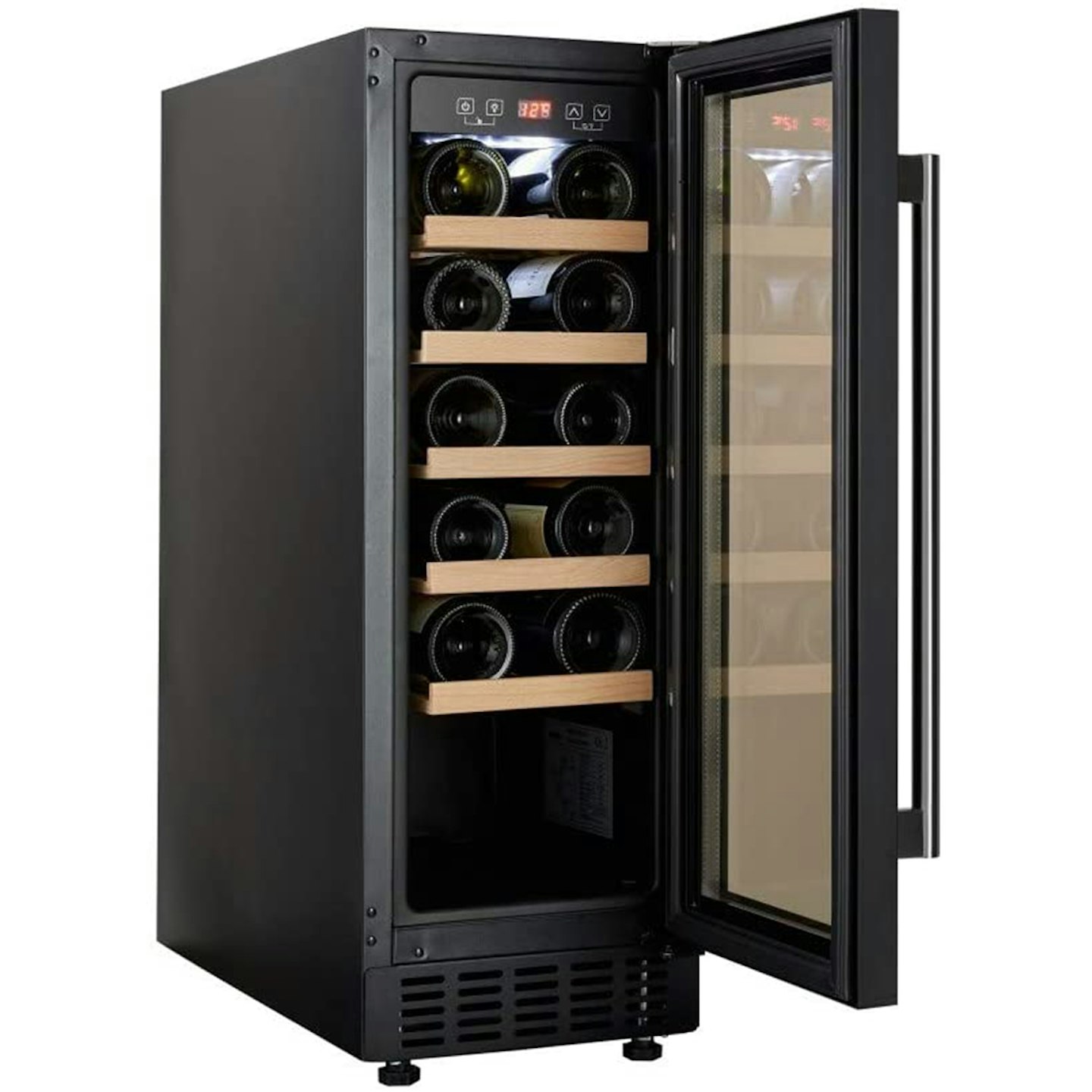 3 of 8
Cookology 30cm Wine Cooler
This standalone wine cooler will impress your friends and family with its LED lighting that bathes the bottles in bright, cool light. The five pull out shelves are made from Beech wood to prevent condensation and it also features a key lock.
Capacity: 20 wine bottles
Size: 870 x 570 x 295 mm
Temperature range: 5-20°C
Review: "Very pleased with our purchase ...does as it says on the tin and does it quietly and efficiently. The units are attractive to the eye and we wonder why we didn't do this a long time ago."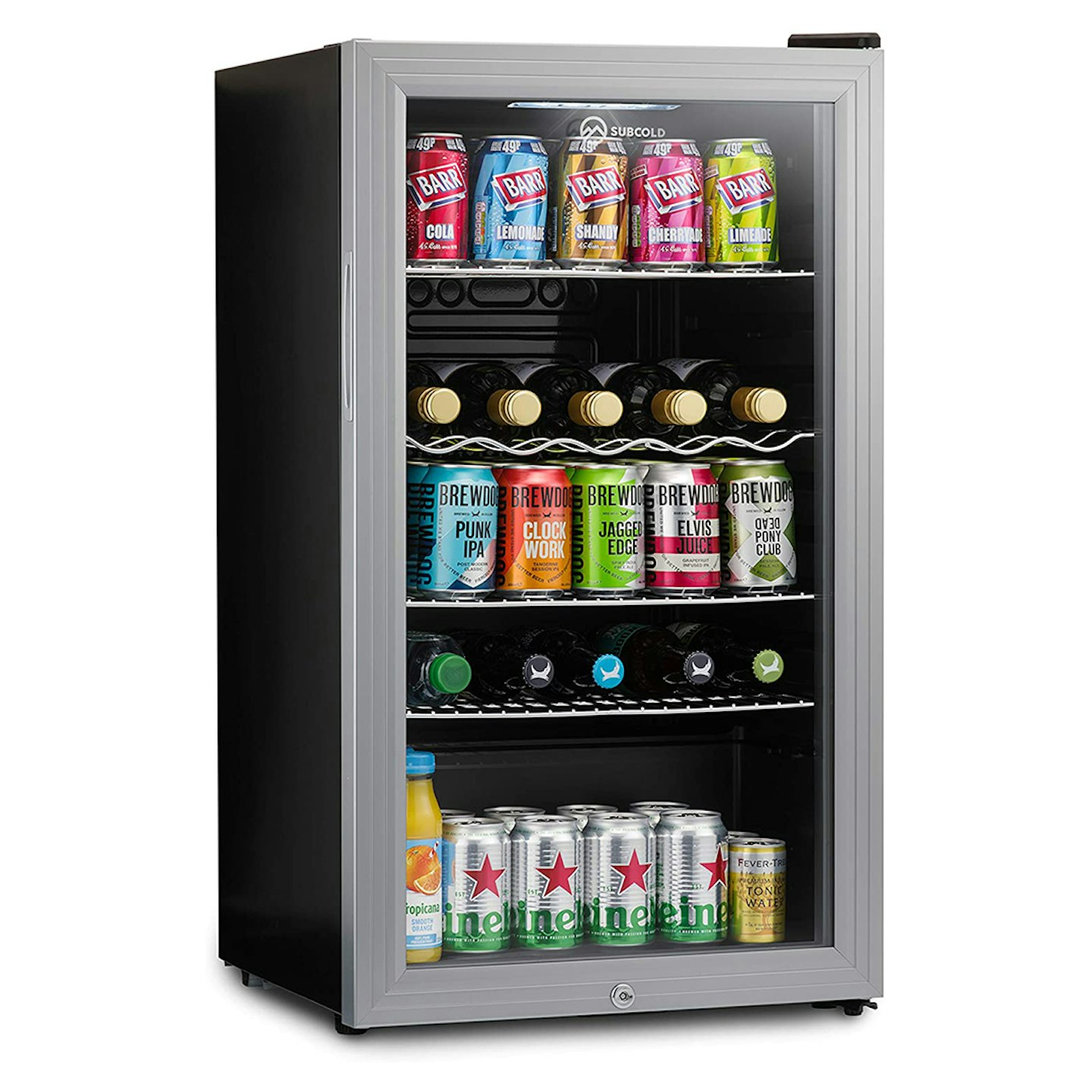 4 of 8
Subcold Super85 LED - Under-Counter Fridge
If you're looking for additional space for more beverages than just wine, this is the cooler for you as it can fit beer cans, soft drinks and more. With a reversible door and adjustable feet to fit wherever you need, it has four removable internal Chrome Wire Shelves and an adjustable thermostat inside.
Capacity: Holds up to 80 (330ml) Cans and 5 (75cl) Bottles
Size: 43.5 x 47.4 x 84.4 cm
Temperature range: 3-18°C
Review: "Pleasantly surprised by this little gem. Plenty of room to store all my hubby's beer and cider and of course room left over for my own drinks."
5 of 8
Hoover HWCB60DDUKSSM/N Built In Wine Cooler
Available in stainless steel and black, this wine cooler from Hoover has plenty of space for your favourite wines. The handy Dual Zone feature gives you two different temperature zones to suit your drinks and you'll never struggle to read the labels even when it's dark thanks to the bright LED light.
Capacity: 40 wine bottles
Size: 86.5 x 61.2 x 59.5 cm
Temperature range: 5-18°C
Review: "Really nice wine cooler. Looks as good as it does in the photos. It is noisier than a normal fridge, but you can only hear it when there is no other noise what so ever, it can't be heard over voices / music etc."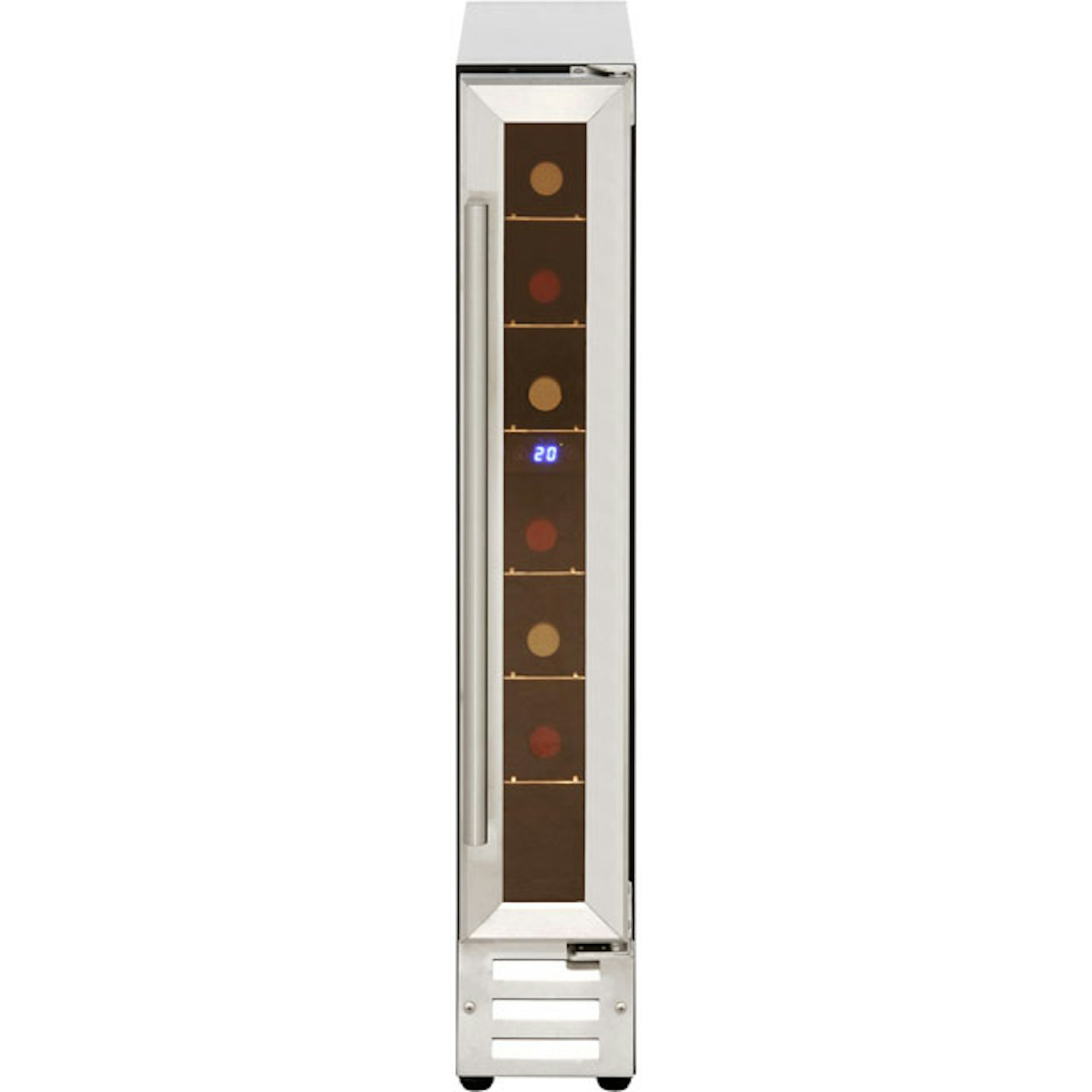 6 of 8
Belling 150SSWCMk2 Built In Wine Cooler
If you don't need much storage, how about this slim wine cooler? With a stylish, modern design that will fit under most worktops, you can adjust the temperature between 5 and 22 degrees to suit your favourite drink.
Capacity: 7 wine bottles
Size: 87 x 14.8 x 52.5 cm
Temperature range: 5-22°C
Review: "Great wine chiller, being able to go down to 5 degree is great for a nice cold drink on a warm day. Top and bottom compartments can be set to different temperatures which is a great option to have. Really good product would highly recommend."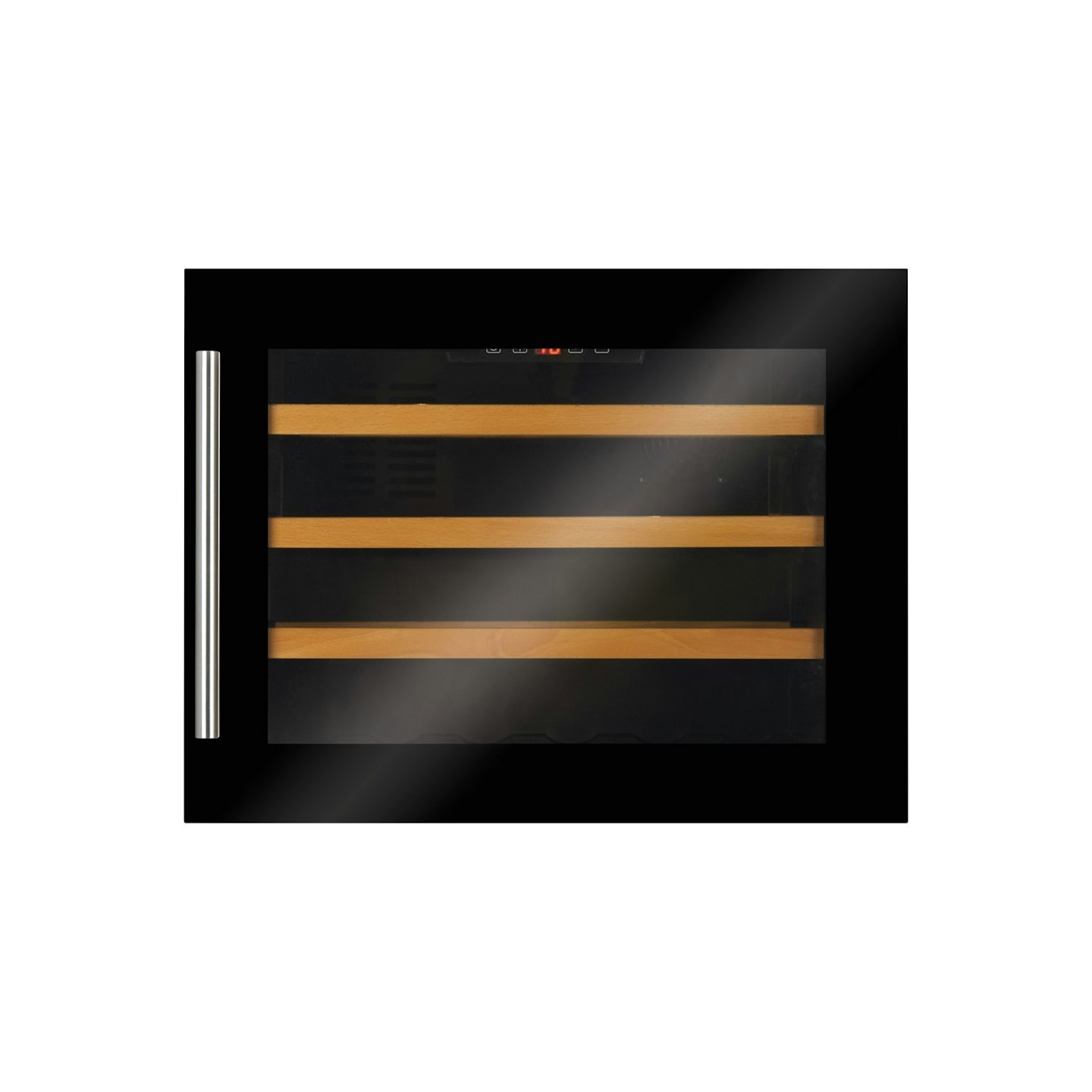 7 of 8
CDA FWV452BL Built Under Wine Cooler
Offering room for up to 24 bottles of wine, this cooler comes with a toughened glass door, which blocks UV rays so they won't ruin any of the flavours. The door is reversible too so you can fit it to open from the left or right to suit your home.
Capacity: 24 wine bottles
Size: 56.3 x 45.5 x 59 cm
Temperature range: 5-20°C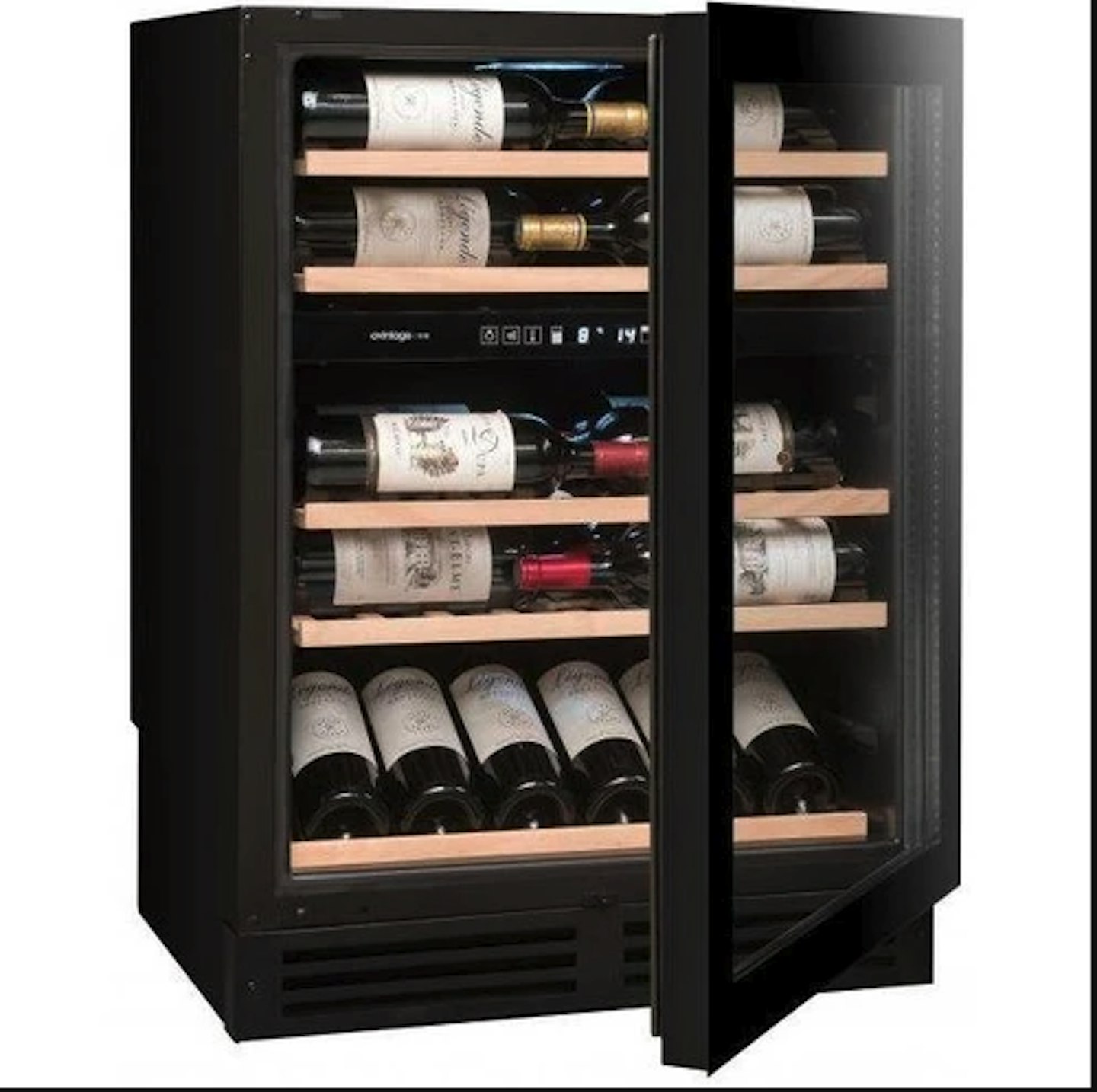 8 of 8
Avintage - 50 bottle Undercounter Wine Cooler
The most expensive wine fridge in our round-up, this under-counter wine cooler features a fully handle-less door and opens by touching the top corner. There are four multi-position shelves plus one presentation shelf for your best wine. Fancy!
Capacity: 50 wine bottles
Size: 815 x 595 x 570 mm
Temperature range: 5-12°C upper, 12-20°C lower
Popular articles to read next