Almost all babies suffer from nappy rash during their time wearing nappies and seeing your baby's perfectly peachy bottom turn sore and red raw can be really heartbreaking. But, there are lots of nappy rash creams available to buy that will help clear up that red botty.
Whether your baby is wearing disposable nappies or you've opted for the more environmentally friendly cloth nappies, there are a number of causes of nappy rash that isn't just down to your baby's skin being in contact with wee or poo for a little bit too long.
New foods, medicines and chaffing can all cause a nappy rash, even when you're taking care of their sensitive skin as best as you can during nappy changes and using sensitive skin-friendly baby wipes.
There are also different creams that will be more affective on different types of nappy rashes, including antibacterial and barrier creams.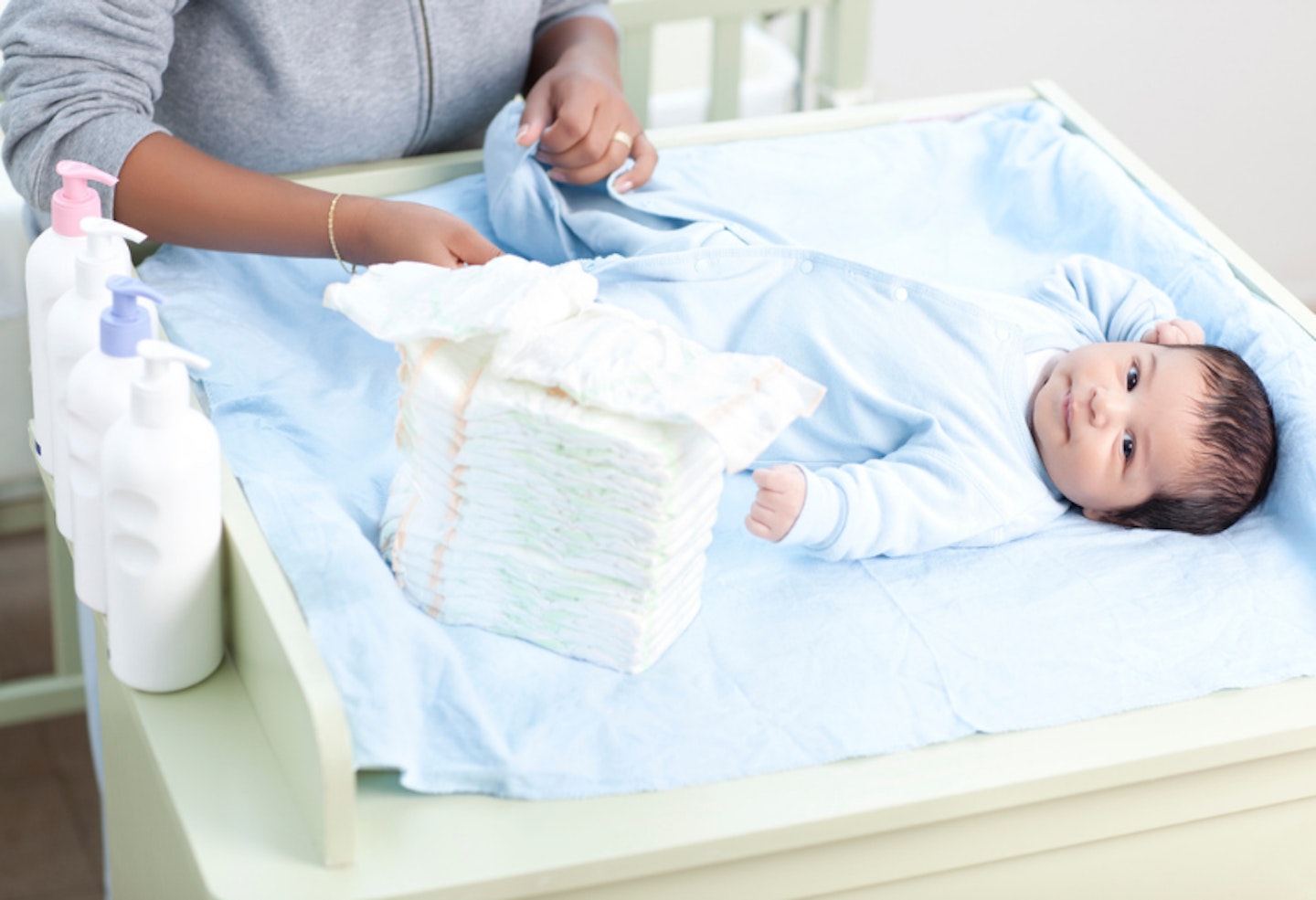 What causes nappy rash?
There are a number of causes of nappy rash. Midwife Marley Hall explains, "Nappy rash is an irritation to the skin that is often caused by wet or dirty nappies being in contact with a baby's bottom for a long period of time. It is recognised by a well-defined red rash with some areas of the skin appearing raised or swollen around the nappy area and your baby may become distressed or agitated due to itching or pain."
According to the NHS, the main causes of nappy rash are:
• Baby's skin being in contact with wee or poo for a long time
• The nappy rubbing against your baby's skin
• Not cleaning the nappy area or changing the nappy often enough
• Soap, detergent, or bubble bath
• Alcohol-based baby wipes
• Your baby recently taking antibiotics.
Which are the best nappy rash creams?
With so many different creams on the market, we've rounded up the best nappy rash creams you can buy today to keep in your family medicine cabinet.
Best overall nappy rash cream
Description
Specially formulated to look after babies' bottoms, this gentle but effective cream is an
Pros
Supports skin regeneration
Soothes redness
Great value
Best daily barrier nappy rash cream
Description
Awards: Won Gold in the Mother&Baby awards 2023 for Best Nappy Cream.
Aveeno Baby Daily
Pros
Suitable from 3 months plus
Easy to apply
Unscented
Cons
Not suitable for newborns
Best nappy rash cream for sensitive skin
Description
Awards: Won Silver in the Mother&Baby awards 2023 for Best Nappy Cream.
Childs Farm's
Pros
Suitable for newborn and up
Suitable for every day use
Paediatrician and dermatologist approved
Best salve nappy rash cream
Description
Awarded Bronze in our 2023 Mother&Baby Awards for Best Nappy Cream.
Nearly all baby's suffer
Pros
Suitable from birth
Smoothes into skin nicely
Cons
Scented might not be suitable for all skin
Best barrier nappy rash cream
Description
**Bepanthen Nappy Care Ointment won Silver for Best Baby Skincare Range/Product at the Mother&Baby
Pros
Suitable for everyday use
Only need a small amount
Best emollient nappy rash cream
Description
If you don't have a pot of this in the bathroom, are you even a parent? It's a must-have and looks
Pros
Antibacterial
Soothes sore or inflamed skin
Description
Suitable to use from birth, the Metanium Ointment is 100% vegan friendly and gentle on your babies
Pros
Can be used from birth
Fragrance free
Cons
The yellow colour can mark light clothing
Best 100% natural nappy rash cream
Description
Burt's Bees Baby™ 100% Natural Diaper Rash Ointment has protecting properties to treat and prevent
Pros
Safe for delicate skin
Non-irritating and soothing
Best antifungal nappy rash cream
Description
Canesten clotrimazole cream is used to treat fungal nappy rash. It's a pharmacy item, so you'll
Best organic nappy rash cream
Description
Help keep baby's skin soft and comfortable with this cream. Made with nourishing organic beeswax
Pros
Made with organic products
Helps prevent nappy rash
Best sensitive skin nappy rash cream
Description
**The Good Bubble Organic Coconut Oil won Silver in the 2021 Mother&Baby Awards Best Nappy Cream
Pros
Suitable for newborns
100% pure organic cotton
Description
**The My Expert Midwife No Harm Bum Balm won Gold in the 2021 Mother&Baby Awards Best Nappy Cream
Pros
Ultra smooth serum
One handed dispenser
How to apply nappy rash cream
Marley advises, "When treating nappy rash, parents should clean the affected area as quickly as possible, dry gently with a soft towel, or a muslin cloth and then apply a pea-sized amount of nappy rash treatment cream to the affected area."
If you have found your baby's rash isn't clearing up by itself, you can use a cream or other nappy rash treatment.
There are different types of nappy rash cream available, and it's important to know the difference so that you buy the best one to soothe the redness and soreness of your baby's bottom:
Barrier creams
Use a barrier cream as a preventative measure in your daily nappy changing routine, as long as your baby's skin is intact. Once your tot's bum is completely dry, apply a super-thin layer before popping on their nappy.
Emollient creams
If the skin on your bubba's bum looks dry, itchy, or scaly, then an emollient will help to get their skin back into a state where it can deal with the onslaught of all the poo and wee. They soothe, smooth, and hydrate the skin, but you'll need to reapply frequently.
Antiseptic creams
If that nappy rash is starting to look a little worse, then apply twice a day until the rash resolves. It'll help to soothe your child's skin as it gets to work on the bacteria, so it'll quickly help them feel more comfortable too.
Antifungal creams
If your little one has a Candida nappy rash, the infection will need to be treated with an anti-fungal cream. Get your GP's advice first - they'll be able to identify if it is indeed a fungal infection. If you want to buy it over the counter, you'll probably have to speak to the pharmacist first to make sure you're getting the best product.
How to help prevent nappy rash
You can prevent your baby from developing a nappy rash in a number of ways according to the NHS.
• Change wet or dirty nappies as soon as possible
• Clean the whole nappy area gently but thoroughly, wiping from front to back. Use water or fragrance-free and alcohol-free baby wipes
• Bath your baby daily – but avoid bathing them more than twice a day as that may dry out their skin
• Dry your baby gently after washing them – avoid vigorous rubbing
• Lie your baby on a soft baby towel and leave their nappy off for as long and as often as you can to let fresh air get to their skin
• Do not use soap, bubble baths, or lotions
• Do not use talcum powder as it contains ingredients that could irritate your baby's skin.
Marley adds, "In the winter, nappy rash can be increasingly difficult to manage as extra layers and thicker clothing may mean that dirty nappies are not detected quick enough, meaning your baby is left in contact with poo or wee for a long period of time, which can lead to nappy rash. When the temperature drops, there may also be less opportunity for nappy free time. It is however important that your little one can kick and move freely whilst allowing warm air in the house to reach their skin."
How often should you use nappy rash cream?
Most nappy rash creams can be applied every time you change your babies bum, and this can also help to prevent irritation.
Once you've cleaned your babies skin with a wipe or a clean reusable wipe, gently apply a pea-sized amount of your chosen nappy rash cream onto your babies bottom before putting a fresh nappy back on them.
Additional FAQs
When you should ring your GP
If your baby's nappy rash isn't clearing up after using a general nappy rash cream, if it's getting worse, or if it's bleeding and looking infected, then book an appointment with your GP to get it checked out.
They can do a test to find out if the rash is infected and advise you on the best course of action.
What's the best nappy cream?
All of the nappy rash creams we have recommended will work wonders soothing your little one's bottom, and the best one for you will depend on the condition of their bum.
That said, out of the range of barrier creams, we love the Weleda nappy cream.
Weleda's 100 per cent certified natural baby range works with all types of babies' skin, from normal through to hypersensitive. Packed with Calendula, a popular herb used in skincare and medicinal products, it'll soothe irritation, comfort the skin, and even has antiseptic, antimicrobial, and anti-inflammatory properties. Not only is it a deeply nourishing, protective barrier cream, which cares for the delicate skin of the nappy area, but it's also completely free from synthetic preservatives, fragrances, and colourants.
Dermatologically tested and developed with the assistance of physicians and midwives, we know that the Weleda nappy cream will help to naturally care for and support your youngster's skin.
Trying out the Weleda Baby Calendula Collection, our mums said:
Mum tester Victoria: "I would recommend the Weleda range as they are a reasonably priced complete range that is suitable for an infant as well as older children, particularly those with sensitive skin. The whole range smells divine, and they last well as you only need a small amount. The nappy cream is also good, rubs in easily, and it seems to prevent nappy rash well."
Mum tester Amanda: "I would highly recommend the calendula products. I loved the smell and how soft and moisturised my baby's skin feels after using them. They feel quite luxurious."