When your baby reaches that all-important taking their first steps milestone, you may want to start looking for the best baby walkers or cheap baby walker to help them with the transition from sitting to standing to walking for the first time. There is a huge range of walkers on the market to suit a wide variety of tastes and budgets, so we've rounded up some of the best to help you choose the right one for you and your tot.
A baby walker is a movable contraption that can help your baby take their first steps. Whether you're looking for a cheaper or a more expensive option to encourage them to get to that walking milestone, there are many different kinds. You can have walkers your baby sits in, or Zimmer-frame-type walkers, sit-and-stride bike types, or jumpers. Their feet touch the floor, and with your guidance, baby can learn to navigate a safe space and learn to walk and transition from a sitting position to a standing position. A baby walker is usually made of plastic or wood, and it can be collapsible so that it can be easily folded away and stored.
It allows them to explore areas by themselves and helps their legs become stronger in preparation for future walking, developing muscles and coordination skills. Walkers should be used for around 20 minutes a day so as not to put too much strain on underdeveloped muscles.
Editor's Choice
• Best for style: Vtech Baby Walker – Available to buy on Amazon
• Best for babies: Mychild Roundabout 4-in-1 Activity Walker – Available to buy from Argos
• Best sustainable walker: Janod Buggy Wooden Walker – Available to buy on Amazon
When choosing a baby walker for your little one, you'll need to make sure that it's the right size and age range for your little one, plus you'll need to select the type of walker you want. There are wooden baby walkers and baby walkers with wheels, some they can sit in and some can be pushed along. It may seem like there is a lot to consider, but don't worry, we've done the hard part for you.
We've found the best baby walkers currently available to buy in the UK to suit every budget, style, and need - many of which were shortlisted for the Mother&Baby Award winners.
The best baby walkers for 2023
Best for style
Description
Award: Mother&Baby Award shortlist 2020 for the best baby toy
The Vtech baby walker is not
Pros
Gain balance
Sensory development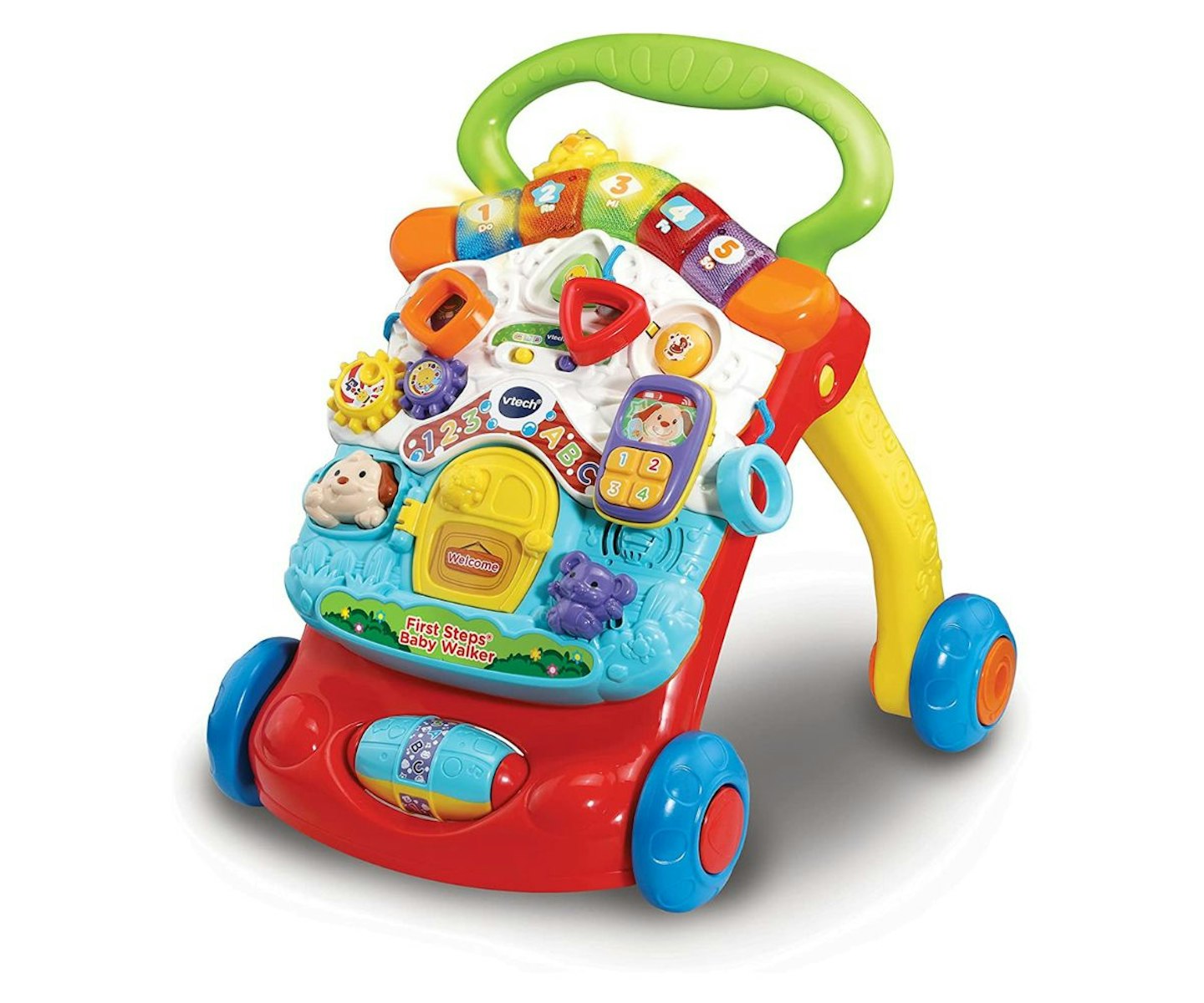 Best quality
Description
Say hello to this VTech Baby Push and Ride Alphabet Train baby walker. It sounds like an oxymoron,
Pros
Including 4 sing-along songs and 10 different melodies
Encourage strength and balance development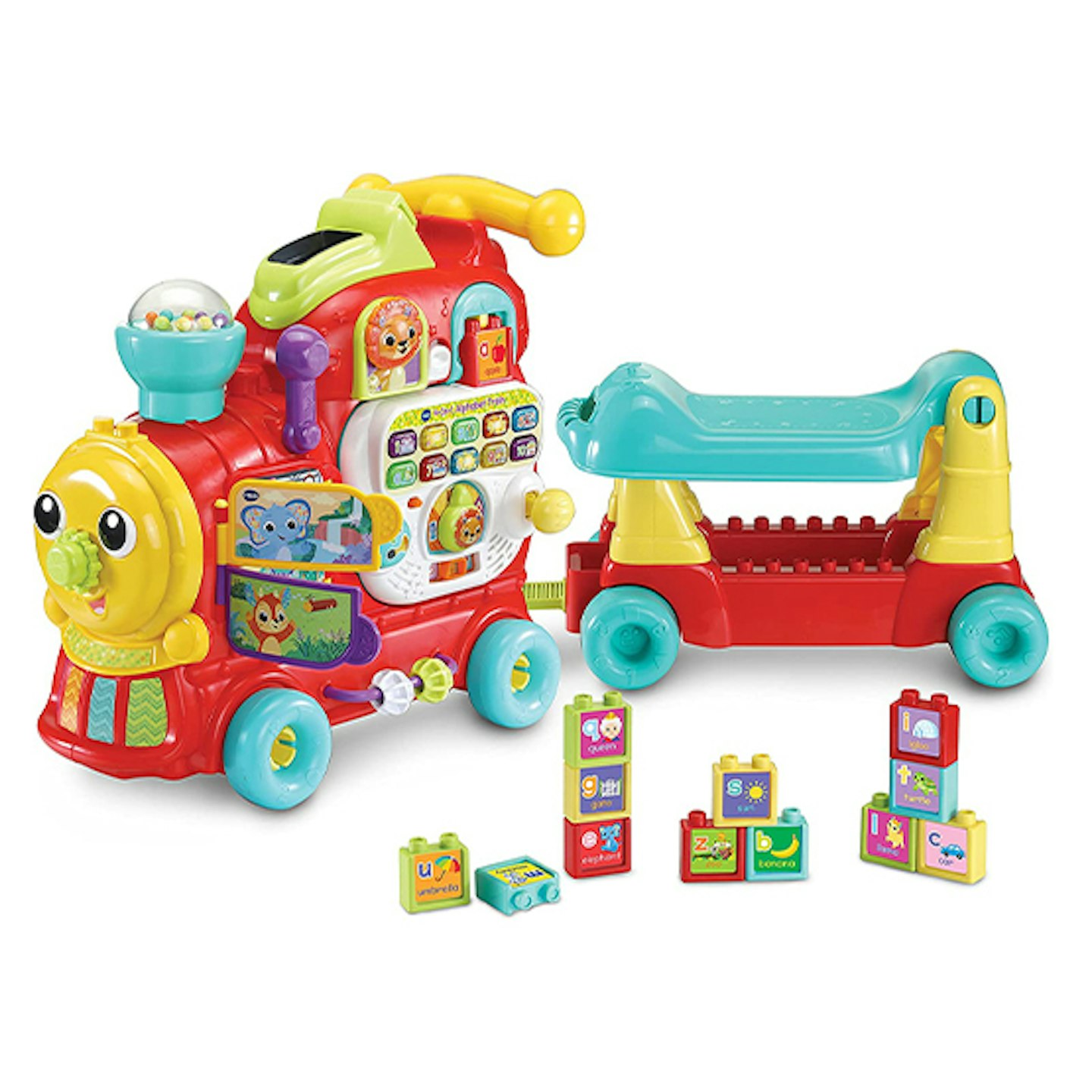 Best for motor skills
Description
Award: Mother&Baby Award shortlist 2018 for the Best Baby Toy
This product made the
Pros
3 play modes words
Folds flat for easy storage
Cons
To be used under the direct supervision of an adult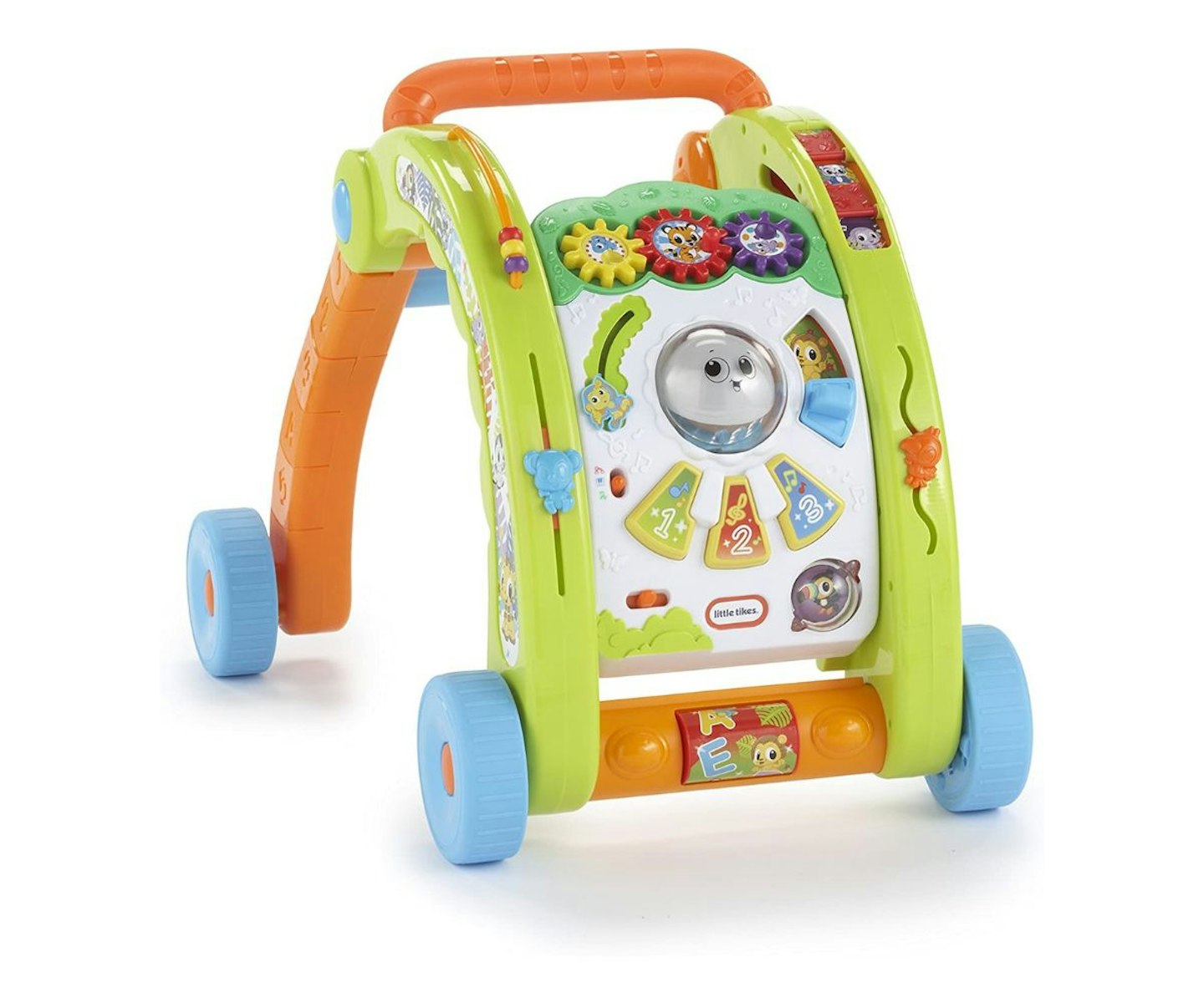 Best for babies
Description
Encourage your baby to move in different ways by walking, rocking, bouncing and spinning with this
Pros
Walk, rock, bounce and spin
Back support for baby's comfort.
Cons
May not last as long as others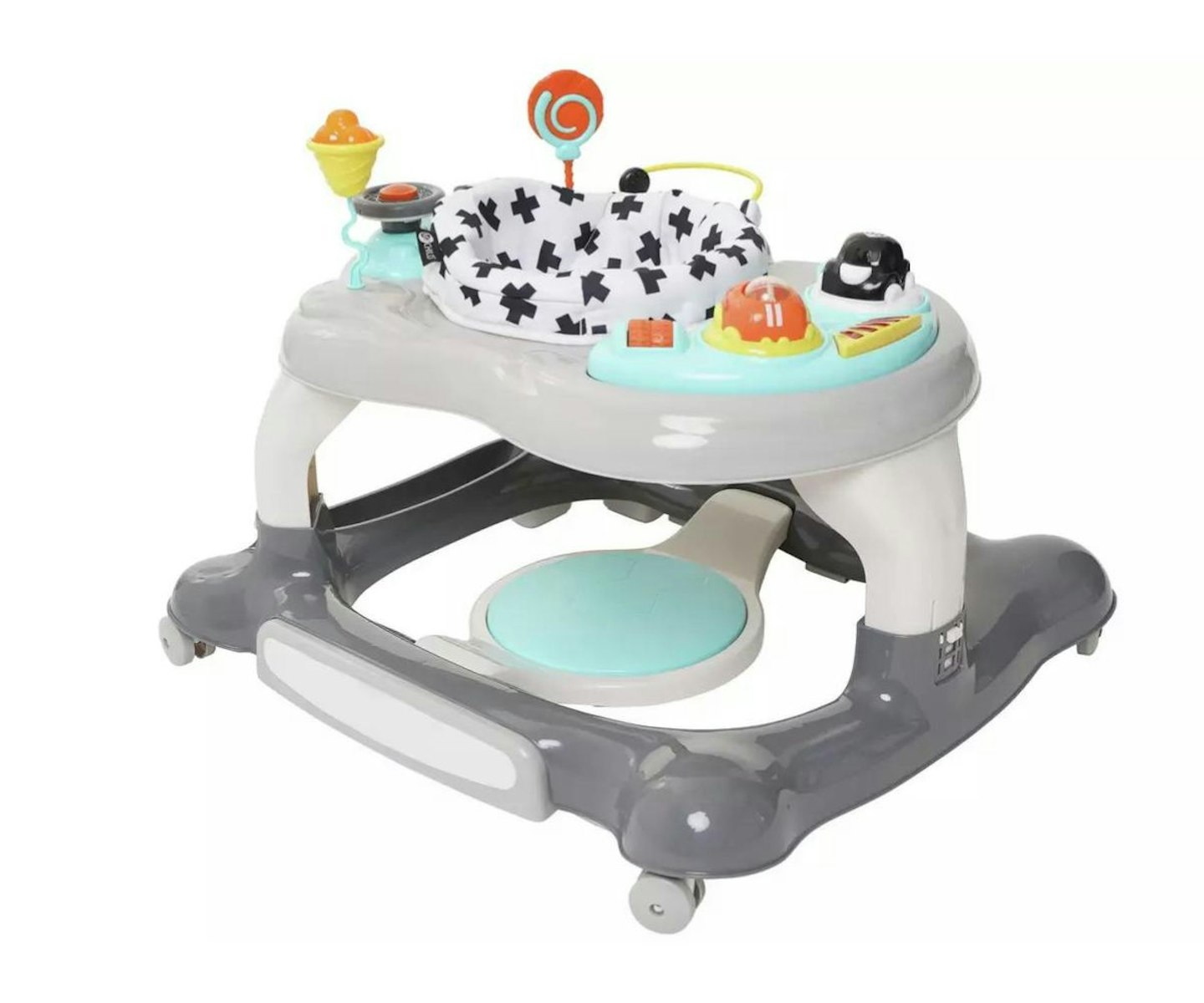 Best value
Description
Award: Mother&Baby Award shortlisted in 2018 for Best Baby Toy
A good one if you're after
Pros
Easy-grasp handle
Gift-ready box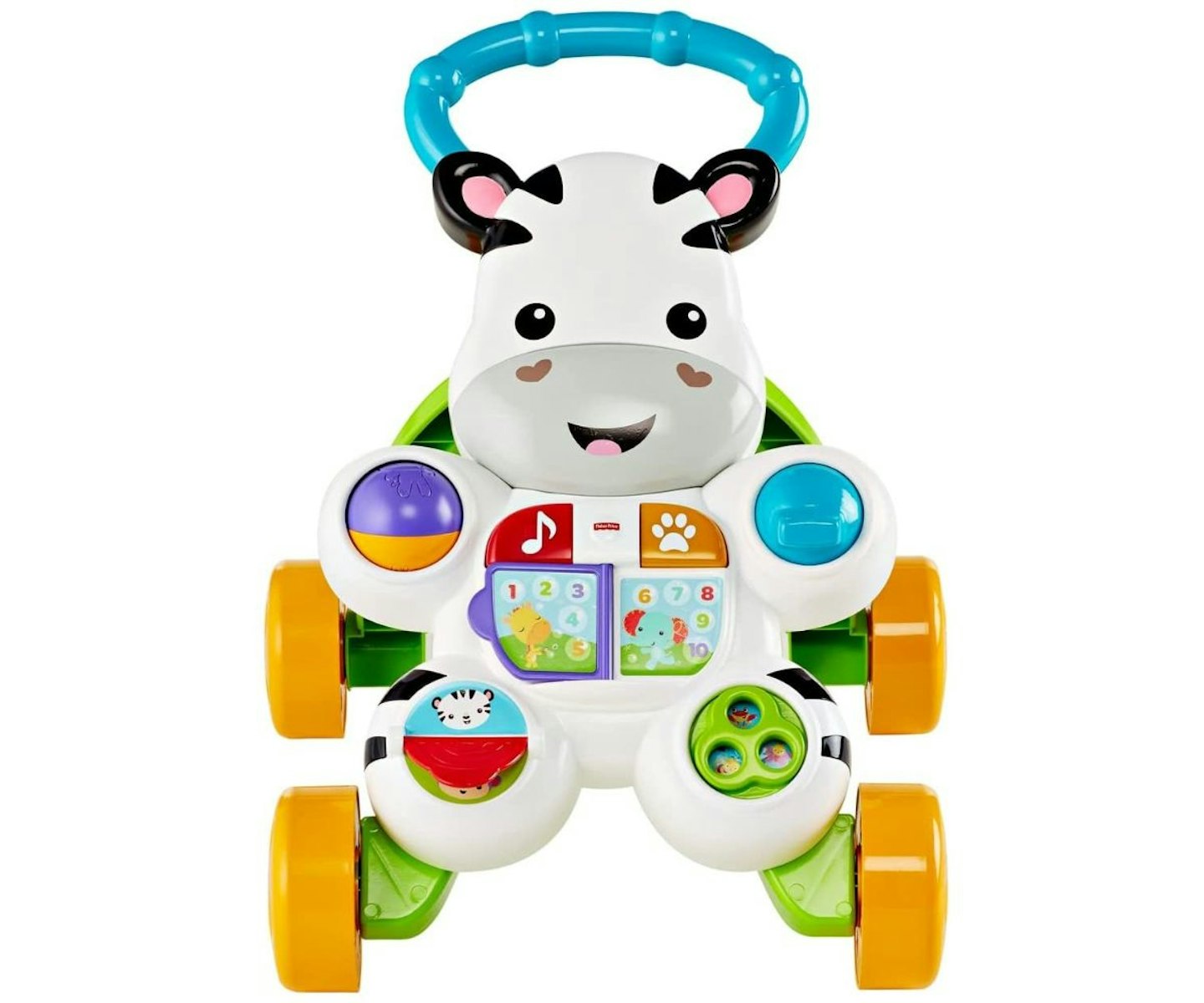 Best sustainable choice
Description
Containing 30 pine blocks with letters of the alphabet on, this eco-friendly Janod Buggy Wooden
Pros
Explore motor skills
Silent wheels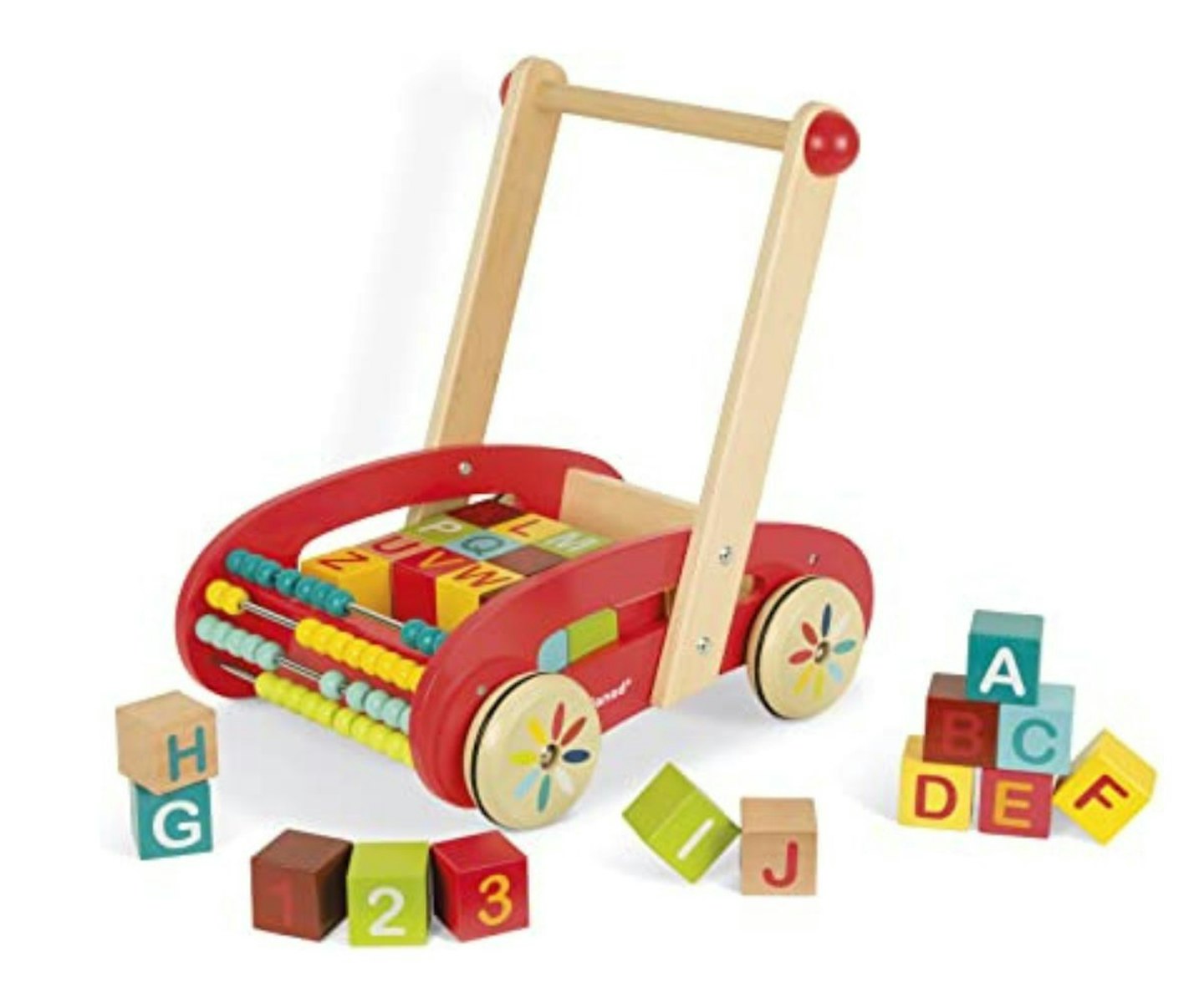 Best design
Description
This Fisher-Price 3-in-1 Sit, Stride and Ride Lion Set converts from an activity unit to a walker
Pros
Variety of rhymes
Easy to change from a Walker to a sit-and-ride.
Cons
Wheels can stick on laminate flooring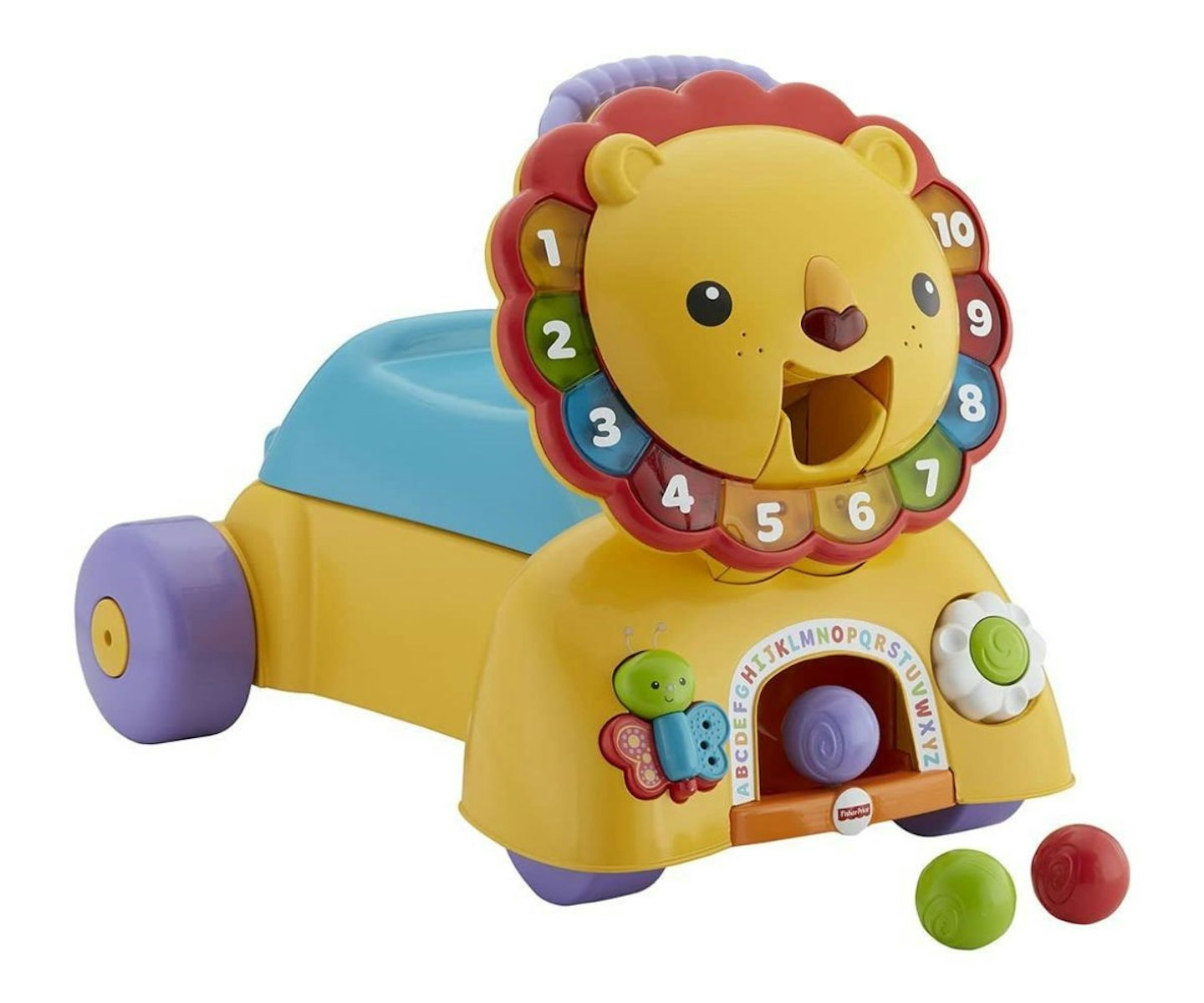 Choosing the right baby walker for your little one
Baby walkers fall into four main categories:
The seated walker: For very little ones who are just starting to sit up.
The walking frame: Basically like a baby Zimmer frame for tots who can stand up without trouble if they are leaning on something.
The sit and stride: This could be like a little bike they can sit on and use their legs to move around.
The jumper: A stationary bouncing seat that doesn't move around the floor but it does encourage your baby to use their legs, preparing them for the walker or walking frame stage, again assisting development and helping them build their muscles.
What to consider:
Your space: A walker with a wider base can prevent your baby from entering areas of the house you'd rather them not go into, like the kitchen and the bathroom. Make sure that the baby walker can move on carpets easily, otherwise your baby will probably just give up trying.
Height and weight: Adjustable height and a padded seat are always good extras to have, depending on the height and weight of your baby. Another good extra would be lockable wheels for when you need your baby to stay in one place.
Cost: The cost of a baby walker can range from about £30 to well over £100.
Are baby walkers safe?
Wondering if baby walkers are safe? Well, there has been a lot of speculation about the safety of baby walkers because even though it should go without saying, a baby left unattended in a baby walker is never safe. In fact, the sale of baby walkers is banned in Canada. In the UK, this is a matter of parent discretion, and there are safety tips you can follow to minimise potential dangers. The NHS says,"If you do use a baby walker, bouncer, or seat, it's best to use them for no more than 20 minutes at a time."
Baby walker safety tips
• A baby walker should only be used under adult supervision, and a baby in a walker should never be left unattended.
• Most baby walkers are suitable for ages six months and up or when your doctor says it's OK.
• Check what's now within your baby's reach – can they now reach dangerous items or even a cup of coffee?
• Do not let your baby use a walker anywhere near stairs or steps.
• Make sure your baby can't reach electrical sockets.
• Make sure there aren't any cables your child can pull on.
• All walkers should have the safety mark BS EN 1273:2005.
Are baby walkers good or bad for development?
Once your baby has had plenty of tummy time and strengthened those all-important tummy muscles they need for crawling, they'll soon be pulling themselves up into a standing position, using furniture to support themselves. Once you notice your baby reaching this point in their physical development, then you can introduce a baby walker to help develop these skills further.
A baby walker will help build your baby's confidence up before they take those all-important first independent steps. The only thing you should be aware of is any injuries your little one might incur while using a walker. Avoid using the walker for more than 20 mins at a time so their tip toes don't get sore.
Why trust us?
Our product recommendations are based on a combination of real-world testing from our burgeoning army of mum testers and the extensive knowledge of our experienced editorial team and product specialists. Where we can, we also consult experts who specialise in that field to ensure you get the right advice along with the right product, and we listen to what you say as well. Our thriving mum community on our Facebook group #mumtribe also often holds great insights as to which products mums really like best and why, helping us highlight the products that meet what you really want.
For the essential products, our annual Mother&Baby Awards shortlist the top products tested, and you can find full reviews from our mum testers provided on the product page. The winners and runners-up for each category then will appear in our top picks article for that product such as this one, along with other products that were rated highly by our team.
When it comes to the best baby walkers, the safety of your little one is our top priority. We also look at a variety of budgets, age suitability, what to avoid, and of course, the quality of the products we go on to feature.
Emily Gilbert is a Digital Writer for Mother&Baby and has written for the website and previously the magazine for six years. Specialising in product reviews, Emily is the first to know about all the exciting new releases in the parenting industry.