Despite their name, the question of are baby walkers safe is a misleading one. Although they might be called baby walkers, they aren't actually suitable for babies.
We're not saying avoid baby walkers altogether, as we understand how useful they can be for parents. They can keep your child away from trouble while also helping them get used to the motion of walking as their legs get stronger and they take their first baby steps. We would however advise you to be cautious and aware of the risks they could pose.
Are baby walkers safe?
As parents, we want to keep our children as safe as possible and paediatric physiotherapists say the early use of baby walkers can cause injury as well as developmental problems that may arise as a result of early use.
Some walkers are advertised for babies as young as four months. At this young age, your baby is much more likely to injure themselves in a baby walker. This could cause head injuries, trapped limbs as well as falls. Even if they are big enough for a walker, it's important to keep a close eye on your baby at all times.
This is because a baby walker can allow your child to move quicker and see more which increases the risk of them reaching hazardous things and reaching out for items above them.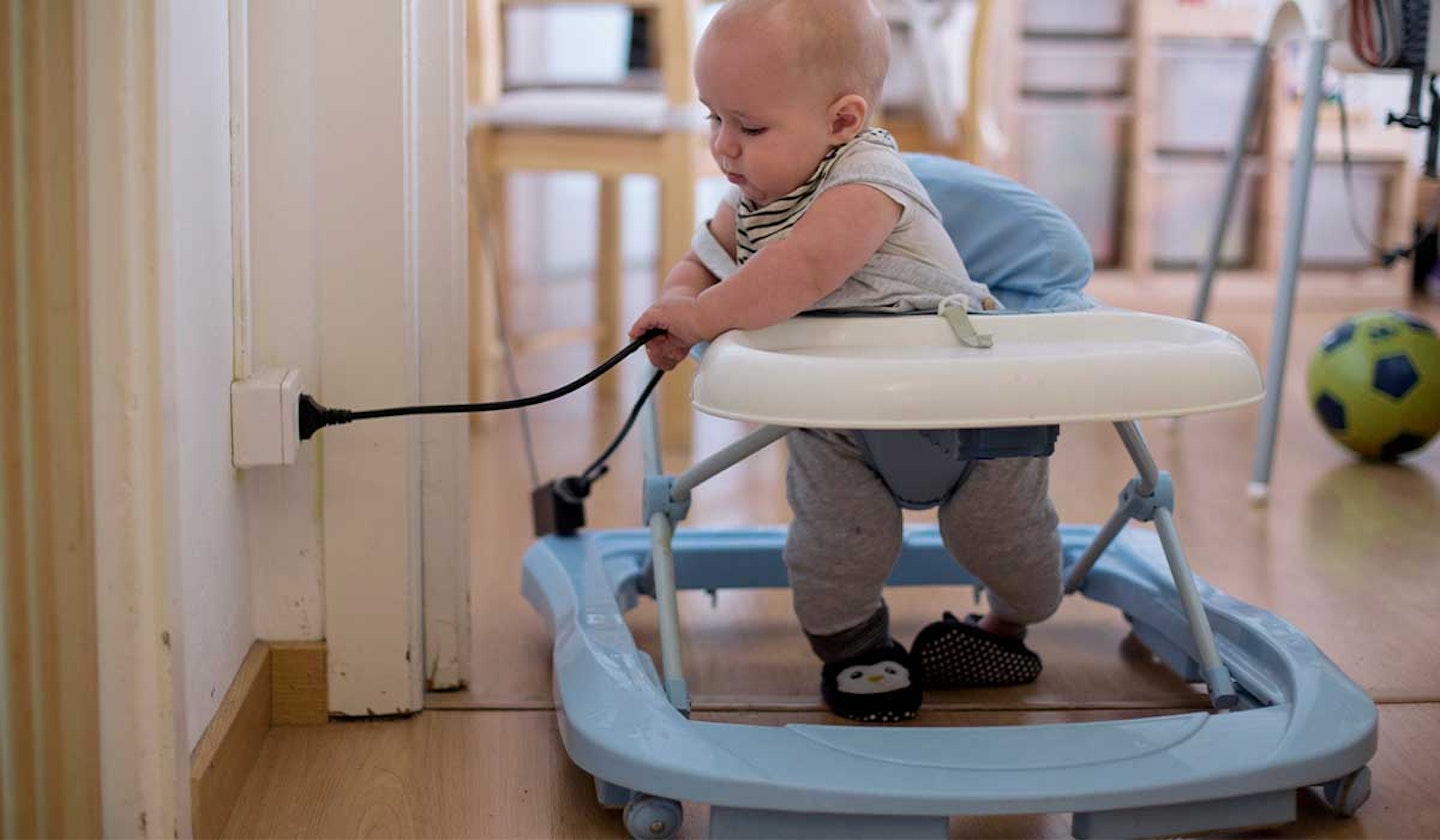 Developmental risks
Remember, a baby walker isn't necessary to help your child learn to walk. They will naturally begin to walk whenever they are ready and it's important not to put pressure on that as a parent. Some studies have even suggested that a baby walker can cause delays in a baby's motor development milestones.
The studies even suggested that babies that used a baby walker experienced a developmental delay when it came to their developmental milestones compared to babies who didn't have a baby walker, showing that baby walkers aren't a necessity when it comes to your baby's development.
How old should my baby be before they start using a baby walker?
Babies can start using a walker from six months old. They must also be able to confidently sit up on their own and hold their head up. It's okay if you don't think your baby is ready for a walker, some aren't ready until they reach eight months or even nine months.
How long should baby be in their walker for?
According to the NHS, a baby shouldn't use a baby walker, bouncer for more than 20 minutes at a time. Prolonged use of baby walkers can delay walking or even cause baby to walk on their tip toes for longer. Therefore, when your baby uses their walker, you should ensure their feet remain flat on the floor.
What are some alternatives to baby walkers?
You don't need to get yourself a cheap baby walker or other baby toys to help aid your baby's physical development. For example, there are many benefits to tummy time for your baby and this will soon lead to rolling, crawling and using their arms. The next step is learning to sit up by themselves which baby will naturally learn.
Alternatively, if you're wanting a baby walker to keep your baby preoccupied while you do some work, things like activity mats or baby play pens can be a great way of keeping your baby safe and stimulated through safe play.
Lorna White is the Senior Digital Writer for Mother&Baby. After running the Yours magazine website, specialising in content about caring for kids and grandchildren, she has now brought her expertise to the UK's #1 leading pregnancy and parenting website. Lorna enjoys writing about a range of topics from potty training and nutrition, to baby names and fashion. In her spare time, she enjoys spending time with her two young sisters, dog walking and enjoying the outdoors with her family.