When doing your baby's laundry, it is advised to use a baby washing powder that has been specifically designed for a baby's delicate skin, especially if they're suffering from a baby skin condition. This new skin has so many new experiences in your little one's first few months, so reducing the amount of irritants that come into contact with it is a good way to prevent baby rashes.
It might be a surprise just how much dirty laundry your little human is capable of producing in their little laundry basket. Not to mention you'll need to know how to keep baby's soft toys clean too. So, you ideally want a detergent that is strong enough to get those tough stains out in one wash. Having to wash the same item over and over again isn't practical, nor is it cheap.
Editor's Choice
Best for sensitive skin: Nimble Laundry Lover
Best for baby's clothes: Bambino Mio, Miocare
Best alternative for baby laundry: ecoegg Laundry Egg
And, of course, you want something that won't be too harsh on your little one's skin to prevent any unwanted reactions or newborn skin peeling. So what is the best baby washing powder out there? We've chosen some detergents that are specifically designed for babies' delicate, sensitive skin. Here's our guide to the best baby clothes-washing detergents, including some eco-friendly baby products.
Our pick of the best baby-friendly washing powders and detergents
Best big-brand detergent for babies
Description
This Non-Bio Persil powder is sure to last a while for the whole family. Tough on stains but
Pros
Great value bundle
Fresh scent
With the conditioner, a little goes a long way
Cons
The thin packaging does not protect the tablets, so may burst if not stored correctly
Best eco-friendly detergent
Description
Earth Friendly Products Ecos Lavender Laundry Detergent is an Amazon's Choice product, and three
Pros
Eco-friendly
Mild yet lovely scent
Detergent and conditioner in one
Cons
Doesn't tackle really stubborn stains
Best washing powder for baby's clothes
Description
If you're after the best baby washing powder, this is the one for you. The Bambino Mio Miocare is
Pros
Great value multipack of six
Gentle and fragrance-free
Quick and efficient cleaning results
Cons
Some found the powder didn't always dissolve completely
Description
The Ecover delicate laundry liquid is suitable for fine fabrics, silks and woollens. It was
Pros
Uses less plastic in the packaging
Great stain removal
Nice subtle scent
Good value
Cons
Doesn't come with a measuring cup as it is designed to be a refill
Best alternative for baby laundry
Description
Ideal for little ones (and adults!) with dermatological problems, Ecoeggs was developed for people
Pros
No single-use plastic
Fragrance-free
All-in-one' washing powder and softener' with the pellets
Cons
You'll need to remember to replace the pellets, which can be bought separately
Description
Babies and stains go hand in hand, which is why so many people love Napisan - and have done for
Pros
Great for cleaning all sorts of stains and ousting odours
Whitening properties
Cons
Each box is 800g - for the price, some customers expected a larger quantity
What to consider when choosing the best baby washing detergent
There are three main things to consider when choosing a baby-skin-friendly detergent:
Non-bio detergents: Non-bio simply means the product doesn't contain enzymes that deposit in fabrics.
Liquid detergent: Unlike powder detergents which are made with insoluble ingredients, liquid detergents dissolve easily, so less likely to leave residue behind.
Eco-friendly detergents: Plant-based ingredients found in eco-friendly baby products are very gentle on fabrics and skin. On the other hand, we don't love some mainstream detergents because they contain petroleum-based chemicals.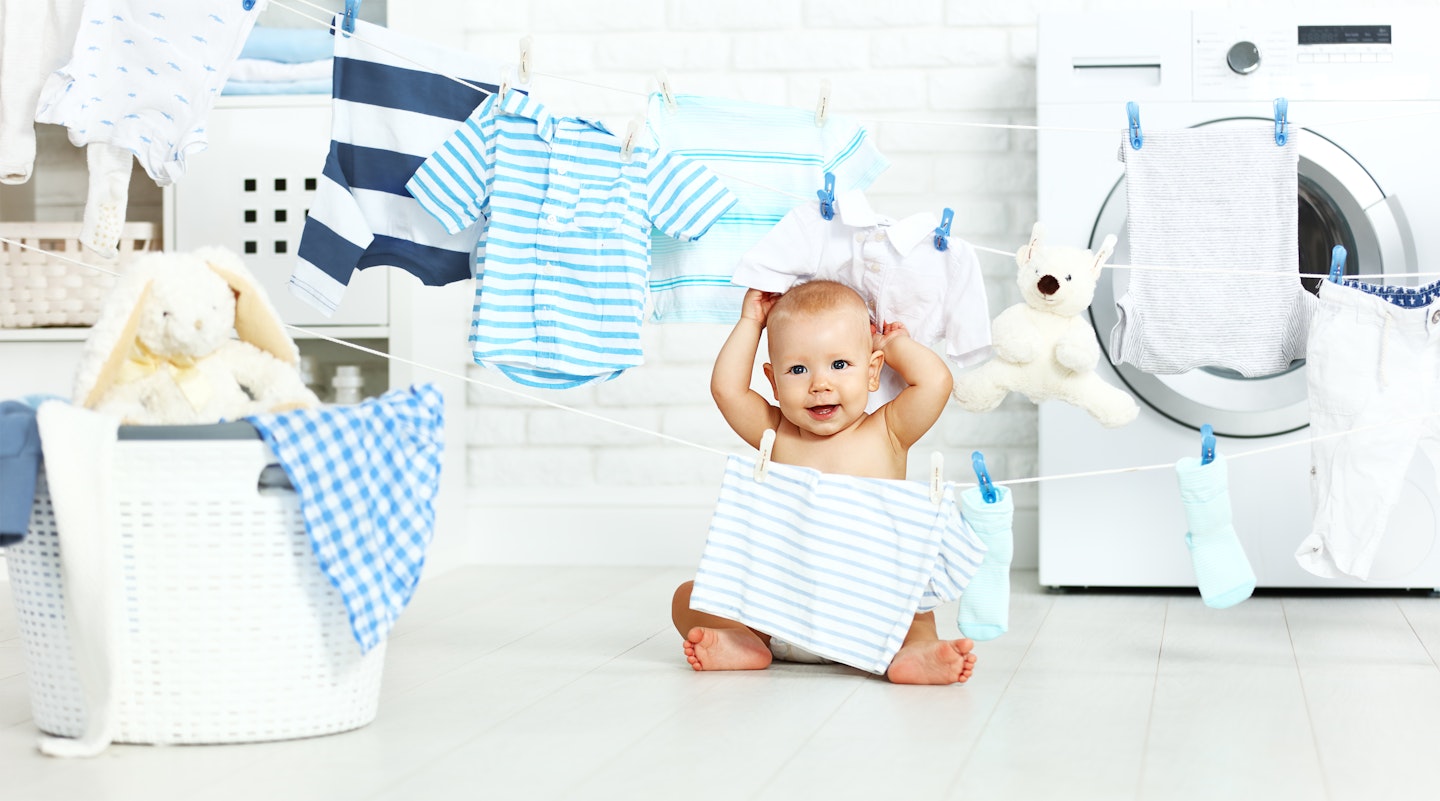 Expert advice on choosing the best baby laundry products
We've spoken to Von Sy, founder of plant-based cleaning product brand Nimble and detergent chemist. He has over a decade of experience working for the world's largest detergents manufacturer. He shared his thoughts on three main things parents can keep in mind when choosing a detergent for little ones' clothes:
"Through my work in the detergents industry, one of the key things I learned when looking for a detergent to use on sensitive skin is to pick one that will leave minimal residues. Big brand manufacturers often use surfactants (the cleaning ingredient) which are derived from petroleum, which contain heavy metals and other impurities which deposit on the fabrics and can cause irritation for baby's sensitive skin."
A few tips for your washing detergent include:
Choose fragrance-free: Do not opt for beautifully scented detergents that use chemical fragrances. Instead, choose ones that are fragrance-free. You can always spray some natural oils, such as lavender, around your nursery to make it smell wonderful. You should avoid adding overpowering fragrances to your baby's clothes and linens.
Try a patch test first: Before you do a whole load of washing with a new detergent, try washing one item, such as a baby sleepsuit or blanket, with the new product first. This way, you'll know straight away whether it has a negative effect on your baby's skin – and be able to pinpoint it to that one item. It's then easy to switch detergents if your baby does have a reaction.
Look at the ingredients: Some common chemical ingredients can be harsh on sensitive skin, so before you buy, check the packaging. Detergents and softeners that use low-toxicity, natural, plant-based ingredients are much more delicate on baby-soft skin.
About the expert
Von Sy Founded Nimble in 2015 after becoming an uncle for the first time. He was shocked at the amount of chemicals used in most cleaning products, so he decided to create an effective alternative which is suitable for families with babies and young children.