When it comes to finding the best breast pump, you may prefer a hands-free option like the Pippeta Wearable Breast Pump. Ideal for new mums who are exclusively pumping, this device gives you maximum flexibility as it can be used on the go.
Available in the colours Sea Salt and Ash Rose, the pump fits snuggly around the breast and can be placed into your bra as there are no wires or tubes that may get in the way. It comes with a multitude of accessories including a breast shield, valves, sealing rings, flanges, diaphragms and bra strap adjusters.
Unlike other options on the market, it's compact and very lightweight, so you can travel with it easily. It's wireless too, so all you need to do is charge it up and then it's ready to use. You'll love the LED screen as it's really simple to change the settings as and when you need to.
Pros
Wireless design
Clear LED display
Powerful suction
Cons
May be fiddly to attach to begin with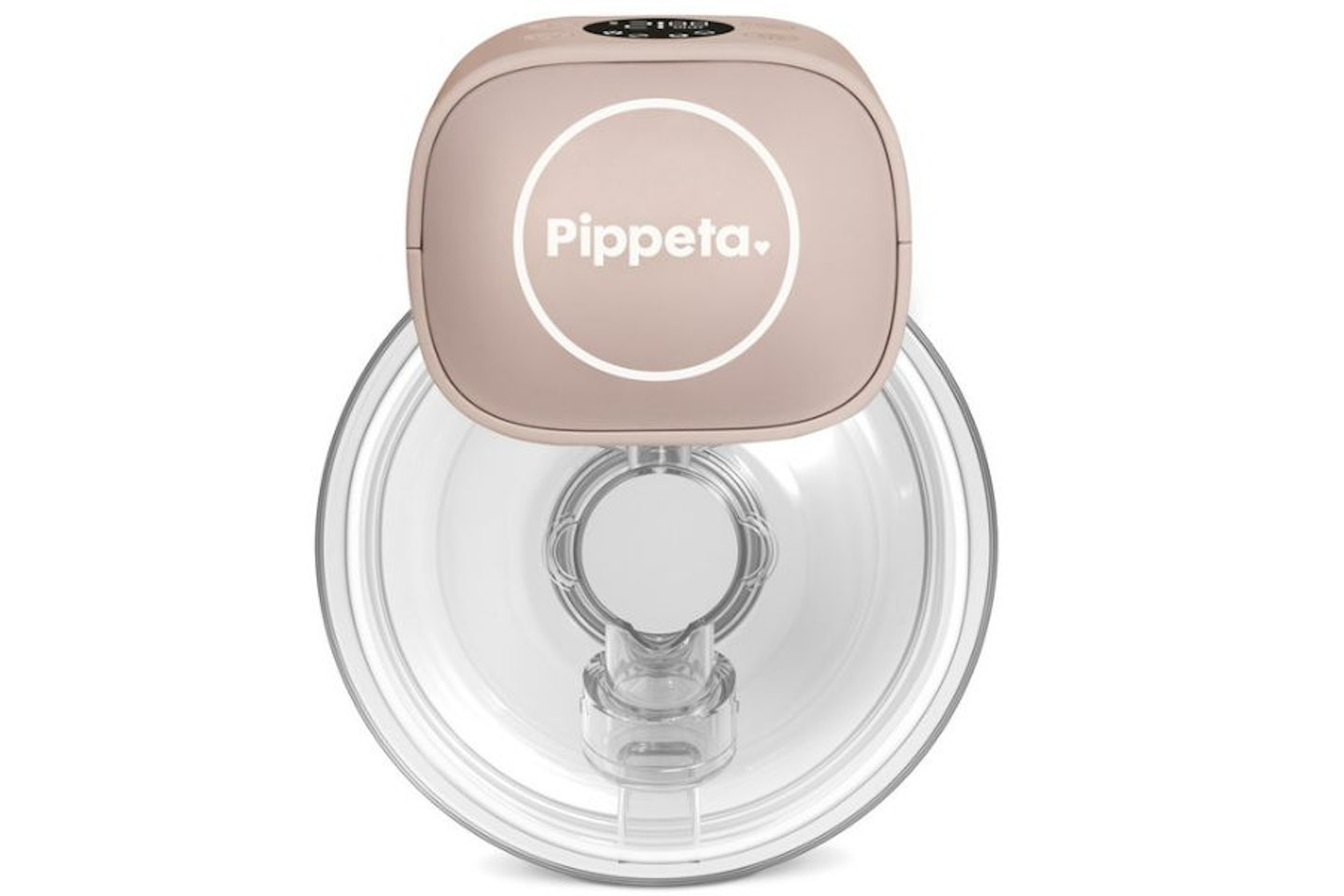 Testing the Pippeta Wearable Hands Free Breast Pump
Alexs: I'm due my second baby in 3 weeks and already have an 18 month old so I wanted to make sure if I needed to pump I would have a convenient hands free pump! I have tried a fair few pumps in my feeding journey with my first and this pump has all the advantages that my Medala and silicone pumps didn't have and none of the disadvantages! I also decided that I was going to try and harvest some colostrum. I used the pump function (rather than the massage function) and managed in 5 minutes on both breasts to get 8ml which is amazing! The pump is an extremely reasonable price which when you look at other pumps on the market is amazing! I definitely didn't think I'd be able to afford a hands free pump! It is so so easy to use, clean, dissemble and assemble. I love the fact that it is silicone so it feels a lot more secure on your breast.
Pippa Havenhead: I am so pleased I purchased this pump. It is so easy to use, clean and yields a decent amount. The price is also very appealing compared to another handsfree brand. It isn't silent, but the fact it is hands, and plug-free far outweighs the noise. I struggled to feed my first baby and borrowed an electric pump from a friend. I spent most of my time near a plug resenting feeding, but this pump gives me the freedom to pump anywhere and has taken the stress out of feeding. The addition of the bra extenders helps to keep the pump in place and the size means it will be easy to transport.
Vikki M: I've been using a Medela pump and this little wonder has changed everything for me! I have a newborn and a three year old, not to mention a dog and two cats, so tidying and preparing food is non stop for me! This little beauty means I don't have to worry about getting stuff done while pumping. Absolutely worth it! And such a great price! Highly recommended.
Joy Woods: I got this to replace a plugged in double pump as I have a toddler & a newborn. I've been able to pump the same amount and I'm really happy with it! Very easy to use, take apart, clean & our back together. I can't fault it and it's made my life so much easier!
Final verdict
Overall, we have found that this hands-free breast pump has a compact size, which is brilliant for mums who need to pump whilst on the move. It has a generous capacity and it should fit snuggly inside the bra. Plus, it's fantastic that it comes with so many accessories.
FAQS for the Pippeta Wearable Hands Free Breast Pump
How long does the battery last on the Pippeta Wearable Hands Free Breast Pump?
This breast pump has an impressive battery life of 100 minutes, meaning that you can get lots of pumping done throughout the day. You will know when it's charged because it very handily displays three solid battery lines on the LED screen.
How do you sterilise the Pippeta Wearable Hands Free Breast Pump?
If you're wondering how to sterilise a breast pump, there are a few ways you can do so. We recommend sterilising the Pippeta pump before and after you use it to help prevent infections and kill off any germs or harmful bacteria. Either pop it into a steriliser or if you don't have one of those you can place all of the silicone parts into boiling water for 10 minutes (make sure they have dried and cooled before they touch your breast) or add them to some cold water with a cleaning solution tablet for 15 minutes.
Arabella Horspool is a Commercial Content Writer for Mother&Baby at Bauer Media. She's a bookworm who enjoys cooking and spending time with her many pets.