Kitchen cupboards can quickly fill up with items you don't really need, but one product we'd highly recommend when you're a parent is a kids' food flask.
If you're away from home with your little one, whether it's a long walk, car journey or a day out with the family, preparing and bringing along a kids' food flask means you can save both time and money as well as ensuring your tot enjoys a healthy, nourishing meal.
Plus when your child is a bit older and if they're not a fan of sandwiches, you can always pop the flask in their lunch bag for them to enjoy at nursery or school. Choosing a food flask designed especially for kids will enable them to use it comfortably without any trouble.
How does it work?
Most food flasks have a double-walled vacuum insulation inside which means they can retain the original temperature of the food that you put put in, whether that's hot or cold.
What can I put in a kids' food flask?
Most things! Here are a few ideas...
• Porridge
• Curry
• Pasta
• Puree
• Soup
• Risotto
• Salad
• Noodles
• Fruit
What to look for in a kids' food flask
Capacity: How much will you be looking to store in the food flask? Check the capacity to ensure you can fit what you want inside.
Heat retention: Consider how long you will want your food to stay hot or cold for and if you need it to retain the temperature for the whole day or just a few hours.
Material: You'll want to ensure your chosen kids' food flask is made from BPA, PVC and phthalate materials to ensure nothing bad gets leaked into your child's food.
Cutlery: Does the food flask come with cutlery included? Or is this something you'll need to remember to pack?
Leak-free lid: Nobody wants any leakages so it's important you feel confident that the lid fits the flask tightly. You should also check it's easy enough for your child to loosen and tighten.
The best kids' food flasks to buy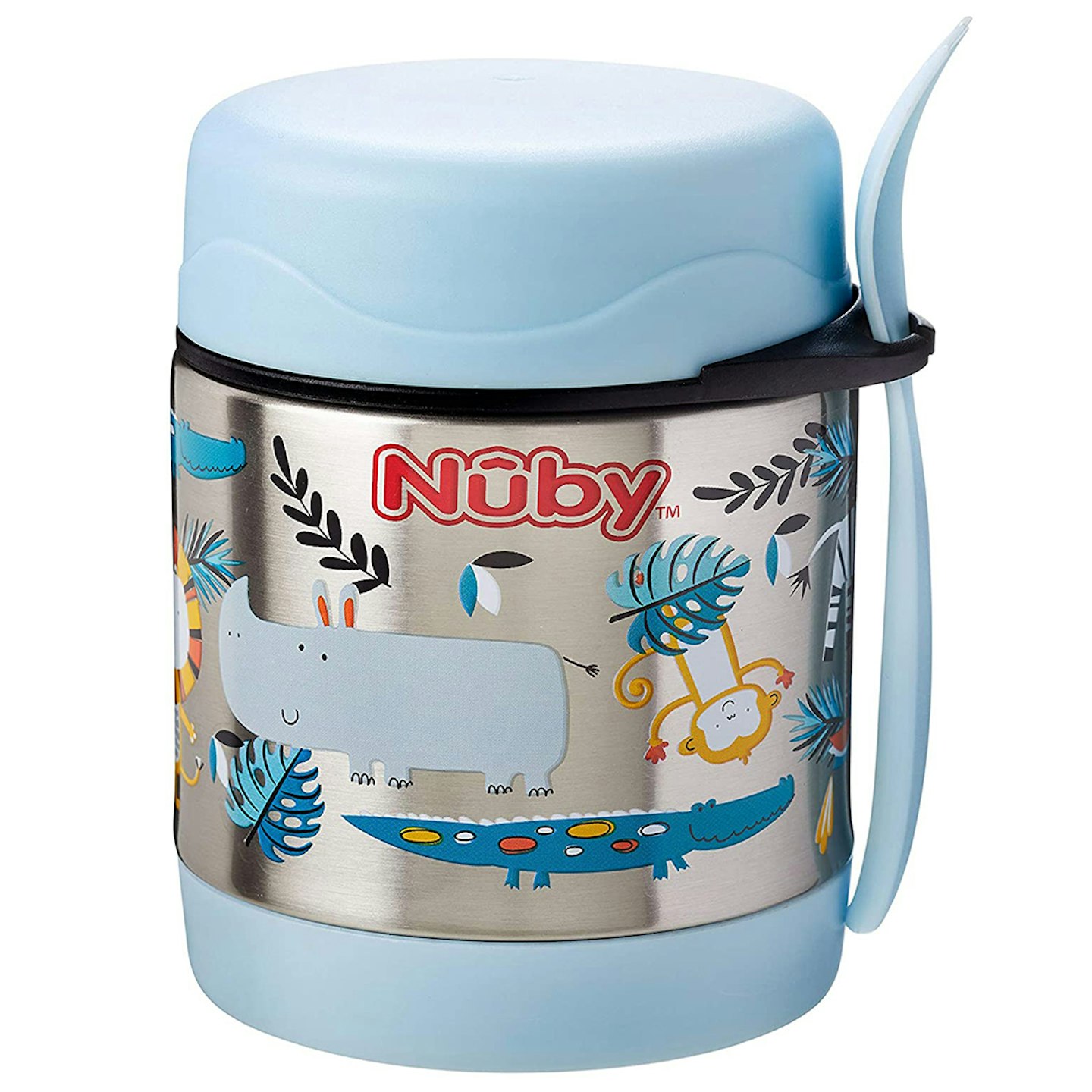 1 of 7
Nuby Thermos Jar
This handy Thermos jar from Nuby makes storing hot or cold food easy as it's insulated to stay cool up to seven hours or keeps food warm for up to 5 hours. Attached is a dinky spork that little hands can grab hold of and once they've finished, they can just pop the spork in its handy holder.
Review: "This is perfect for my little boys lunch box. He loves it and asks for soup daily. Really good quality and looks great."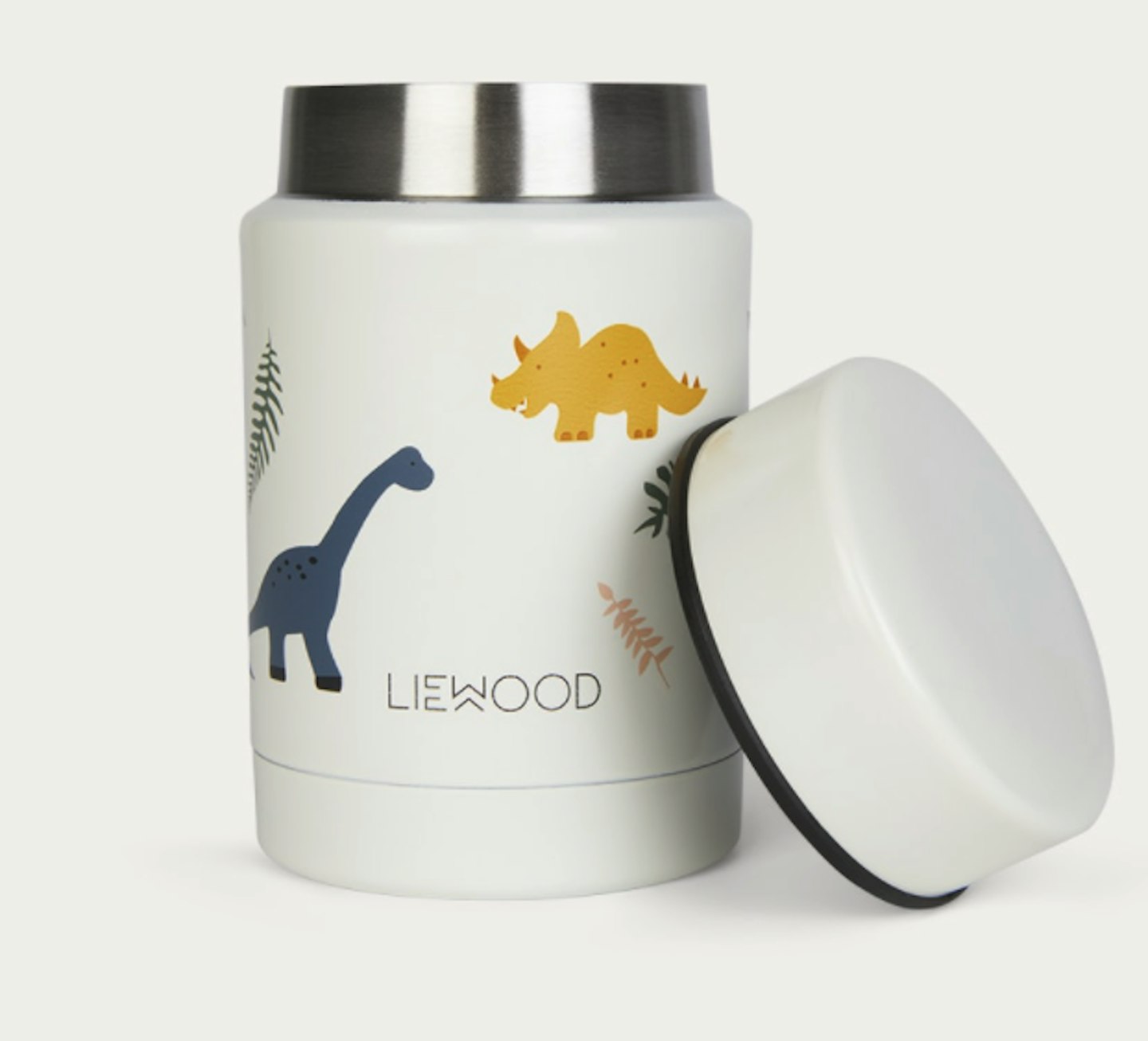 2 of 7
Liewood Nadja Food Jar
Promising to keep cold food cool for up to eight hours and hot food warm up to six, this stylish kids' food flash is BPA, PVC and phthalate free.
Capacity: 250ml
Review: "Perfect for storing my 7 month old fruits when going on longer journeys. When taking them out of the flask it's like they've just come out of the freezer! Everyone has commented on how sleek and pretty the food jar is."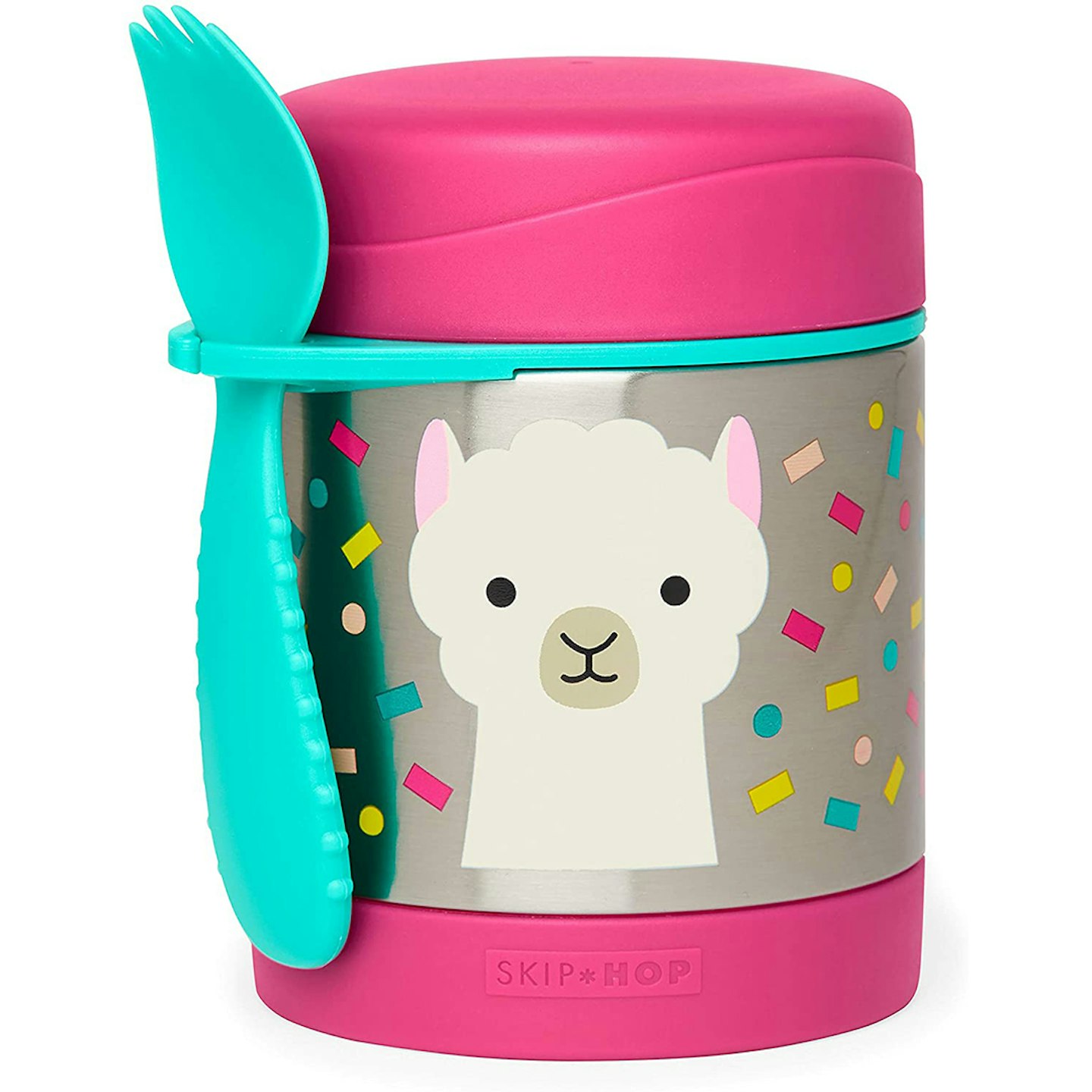 3 of 7
Skip Hop Zoo Insulated Food Jar
With lots of adorable designs to choose from (our favourite is the llama!), this Skip Hop food flask keeps food warm for seven hours or cold for five hours
Capacity: 325ml
Review: "My two year old enjoyed her meal holding the flask in her hand while on a break during forest activities. The food was kept nicely warm for a few hours. I cannot fault this product. It's well made, has a lovely design, has a spoon holder and it's easy to hold for a child to feed themselves. What more can you ask for?"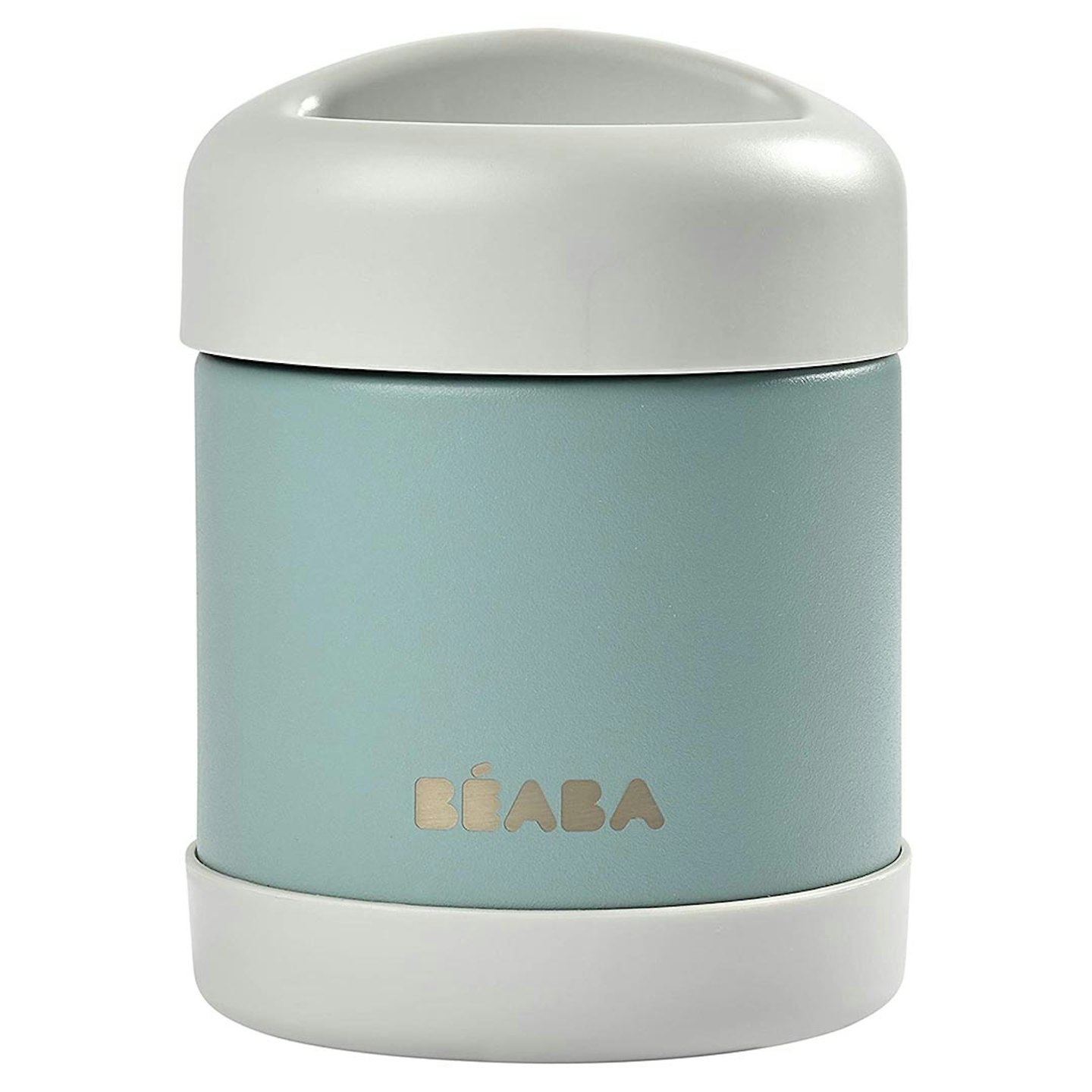 4 of 7
BÉABA Thermal Meal Preservation Container
Sure, it may not be as cute as other kids' food flasks in our list but this stainless-steel thermal container is made from safe and resistant material that prevents the transfer of tastes and smells. The double layer maintains the temperature for seven hours for chilled food and five hours for hot meals.
Capacity: 300ml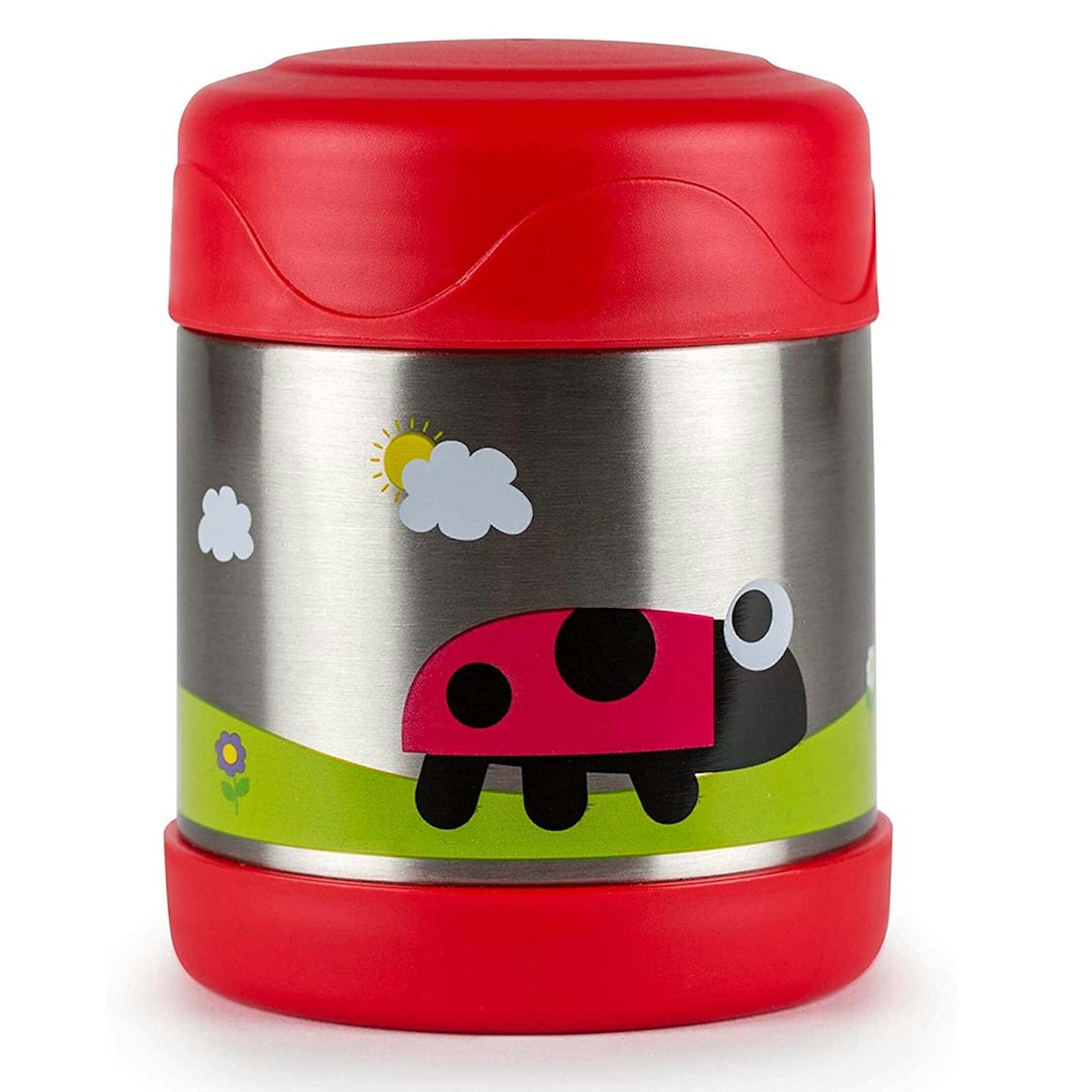 5 of 7
TUM TUM Children's Food Flask
In a bright primary red colour, this kids food flask will slot nicely inside most lunch bags. It keeps food hot for up to 5 hours and cold for up to 7 hours (which you can prolong by pre-warming the flask with hot or cold water).
Capacity: 300ml
Review: "My 5 year old uses this to take warm food to school as she doesn't like my packed lunches! She says it's always still warm by lunchtime which is fab. Really cute and she can get the lid on and off fine herself too."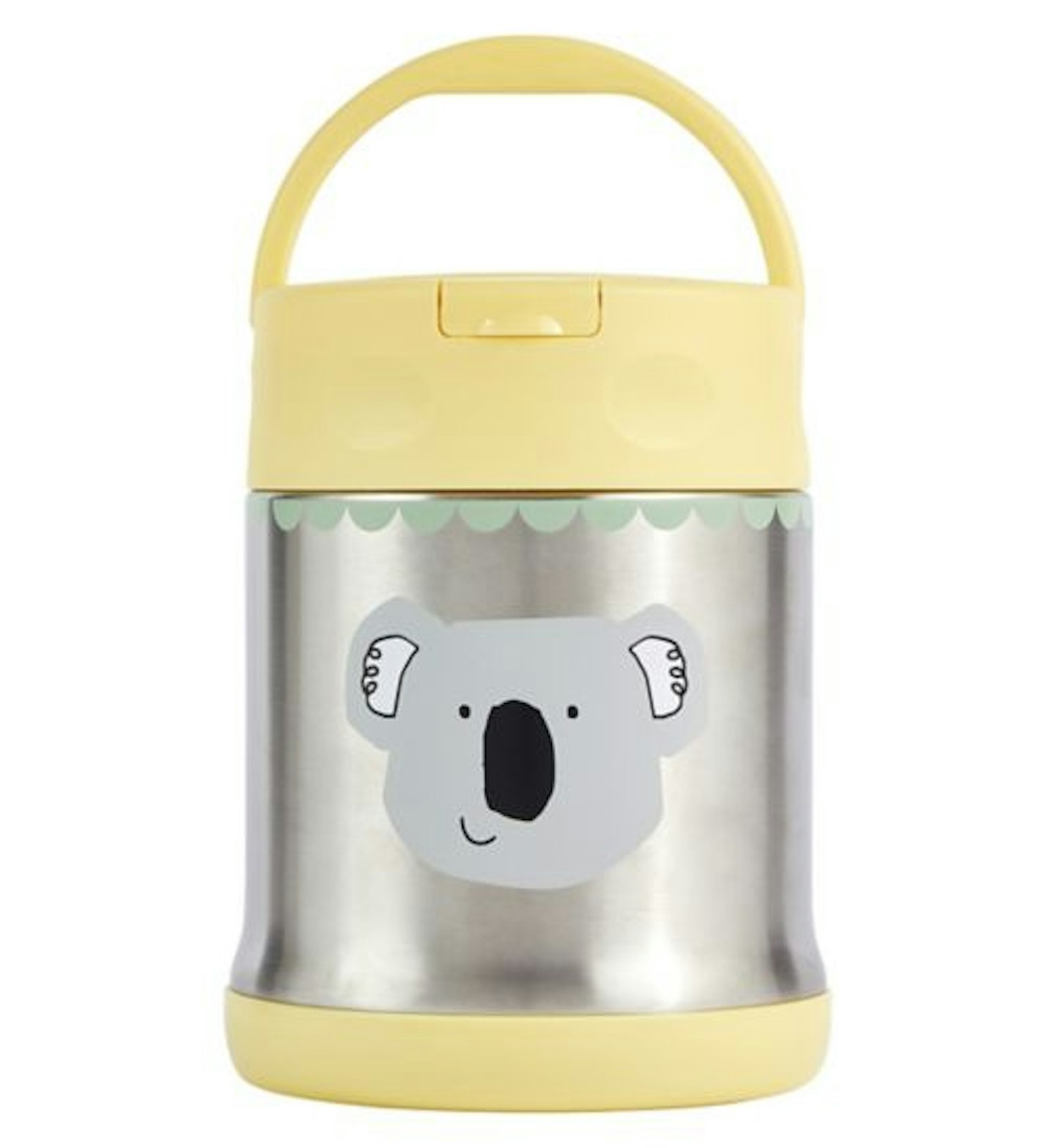 6 of 7
Boots Baby Insulated Jar
This bargain kids' food flask from Boots can keep the tasty food inside toasty for up to five hours or nice and cold for up to seven hours. It can also be popped in the dishwasher for cleaning.
Capacity: 350ml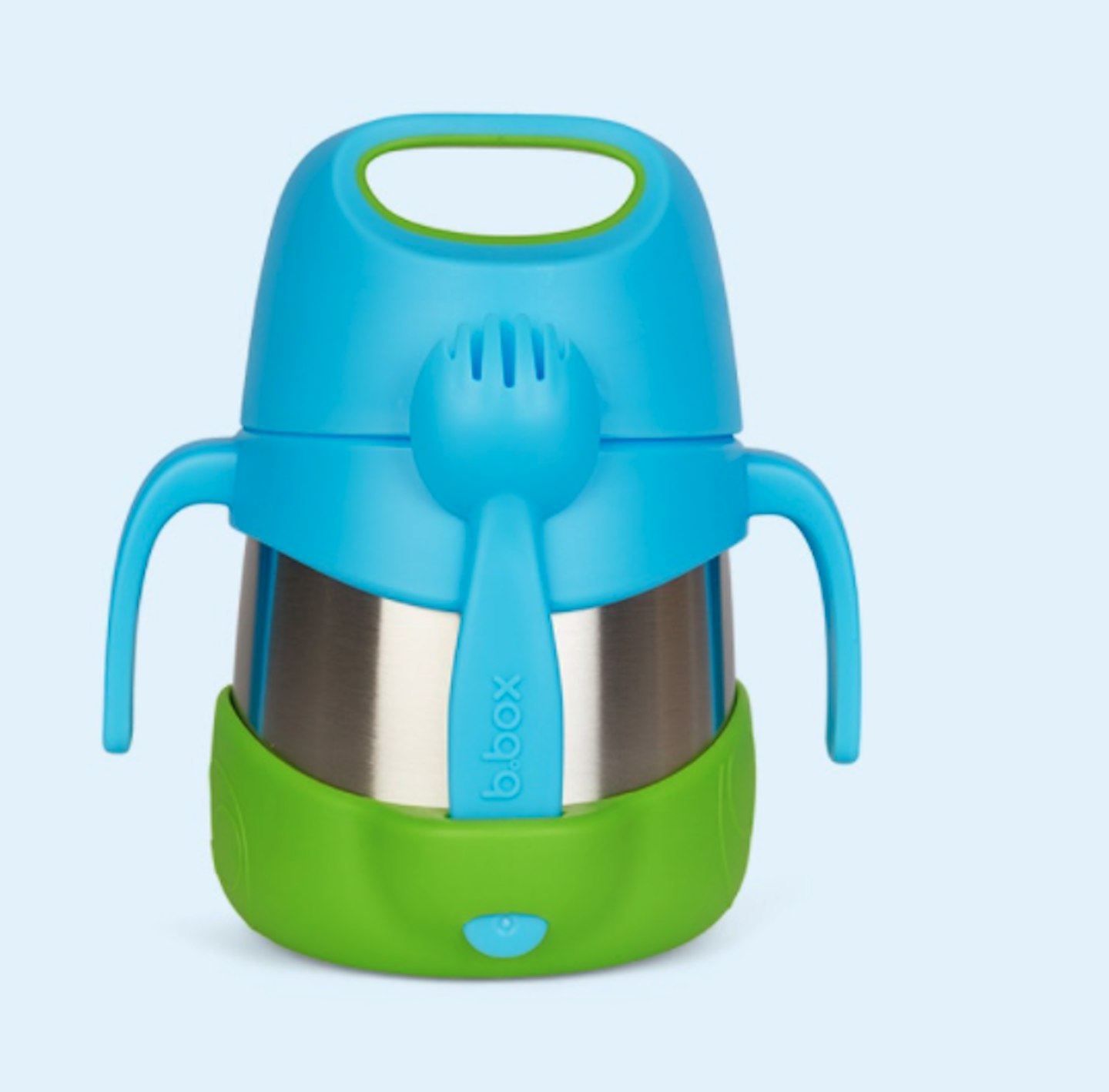 7 of 7
b.box Insulated Food Jar
There's a lot to love with this kids' food flask. As well as a unique feature meaning you can never over-tighten the lid, so youngsters can get into it without needing adult assistance, it also has removable handles and a bumper so your child can continue to use it as they grow. There's also a soft bite flexible first feeding spoon included which is easy to manoeuvre and soft on gums.
Capacity: 335ml
Review: "The Insulated Food Jar is a hit with our child, who really needs/likes a hot lunch at school, but for dietary reasons cannot have the hot food the school supplies. The fact that the food stays hot until lunchtime is great and the opening mechanism is super easy for little hands to work. Really great product at a really good price."
Popular articles to read next
7 toddler travel accessories that will make any journey easier
The best mug warmers to help you get a hot cup of coffee at last