The Bellababy Breast Pump is a portable, wireless breast pump option that you can use hands-free, making life with your little one a little easier. Electric breast pumps are designed to offer quick and convenient pumping, that feels comfortable while you do it. With four modes and six levels of smart suction technology, the Bellababy breast pump is certainly designed to bring you that convenience and comfort.
With adjustable accessories included and different sizes available, this electric breast pump fits over the nipple and surrounding breast, using suction to induce pumping, staying on the breast so you can use it without having to hold onto it. Some competitors may have a few more features included, but the Bellababy breast pump is all about easy use and easy washing.
Compared to similar options from Elvie and Tommee Tippee, the Bellababy breast pump is a lot more affordable, but still gives you useful features like flexible assembly, long-lasting battery life, and hands-free usage. It's also designed to massage the breast, stimulating the milk flow in a more natural way.
Because it's hands-free, you can use it in whatever position you want, with the food-grade, skin-friendly silicone being a promising design feature that women who find pumping uncomfortable may find reassuring. The removable parts included, also add to the adjustability that makes this an appealing option for new mums with sensitive breasts and nipples (which many breastfeeding parents will know the pain of). Whenever you choose to pump, this electric breast pump could be a great, affordable option.
Pros
Portable
Adjustable
Great Value
Can be worn in the bra
4 modes and 6 levels
Cons
More basic than some other options
Some may need more powerful suction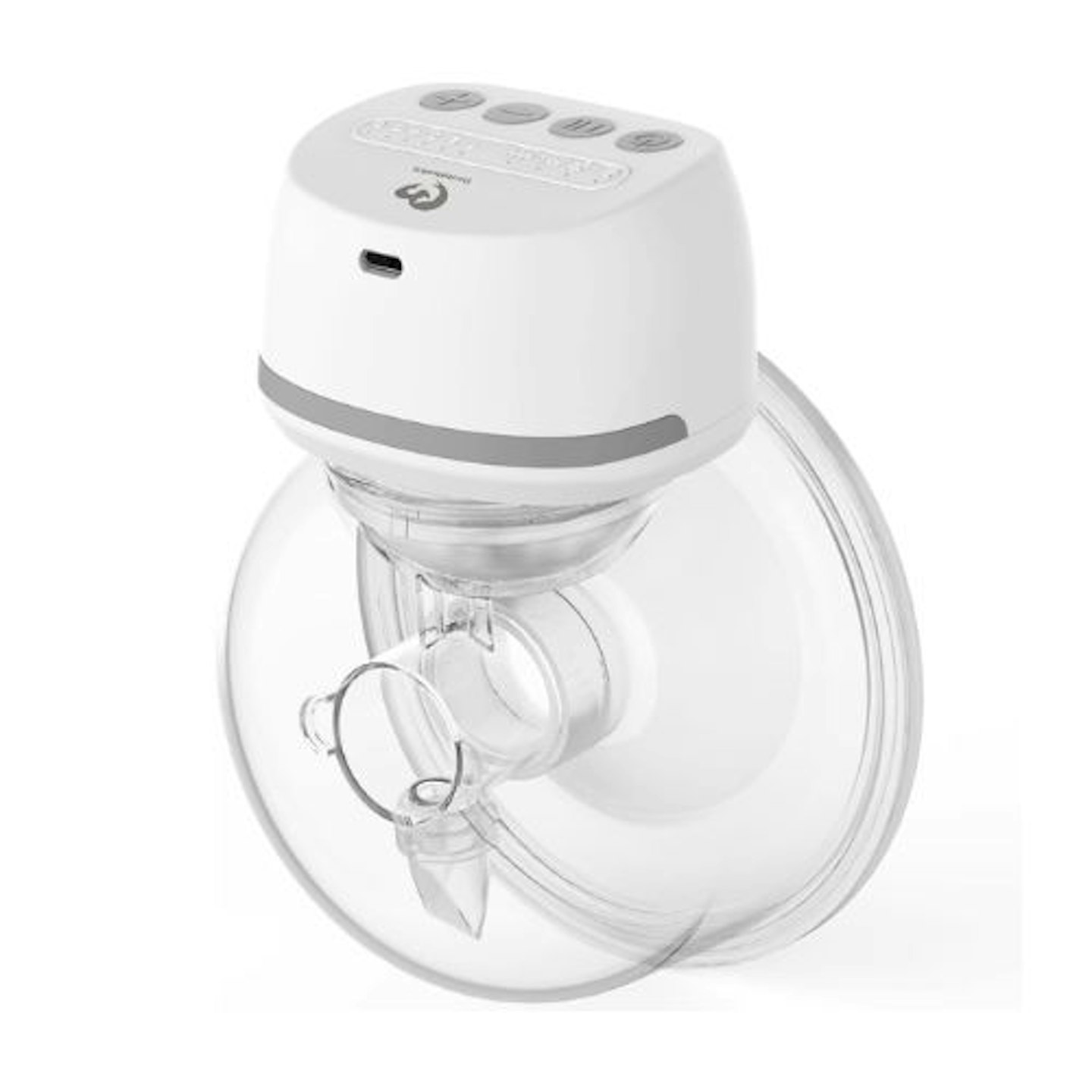 Who tested the Bellababy Breast Pump?
Our overall review is based on the shopping reviews of real life parents who have used the Bellababy Breast Pumps. They're all verified customers that purchased the Bellababy Breast Pump and left reviews on their own accord.
Who is the Bellababy Breast Pump best for?
The Bellababy Breast Pump is a wonderful option for busy, breastfeeding parents that want a hands-free and easy pumping experience. We would also say that this one of the best affordable electric breast pumps on the market, plus it's a portable breast pump option that will be useful for when you're travelling.
Reviewer, Amy, said: "I currently have two other breast pumps, one manual and one electronic Tommie Tippee, which is wired and bulky; so I thought I'd take my chances and order this pump. Omg, the best investment I've made - not only is it stronger but I can take it every where. I have just been on holiday to Butlins and I was walking around pumping, didn't have to go back to the room to pump. Tts so much quieter than my other pump and had even increased my milk production. !! I was sceptical due to the price, but honestly it's a great buy - completely worth it. I can pump in the car, out and about, and I use Milton disinfectant wipes to clean it whilst I'm out, so I can keep using it. The box is handy at keeping it sterile too!"
The Bellababy Breast Pump's design
This electric breast pump's design seems to be simple but oh so effective for many reviewers. You can pick the size that works for your body, plus it's a hands-free option, with many mums loving the portable/wearable convenience that it brings to their life. Other parents just enjoyed how fast it worked, with the gentle suction still being effective.
On the other hand, a small selection of users didn't have much success with the massaging suction feature and the battery life deteriorated after a multiple uses for some other reviewers. It's also not completely silent which can be an issue for some. You may be sacrificing power for price with the Bellababy Breast Pump, but for many users, that can still be a positive.
One reviewer said: "Very pleased with the amount of milk expressed with this pump in a fairly short time 20 mins or so. I am exclusively breastfeeding but express to have milk available for a bottle should it be necessary. I have the double Medela Freestyle which is great but cumbersome and not ideal to use at the minute with a newborn that always wants to be held and/or at the breast. This BellaBaby wearable pump has really surprised me especially for the price. It's great and fits well in my stretchy nursing bra and top while I nurse baby on the other side.
I'd only say after my first session - be careful if you're having a cuppa and biscuits as I forgot the spout to pour the milk out is at the top and crumbs can get in as I found out!! The pump also has a variety of settings but I just really used the first two - the default setting is a short quick pattern which is useful to use beginning and intermittently (I like to use every 10 mins or so) to stimulate the initial and subsequent let-downs like a baby does. The second setting is longer, which draws to express the milk.
Quick and easy to assemble there's not too many parts. The pump itself isn't really noisy, but yes. you would hear it out and about, so it is not discrete in that regard, but this isn't an issue for me. It comes with a USB charging cable (type c), so you will need a plug with a USB port. I didn't have any problems with leakage, a little may come down the breast from the flange but this may have been when I was adjusting it - visibility for positioning isn't great and this wasn't an issue for me as I have expressed before and know how I want it to feel, but the actual milk collection compartment seems to seal well. I would recommend this product, especially at the price I bought it."
Another reviewer had some issues: "A few things are crucial to make a pump successful for everyone, chief among which is the ability to see your nipple positioning. The way this product is designed it's pretty much impossible to identify if your nipple is entering the flange correctly, at the right angle, is the correct fit etc. Because of that possibly, I'm unable to produce the same amount of milk, almost by half, that I'm able to produce in the Lansinoh single electric breast pump that I have to hold in my hand and switch breasts partway through.
I bought this wanting to be hands free and that aspect of this product is excellent but in that half hour hands free that I get whilst the pump is running, I produce about 3 oz whereas the Lansinoh will produce for me about 5-6 oz on a good pump session and otherwise always 4 oz. The suction is strong on the Bellababy and there's plenty of options so maybe I need to try some other settings to yield better results. I've only used this pump 4 times so far and yet to find the setting that yields best results for me.
It's got some plus points other than being hands free - the noise of the pump is very minimal. Yes people can hear it but it's not obnoxiously loud. It is bulky but it fits comfortably and the silicone parts also feel comfortable. The parts aren't ideal for cleaning because of the crevices and the way the product slots together but that's the way for silicone I guess. Other pumps like the Lansinoh are also plastic, but have hard plastics so they don't have crevices in the way they slot together and so much easier to wash and easier to dry and overall cleaner.
I'm still glad I bought this because the price point was good and I need hands free sometimes but it's not something I can personally use in isolation as I know there's plenty milk left that I'll need to sit and there extract with my Lansinoh pump."
The Bellababy Breast Pump's performance
Despite a few complaints about the overall durability of this product, the overall consensus about this electric breast pump is that it performs extremely well for the price. Many weren't expect such impressive performance from a pump that's significantly cheaper than others on the market.
Reviewer, Lauren, said: "I absolutely love this pump! I was previously using the manual Medela pump however was finding it time consuming and it wasn't giving me much milk. I initially looked at the Momcozy automatic pump but couldn't justify the price and then came across this one which looked like a dupe. Wasn't sure exactly how good it would be but thought it was a reasonable enough price to give it a try. I'm SO glad I did and have now bought a second one so that I can pump from both breasts at once.
It sits perfectly in your bra for hands free pumping, which is so much more convenient/time efficient, and I'd say I get around 5 oz in 5 minutes! The charge lasts for around 3-4 pumps, which I didn't think was too bad and it's compact enough to take out and about with me, which will be handy once I return to work. I don't really have any negative comments about the pump! If I was being really fussy, I could say it's a little loud, but not obnoxiously so and hasn't been an issue for me. Breaks up into 5 pieces to sterilise and isn't too fiddly to put back together. Would 100% recommend."
Another reviewer, Rebecca, said: "I was struggling with a handheld pump and my milk supply was decreasing. After the first use of this I managed twice the amount I was getting. Plenty of different settings to find one that works for you.
I heard it was a bit of a nuisance to clean but I just use a separate little tub with some hot soapy water, rinse and then let it air dry afterwards. Only wish it had a choice of different flange sizes - you can purchase some but they are a bit of pricey."
The Bellababy Breast Pump's usability
With such an appealing price tag, it can be easy to assume that there is a catch. When it comes to usability, the Bellababy Breast Pump can be somewhat hit and miss. Certain elements are no fuss at all, but as with many breast pumps, adjusting it to your preferences may take a little more patience.
One reviewer said: "Good breast pump for the money. Purchased when on offer for under £40. Can get similar amounts of milk off as when I've been using manual pump but this means my hands are free to get other stuff done, which is great when you're trying to boost milk supply.
It's easy to pour collected milk out into bottles/bags. Measurements on the pump as well so you can see how much you've pumped. Would be handy if there was a silicone lid you could use for when you're out and about to store the collected milk.
Only big negative for me is that there's no battery life or instructions on what lights show when the battery is low (the first light blinks). Used daily for 30 mins for approx 4 days and battery was then flat so perhaps charge every other day, depending on use.
You also have to be careful milk doesn't come out the hole where your breast goes when carrying pumped milk (same with most pumps), and also when taking pump off after use I've found best thing is to lean forward to tip as much in the collector as you can, but have a muslin under your boob and the pump to catch the drops. Would buy again."
Abby, another reviewer, needs some assistance when using it: "This pump is great value when compared to other hands free pumps. I get a good amount expressed even on the option with the least suction.
The only downside is that you can't see where in the flange your nipple is going from above. I have to get my husband to check I am central to avoid discomfort and even he struggles to see it!"
Our final verdict
Despite some minor usability and design issues, the Bellababy Breast Pump does have a lot going for it. Not only is great value for money, it gives the user the ability to pump efficiently while keeping their hands completely free, which is the main pro to electric breast pumps in general.
Certain elements like getting the right suction mode for you and getting it on your nipple comfortably may take a little trial and error, but we would say it's definitely worth the money and that it will be a welcome addition to your daily breastfeeding routine.
We're giving the Bellababy Breast Pump a 4 star rating as so many users and reviewers are incredibly happy that they purchased it thanks to the price and overall performance. If it's design was slightly tweaked, making it easier to see your nipple position and prolonging the battery life, it would a true contender in the market.
What size flanges are the Bellababy electric breast pumps?
Bellababy pumps tend to be available with 21mm, 24mm, or 27mm flanges, but it may depend on the retailer you're purchasing it from. You can buy the flanges separately if the one you purchased turns out to be not the right fit.
How do you sterilise a Bellababy breast pump?
According to the Bellababy website, the removable components of a Bellababy breast pump can sterilised and cleaned in three different ways, so you can pick a way that works for you and your feeding routine.
Using a steriliser - A fairly straightforward method, just pop the separate components into your steriliser of choice and use it as your normally would to sterilise and disinfect. Just add water and keep to the bag's instructions.
Using a dishwasher - This won't be suitable for all breast pumps, but Bellababy pump components can be sterilised in your home's dishwasher. Just make sure it's on a hot water or sterilising cycle.
Using a steam bag - If you have some steam bags or containers, you can put your components in and then sterilise them in the microwave.
Bellababy also recommends that your sterilise your components daily when they're either under three months or ill - then you can move to every few days (cleaning dailly) when they're over 3 months old and healthy. Sterilising is very important, so if you are worried about how you're sterilising feeding equipment, as long as you're doing it, you're doing what's best.
Eve Miller is a Commercial Content Writer for Mother&Baby, working for Bauer Media for over two years. She is passionate about beauty, creative writing, and women's healthcare.