With many changing bags on the market, a rucksack changing bag is definitely the most versatile and that's exactly what the Neo & Nessa changing backpack offers.
With a range of stylish designs available, we chose to test out the Rhian khaki and rose gold leopard print, these bags stand out from the crowd and are made to grow with you as a parent. The detachable clutch means it can be used as a changing bag, travel bag, for work, you always have a handbag with you ready to grab your essentials. While similar stylish changing backpacks are available, the detachable handbag is a unique feature.
Pros
Great capacity and storage solutions
Love the detachable handbag
Range of modern and stylish designs
Cons
Only one design available for changing mat etc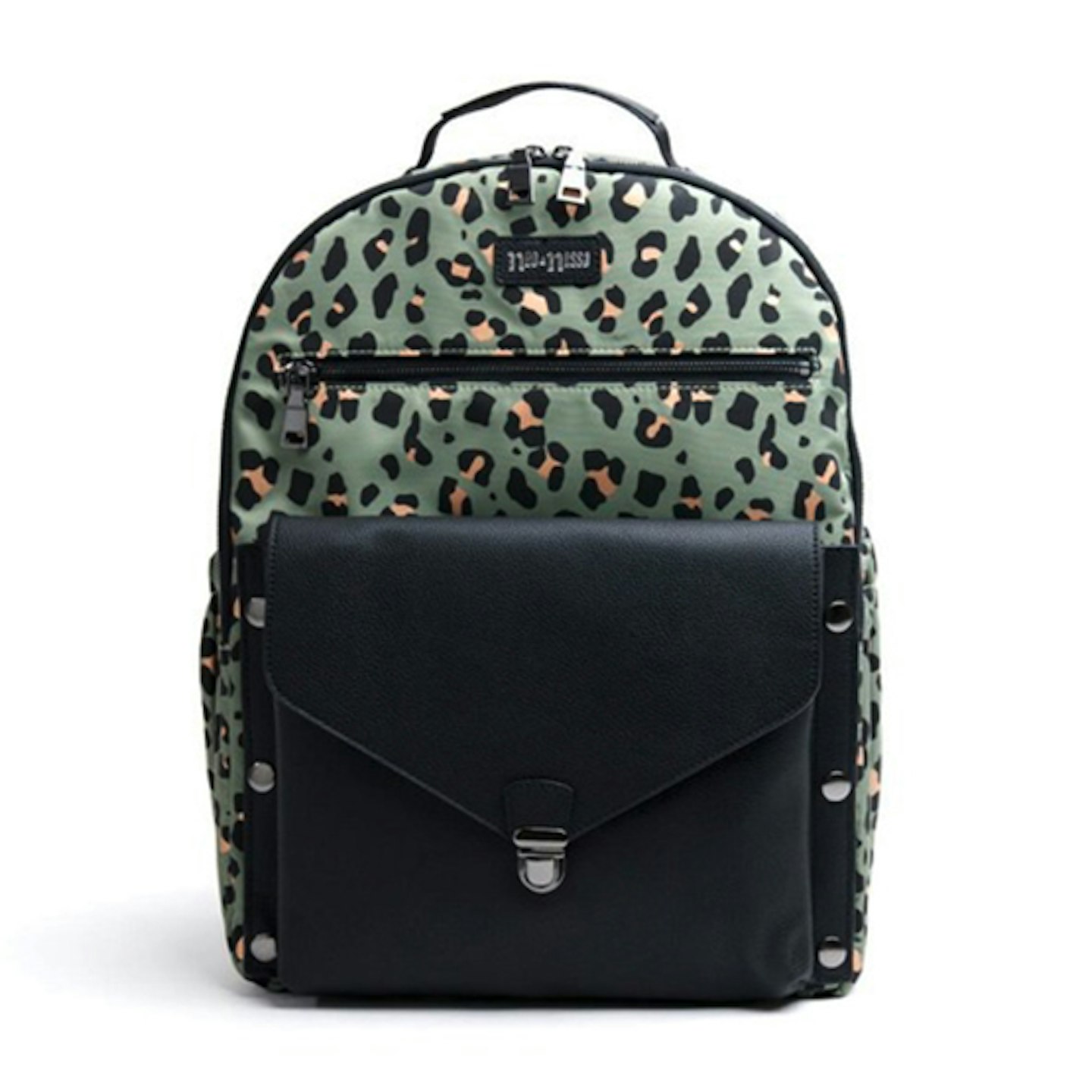 Testing the Neo & Nessa changing backpack
The two things I look for in a changing bag are storage space and design. On design, Neo & Nessa changing backpacks are delivering in spades, I love the two leopard print options, and for those who prefer plain to patterned there's a chic black and tan, as well as a vibrant blue option. All backpacks come with a black detachable handbag.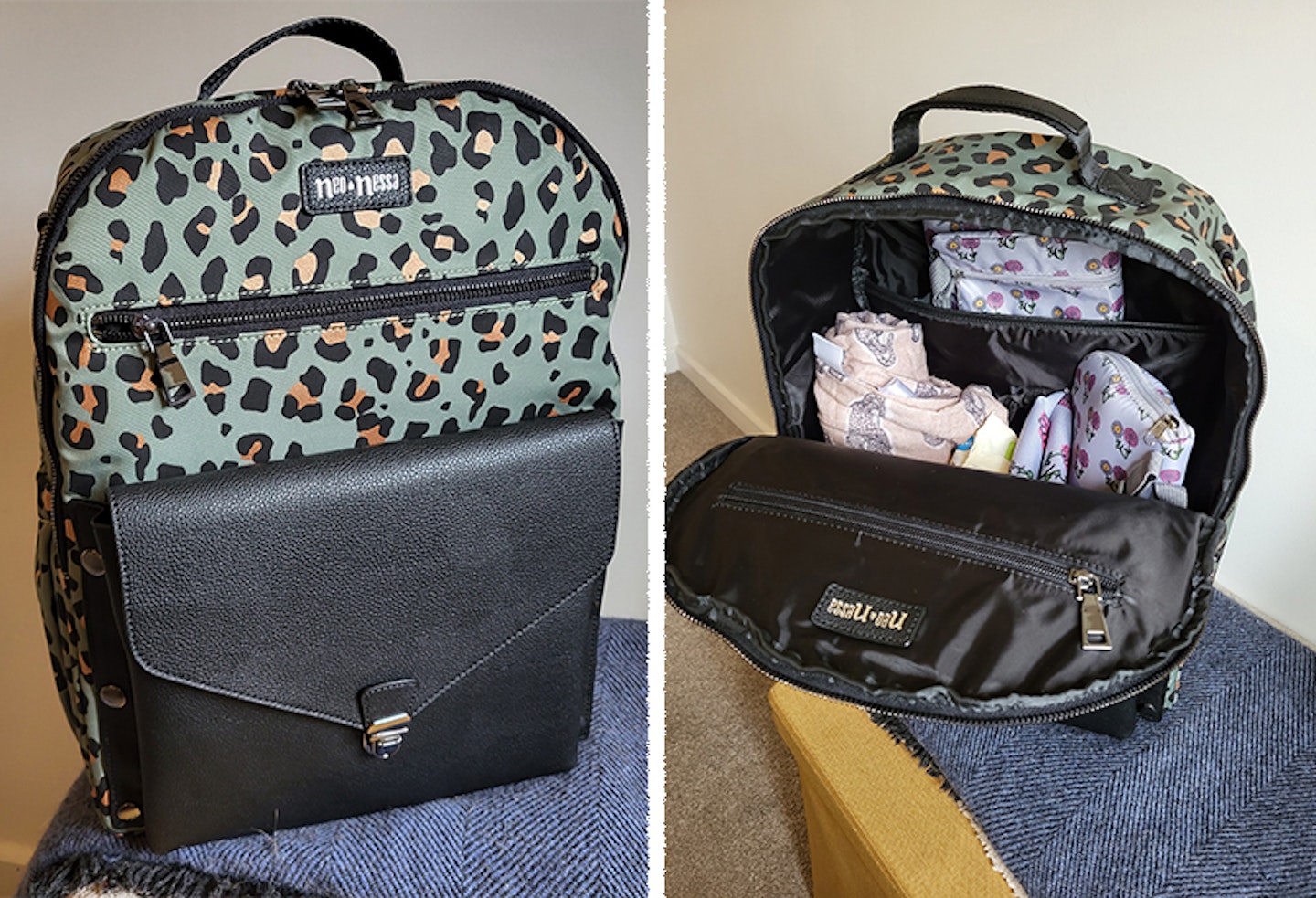 The material feels lovely, the fabric of the bag feels strong and all the zips were easy to open while feeling secure. There are D-rings to attach it to your pushchair and the zip pulls are a good size for grabbing while in a rush! I also loved the strap across the back for attaching to a suitcase – it makes it so much easier to use as carry-on luggage when in the airport trying to carry bags, children and push strollers and suitcases!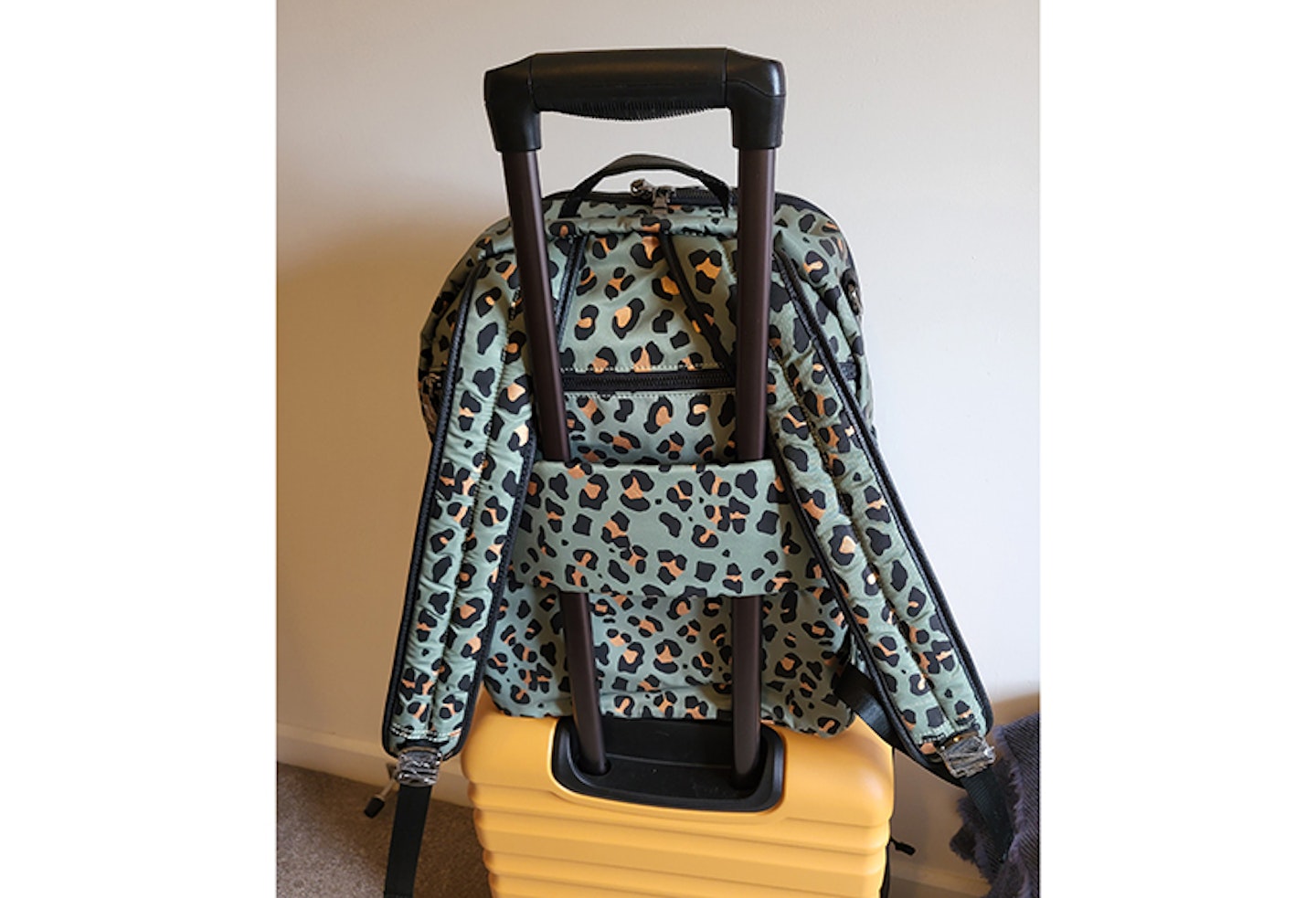 The handbag is made from vegan leather, and honestly feels just like leather. Again the clasp was good quality, easy to open with one hand, and it comes with a shoulder strap. It was lovely to have my own space to keep phone etc, so if I was just popping out by myself I could grab the handbag section without needing to dig around in the backpack. I've seen separate pockets for parents before, but not a whole detachable bag so think this is a great feature. It pops onto the bag with press studs, these were a little fiddly when putting the handbag back on again, particularly if the backpack was full, but the handbag was secure on the backpack even with phone and purse inside.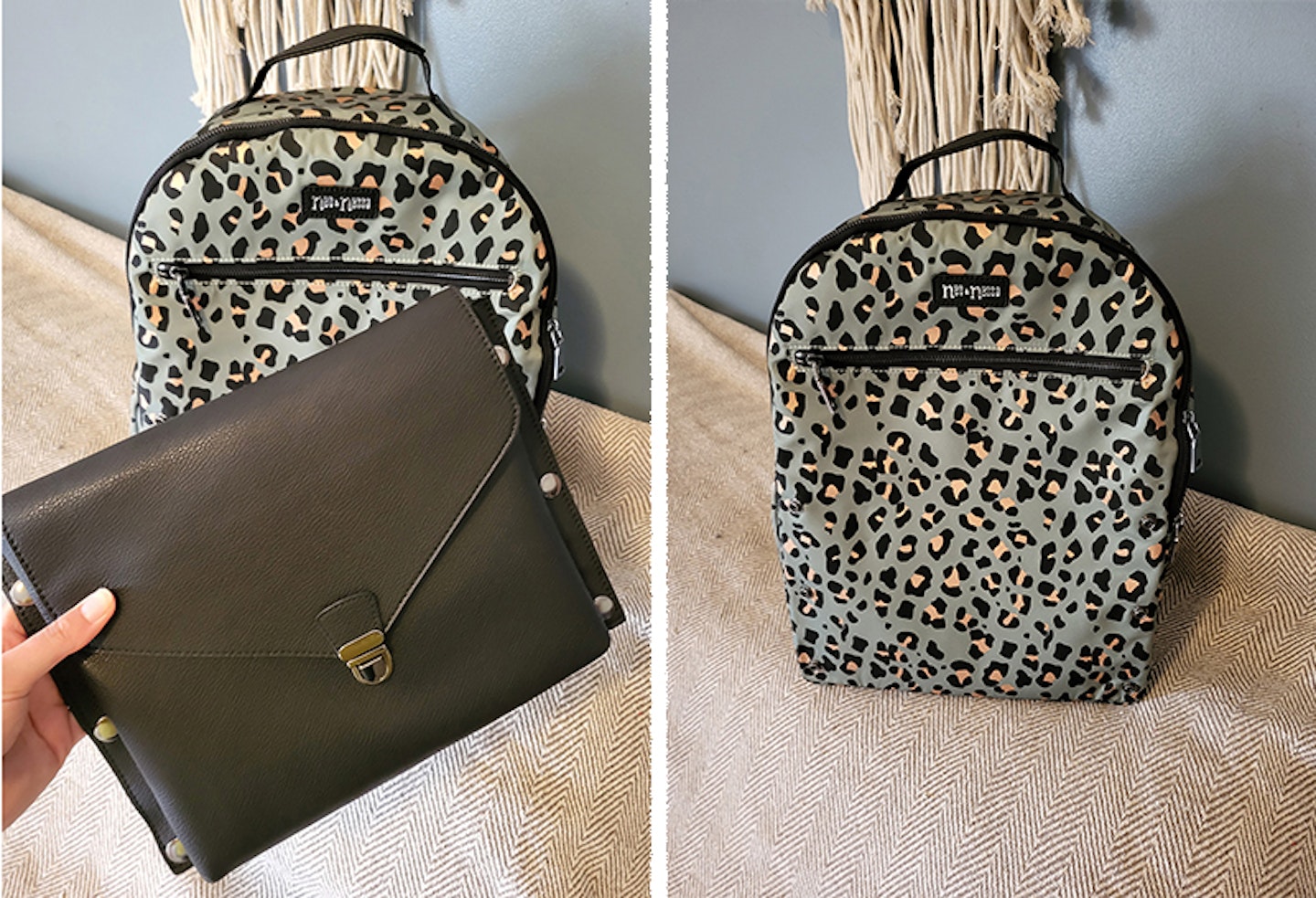 Inside the backpack there's plenty of storage space, with lots of handy pockets to secure all the changing essentials. I also used it as a laptop bag which worked brilliantly. There's a big pocket at the back, two smaller pockets in front of this, two side pockets and two zipped pockets – one on the front and one on the back. This made it so easy to keep track of where everything was.
The bag also comes with a changing mat, bottle bag and a clothing/capsule bag that is waterproof (ideal for wet clothes). The bottle bag is insulated and large enough to fit a 500ml bottle. The bottle bag and clothing bag both have handy clip straps so you can attach them to your pram. The changing mat isn't huge but fine for on the go. It's brilliant to have these accessories included as standard, there is only one design available at the moment but I've been told this will be expanded.
Final thoughts on the Neo & Nessa changing backpack
Overall I think this is a brilliant changing bag, both in terms of design and functionality, I love the khaki leopard print. The additional bottle bag, changing mat and clothing bag were great but I'd have preferred to have a choice of print. Having a detachable handbag was a game-changer and I think the versatility of this bag is hard to beat, they've really considered the design to make it ideal for family time, travel and mums. At £150 it may be on the pricier side, but I think for the quality and the length of time that you'd be able to use this (ie well beyond the baby/toddler stage) then it's worth the spend if it's in your price range.
Neo & Nessa changing backpack FAQs
What are Neo & Nessa bags made from?
This vegan leather bag range is crafted from a high quality, cruelty free, vegan leather called microfibre. It is the most eco-friendly of all the leather alternatives. It comes with a high manufacturing price point due to its durability but Neo and Nessa have worked hard to price their baby bags in line with comparable bags and yet still provide more features.
What's the warranty Neo & Nessa offer?
All Neo & Nessa bags are covered by a one year warranty from the date of purchase. This warranty protects against defects in original workmanship or materials, and does not include wear and tear.
How do I attach the Neo & Nessa backpack to my stroller?
Please attach your baby bag to your stroller using the D-rings, not by the grab handle or straps.
Stephanie Anthony is the Deputy Digital Editor at Mother&Baby and auntie to four aged 7 years to 2 months old. With a particular interest in health, she loves discovering products that make parent's lives easier.