There's a lot of choice when it comes to deciding the best baby carrier for your family. The Ergobaby Omni Breeze carrier is suitable from newborn up to little ones 20.4kg in weight. The carrier's seat is adaptable as your little one grows, earning recognition from the International Hip Dysplasia Institute for its support in maintaining an ergonomic M-seat position that aligns with your baby's natural development, meaning no legs dangling in the way when you're walking!
Scroll down to read mum-of-one Laura's experience with the Ergobaby Omni Breeze baby carrier and daughter Luella.
Pros
Accommodates newborns to toddler
Multiple carry positions
Included pouch, side pockets, dummy space and zip pouch provide additional storage options
Sun protection hood is a thoughtful addition, especially for outdoor use
Easy to use
Mesh fabric optimizes airflow
Doesn't feel overly heavy like some alternatives on the market
Supports baby's hips
Cons
The detachable pouch, while convenient, can sometimes get in the way during walking
The carrier can leave transfer marks when bare-legged.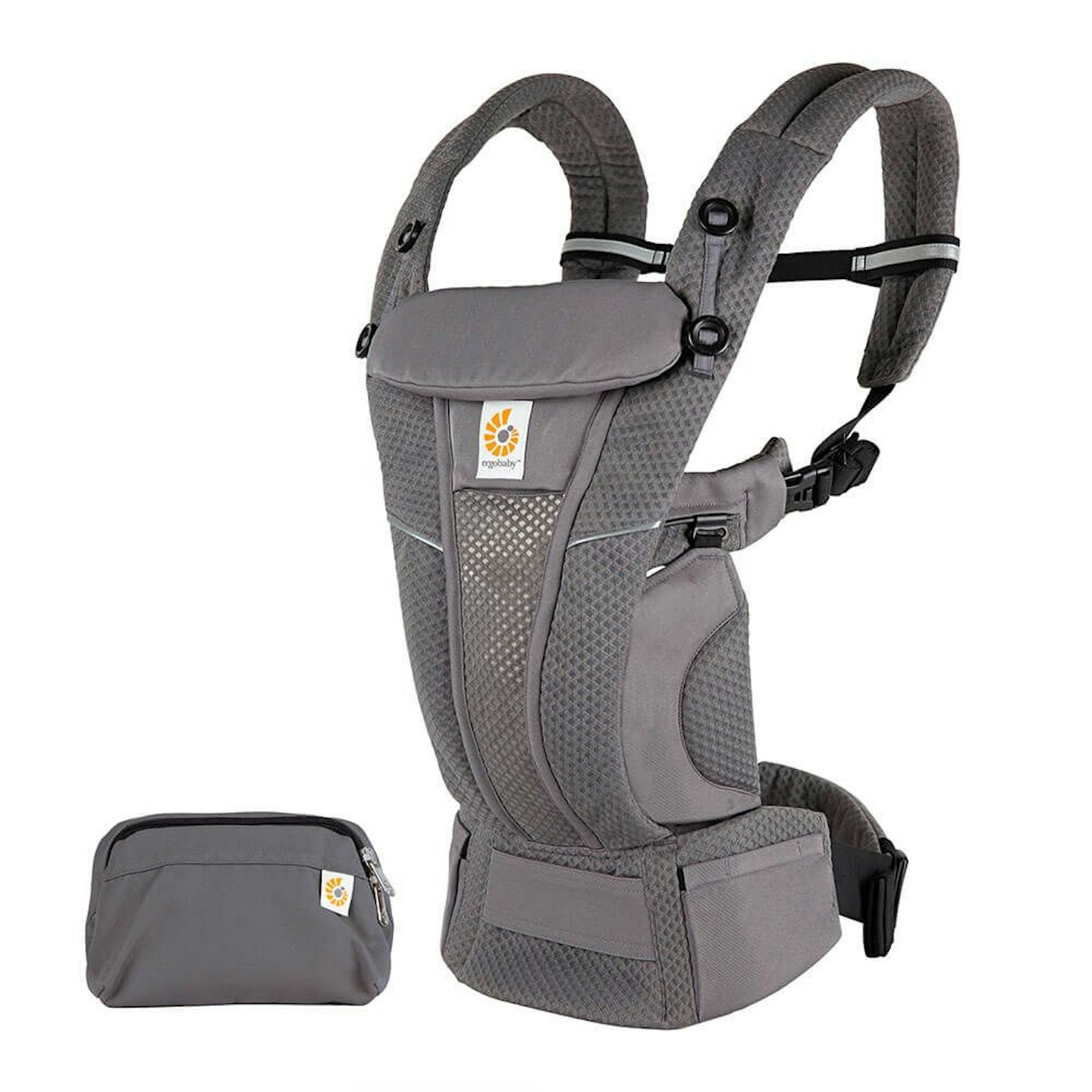 Testing the Ergobaby Omni Breeze
Upon discovering the exciting news of our pregnancy, one of the first things I put on our shopping list was a baby carrier. I wanted our newest member of the family to see the world and enjoy the outdoors. I also had a list of things on my mind that I wanted a carrier to solve, such as being hands-free while I put on a load of washing or doing the food shop. I tried a baby sling (and not a cheap one either) during the newborn stage but in my personal opinion, it was too fiddly to wear correctly and it didn't feel as secure when trying to move around. I'm sure I don't need to say that feeling secure when you have your baby attached to you is a big deal!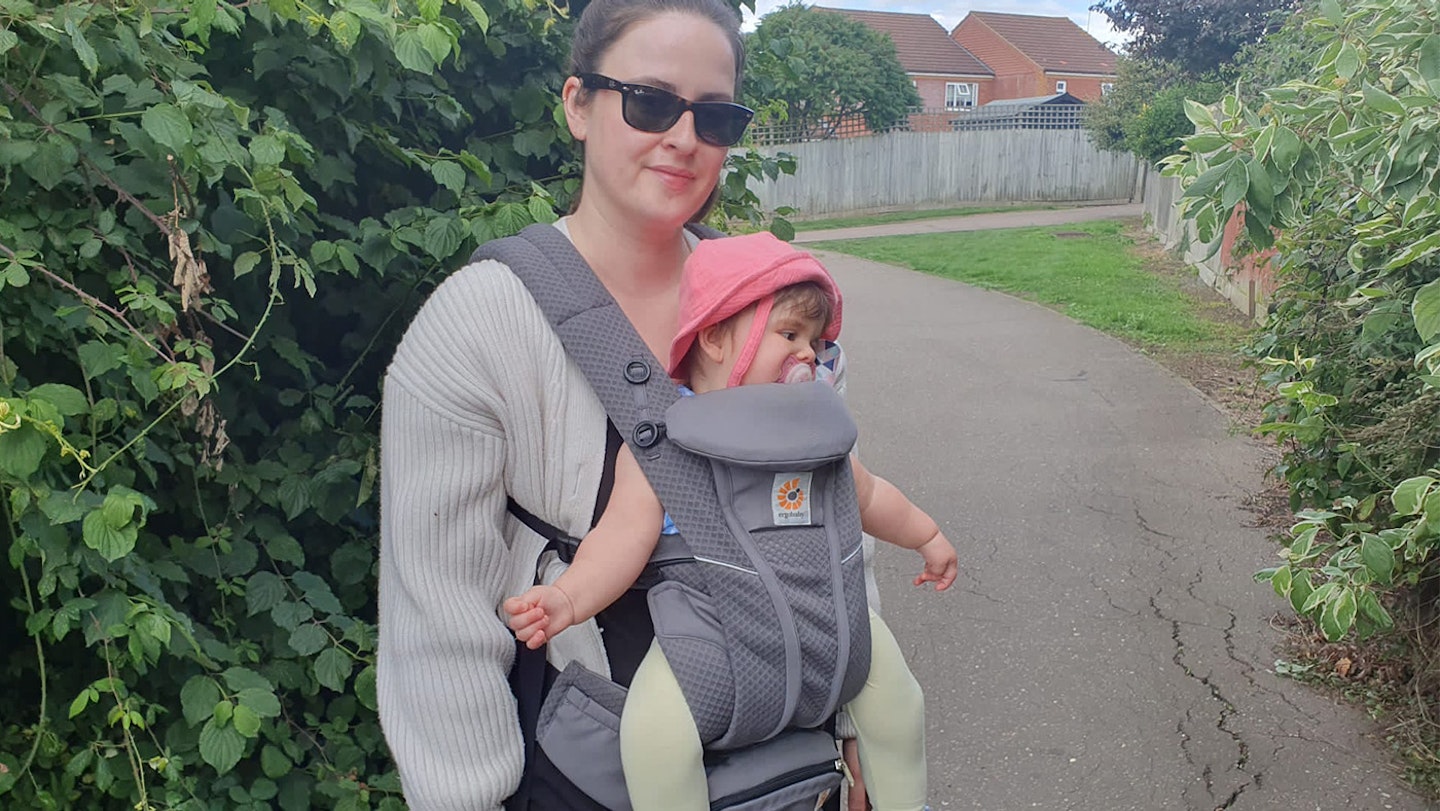 As a parent, I understand the importance of investing in a product that not only meets your immediate needs but also evolves with your growing family. There are many different carriers on the market so it can be difficult to know which is the right one for you and that meets all your needs. It can feel quite overwhelming to make sure you buy the right one for your little one so when the Ergobaby Omni Breeze carrier arrived, I was keen to help others decided if this carrier could be the one for them.
Setting it up
Figuring out how to get this carrier ready is a 'breeze' - you just match it up with your child's height and weight. You can also set it up to wear either with an 'H strap' or 'cross strap' on the back. It's entirely your choice. And here's the cool part - they've got this genius colour code system that makes it even more intuitive.
Every bit of this carrier is adjustable, and if you're a visual learner, the information booklet has got your back with easy-to-understand pictograms showcasing all the ways you can wear it. I won't lie, it might feel like a lot to take in initially, but trust me, once you 'crack the code' it's smooth sailing from there.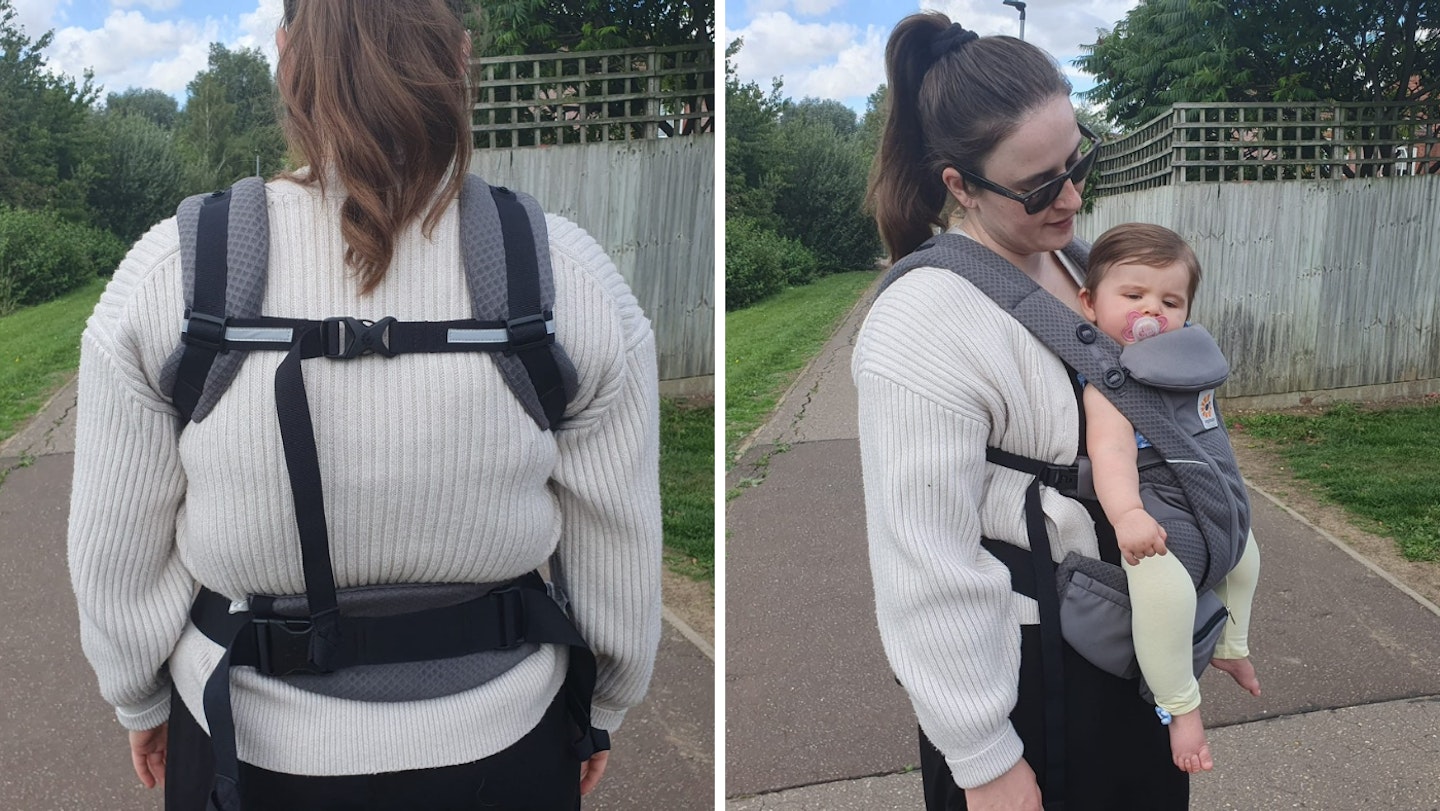 Colour options and cleaning
The Ergobaby Omni Breeze offers an array of 15 colours and picking one was a delightful dilemma. After some contemplation, I settled on the graphite grey, a timeless option that if it got dirty, wouldn't be so noticeable. Washing the carrier is easy to do, you simply pop it in the washing machine at 30 and make sure to fasten all buckles before washing. Ergobaby recommends putting the carrier in a pillowcase and using a mild detergent free of bleach, perfumes, dyes, chlorine, or optical brighteners and then air drying.
Design
The Omni Breeze inherits all the fantastic features of its Omni baby carrier predecessors. It's like they took the goodness of the Ergobaby Omni 360 Cool Air Mesh and gave it a sleek makeover — gone is the bulk, replaced by a chic, streamlined look. Despite its newfound elegance, it hasn't lost an ounce of its comfort and support, staying as reliable as always. This carrier ensures an optimal fit accommodating a wide range of individuals, comfortably fitting mothers ranging from UK sizes 8 to 22, as well as fathers from XS to XXL.
What truly sets Ergobaby apart as a brand is its consistent commitment to delivering unique and sturdy designs that truly stand the test of time. The Omni Breeze carrier is no exception and its clever design shines through, as usual, making it visually appealing embodying the brand's hallmark of premium quality.
Not only does it boast a stunning aesthetic look and feel but it addresses the need for storage. It's the kind of thoughtful innovation that truly adds that "wow" factor to an already impressive carrier. It means you can just take the essentials with you such as your phone and keys.
There are two side pockets, a dummy space for convenience, a detachable pouch and a zip pocket. What more could you want? Oh yes, a sun protective hood! To access this, you simply pull it out of the zipped pocket, which I felt was very thoughtful. It really does have it all and doesn't compromise the overall weight of the carrier either.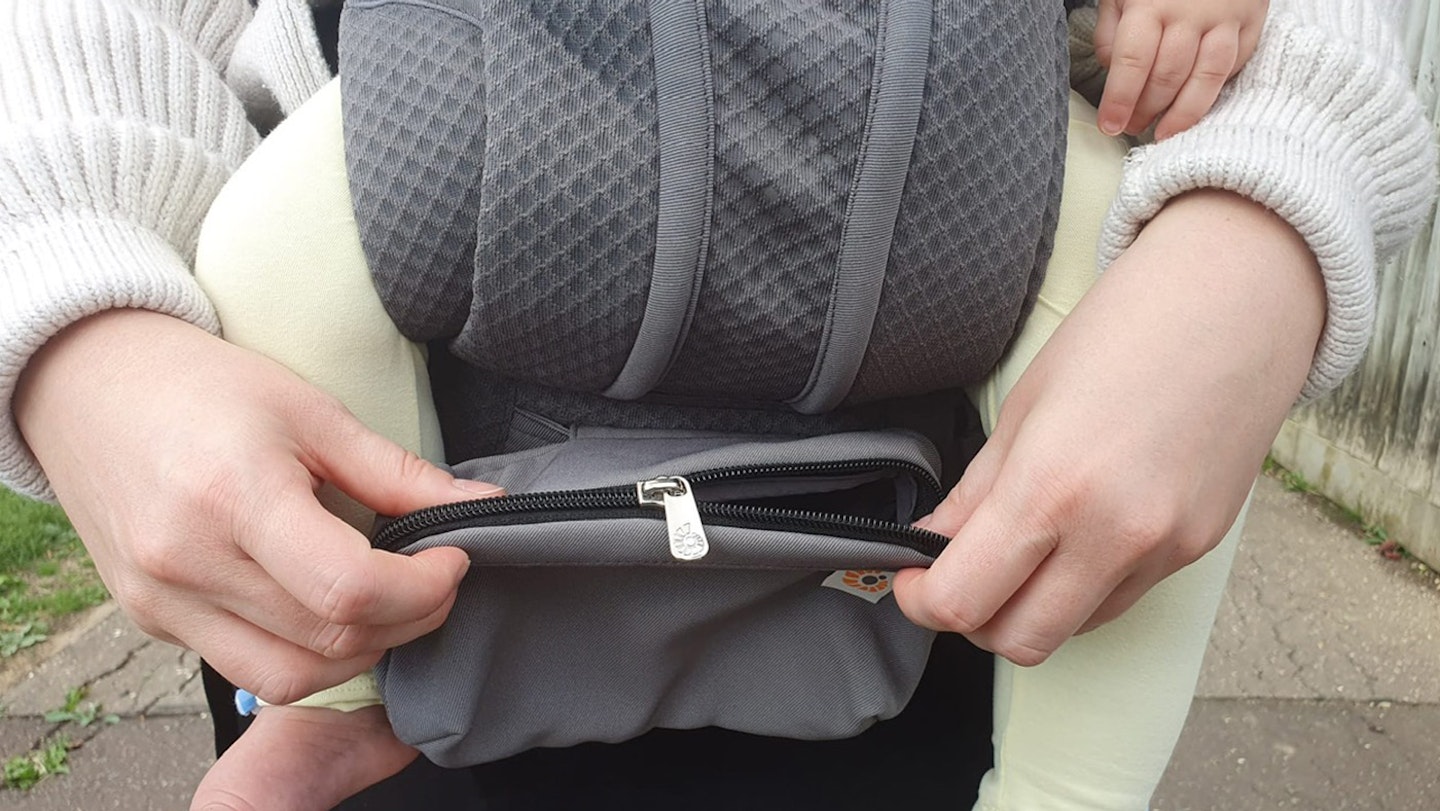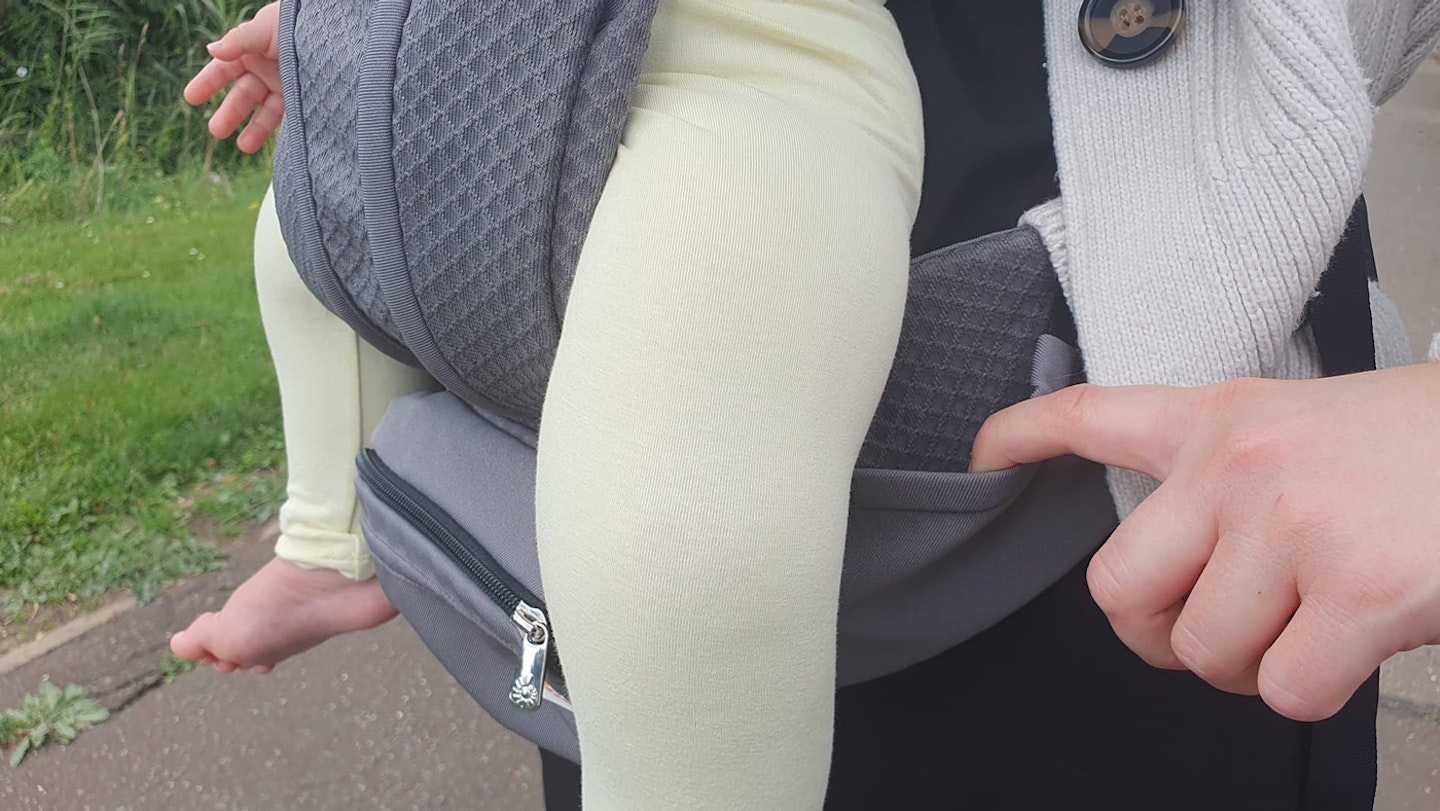 Comfort and safety
The Omni Breeze is undeniably comfortable, ensuring a pleasant experience. There's no doubt about it, the Breeze is like a comforting paradise, and Luella loves it. Seriously, there hasn't been a single fussy moment since she's been in it. And now that she's crossed the 6-month-old mark, she's all about taking in the world face-forward with the biggest grin!
Its ingenious design takes air circulation to a whole new level. With a thoughtfully incorporated breathable mesh fabric, you can feel confident that your baby's comfort and safety are catered to whenever they're nestled in this carrier. Even when you're juggling chores, the carrier has your back ensuring they are secure and snug. It's what keeps you ticking off those to-do lists with ease!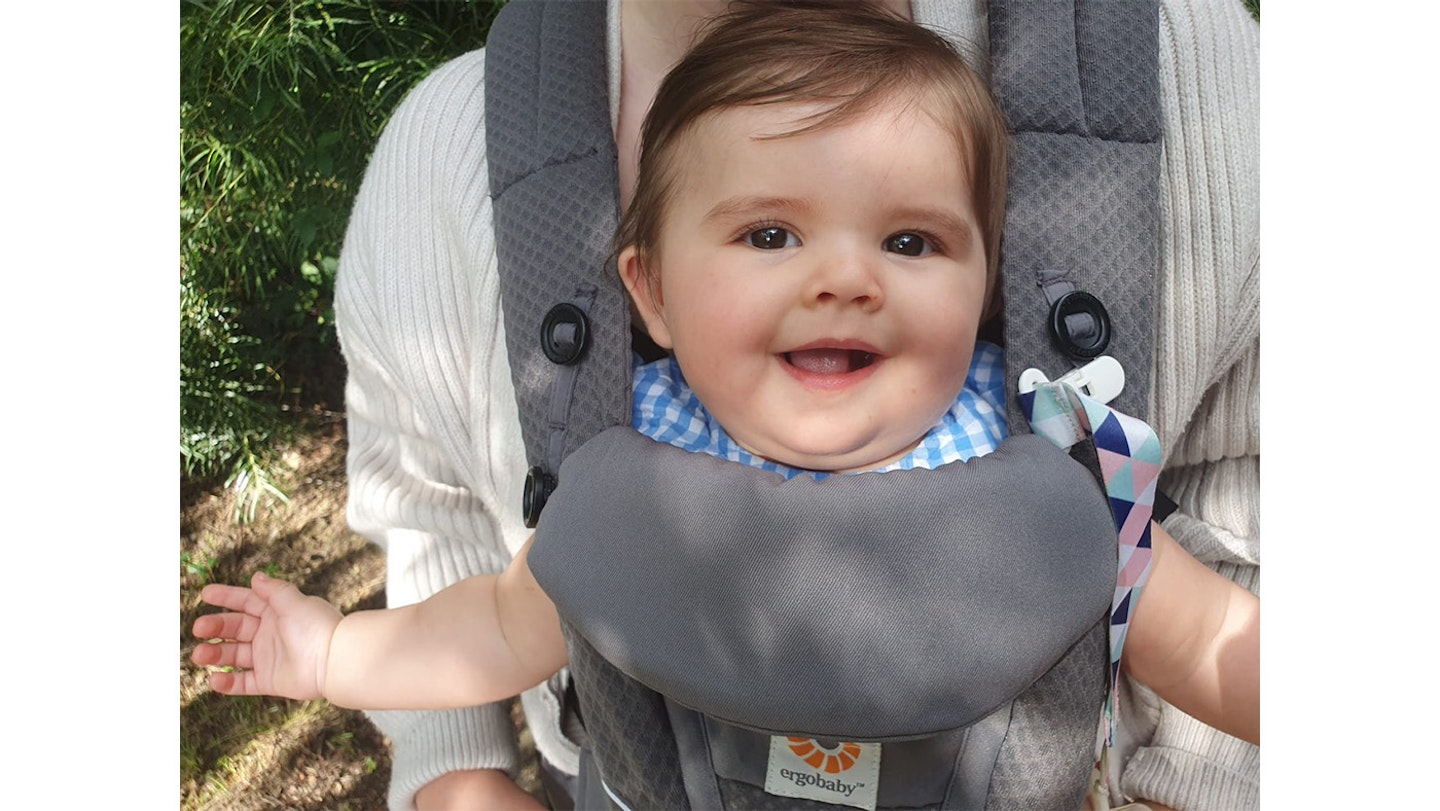 The only drawback I would say with the comfort side of things with this carrier is the band near the pouch — it tends to sit a tad low and can be a little bothersome but this can be worked around. If you lift it higher you can give the straps a quick adjustment and you're back in the comfort zone.
The Omni Breeze proudly places your baby's safety at the forefront. Its robust build exudes a remarkable durability that aligns perfectly with the expectations for a reliable baby carrier. That feeling of safety does come at a price though. On a few occasions, Luella has come out of the carrier with transfer marks on her legs where the carrier was supporting her. Obviously, these aren't permanent and they didn't affect or disturb her whilst on the walk but it's certainly worth mentioning as there is clearly a 'sweet spot' with all the adjustments to make it comfortable for both baby and parent and getting that right might be challenging for some.
Final verdict
I continue to have a soft spot for Ergobaby, as does Luella's Dad who previously reviewed the Evolve highchair. This carrier from Ergobaby offers an array of benefits, ranging from its comfort and versatility to its thoughtful design elements. While it has a few minor drawbacks like the detachable pouch occasionally getting in the way and the possibility of leaving transfer marks on bare legs, these issues can be managed.
At a price tag of £184.90, this might seem like a bit of a splurge when there are cheaper options available. But let me tell you, it's an investment in top-notch quality and you're in safe hands with this carrier.
Overall, it's a reliable choice for parents seeking a comfortable, secure, and stylish carrier that can adapt as their child grows. I personally know a few mums that have the Omni Breeze and they speak just as highly as I do.
Ergobaby Omni Breeze FAQ
What is the difference between Omni 360 and Omni Breeze?
While the Omni Breeze is made with Lightweight SoftFlex™ Mesh that covers almost all of the carrier, the Omni 360 Cool Air Mesh instead has targeted mesh panels in a cotton body panel. While both share a lot of features, the Omni Breeze has a few more including subtle reflective strips and extra pockets in the waistbelt. It's also easier to make quick, easy position changes and has chest tabs for cradling newborns for an especially close fit.
What are the different modes of Omni Breeze?
The Omni Breeze baby carrier has four positions to choose from:
• Front Carry Inward Facing
• Front Carry Outward Facing
• Hip Carry
• Back Carry
Can Omni Breeze be worn on back?
Yes! Once your baby weighs 7.8kg and can demonstrate strong head and neck control as well as sit unaided, you can use both the back and hip carry modes.
Laura is a first-time mum to Luella. While on maternity leave, Laura is making the most of her time with her daughter and is enjoying swimming, baby sensory and local baby groups.