Naturally, we're all a lot more money conscious nowadays and as a result, we want the baby products we buy to last as long as possible. While a baby highchair is a necessity when it comes to weaning your child, they don't always have the longest lifespan. And that's where the Ergobaby Evolve 3-in-1 Highchair comes in.
The clever Evolve 3-in-1 Highchair converts easily from a supportive high chair to a thoughtfully designed chair and then to an interactive kitchen helper, meaning it helpfully grows and evolves along with your child through the years, right until they are 7 years old. Easy to fold and put away and fully wipeable, the highchair aims to help make parenting easier and has a slick timeless design that will not only look great in your kitchen but is built to last too.
While a convertible highchair isn't 'new' as such, other options on the market are a lot more expensive. For example, the Stokke Tripp Trapp will set you back £239 just for the chair, before you've even bought any extras such as a tray or harness. While not a cheap highchair by any means, you do get everything you could need with the full Ergobaby Evolve 3-in-1 Highchair set for the total price of £329.90.
Ergobaby Evolve 3-in-1 Highchair overview
Pros
Grows with child
Very comfortable for baby
High-quality wipeable materials
Timeless visual design
Cons
Tray table needs two hands to remove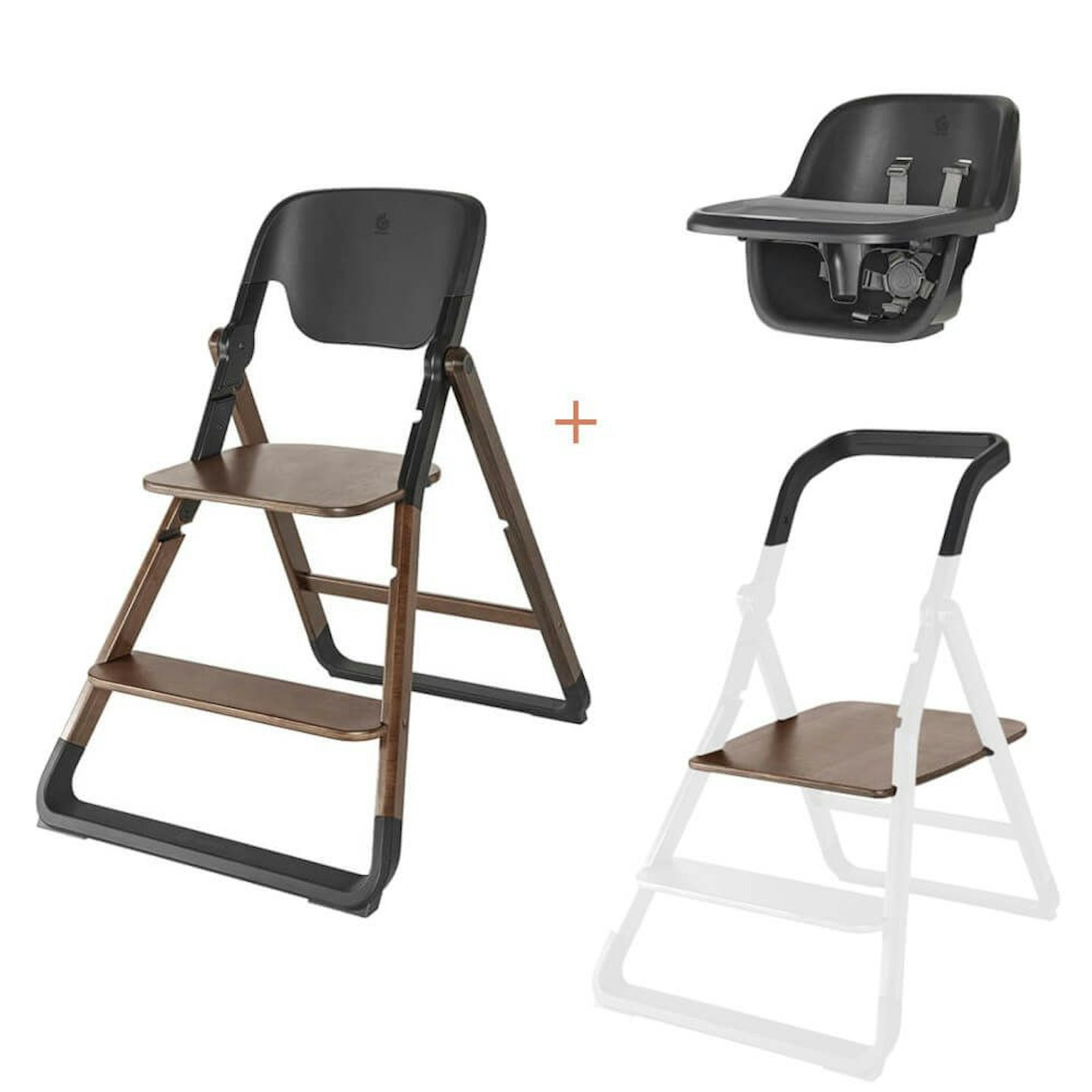 Testing the Ergobaby Evolve 3-in-1 Highchair
Anyone that knows me, knows that I'm a huge Ergobaby fan and have loved their baby bouncer and baby carrier in the past. So when offered the chance to review the Ergobaby Evolve 3-in-1 Highchair, I jumped at the chance. Now this may give the impression of bias but quite the opposite is true. My expectations of anything that carries the name are now sky-high. The Ergobaby products I have reviewed so far have all been extremely high quality, really safe and very comfortable and set Ergobaby in my mind as a premium brand for a reasonable price. So if any product strays from that blueprint even a little, it would stick out like a sore thumb. I'm happy to say that the Ergobaby Evolve 3-in-1 Highchair is more of what you would expect from the brand; a truly great piece of baby kit.
Assembly
Assembly is straightforward and easy as there are very few elements to it that actually need manually fitting together. However, I would always encourage a thorough read-through of the instructions. Not because - despite how easy it is to put together - I tried to fit it back to front of course. No, that definitely didn't happen. Not me. Not a chance…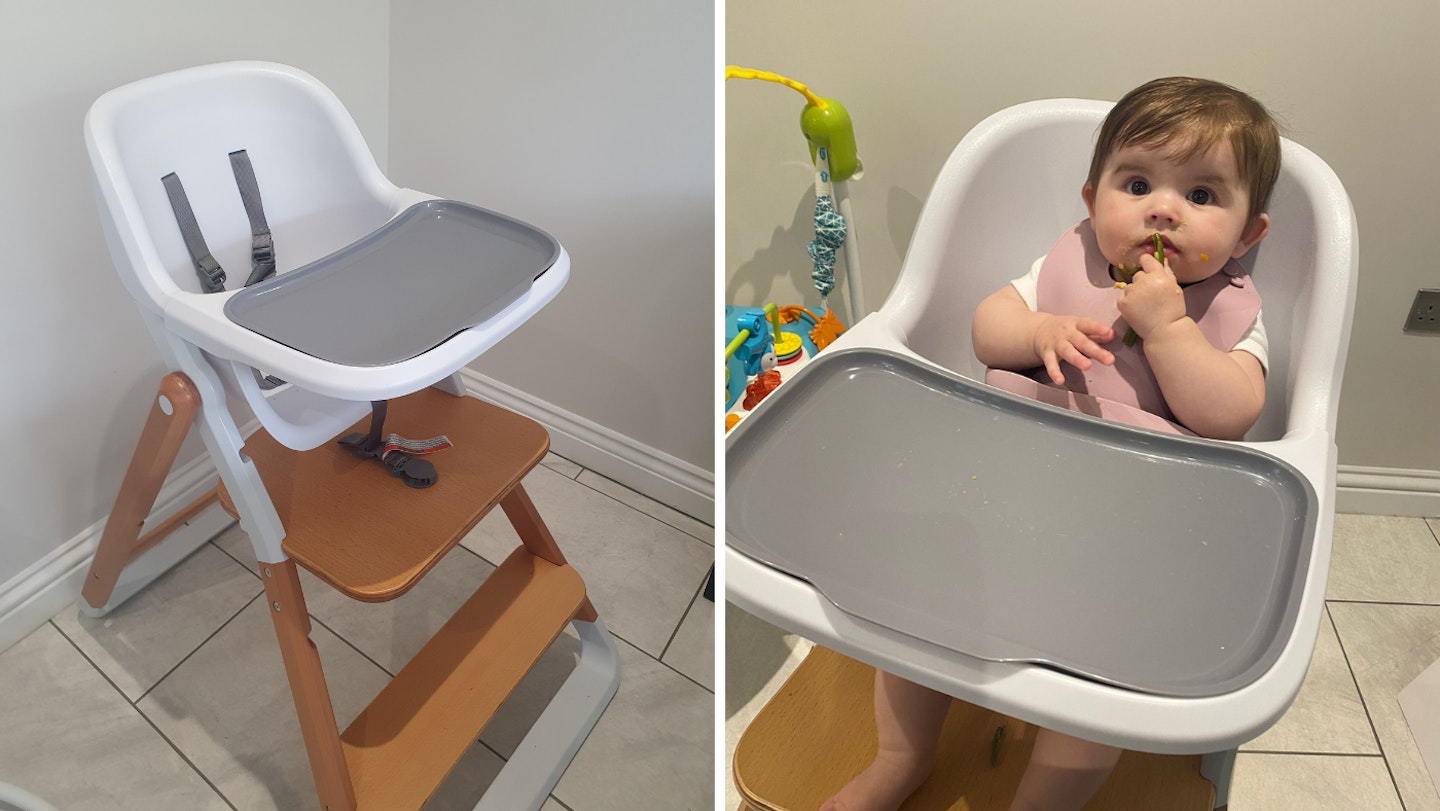 Design
Once I noticed and corrected my mistake and the pieces were assembled, the whole piece felt incredibly sturdy. From the get-go, the first thing that strikes you is the high quality of the materials used. It's the same as all the Ergobaby products I have had the pleasure of using: everything feels solid, well put together and high quality. The wood feels full and chunky and has an immaculate polish to it. The plastic isn't cheap and nasty, it feels well-formed and sturdy which is always reassuring.
The tray part of the highchair is really easy to remove, with a click-in-place system. If I were to state a personal preference, I would rather have a table system that can be removed with one hand rather than requiring two but I can also see the safety benefits of requiring two. The tray, the tray insert and all of the chair itself is all wipeable which makes the inevitable mess when weaning a baby not just easier but also less stressful because you don't have to worry about the highchair being damaged. The highchair is really easy to fold and pack away so if you need to move it between houses, transporting it is stress-free.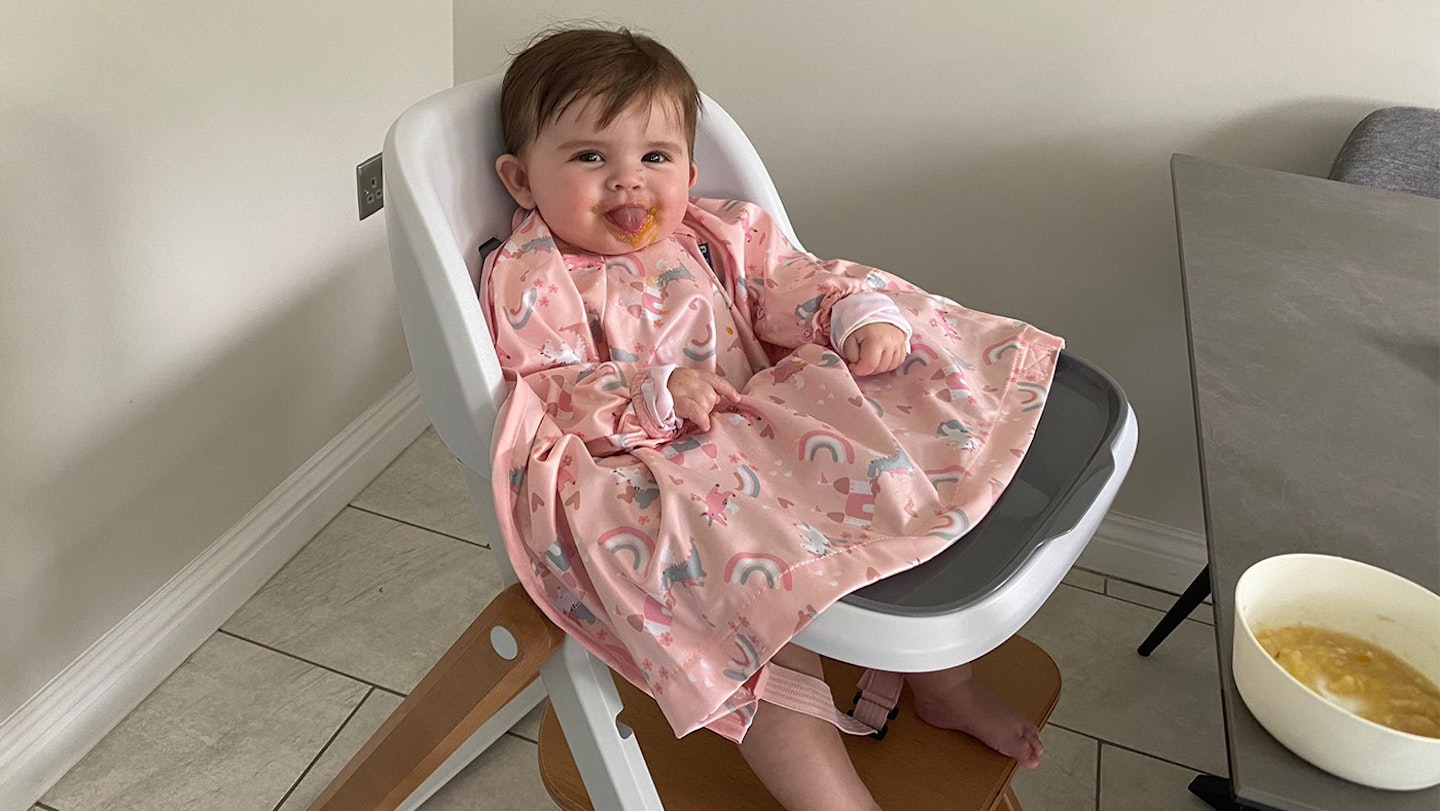 Safety
There are pads on the bottom of the highchair that are made from… well I don't know what but the material feels space-age. They seem like some sort of mixture between plastic and rubber designed to prevent the highchair from slipping around on a smooth surface but also to prevent any damage if that surface is at all fragile. As someone who has recently had their kitchen retiled, I definitely fall into that safety-conscious and floor-maintaining niche as I am willing to bet, many other parents also do.
The safety features don't stop there, the Ergobaby Evolve features a bucket-style seat with a five-point harness. Any parent that has done any amount of reading on child safety has a healthy respect for the five-point harness and frankly, I wouldn't buy a highchair without one. The material Ergobaby has used for the strap feels thick and strong as well, more so than what you would expect for something like this but it again makes you feel confident in its safety.
Conversion
Of course, I haven't yet come to the best selling point for this highchair. The reason for its Evolve name is the fact that it isn't just a high chair. Once your little one grows, it turns into their first chair at the table and then into a step to help them up to the kitchen counter, all of which are milestones in a family and offer so much more than your average high chair for sale currently. Switching between the different setups is so simple and straightforward and to prove how easy it is, the YouTube video instructing you how to do it is only one minute long. All of this goes to show how much thought and effort Ergobaby put into the design of their products.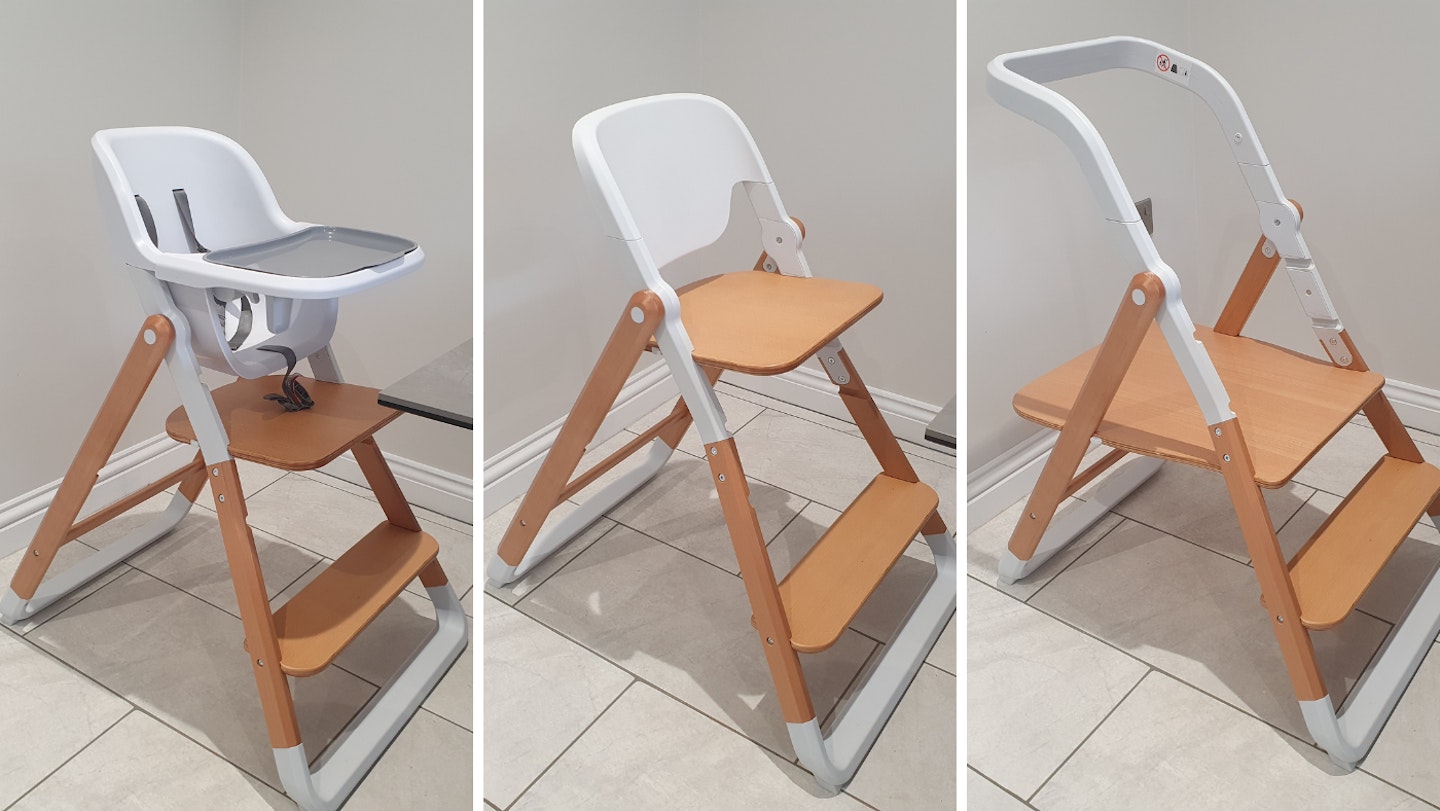 Because at its core, you're not just buying something functional. You're buying a part of your child's memory. Your baby's highchair needs to be safe, yes, but your child also has to find it comfortable to help create those picture-perfect moments when they take their first bites of food. Your baby's highchair needs to be functional, yes, but it also needs to look good so that in 20 years' time, it stands the test of time and can then be passed down for your grandchildren to use. I myself cannot wait to convert it to a step and have those iconic photos of my daughter helping Daddy with the dishes or helping Mummy bake cupcakes: the stuff happy memories are made of. The Ergobaby Evolve 3-in-1 Highchair delivers all of that and more, it is the complete product and very much lives up to the expectation of the brand I have grown to know and love.
Final thoughts
Aside from the two-handed tray removal, there is nothing else I would change about this highchair. It is sturdy, safe, stylish and simple to use. This 3 in 1 highchair lives up to the Ergobaby brand and your expectations. It is definitely value for money and is so reliable that it will stand the test of time in your household. Frankly, any other highchair would have to do a lot to beat it.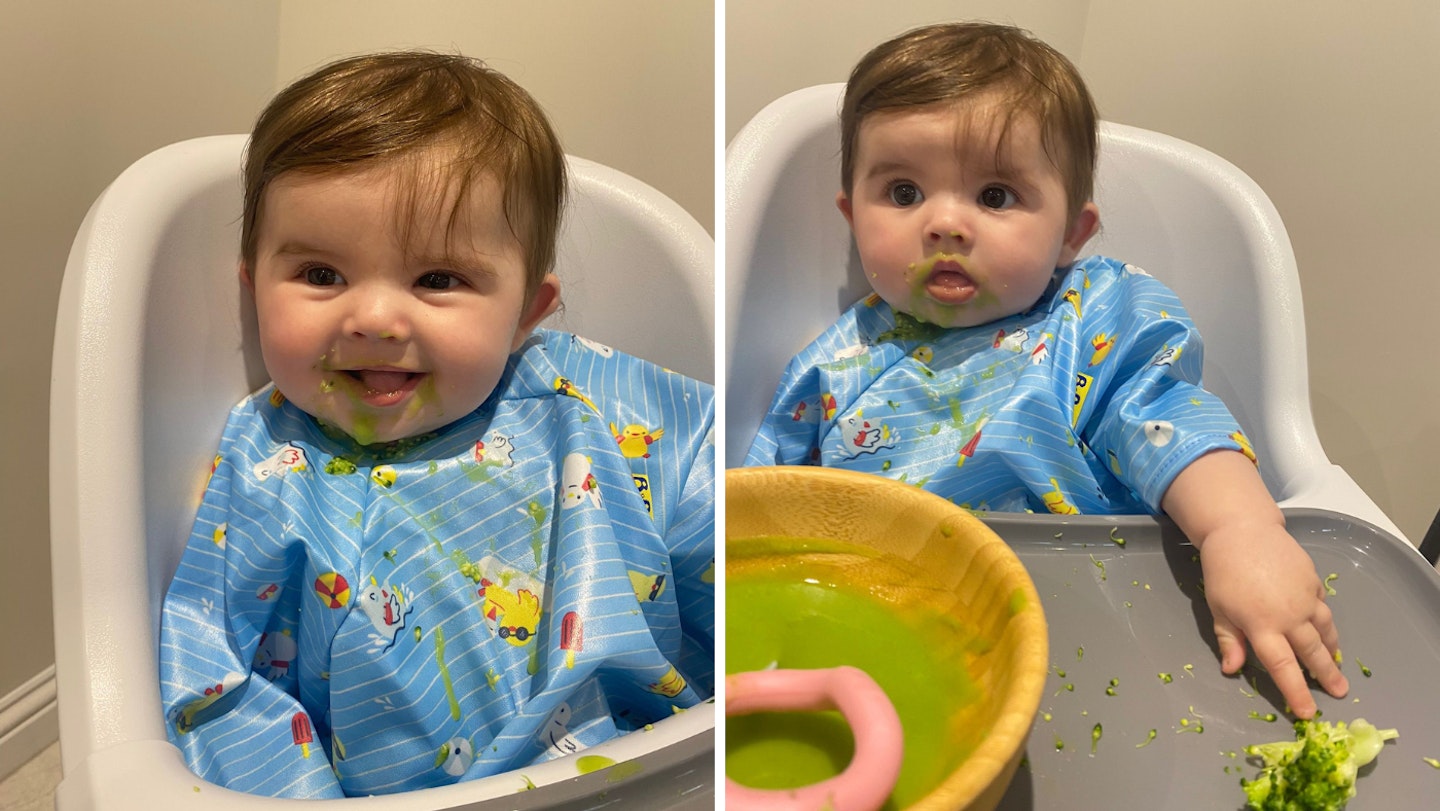 Ergobaby Evolve 3-in-1 Highchair FAQ
What colours are the Ergobaby Evolve 3-in-1 Highchair available in?
Currently, you can choose between having the highchair in either dark wood or natural wood.
How does Evolve 3-in-1 High Chair fold?
Whether in high chair, chair or kitchen helper mode, to fold the Evolve, just press the white buttons on each side of the frame and fold. When folding the Kitchen Helper mode, you'll need to remove the standing platform before folding.
Can I adjust the seat of the Evolve 3-in-1 High Chair?
Yes! You can choose between seat heights at 20 or 23.6 inches depending on your toddler's development.
Ashley Blattner is a first-time dad to daughter Luella, born in December 2022.