If your little one is a fan of a certain big, lovable dog and his Squirrel Club, why not give them a Hey Duggee birthday cake for their special day?
As well as a recipe for you to try, we've also included ready-made cakes you can order online as well as toppers for you to add a bit of Duggee magic to any cake you fancy.
Hey Duggee birthday cake buys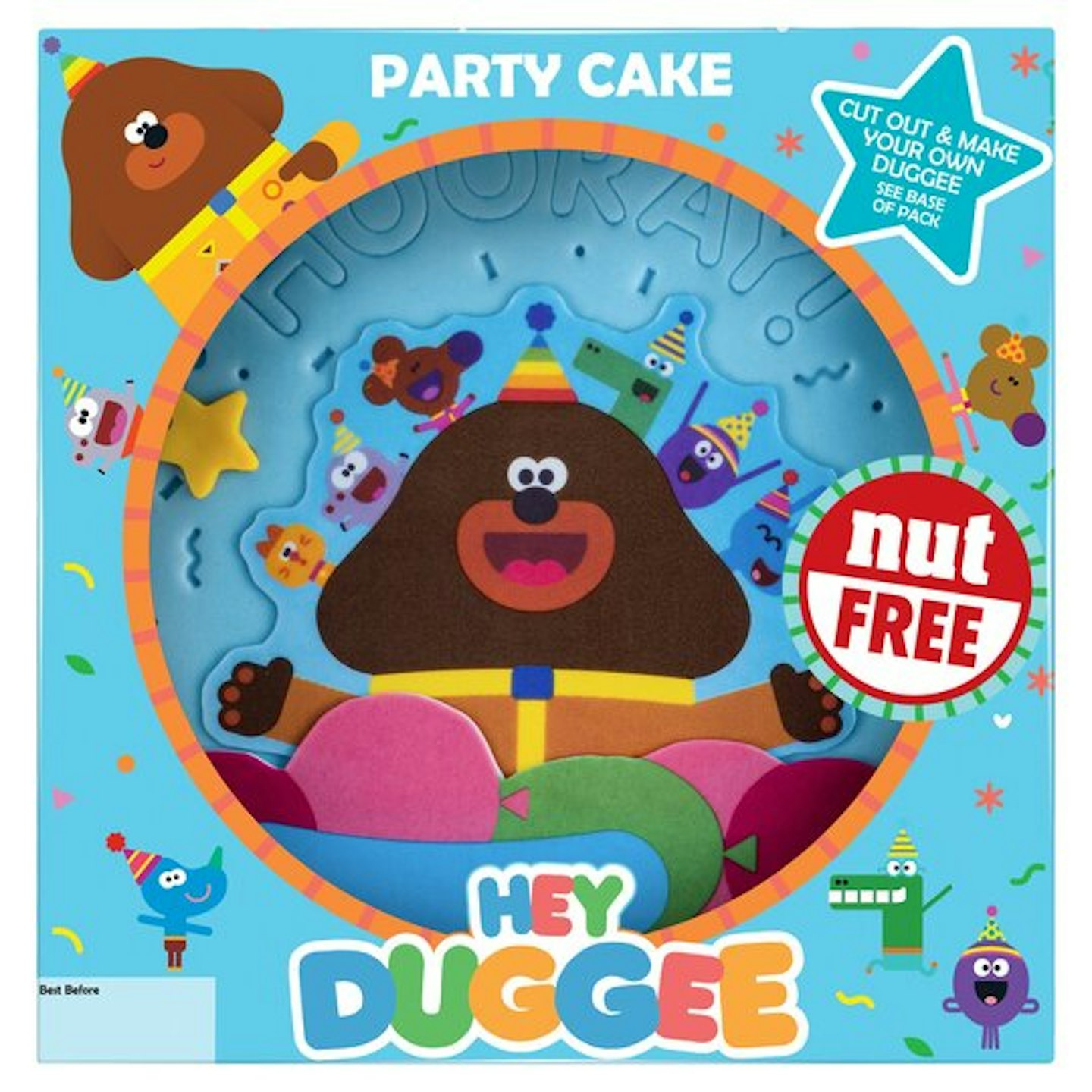 1 of 8
Hey Duggee Party Cake
This bargain nut-free sponge has a layer of raspberry jam and sweet filling and is covered with soft icing and edible decorations.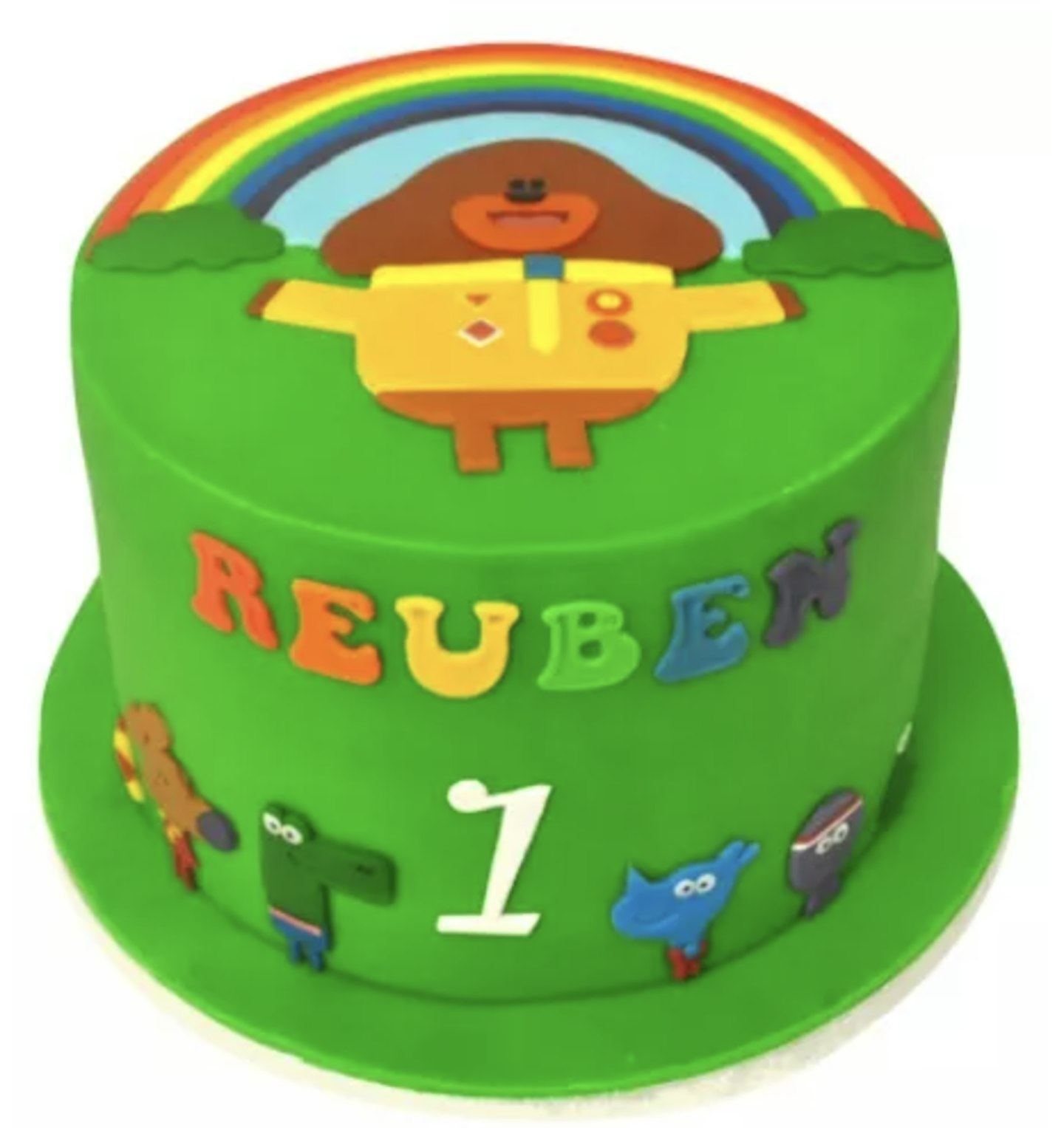 2 of 8
Duggee cake
Crafted with handmade decorations, this cake is available in three sizes. Choose from either vanilla or chocolate cake and three different fillings.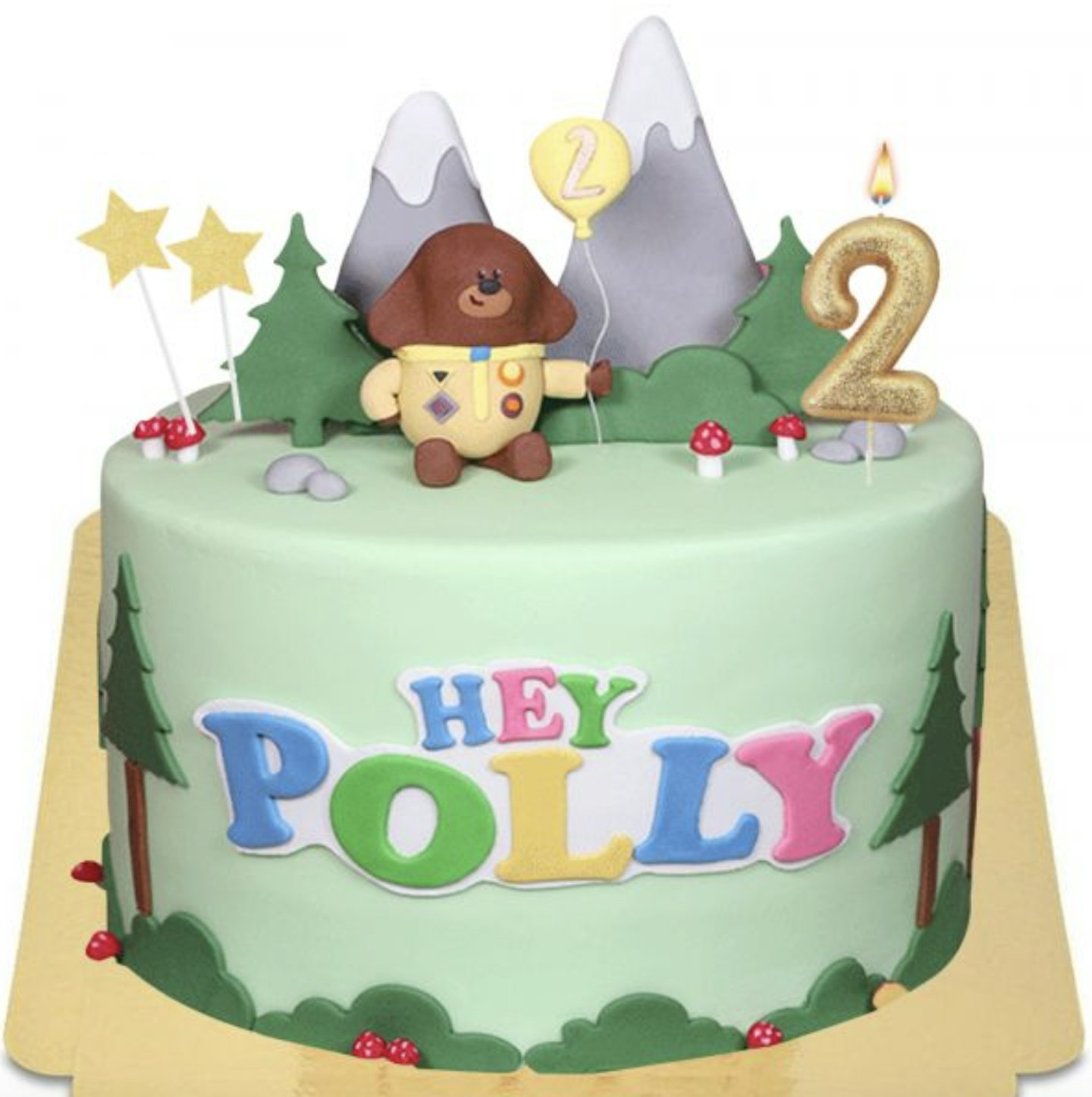 3 of 8
Vegan, organic and gluten-free Hey Duggee cake
Available in five different sizes with two yummy cake flavours Raspberry Choco and Double Chocolate, you can personalise it with your child's name.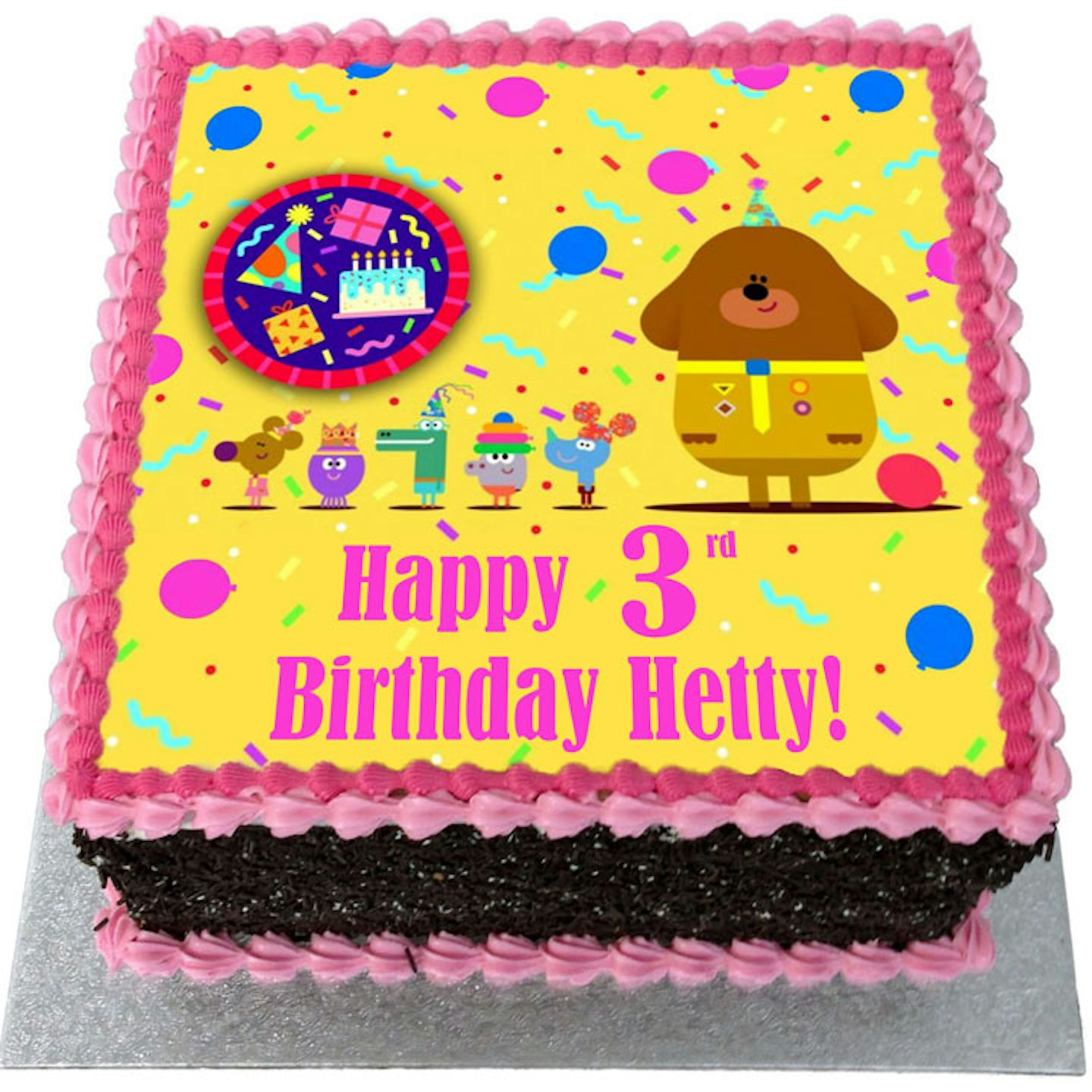 4 of 8
Hey Duggee Birthday Cake
This colourful cake comes in two favours: vanilla sponge and chocolate sponge. You can even change the colour scheme to suit your tot's birthday.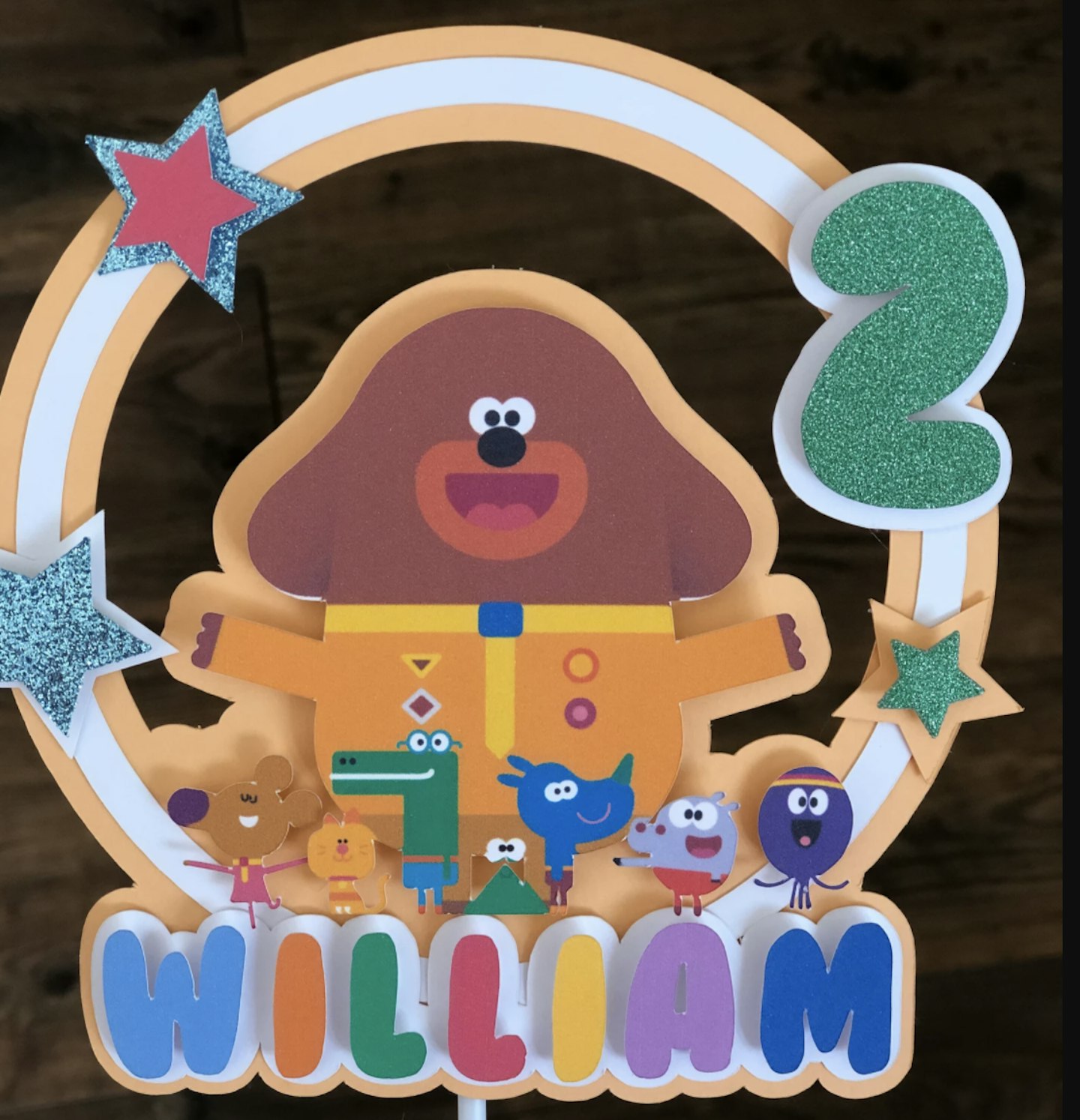 5 of 8
Hey Duggee Personalised 3D cake topper
Complete with a food safe dowel for the cake of your choosing, your child's name is printed in colours to match the Hey Duggee colour scheme. Can be personalised with any age number or name of your choosing.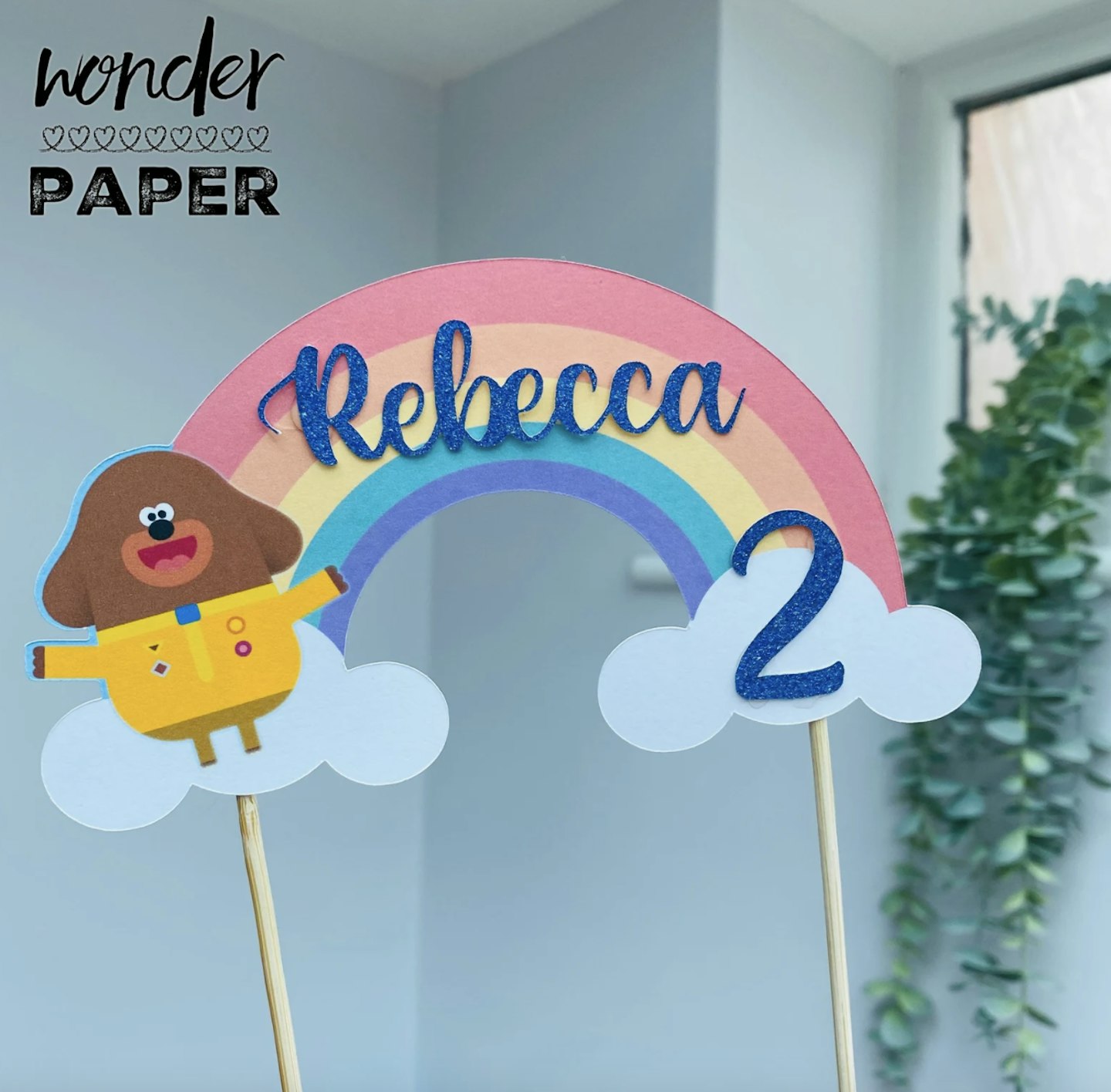 6 of 8
Rainbow Hey Duggee Theme Personalised Birthday Cake Topper
Made from low-shed glitter card stock with an already attached food safe skewers so it's ready to be put straight into your celebration cake, personalise with your child's name and age.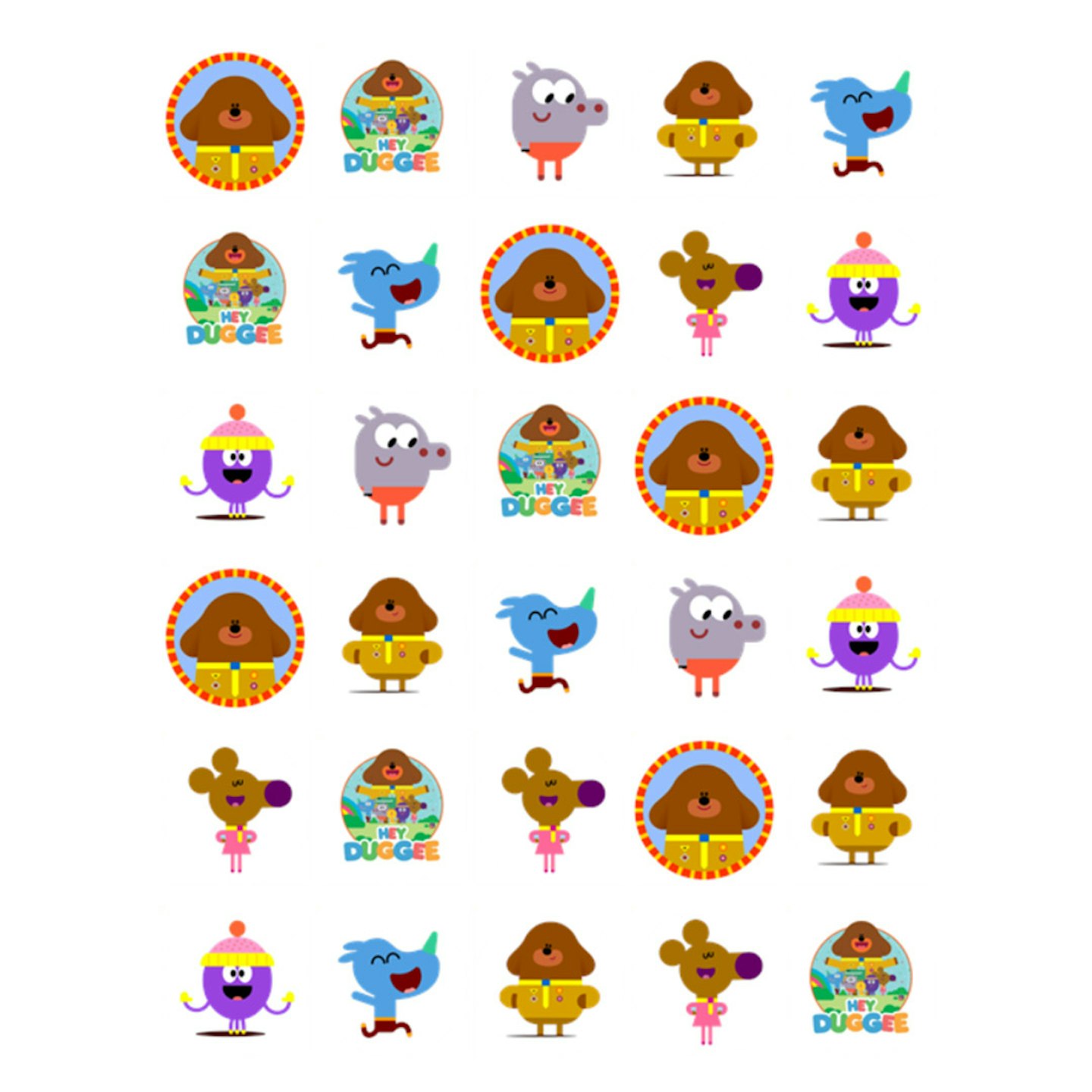 7 of 8
Hey Duggee cupcake toppers
If you'd prefer to serve cupcakes instead, why not pick up these Hey Duggee cupcake toppers? Made from either icing sheets, Wafer Card or Wafer Paper, you'll receive 30 1.5 inch round printed and edible toppers.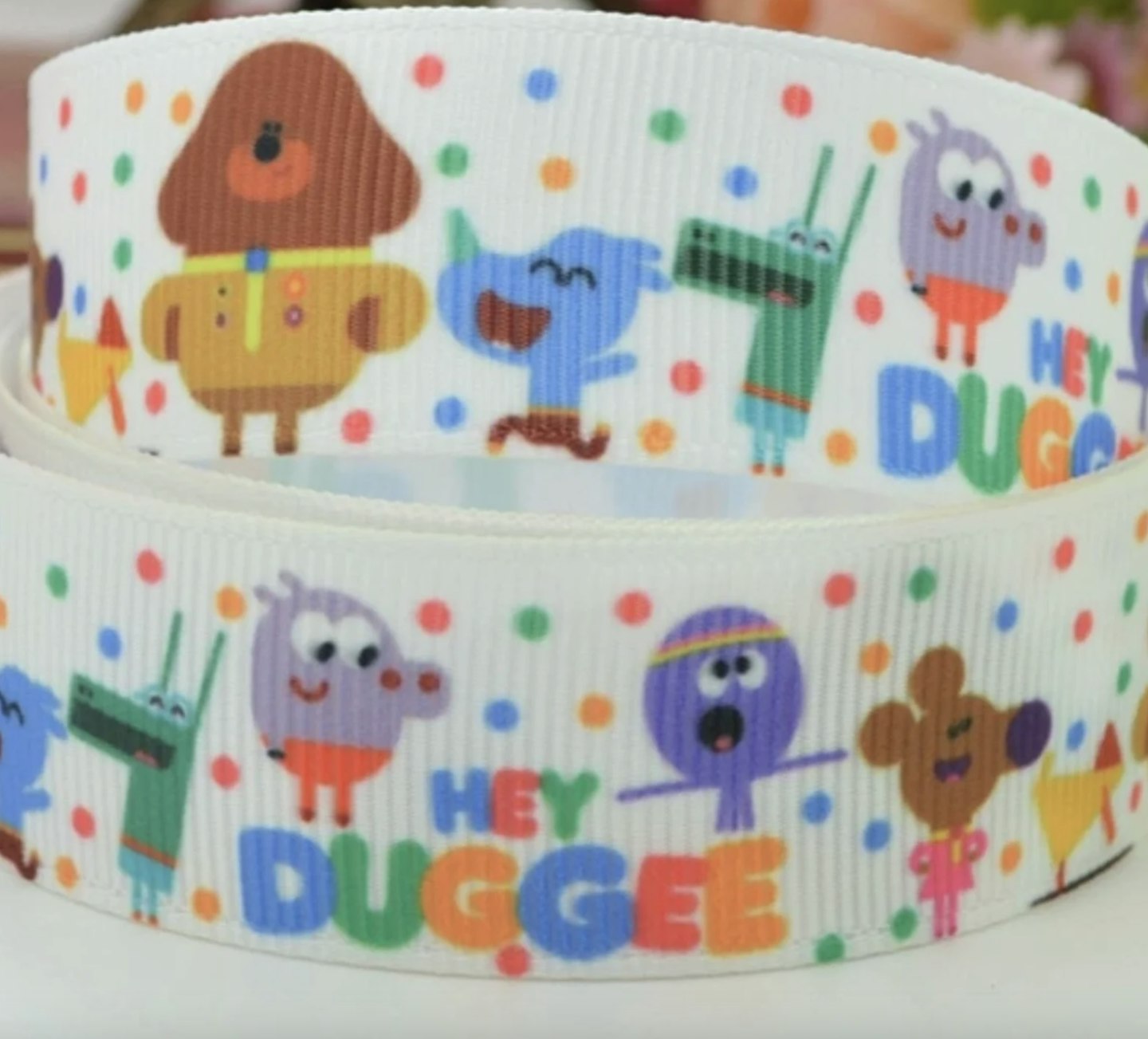 8 of 8
Hey Duggee, Cake ribbon
Available in several colours and patterns, wrap this grosgrain ribbon around your cake. Measures between 22mm-25mm.
DIY Hey Duggee cake
This delicious orange and raspberry Hey Duggee cake recipe was created by the first Great British Bake Off winner Edd Kimber. It's a bit of a challenge and requires some time but if you're keen to make your own, why not give it a go?
Serves: 16
Cook: 1 hour 40 minutes
Ingredients
For the cake
300g unsalted butter, room temperature
300g caster sugar
2 tsp vanilla extract
6 large eggs
400g self-raising flour
130g natural yoghurt
2 tbsp milk (if needed)
For the syrup
50g caster sugar
1 tsp vanilla extract
For the orange buttercream & jam filling
250g unsalted butter, softened
550g icing sugar
75g orange curd
3 tbsp raspberry jam
For the decoration
500g red sugarpaste
250g yellow sugarpaste
140g blue sugarpaste
100g brown sugarpaste
25g black sugarpaste
80cm length of yellow ribbon (optional)
Method
Start by making the cake. Heat oven to 180C/160C fan/gas 4 and lightly grease a 23cm deep round cake pan, lining the base with parchment paper.

Cream the butter and sugar together in a large bowl using an electric hand whisk until light and fluffy – this should take about 10 mins. Add the vanilla and whisk again to combine. Beat the eggs a little with a fork, and with the beaters still running, add the eggs a little bit at a time. Wait until each addition has been fully combined before adding more.

Once all of the eggs have been added, fold in the flour with a spatula in three additions, alternating with the yogurt. If the finished batter feels a little stiff, mix in a couple tbsp of milk to loosen it. Transfer the batter into the prepared cake pan and level out with a spatula.

Bake in the preheated oven for about 1 hr 30 – 1 hr 40 mins or until a skewer inserted into the middle of the cake comes out clean. If the cake is browning too quickly, cover loosely with baking parchment for the last 15 mins of cooking. Allow the cake to cool in the tin for 20 mins.

While the cake is cooling in the tin make the syrup. Place the sugar, 50ml water and vanilla extract into a small saucepan over a medium heat and bring to a simmer, cooking for a few mins until the sugar has dissolved. Transfer the cake onto a wire rack to cool completely then use a skewer to poke holes all over the top of the cake. Use a pastry brush to spread the syrup over the top of the cake, allowing it to soak into the sponge before adding more.

To make the buttercream, beat the butter and icing sugar together with an electric hand whisk until light and fluffy, then add the orange curd and whisk again to combine. If the cake is domed on the top, use a large serrated knife to level it off then cut the cake through the middle, into two layers. Place the bottom layer of cake onto a 23cm round cake board and spread a thin layer of buttercream on the cake and top with the raspberry jam. Place the second layer of cake on top and spread the remaining buttercream over the top and sides of the cake.

On a work surface lightly dusted with icing sugar, knead the red sugarpaste until soft and pliable. Roll it out until about 3-4mm thick and wide enough to cover the cake. Roll the sugarpaste onto the rolling pin and carefully drape over the cake. Gently smooth the sugarpaste down the sides of the cake and trim off the excess with a small sharp knife. Reserve the trimmings for the details later on.

Repeat the rolling process with the yellow sugarpaste but this time cutting into thin strips. Cut 30 strips approx 1.5cm x 10cm and stick to the sides of the cake all the way around, dipping your finger in water to brush onto the back of each one, which will act as glue (the strips should cover the entire height of the cake but only reach a couple of centimetres over the top of cake).

Next roll out the blue sugarpaste to the same thickness as the red and yellow but this time cut out a 20cm circle and stick it in place in the middle of the cake using a little water. Roll out the brown sugarpaste as well and use a thin sharp knife to cut out Duggee's face and attach to the blue circle.

For Duggee's clothes knead a little yellow into the remaining brown sugarpaste until it is a light brown colour and use this to cut out his shirt and lip area, sticking with a little water as before. Use the black sugarpaste to roll his eyes and nose, using your hands rather than rolling on the work surface. Use the remaining sugarpaste to shape the decorations for his outfit and mouth and stick as before with a little water. Wrap the ribbon around the bottom edge of the cake and secure with tape or a pin but remember to remove before serving.
This cake will keep in a sealed container for up to 4 days.
Popular articles to read next
The best supermarket birthday cakes for every birthday theme imaginable