Toddler gymnastics (also known as 'pre-school gymnastics') teaches your tot important skills, such as balance and coordination, in a fun and playful environment. It's a great way to get your little one interested in sport from an early age and can lay the foundations for an active and healthy lifestyle.
We spoke to Hayley Flye from British Gymnastics, the national governing body for gymnastics in the UK, to discover what it's all about.
What is toddler gymnastics?
"At British Gymnastics, we use the term 'Preschool Gymnastics', this is aimed at children from walking until they attend school," she says. "Rise Gymnastics is the new recreational gymnastics programme delivered by gymnastics clubs, preschools, schools and leisure centres. Its aim is to create fun, inclusive, interactive lessons to develop a child's physical ability, to encourage social interaction through play, and to develop a child emotionally.
"Rise Gymnastics has a preschool specific phase, called 'Rise Gymnastics Discover', which uses a child-centred approach to learning through imaginative play. Each child will attain skills through high quality and enjoyable activities, and children can receive rewards for their achievements. This mirrors the approach of Early Years Foundation Stage (EYFS) within schools and nurseries."
What can I expect at my toddlers first gymnastics lesson?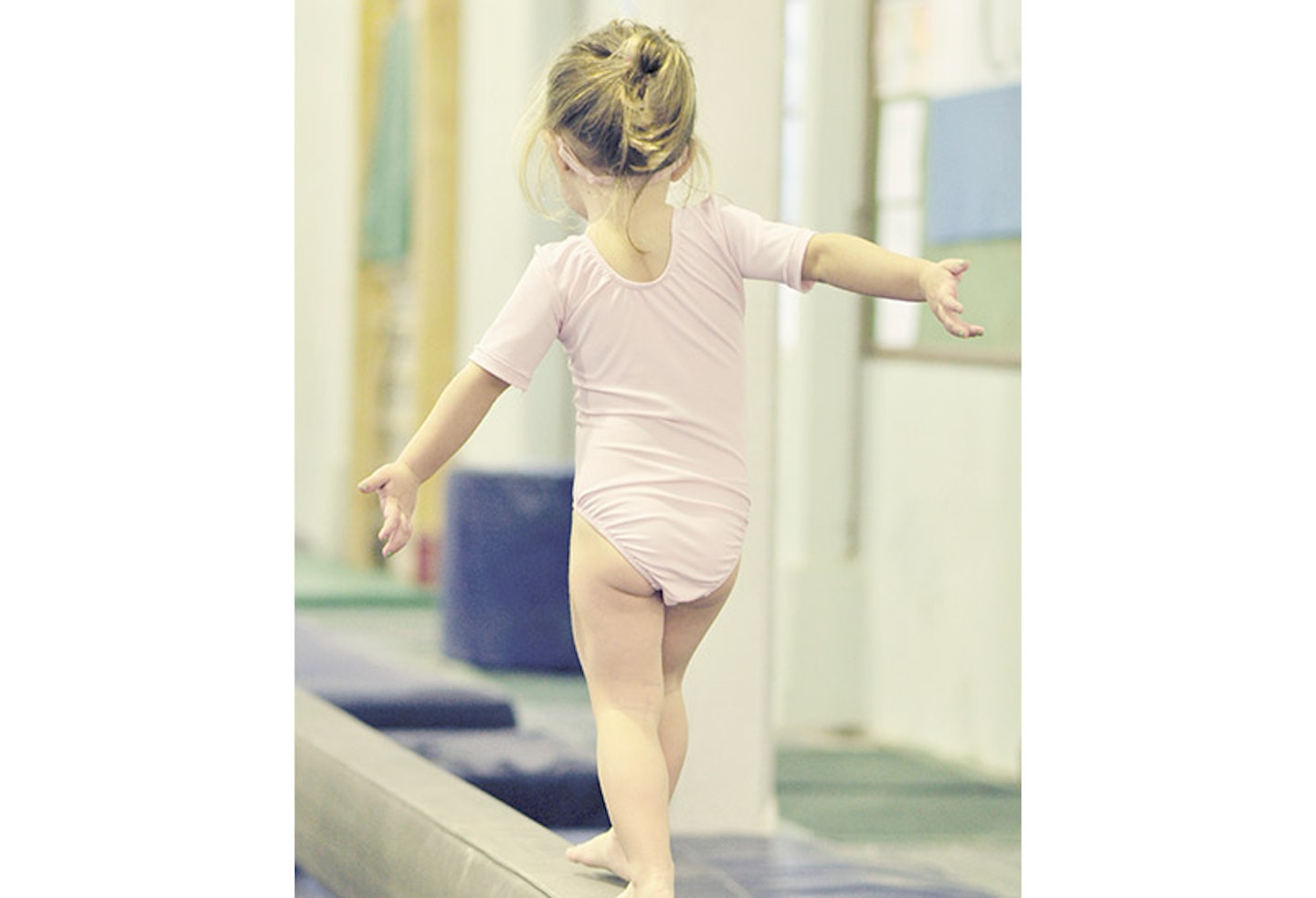 "A typical Discover adult and toddler lesson is centred on various themes such as 'Going to the zoo', 'All about me', or 'Our world' where children are introduced to gymnastics in a way that they can relate to and really enjoy. Each lesson provides an experience where a child can immerse themselves, using their imagination and be creative in the way they move and explore all whilst building key foundation skills.
"At the first themed lesson, a child is likely to experience an exciting warm up and group activity; usually based on a song or rhyme and accompanied with small apparatus such as scarves, ribbons, or tap sticks. This is followed by circuits of activities selected by the coaches. Each activity circuit will provide an engaging and progressive experience that has a focus of either a movement pattern, a skill development, a developmental aim, or all the above!
"The lesson is wrapped up by a group activity to bring everything to a close, and this is an opportunity for some calming, quieter time with song."
What are the benefits of toddler gymnastics?
"We know that all children are unique and that they vary in their growth and development.   Rise Gymnastics Discover is delivered through play and evidence has shown that the opportunity to play benefits children's physical and mental health.
"Each activity within a gymnastics lesson has been carefully designed to develop a child in a variety of ways, one minute they could be travelling along a bar like a monkey at the zoo, the next they could be sliding on their front like a penguin, or balancing a baby sloth on their back whilst crawling through a tunnel!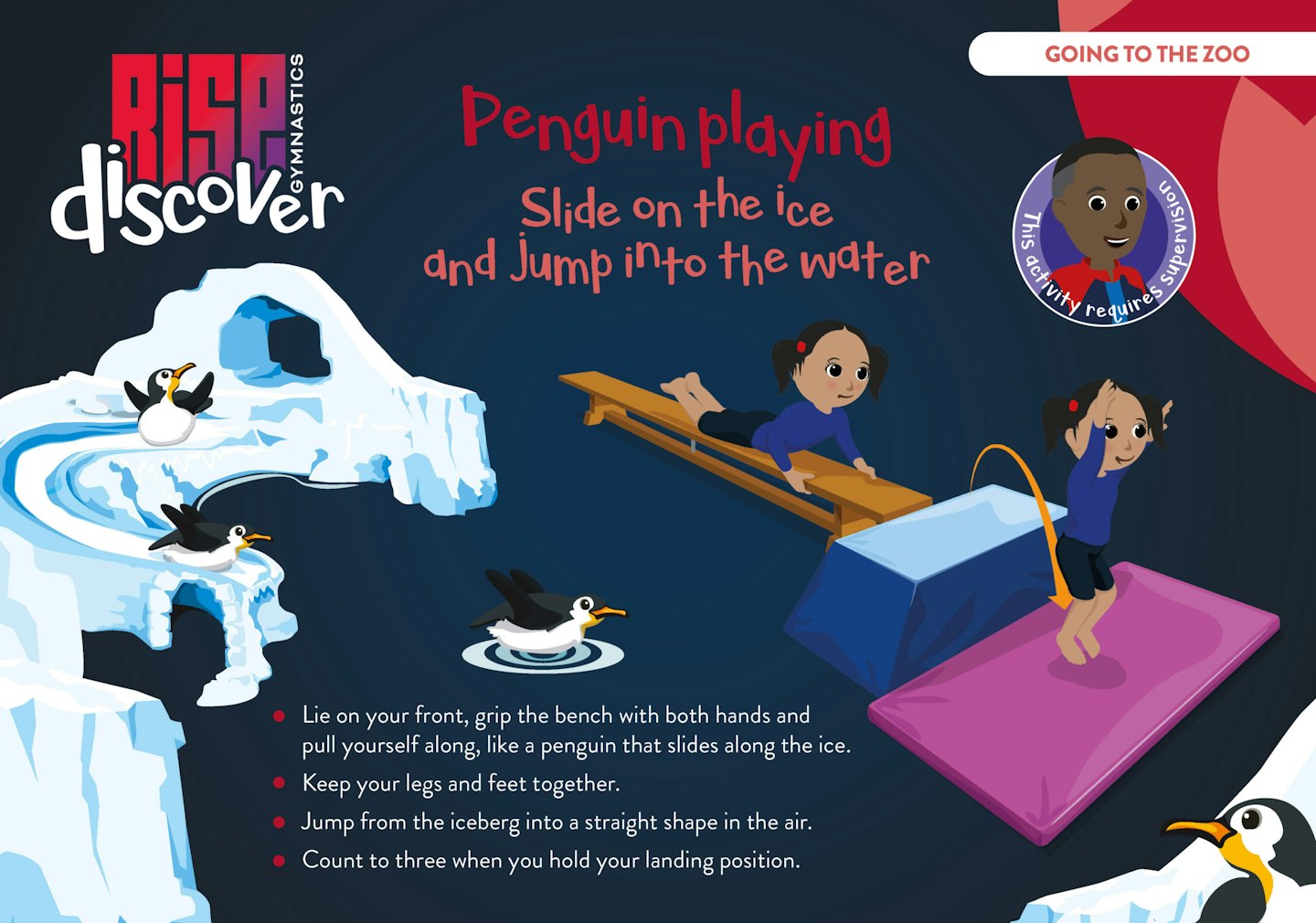 "The activities inspire children to use their imagination and creativity to be something such as a penguin, encouraging them to travel using a push and pull motion to slide along the ice, and jump from the ice cap to land. They will also use their language and cognitive skills when they count to three before jumping, all whilst learning about a penguin, what they might eat, their natural habitat and where they are found in the world!"
What to wear to toddler gymnastics
"A simple non-collared t-shirt with either shorts, leggings or jogging bottoms are perfect attire for a gymnastics class."
 How much is toddler gymnastics?
"A Preschool gymnastics lesson would usually last for approximately 45 minutes and cost in the region of £5 to £10. You can check out our page here to find preschool gymnastics sessions near to you."
Will I need any equipment?
"No. All equipment used within a lesson is provided by the club, preschool or leisure centre."
Popular articles to read next