This beautifully designed, high-quality baby play area has plenty of activities that keeps infants entertained from newborn to a year old.
Here's what Claire, mum to Finley, thought of Lovevery's The Play Gym...
Related: Best Baby Playmat
How did this product make your life easier?
This was perfect for occupying Finley while I got on with jobs round the house. There was so much for him to play with in the Play Gym that from 4-6 months old I could put him down for anything from 10-20 minutes while he happily batted the dangling things, played with the black and white cards and crackled the sensory fabric edges. This meant I could puree him some food for weaning, put the washing on, tidy up and then eat a sandwich watching him while he rolled around in his 'igloo'.
I really liked that it has a covering (that's why we call it his igloo) as his blue eyes are very sensitive to the light. He's also very fair and burns easily so outside this helps with shading him too.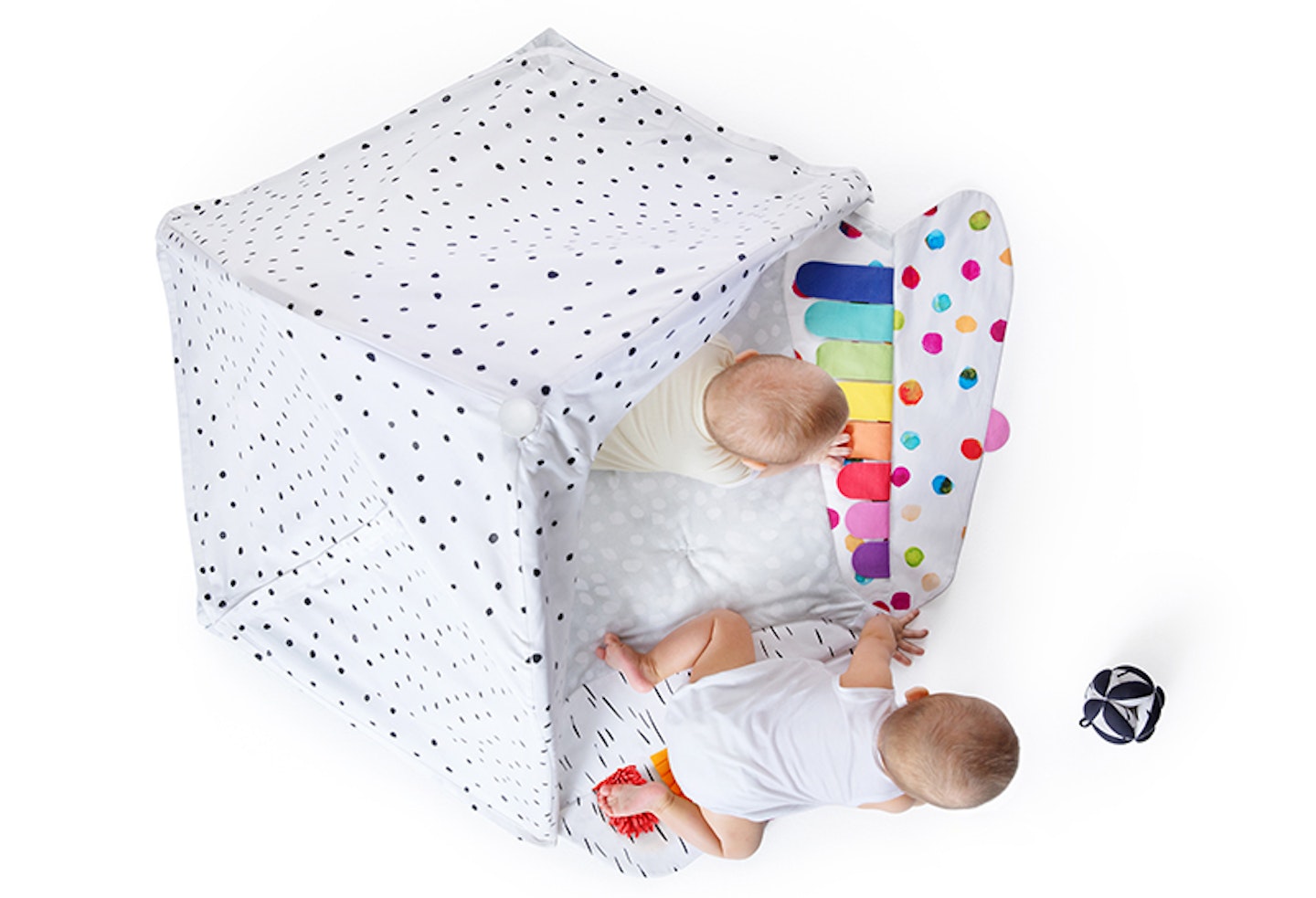 Finley really liked passing the Organic Cotton Teether with BPA-free Silicone Ring from hand to hand, and batting the Sustainably-sourced Wooden Batting Ring. There are a lot of cards for him to look at: black and white patterns; faces; objects; mirrors that you can either slot into the wooden beams above his head or place in a transparent flap for him to look at during tummy time. Finley especially liked to handle the black and white patterned cards, grabbing them while lying on his back as if he was studying them like a book. He also very much enjoyed pulling and yanking the different textures and colours edging the mat.
I also really liked that this gym comes with an activity guide for each month, so you can read up on what developments to expect, how to encourage them and fun activities to do in the play gym. This last one is especially useful for tired brains trying to think of interesting things to do.
The fact that it is made from FSC sustainably harvested wood, 100% organic cotton, non-toxic paint and any plastic/silicone parts are made without BPA and phthalates is really good for the eco-conscious.
Would you recommend this to other parents?
Yes, I would definitely recommend this to parents and caregivers with a lot of spare income. It's obviously not a cheap product compared to the simple plastic dangly toy hoops you can pick up on marketplace for £10-20, but if you are looking for something that looks lovely in your lounge, is eco friendly and will last for years, then this is the baby gym for you. You can see why it costs this price once you see the quality of the workmanship, the sustainably sourced materials and the attention to detail that has gone into the design.
Would you choose this product above all others on the market?
As a parent on a budget I would struggle to find £140 for a baby gym but actually having used this I would actually consider buying one second-hand because it is so good and Finley likes it so much. The thing that sets this apart is the longevity of use, from tiny infant to one-year-old and most probably beyond as long as they are interested in it, and why wouldn't they be? If you're looking for a beautiful gift for grandchildren or nieces and nephews it's definitely one that will impress. It isn't at all garish like other childrens' toys that you can buy - it doesn't shout "BABY TOYS EVERYWHERE IN OUR HOUSE!" And you can throw all the other baby bits and bobs inside it with the covering on and everything looks nice and tidy!
What changes would you make to this product?
The only thing I would change would be to make the Sustainably-sourced Wooden Batting Ring less heavy. It is a very chunky piece of wood, albeit very high-quality and well-made, but when they sit up and bash it, it can come back hard and whack them in the face! A lighter one would be better. And also the option to remove the bell! Anything that makes a noise for babies should be removable or able to be turned off to stop the caregiver from going insane!
Product Information
Product size, mat zones closed (cm): 60.7H x 96.5W x 109.2L

Product size, mat zones open (cm): 60.7H x 127W x 119.4L

Includes 24 science-backed activities.