The Tonies Toniebox is a musical story box that use Tonies figures to bring to life stories from our favourite characters. Little ones are able to pick up the Toniebox and tap left or right to move to a new story, chapter or song. They can also press the Toniebox rubber ears to toggle up and down the volume.
By choosing a Tonies figure and placing it on top of the Toniebox a story or song automatically starts playing. You can also get inventive by using Creative Tonies to record or download some of your favourite content or memories for your children. Best of all the Tonies Toniebox itself is tumbleproof, and is literally built as most probably the toughest story box out there.
As well as being ideal for birthdays, we reckon the Toniebox makes a fab Christmas present for toddlers.
Black Friday deals on Toniebox
There are lots of brilliant Black Friday baby deals to make the most of and if you're looking to make some big savings on a Toniebox or Tonies before Christmas, now is the time to do it as Tonies are offering a whopping 20% off when you use the code BF2023. This offer is available on Tonieboxes, bundles and accessories.
Pros
Durable, sturdy and virtually tumble proof
Lots of story options, with plenty of freebies
Reduces screen time in your little one's life
Reasonable price for device and variety of Tonies figures available
Compatible with headphones
Cons
The device itself and the Tonies figures aren't easy to travel with
Description
This bundle is great value, not only do you get the Tonie box in whatever colour you choose and
Description
This is a new addition to the Tonie collection and it is great fun, as well as educational, for
Description
This starter bundle includes 1 x Toniebox speaker, 1 x creative-Tonie with 60 minutes of preloaded
Description
A great buy for Disney fans, this starter bundle includes 1 x Toniebox speaker, 1 x creative-Tonie
Description
A great starter bundle for story lovers, it includes 1 x Toniebox speaker, 1 x creative-Tonie with
Description
This beautiful Tonie bundle, is perfect for any princess fans. It includes 1 x Toniebox speaker, 1
Description
Tonies Kids Headphones are made to match your Toniebox . They are easy to fold up so you can
Description
The Tonies Carry Case is the perfect way for your little one to transport their Tonies. It offers
Testing Tonies' Toniebox
Find out how Mother&Baby Editor, Maria Martin, and her two children got on with the Tonies Toniebox.
"The Tonies Toniebox is a firm favourite in our house. We love that our 2 and 4 year old children can use it independently, plus it gives them a break from things like the TV screen and any tablets. I find that my children will either engage whole heartedly with the Toniebox and adding on various Tonies figures to listen to stories or songs. Or they will pop the Toniebox on and happily play with LEGO or other toys while listening along. Either way, I'm happy they have another source of interaction that strays away from screens. I'm not against screen time, it's just nice to have other options to keep them occupied when life gets busy.
"The Toniebox is a cube, audio speaker that turns into a story box. It will tell my children some of their favourite stories, but also offers them some educational options, too. They can use it all around the house or even take it to grannies' house. It has an extremely long battery life – Tonies state 7 hours, I'm convinced I almost never have it on charge.
"The first time you set up the Toniebox you need to have WiFi and you can use the app to assist you. Once you've set up you at a Tonie on top and it automatically starts. Remove the Tonie and the box automatically stops. There are two rubber ears that help control the volume, and my little ones love to use these."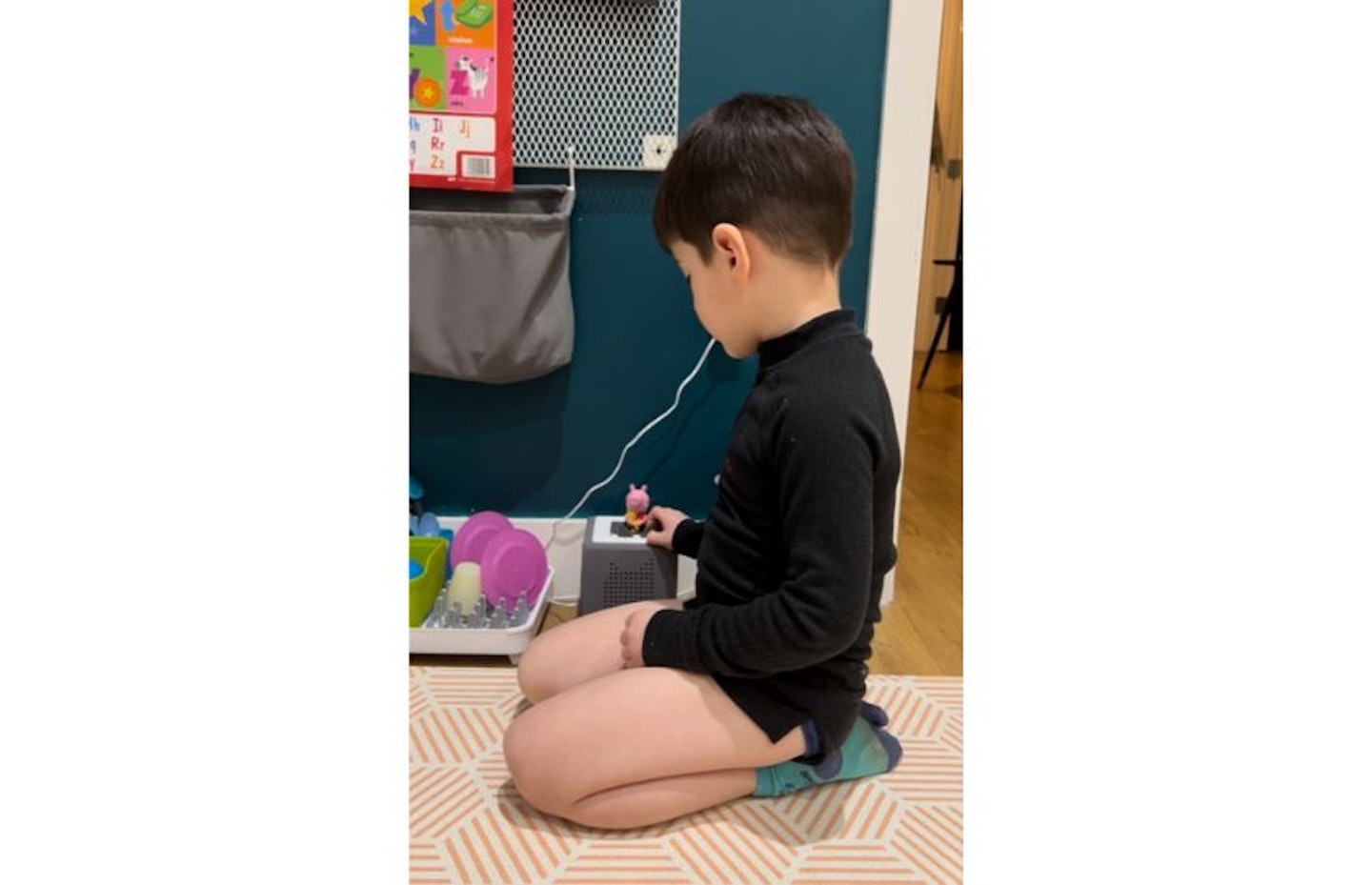 "If you tap on either side of the Toniebox you can go forward or move backwards a chapter/song. One of our most recent discoveries is also the Creative Tonies. With these Tonies you can add your own content or download one of the many options from Tonies themselves to add to these, what we would call, empty Tonies (reminds me of having an empty cassette)."
"Some of our favourite Tonies include The On the Road with Peppa Pig Tonie, the Minnie Mouse – When we grow up Tonie and the Bing Tonie."
With lots of accessories on offer with Tonies, from travel carry cases to headphones, there are some fun options to consider and personalise to your little one's tastes. Here is Maria's 2-year-old daughter listening to the Tonies Toniebox with the Tonies headphones...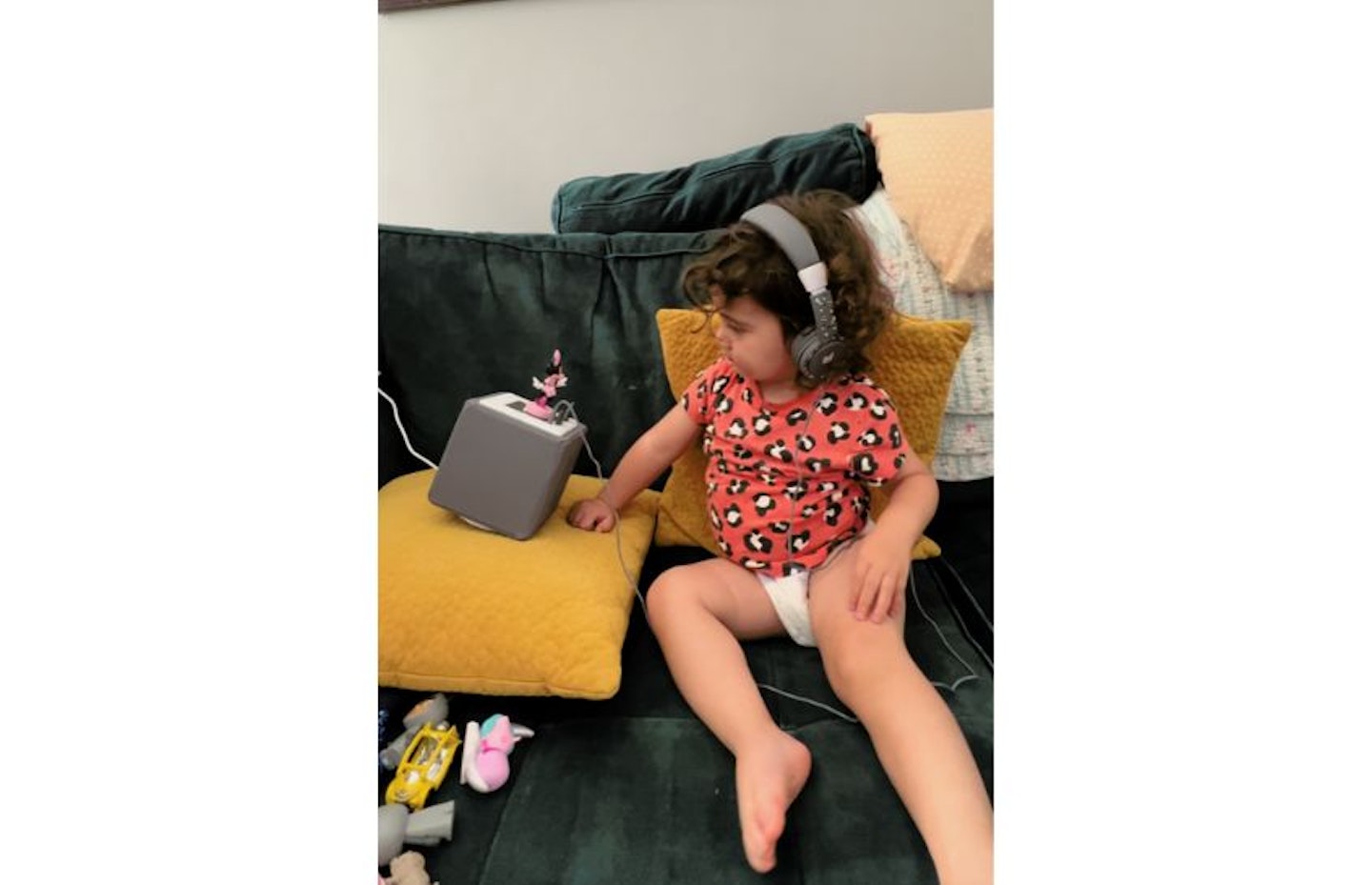 Final verdict on Tonies Toniebox
"A huge thumbs up from my toddlers, from listening to their favourite Julia Donaldson book to singing along with Minnie Mouse, the Tonies Toniebox is a huge hit in our home. The device is practically child proof, and I love the fact they can change the stories and the volume with a quick press of the rubber ears, and changing the figures themselves. The figures make this a fun game for the eyes and the ears. I would recommend for anyone with small children."
Tonies Toniebox FAQs
Will Tonies be reduced for Black Friday?
Yes! And it's very popular. You can currently grab 20% off Tonies Tonieboxes.
What does a Toniebox do?
The Toniebox is an engaging audio player for children in the UK. Shaped like a cube, it uses small figurines called "Tonies" to play stories, songs, and educational content. Each Tonie represents a specific character or theme, and when placed on the Toniebox, it initiates the corresponding audio playback. The device is designed with child-friendly controls, including play, pause, and volume adjustments. Additionally, "Creative Tonies" allow parents to record personalised content. The Toniebox offers a fun and interactive way for young listeners to enjoy a variety of audio experiences, fostering creativity and learning in an accessible format.
What age is appropriate for a Toniebox?
It's suitable from ages 3 years and above. In fact, we'd say they're one of our favourite toys for three-year-olds.
Why are some Tonies more expensive?
Noticed some Tonies are pricier than others? The pricing of Tonies may vary based on several factors, including licensing costs, production expenses, customisation, limited edition releases and the complexity of the content.
How long do Tonieboxes last?
The lifespan of a Toniebox depends on usage and care. With regular use and proper handling, a Toniebox typically lasts for several years. The device is designed to be durable and child-friendly, but factors such as battery health and electronic components can influence longevity. Rechargeable batteries may degrade over time, affecting performance, but they are often replaceable. To maximise lifespan, it's advisable to follow manufacturer guidelines, avoid extreme conditions, and handle the Toniebox with care. Regular software updates may also contribute to prolonged functionality, ensuring an extended period of enjoyment for young users.
Are Toniebox and Tonies worth the cost?
For parents seeking a safe, interactive, and screen-free audio experience for little ones, Toniebox offers educational and entertaining content. The tangible, hands-on nature of the Tonies adds a unique element that is bound to be a hit with kids. However, the cost may be perceived as high compared to other audio options.
Maria Martin is Digital Group Editor for Yours.co.uk and Motherandbaby.com. She is a mum-of-two with a passion for helping women from all walks of life – from supporting breastfeeding mothers with expert advice to encouraging conversations about mental health. In her professional role, she has over 10 years' experience in the digital world, including editing articles, focussing on SEO, social media engagement, picture researching and video editing.