Stokke MuTable V2 Wooden Kids' Play is one of the most versatile activity tables packed with endless possibilities. The table comes with 3 engaging, double-sided activity boards to inspire hours of both independent and social play.​ These colourful interchangeable table tops set the scene for everyday adventures, making the MuTable the perfect place for your child to play and do a wide variety of imaginative activities.
Featuring sturdy wood with softly curved edges, Stokke MuTable V2 Play Table offers activities for each stage of development, from baby to toddler, pre-school kids and beyond. This unique play table comes with leg extensions, so you can take play to new levels and adjust it to your child's growing size.
Crafted from premium materials such as natural wood, this children's play table is designed to last for years and even comes with a 3-year warranty. Softly curved edges ensure safety, and the award-winning design features on-trend colours that complement any interior. Optional accessories make sure your little one will always have something new to inspire them.​
Pros
Multifuctional
Smart and sleek design
Very comfortable
Easy use for child
Solid construction 
Cons
Table storage bag is sold separately 
I have tripped over the table legs a lot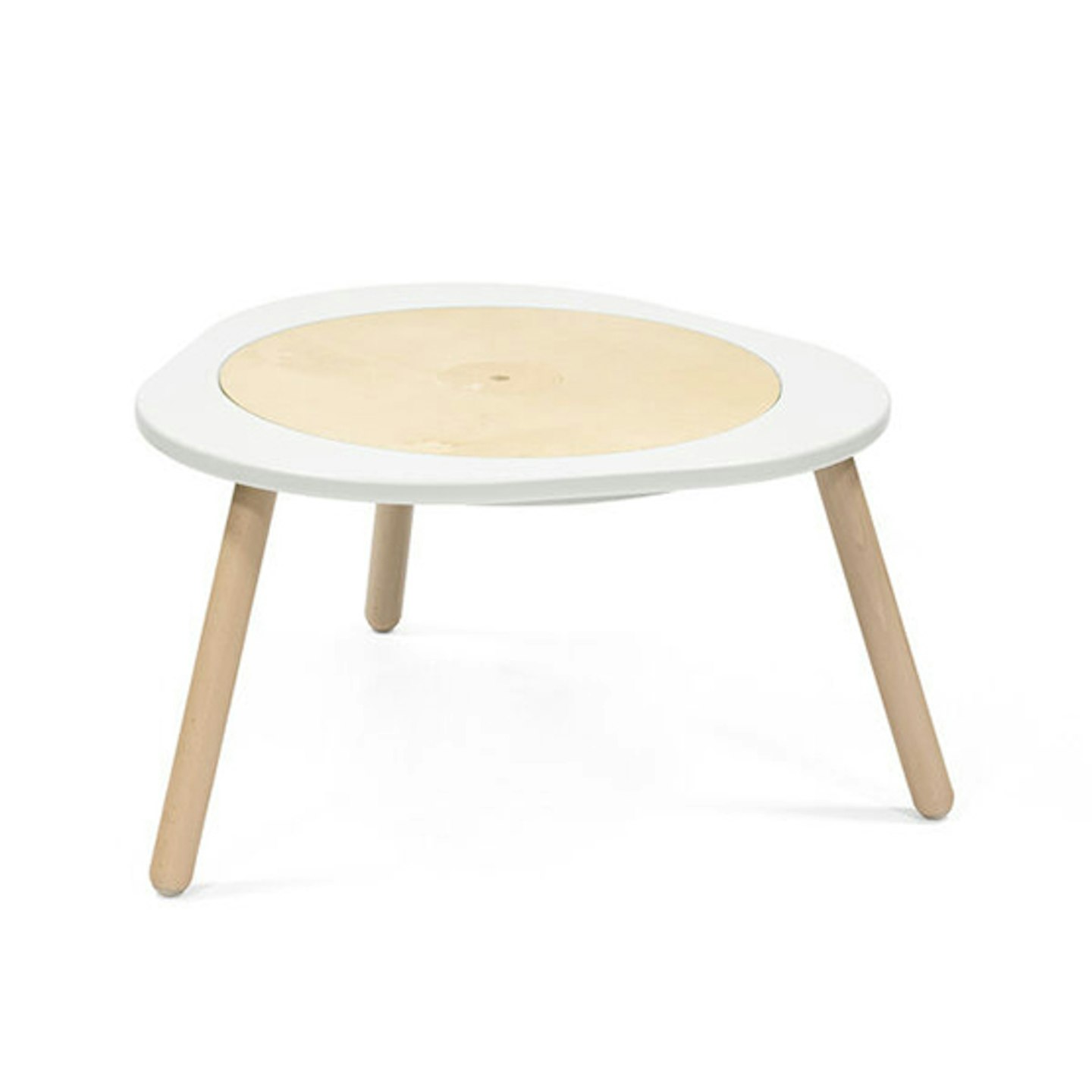 Testing the Stokke MuTable V2
Mum-of-one Lucy tested out the Stokke MuTable V2 with her four-year-old son, here's how they got on...
My little boy has a fascination with anything small and detailed, with Lego for example he normally plays on the floor but can become frustrated with our uneven floorboards. We set up the table and chair in the most used room – our lounge.  It was incredibly easy to set up and our son used it straight away. The different playboards were shown to him and he loved the puzzle section first. Since then his most used playboard is the lego board, he has spent a lot of time constructing different mini buildings to house his lego cars. The table is a very solid table and doesn't feel too big for the space, we live in a very old Victorian cottage, so its circular design makes it feel smaller than it is, the chair is also incredibly comfortable for my son and he now uses the table for 70% of his imaginative play activities.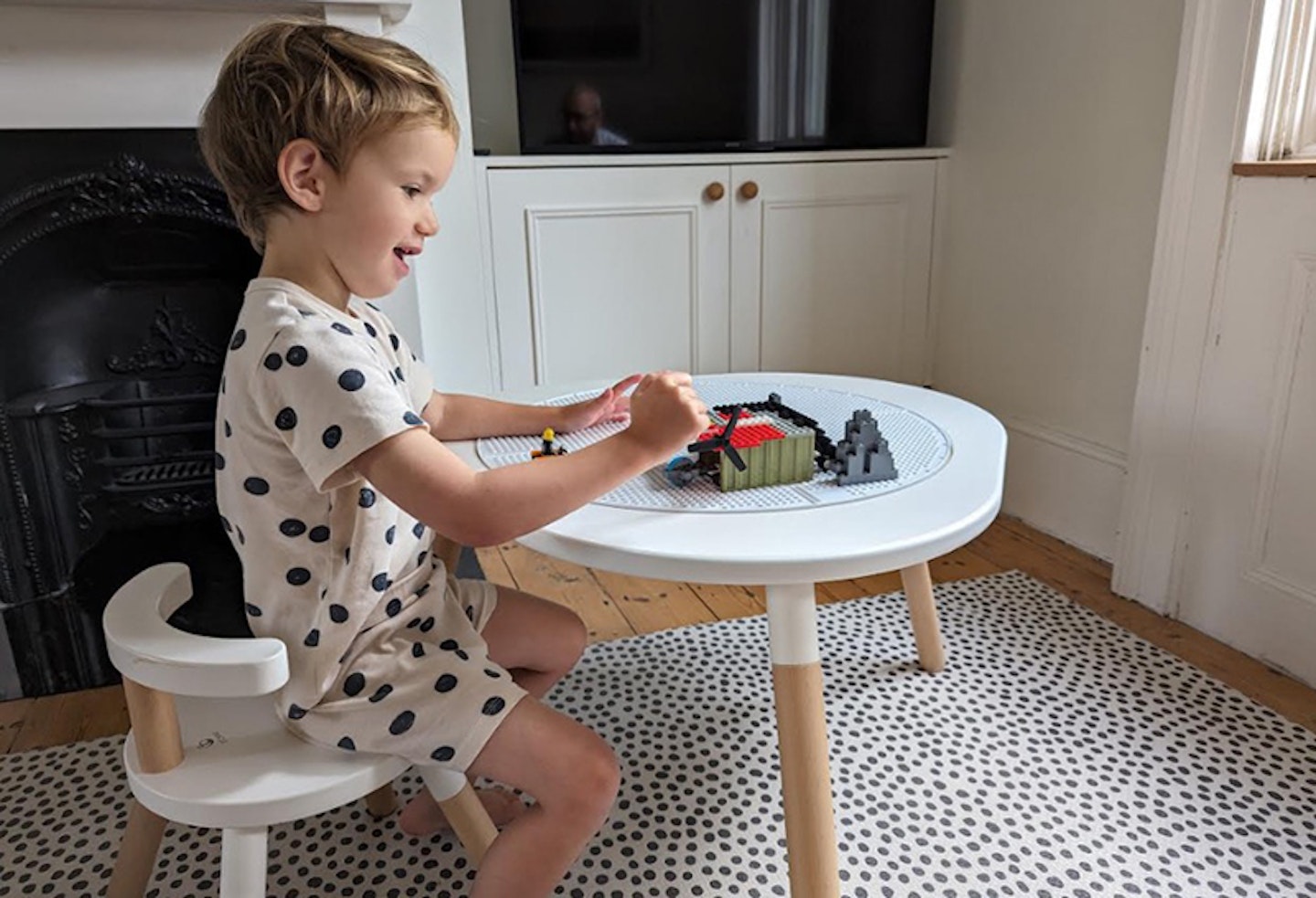 I think this table would work for the majority of children and its design is really aesthetically pleasing, we do not have a playroom so this happily sits within our house and blends with our furniture well.  Having so many different play tables has  encouraged our son to engage, and gives a variety of uses.  The surface itself is plenty big enough for other toys too.
Very easy to put together, the design is fantastic, it has a great weight and feels like a solid piece of furniture that would last for a long time.  Its incredibly comfortable for our little boy, he is not one for sitting on a seat and normally plays on the floor but he has not stopped using this table and chair set since we built it.  The lego table is genius and the most used part for us, but the puzzle and car track are also great additions and ones I can see will get a lot of use.  It is so hard to find a childs table and chair set that is built to last, looks great from an adult and child point of view and is multifunctional.  It is performing incredibly well for our little boy, who loves it!
Final verdict
This is an expensive table, but it offers so much.  I wish we had got this when our little boy was younger but I think he will use this for a long time!  Our little boy uses this table so much more than I expected and gives him some independence having his own table.  He sits up straight in the chair and often requests to sit at the table even when he is watching the TV! How the Table legs and chair legs are designed it feels secure and there is less chance of this being pushed over which is great. It's a lovely piece of furniture to have and cherish and a wonderful play tool for my son to have.
Stokke MuTable V2 FAQs
What's included with the Stokke MuTable V2?
3 double-sided boards for hours of activities: wooden cover & blackboard, landscape board, bricks board

Table Top

Table Legs

Table Leg Extensions

Small Cap
What play boards are included with the Stokke MuTable V2?
The Stokke MuTable includes 3 double-sided playboards:
Bricks Base - compatible with most-well-known building bricks
2. Wooden Cover & Puzzle Base - compatible with all Stokke® MuTable™ puzzles, backside with Blackboard - ideal for writing and drawing and easy to clean
3. Natural and City Landscapes for imaginative play
Is the Stokke MuTable V2 compatible with MuTable accesories?
Stokke MuTable V2 is not compatible with the Stokke MuTable Storage bag V1, the Stokke MuTable 6 Seat Extension or the Stokke MuTable Toy Container V1.
How can I clean the Stokke MuTable V2?
Only a mildly damp cloth has to be used to clean the Stokke MuTable, avoid adding any other type of detergent. After cleaning the Stokke MuTable, wipe the product dry.
As the table is made of wood and the games are made of wood and cardboard, they should not be treated with a lot of water or cleaned with detergents.
What markers can I use for the Whiteboard / Blackboard?
The blackboard is only compatible with the use of classic chalks. Other types of chalks are not compatible, for example liquid chalks, wax crayons, coloured pencils, washable markers etc.
Is the Stokke MuTable PVC, BPA, and phthalate - free?
The Stokke MuTable is made of wood and the paint is NON-toxic. So, yes! The Stokke MuTable is 100% free of PVC, BPA, and phthalate.
What is the weight limit for the Stokke MuTable Chair?
According to the manufacturers the Stokke MuTable Chair has been tested as children's furniture, with a maximum weight of 100kg.
Is the backrest included in the chair?​
Yes, the MuTable chair includes the backrest and extensions and can be used with and without the backrest as your child grows. The backrest should be used in the first 6 years to support and can then be removed to make more space on the stool as the child grows.